Giant's Causeway Planets, Zodiacal Light & Faint Aurora - March 17th
There has been alot going in since my last image report. A giant sunspot designated 1429 rotated into view sporting a chaotic beta-gamma magnetic field which harbored energy for strong solar flares, shortly afterwards the first of many solar flares erupted which almost reached the violent X-class category. These flares where the precursors to a multitude of CMEs which where unfurled towards Earth, at first because of the parent sunspot's off-meridian location these impacts were glancing blows however as the sun rotated westward the sunspot approached the CME-friendly meridian and Earth was once again in the firing line with planet-directed impacts. It was like a cosmic shooting gallery with Earth at the mercy of continuous buck shot blasts of charged particles which triggered the biggest outbreak of aurora activity in years with some locations seeing back to back auroras every night.
On March 7th we were treated to our first geomagnetic storm due to a glancing blow from a CME which generated a red alert at mid latitudes which is something I hadn't seen in years. This was all happening during daytime so I was eagerly waiting for night fall to get out and see it. I spent the entire day watching the aurora activity charts which was an emotional roller coaster ride, when we were on red alert I was on a high then I would feel the onslaught of depression when the charts went to green, the aurora activity was going up and down like a yo yo so it was nail-biting just sitting there waiting for nightfall, but would the activity last?. I quickly formed a plan to drive to the coast, it was a full moon and the forecast was for good clear skies between convective showers so all looked good, the moon would be a problem however a good aurora would show up on camera anyway so it was just a matter of waiting. I arranged via Facebook to meet up with Omagh photographer Paul Martin and local photographer Declan O'Doherty and by 19.00 we where in a single car heading straight for the coast. We arrived at the Giant's Causeway at the Co. Antrim coast just when the aurora activity died for the night so we had missed it, however this was the first time any of us had been here at night so we decided to enjoy the location and do a little photography which turned out very rewarding. I got a cool image of the famous rocks with the Venus and Jupiter conjunction above.
The night was rough at times with very little in the way of clear skies and I got a bad soaking from a hail shower with strong winds, later I somehow twisted my back while navigating over rocks in the dark and these two events would later cause me problems on the nights ahead. I had a bad chill for all my effort and I ended up with a bad flu with aching joints, sore back muscles, along with an eye, ear, and chest infection for the final blow. I spent three days in bed sweating and shivering and just hoping I would get better soon. During this time a series of Earth-directed CMEs where spawned from 1429 and impacted during this period and despite feeling awful I was still prepared to catch them, however the weather was truly stagnant due to high pressure which resulted in anti-cyclonic gloom with constant cloud by day and by night so as a result of this weather set-up I missed three nights in a row of major aurora displays, this felt like a punch to the gut followed by a left and a right to the jaw - I felt truly knocked out and let down by nature. I had never seen such a prolonged cloudy period of weather like it since December-January 2007 when great Comet McNaught was visible, however even then I still saw the comet four or five times and the weather was interesting with cold fronts, gales, thunderstorms, and tornado risks, this however was just boring soup and I was slowly getting sick of it.
On March 15th another CME hit earth which caused an all-day long aurora display over N. Ireland and guess what the forecast was?, you got it, cloudy with rain and drizzle moving in later. Well I got fed up with nature trying to control me so I decided to be more proactive and meet it head on so in the spare of the moment I just jumped in the car and drove to the dark skies outside Portrush despite the fact that I shouldn't have been driving at all in this condition. I was greeted by cloud however by some miracle small breaks appeared in the cover and I witnessed a portion of the aurora in the form of a selection of bright rays some 30 degrees high, the camera picked up purple and pink/red colours (image) which put a smile on my face. I never got to see much more of it however at least I had succeeded and felt I had proved myself to Mother Nature and perhaps gained her trust so we now had a good relationship once again. I drove home feeling shivery, tired, sore, and coughing but it was worth it to catch my 93rd aurora display under such trying conditions.
March 17th, St. Patrick's day, at last a welcome change had taken place thanks to a breakdown of the current HP weather which resulted in wonderful blue skies, bright sunshine and early season convective clouds. A heavy thunderstorm broke out near Dublin city with an abundance of c-g lightning however further N it was mainly dry and beautiful. The forecast was for widespread clear skies so I intended to make the most of them to enjoy the current Venus-Jupiter conjunction, also there was a chance of a weak CME impact/solar wind stream encounter so some aurora activity couldn't be ruled out along with a dark sky so I was going to give this one more try. After sunset my girlfriend Roisin and I drove to the coast and arrived once again at the legendary Giant's Causeway on the N coast overlooking the calm Atlantic Ocean, we had arrived just as twilight was relenting to proper darkness. When darkness swiftly arrived we were utterly blown away by just how dark the sky was from here, even before I got my seat belt off I was talking excitedly about how bright the planets looked from behind the car windscreen, Venus was actually shinning on the glass and I just kept saying WOW and OMG, I quickly got out from the car and the scene was ten times better, this was a dream night for any sky watcher.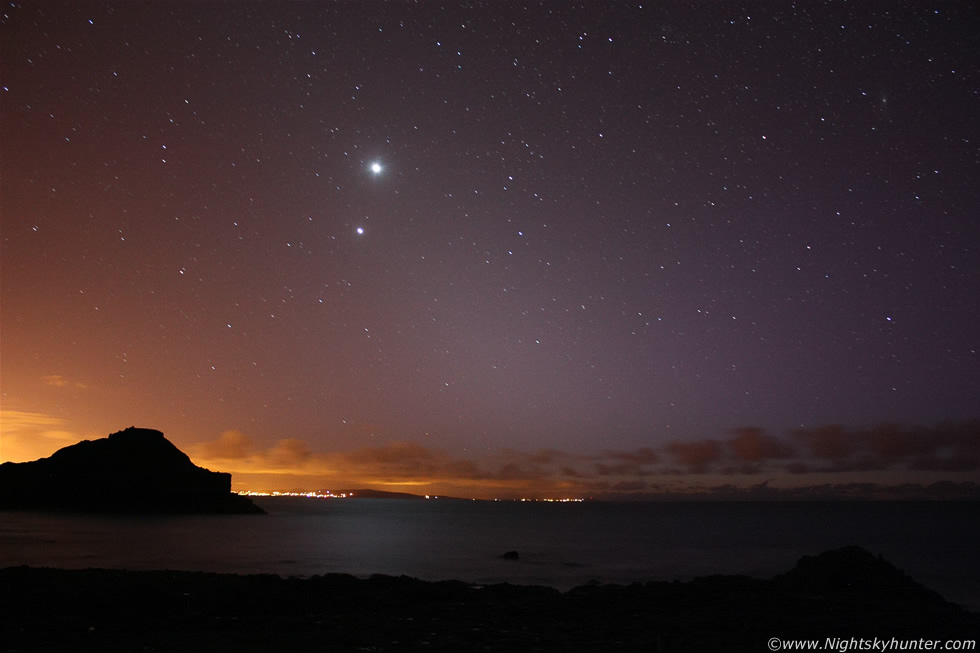 The Milky Way arched across the sky and dived gracefully into the sea to the NW, Mars was ruddy red in Leo and Orion was a sight to behold above the dark cliff tops towering high into the sky behind us. The view however to the W and NW was outstanding with the planet conjunction completely dominating the entire sky, these pair were totally eye catching, our gaze couldn't avoid looking in that direction due to their brilliance, it seemed the Earth's atmosphere had been removed and we were viewing the planets and stars among the inky blackness of space itself. I could also see the Zodiacal Light (ZL) in the same region of sky as an obvious glow extending upwards from the horizon at an angle and following the ecliptic until it blended in with the soft outer regions of the Milky Way. Venus and Jupiter where embedded with its glow which you can clearly see at image centre extending from the planets down to the horizon. The ZL is a vast disk of cosmic dust which surrounds the outer solar system beyond Jupiter, this dust ring is composed of cometary and meteoritic dust particles which scatter sunlight. The ZL (false dawn) is visible as a pyramid-shaped glow after sunset or before dawn and is always found on the ecliptic, it requires a dark sky to see and is best observed in the morning sky during September/October and the evening sky in March/April on moonless nights. I had seen it before however this time it was an unforgettable sight thanks to those two diamonds within.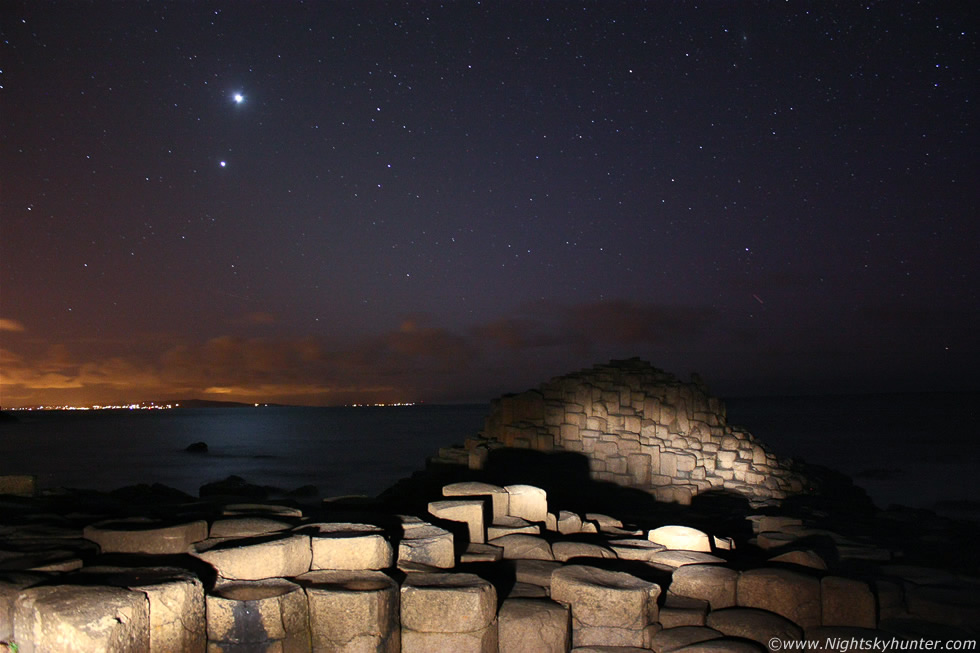 Using a torch Roisin and I slowly navigated our way across these famous rocks, it felt so surreal to be walking across them in a pitch black night with a stunning starscape above, these rock formations have been featured in websites, magazines, and postcards all over the world however to experience them at night is really something else entirely. You can see the blizzare hexagonal shapes very easily in the foreground.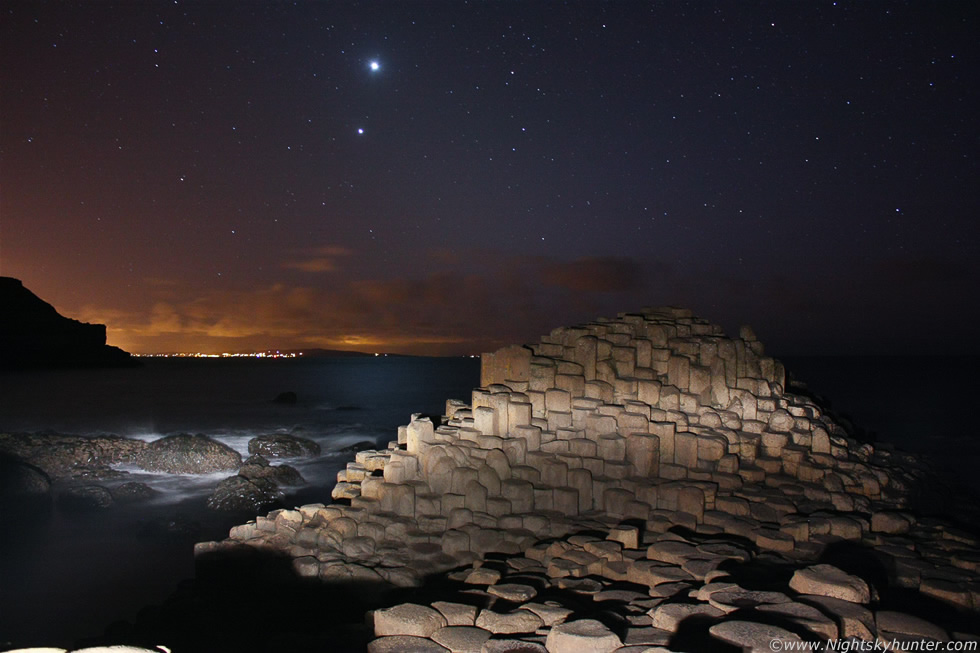 This was the shot of the night, Roisin was fantastic help as she painted the rocks with the torch in various ways while I composed the frame and took the exposures to find out what worked and what didn't. The painting had to be just rite for too much light or too long an exposure would blow the rocks out so the torch had to be pointing at the correct place for a sufficient amount of sec's which we figured out through trial and error. In this image you can see the 60 million year old Giant's Causeway volcanic rock formations with the smooth effect of the calm sea over the rocks with Venus and Jupiter above within the faint glow of the ZL to complete the scene.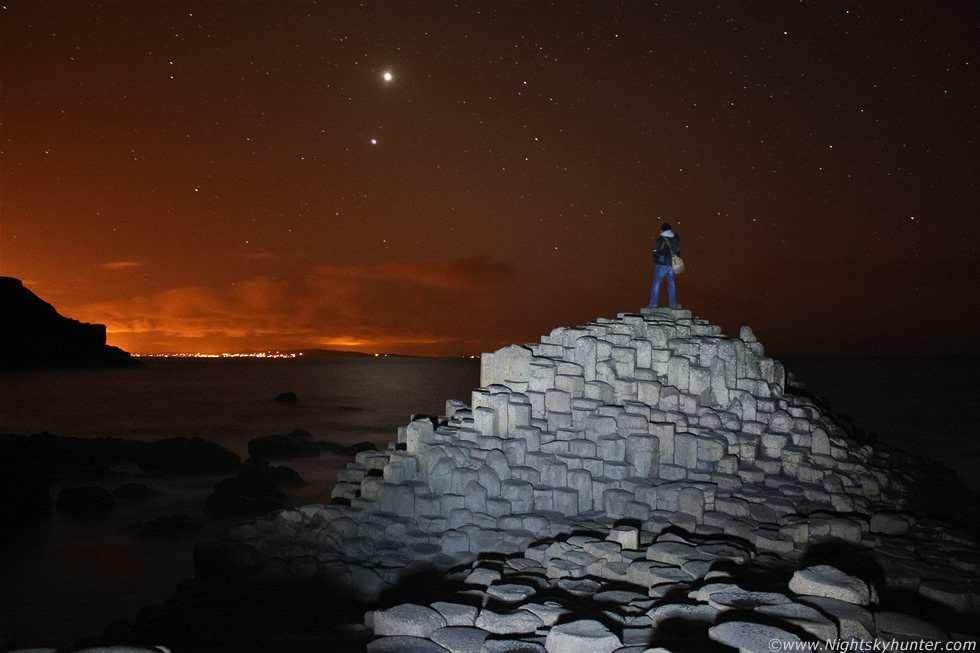 I couldn't resist an image with me in it to personalize the scene and with my wireless shutter not working I couldn't take it myself so I attached my new cable release and showed Roisin how to use it, she was a quick learner and figured it out very fast and knew the kind of exposure range which worked too so I headed off into the darkness and across those hexagon rocks which was scary going in the darkness. I eventually made it to the top and Roisin got several great exposures of the scene with me standing at the top. From my high vantage point I felt on top of the world from this special location and for a moment I just stood there soaking up the magic and quickly reflecting on my life as an observer, I smiled about how when I was young I would watch the stars all night long through my bedroom window where I saw my first meteors and aurora displays, however back then I would never have thought that I would be watching those same stars at the Giant's Causeway at night aged 34, so much has happened between then and now and I have witnessed incredible things so in that moment I gave gratitude to nature for everything. Before I came down I was overwhelmed by a stunning glitter path stretching across the dark sea to where I was standing, this path of light was from the planets themselves which is something I had never seen before with such magnitude, I had to do a double take because I could have sworn it was similar to the glitter path from a near first quarter moon.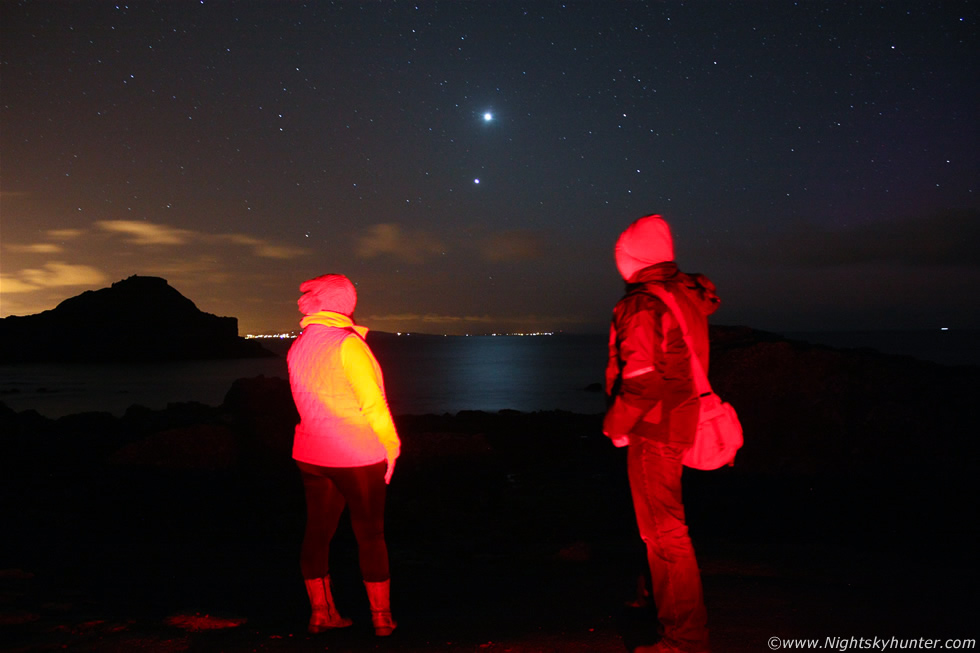 This was the highlight of the night for both of us, seeing the brilliant Venus-Jupiter glitter path reflecting on the ocean with an obvious blue-green colour to the naked eye was really something special, the glitter path was not a slim affair but rather a well defined broad feature which clearly stood out in a casual glance, it was proof if proof were needed that Venus really did cast a shadow. Catching it on camera is one thing however experiencing it visually is something one cannot describe in words. Roisin was just as awestruck with the sight as I was and the moment was so powerful that I had completely forgotten that I was sick and cold which indicated that the sight struck something deep within.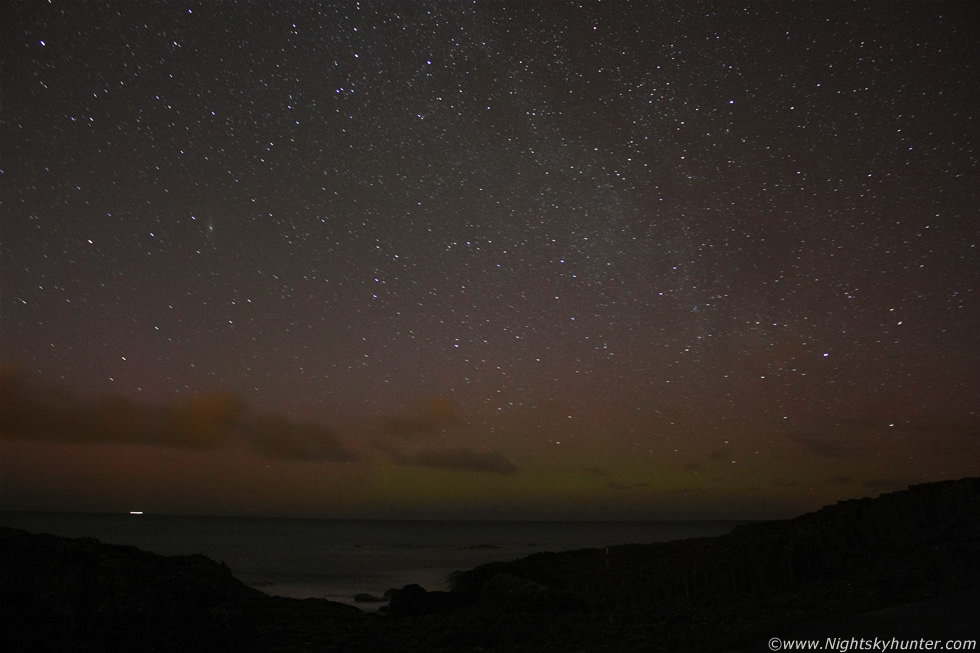 I thought the sky had looked suspicious since the moment we arrived however the twilight had not waned sufficently at that stage to tell. However as darkness settled I noticed that the ZL was not alone, their seemed to be a subtle glow of similar brightness extending across the horizon from the ZL to the N and I said to Roisin that it looked like an aurora. When full darkness arrived I was 100% sure of it, there was a colourless enhancement a few degrees above the N to NW horizon, it was without question the faintest aurora I had ever seen. The camera picked up the green and pink/red colours along with a solitary beam which confirmed my visual detection. I was delighted, the sky had turned green for St. Patrick's Day after all and I got my 94th aurora display when I least expected it. The charts at this time showed mid latitudes on green because the auroral oval was not directly over us, however the aurora is a huge feature with vertical beams of light extending several hundred miles high so an observer can see an aurora up to 1000 miles S of the actual position of the oval and it is for this reason that we saw this aurora tonight. Until the next report, thanks very much for reading.
Martin McKenna