Ballyronan Marina Funnel Cloud & Local Chase - June 6th 2012
Finally an opportunity to go storm chasing!. This has been a strange year so far because there was a notable extended period of thunderstorm activity the likes of which I have never seen before during April and early May, however the strange thing was that many of the showers and storms were generated by a Nly or NEly flow which meant that storms tended to form further S away from N. Ireland with the result that I missed out on much of the action while the Republic of Ireland and much of England got treated to a superb show, there was even a supercell and several tornadoes during this period. N. Ireland did get a few days when low to moderate CAPE was present but despite chasing all day on these occasions the result ended up as a bust due to either a lack of lift, too much cloud cover, or because of a thermal inversion at mid levels known as a cap which stopped vertical storm cloud development. After this a strong high pressure cell formed over the UK bringing a wonderful heat wave with fine weather for a two week period, the last four days of the heat wave were quite intense with relentless sunshine and clear blue skies with not a cloud in sight which is a rare scene in this country. Temps averaged between 23 and 25+ degrees C and for a few days N. Ireland was even hotter than Spain. I have to say I enjoyed the fine weather and the clear skies it brought however even while sitting out under glorious sunshine with sunglasses and t-shirt my mind never wandered far from the potential for storms and I wondered when N. Ireland would get its chance?
That all changed on June 6th when high pressure moved off and gave way to low pressure from the Atlantic which got my attention for two reasons. The first was chase potential, the frontal system associated with the low would clear through during the late morning of the 6th leaving a post frontal air mass in place with GFS and other models agreeing on a generous 1000 CAPE with a lifted index between -2 and -3 with plenty of moisture in a slack SWly flow, there was a little vertical wind shear however the country was devoid of convergence which concerned me somewhat however there was still plenty of scope for thunderstorms. The second reason was that there was a rare transit of Venus at sunrise from N. Ireland at 04.50 UT, it would be the last one until 2117 so I really wanted to see it. I watched some of the transit live on a Japanese webcast during the night then got a small amount of sleep and woke at 03.55 and got up to check out the sky, not surprisingly it was completely overcast with drizzle and mist so it looked like I would miss the transit, I stayed up anyway just incase until 06.00 then got one hour of sleep and was back up again, I wasn't too disappointed as I had seen the last transit in 2004 so I at least can say I have seen it and can tick if off my list.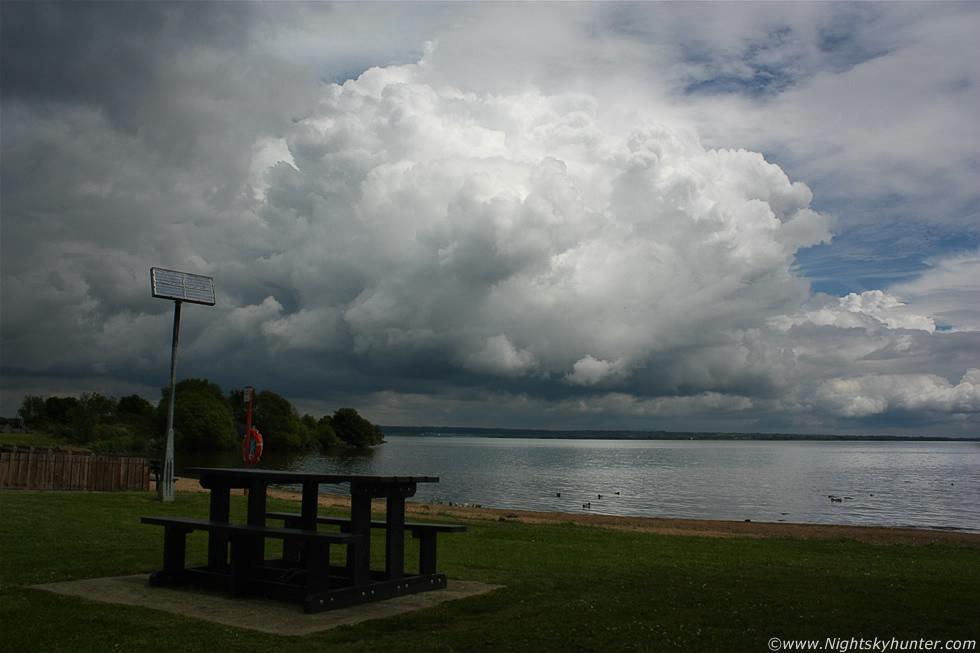 By late morning I was in full storm chasing mode, the models still looked good with great instability across the country and soon the Met Office issued a yellow warning for slow moving heavy showers and thunderstorms with a risk of flooding. After midday a cluster of showers had rapidly formed over the border and began moving slowly NE and I knew as this trough advanced over Mid-Ulster it would develop into a cluster of thunderstorms but that was still a few hours away. The sky was looking good for so early in the day and not wanting to hang about wasting opportunities I decided to go out storm chasing and I took my Mother and our Dog Drew along with me. There wasn't a plan as such because I just wanted to get out looking at clouds to kill time until that trough approached later in the afternoon. We left Maghera and headed S down the main Glenshane Road and just trusted our instincts and while shooting S I noticed a nice looking line of tall towering cumulus clouds miles away to the E, they looked quite promising and solid for the time of day and I knew from their position relative to Slieve Gallion that they had to be near or over Lough Neagh so we decided to make a beeline for the Lough and it wasn't long before we pulled into the car park at Ballyronan Marina at the NW shore of the Lough and on view where those towers I had spotted from the road earlier, they where moving very slowly towards us and to the W from Antrim then over the Lough itself.
The atmosphere at the lough shore was splendid with hazy sunshine, warm temps and humid with barely a breeze with a very still surface on the lough with quacking Ducks and chirping birds while in the distance two Herons stood on little rock islands as they quested for fish below the surface. Above the water was a very nice 'dry cell' or rather a collection of towering cumulus clouds expanding rapidly as their updraughts rose higher and higher like multiple mushroom clouds performing in slow motion. It was interesting to note that the sky was dark, overcast, and featureless convectively-speaking behind us to the W and SW however to our E the sky was blue and it was there that the sun obviously got to work heating the ground over Antrim and over the lough itself which is likely why these towers where only forming at this location and nowhere else in the area, it's amazing how a little solar heating can generate growing storm clouds so quickly and no doubt the added moisture from this vast expanse of water itself aided the process along.
The towers looked beautiful glowing white in full sunshine and full of promise which contrasted with the contentment of the picnic table below, in the above image they where moving from R to L due to a NEly breeze. I informed my Mum that these are the kind of clouds which can produce funnel clouds so it could be worth keeping an eye on the base just in case, the reason being that funnel clouds most often (but not always) form during the younger stages of storm growth when the cell is still inflow based and therefore enjoying 'breathing in' with rising warm moist air to feed its updraught development and if the atmospheric conditions are present such as wind shear or convergence then a funnel may form as apposed to a mature or outflow dominated cell 'breathing out' which cuts off its supply of inflow due to its downdraught of rain cooled air which marks the disipitating stage of the cell when funnels are much less likely. Exceptions to this are funnels and tornadoes formed from outflow boundaries, bowing segments in squall lines and organized storms such as multicells and supercells which go through many cycles of growth. You can tell by the image that this cell is young and inflow dominated because there is no precipitation evident it at all falling from the base which is an encouraging sign indeed and always a good time to be watching, remember that you don't need black clouds with thunder and lightning to get funnel clouds.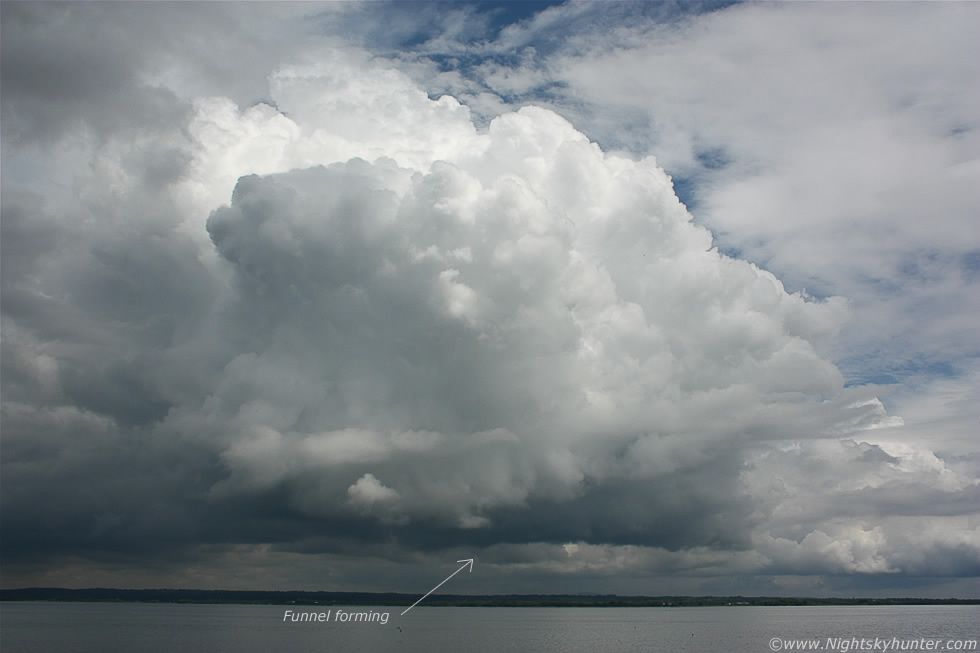 We went for a walk around the Marina and suddenly I spotted a funnel cloud forming at the base directly under the tallest updraught within the group. At first the funnel was a very thin affair and quite translucent however as I watched it continued to grow into a long needle funnel which was very obvious to the naked eye despite being some distance away. I was kicking myself because I was far from the car and hadn't got my telephoto lens with me and although I was tempted to run back and retrieve it from the boot I was concerned about missing a more photogenic moment so I stayed my ground to watch just incase. As a result these images were taken with the 18-55mm kit lens so the funnel looks tiny at such wide focal lengths, you can see it in these images as a dark lowering but a closer look will reveal a finer extension pointing towards the water.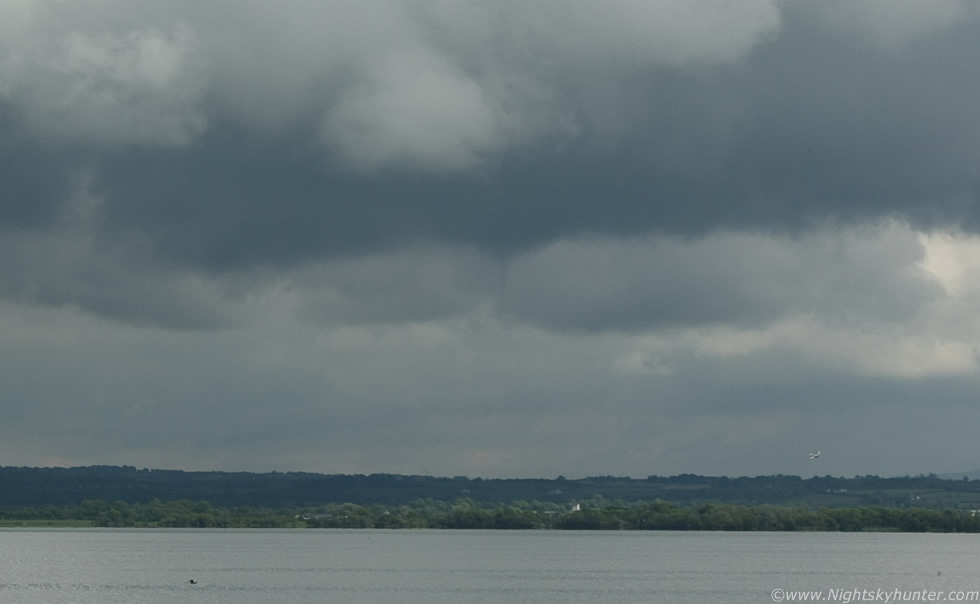 This was at 55mm then cropped a little which shows the needle funnel very clearly, it was actually very easy to see visually and had better form, I pointed it out to my Mum who at first couldn't see it then after I pointed to its location using cloud structures and land marks she could finally pick it up, this really was one for a trained eye and not something a member of the public would notice in a casual glance. We could see it changing shape and swelling in thickness as it rotated above the lough, this was my Mum's second funnel cloud sighting and both have been near or over the Lough which is interesting to note.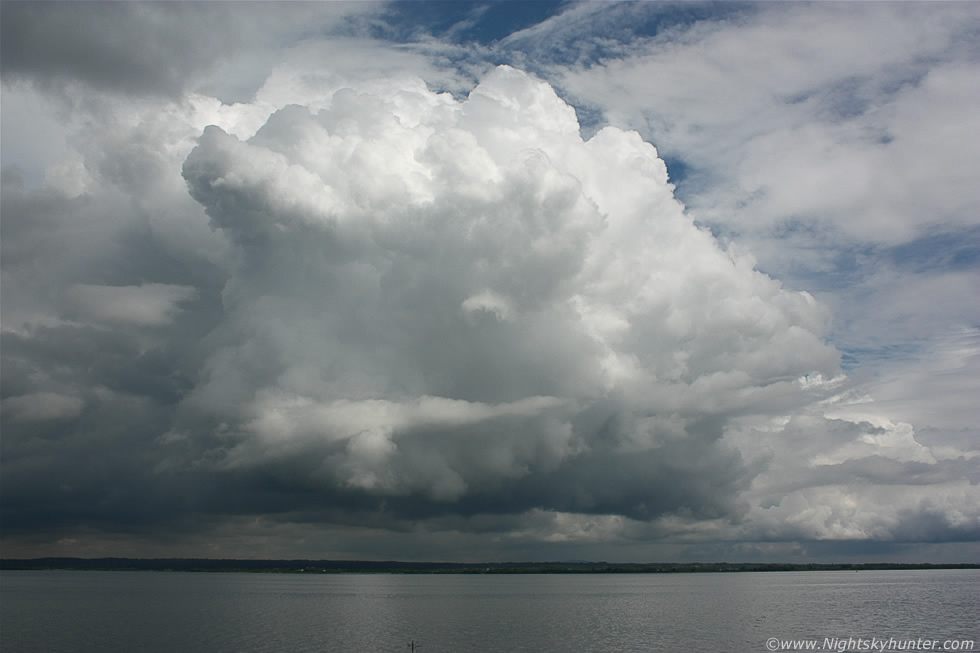 It's quite unusual to get wide angle structure shots showing the entire cell as well as the funnel cloud all in the same frame which was nice to get however I was still kicking myself for leaving the big lens in the boot, I kept looking back towards the car then at the funnel and wondered if I should take the chance and just go get it, I was just about to make my move when the funnel vanished. A few min's later it appeared again at the same location for round two so I stayed my ground to get more wide shots.
Zoomed into 55mm again and cropped slightly and you can see it no problem as a well formed tube. I studied all the images closely and found no evidence of contact with the lough surface, in fact, the water was calm which confirms that this wasn't a tornado/waterspout.
The funnel continued to tease us then it disappeared once again and then reappeared within min's for the third time so I began jogging back to the car while stopping periodically to shoot the scene at wide angle, the cell was now getting closer so I knew this was likely my best and last chance of the day to catch it in the act. The clouds looked very dramatic at this point and as I watched I learned a valuable lesson - never leave a telephoto lens behind when there's weather happening so from now on my philosophy will be ''better to have it and not need it than need it and not have it''
I hurried on down the path flanking the lough and turned around for another wide shot showing the funnel above the summer seats, the image might look dark but it was very warm and humid as you can see by all the Lough Neagh flies in the air close to the lens.
At this point the funnel was an easy naked eye sight for anyone who cared to look up, even at the wider range of my lens it was now much larger and fairly close being directly between the shore and Antrim perhaps half a mile or so distant.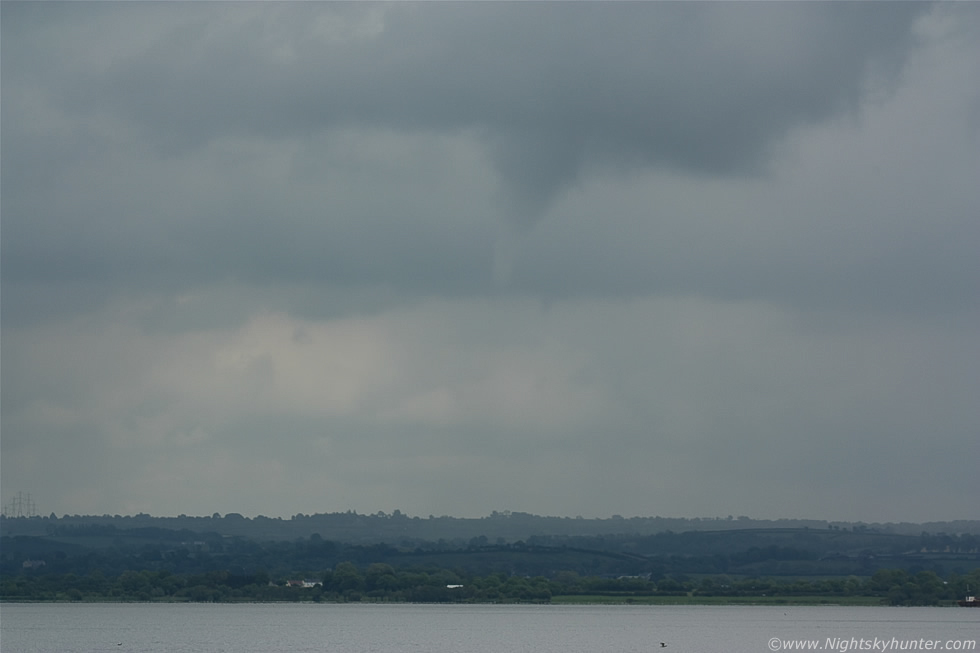 I made it to the car, got the door open, removed the kit lens and attached the Canon 100-400mm zoom then rushed over to the grass area beside the shore close to the children's play area and got several images showing the funnel up close. It looked rather striking so close through the viewfinder with plenty of rotation and fine changes to its tube, the top half was dark and solid however the lower section or 'snout' was white and at times translucent then changing back to a solid form on and off and as I watched Ducks and Seagulls flew through the frame which made for a nice moment. The sky didn't offer much contrast for photography so it wasn't a very photogenic event however it was a still a funnel so I wasn't complaining. Soon it weakened, lifted into a horizontal configuration then roped-out like a very fine worm in the sky and it was gone, it was visible between 13.00 and 14.00 UT for a period of just over half an hour and much to my surprise it seemed that no one else at the Marina had even noticed it!.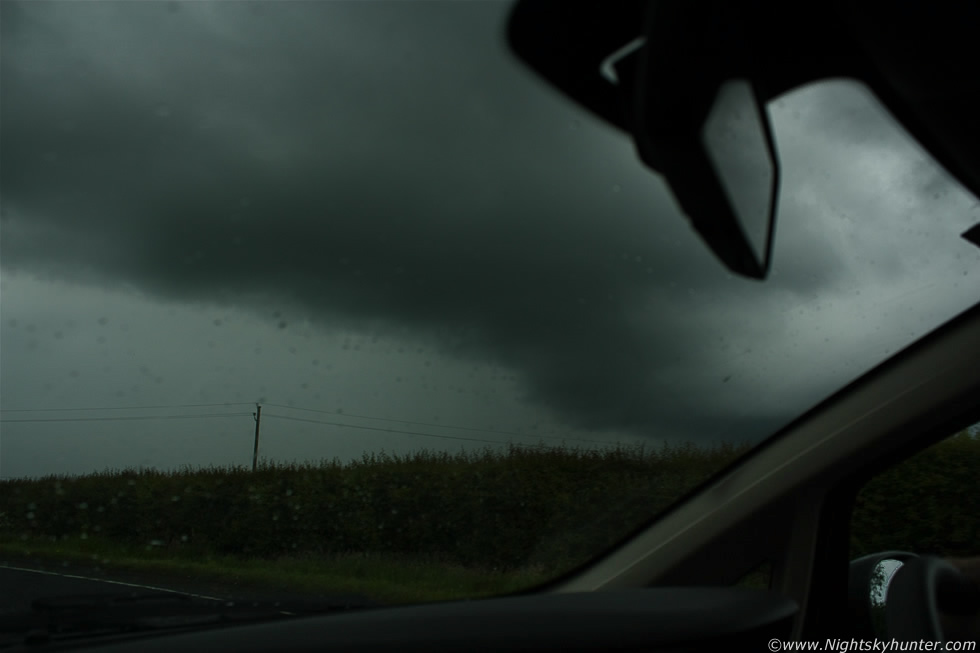 We then hit the road back NW and intercepted that trough which had now become a large cluster of thundery activity and at times taking on line convection/squall line properties as it slowly crept NE producing a rich number of c-g strikes on the sferics charts. Just N of Castledawson roundabout we pulled onto the shoulder and watched the storm approach, the structure wasn't impressive however it did look quite mean with a gust front and some whale's mouth on view and within min's the precip core was on top of us followed by a large blue-white c-g bolt of lightning and satisfying rumble of thunder but the cell was too close for photo opps as there was nothing to shoot from within a large precip core so we went N and E to try and get ahead of it, we ended up on the wild country roads near Bellaghy and Gulladuff where there wasn't a great deal of places to pull off the main road so I had to shoot from the car, the above was taken outside Gulladuff as we passed under the advancing gust front of the storm, the clouds were very dark and menacing and low to the ground and soon we were greeted by a couple of in-cloud bolts and rumbling thunder at close intervals which was nice. The cluster continued NE into N Antrim so we let it go and went back home so I could study the radar for any evening activity.
During the late evening, as expected, there where still storms tens of miles behind the earlier trough to the SW and heading NE while the sun shone outside. A strong cell was located far to the S and too far out of range for me to get to in time however to the NE of it was another cell which was worth trying for and if it continued on its current track I could intercept it as it crossed over the southern section of Lough Neagh so the chase was on for the second time this day. I hit the road in high spirits but once I made it into the Ardboe countryside I saw the cell I was after, it was dead with just mid level dark clouds marking where there had once been a cell. I drove on and saw the other cell much further away to the S and it looked like the real deal and even from my vantage point a considerable distance away I could see it had solid cloud tops and a nice anvil all lit beautifully white by the evening sun but I knew it was much further away than it looked so I pulled over and watched it anyway. I got a text from storm chaser Paul Martin from Omagh who was under the storm who said it was rumbling away close to his home. I ended the chase and enjoyed a tasty 99 cone while catching some rays under the warm sun while watching towering cumulus clouds going up and down over the far side of the lough then drove back home feeling content - thunder and a funnel cloud was a good enough catch for one day but when I got back I was already checking the models in the hope of getting back out again soon for another chase!. Until the next one, thanks very much for reading.
Martin McKenna