Friday The 13th Surprise Funnel Cloud - Kilrea, April 13th 2012
They say Friday the 13th is an unlucky day but why?, I have never experienced ill fortune on this date in the past and anytime a negative person uses this fearful date to warn me to be careful I always think of the famous observer and comet hunter Leslie Peltier who was fortunate enough to have discovered his very first comet on Friday the 13th so if anything I always expect something special to happen. When I awoke on the morning of April 13th 2012 good luck or bad luck was far from my mind as I recalled being up late the previous night watching an aurora display from a country road and as I shook the tiredness from mind I logged onto the internet to check the latest model run from GFS. The latest update confirmed what the previous updates had already shown and that was that nothing exciting was expected, there was 200 CAPE over N. Ireland however the Lifted Index was positive and temps were cool and the view outside the window was far from inspiring with a cool wet dark grey sky and a general feeling of dampness so imagine my surprise when I checked the radar and saw a strong cell over the Atlantic Ocean producing a nice cluster of c-g lightning. This was interesting because no convective forecast had been issued and the general forecasts just gave showers during the afternoon so I decided to keep an eye on the situation.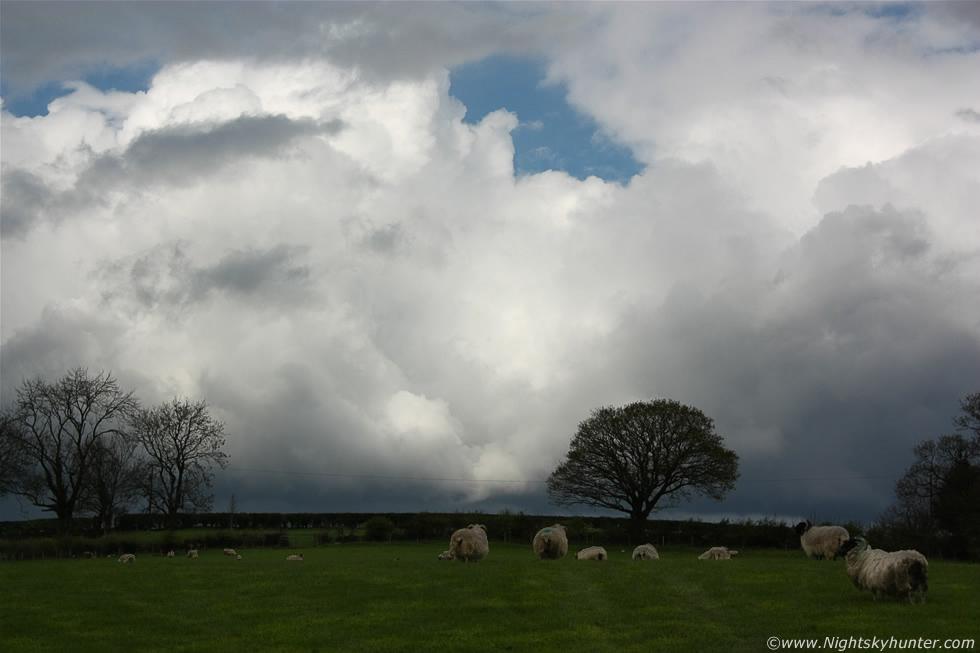 That storm and the showers associated with it moved slowly south, crossed from ocean to land, then began their journey across N. Ireland. During the afternoon intense hail showers where being reported in Derry and Belfast with a report of significant hail turning the M2 motorway pure white like snow however there where no inland sferics and despite being convective in nature they didn't seem to warrant any further attention so I got on with other things. During the late afternoon Roisin and I decided to go on a five mile walk in the countryside near my home town of Maghera, three miles into the walk the sky cleared and sun came back out to heat the land and as time went on it began to a feel slightly humid. To our N I saw a cluster of small towering cumulus clouds bubble up and orientated in a horizontal east-west line with dark bases sporting solid white tops catching the bright sunshine. I thought to myself at the time that these needed watching as they seemed to be developing fast and since it was a very slack flow with extremely slow movement I thought there could be a chance of a funnel cloud, however I did think I was being too optimistic as the cloud tops where rather low. I took the above image showing the biggest tower in that line which made for a nice sight with the Sheep in the field below who looked quite unsettled, perhaps they knew something was about to happen?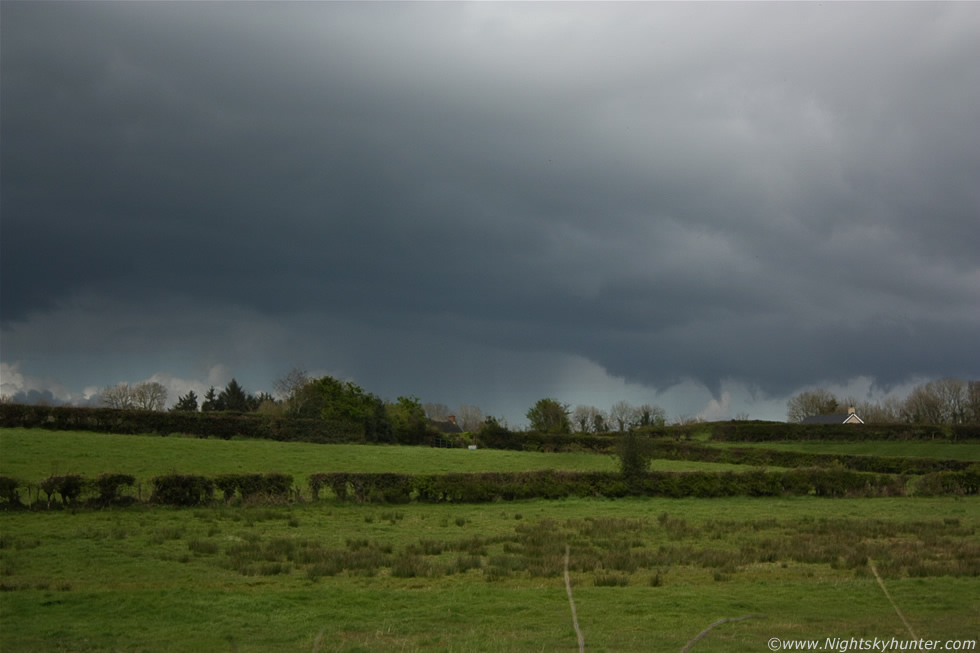 That line of towers was advancing directly towards us so we were able to keep an eye on it as we continued on our walk however our view was interrupted periodically by hills and trees, however despite this visual handicap it was obvious during a short period of time that these towers were intensifying with curtains of precip breaking out from random sections on the line. We reached a long straight section of country road which offered great views in all directions and Roisin insisted on stopping for a drink of water and that was precisely when I looked over my shoulder and got a shock, there was a very obvious funnel cloud hanging from the base of that line!, I simply couldn't believe it, I had to do a double take, it looked to be miles away yet its form was very striking as a dark smooth tube which stayed consistent in shape and upon closer inspection I could see it rotating too and just as I was thinking this Roisin said out loud that she could see it rotating as well. I checked my mobile phone, it was 16.00 UT, then I began taking images as fast as I could. The above image was at 55mm using my 18-55mm kit lens and in the excitement of the moment I took as many images as I could.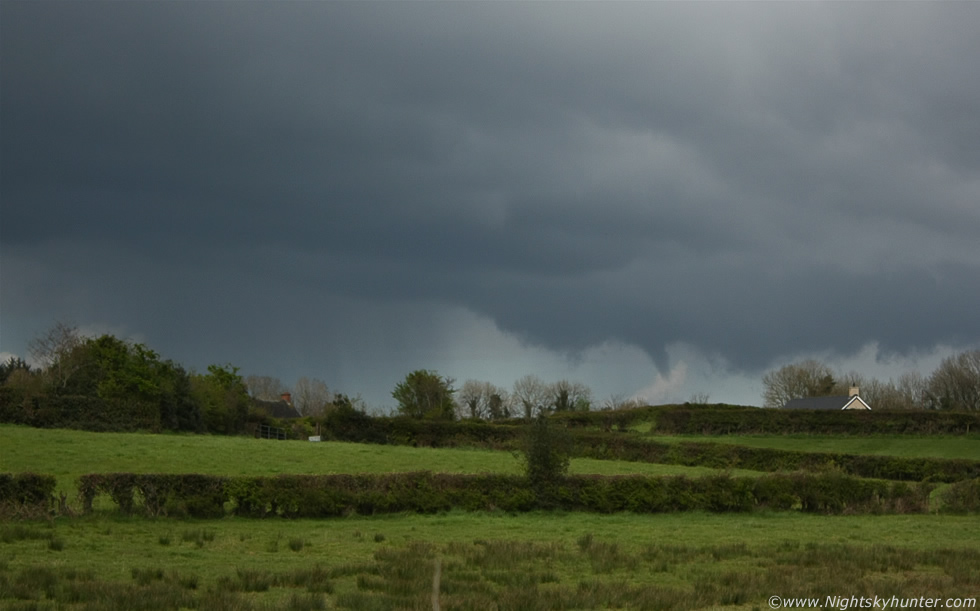 This image and the two below are slight crops from other 55mm stills, the funnel looked very solid and dramatic as hell rotating above the bright green sunlit fields with that precip core visible to the LHS, the dark clouds (darker than the images show) and bright foreground looked fantastic with the naked eye, while this was going on Roisin was observing the funnel and getting images with her mobile phone too. These images where taken just outside of town on a country road just east of the main Coleraine road looking NE.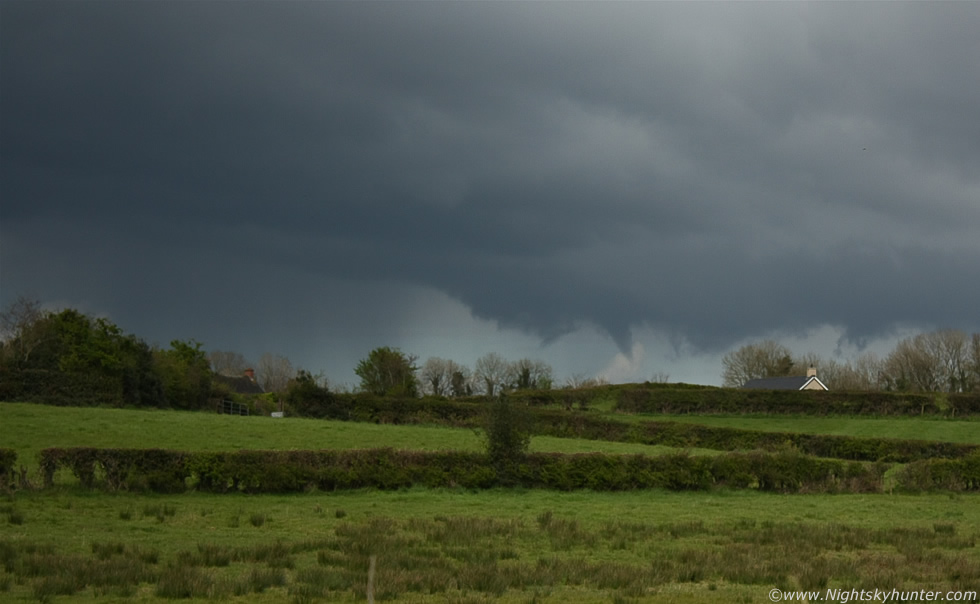 The back of my LCD screen was misting over due to my heavy breathing as I concentrated on shooting the funnel while observing its motion, I have seen many funnel clouds over the years however I always feel the same way when I see a new one, a combination of excitement, awe, and disbelief with a panic to get good images before they vanish as one never knows just how long they will be visible. The funnel looked great between those two distant houses, I was delighted that we had went on this walk for had we been at home there was no way we would have seen this funnel at all as it required a good unobstructed horizon.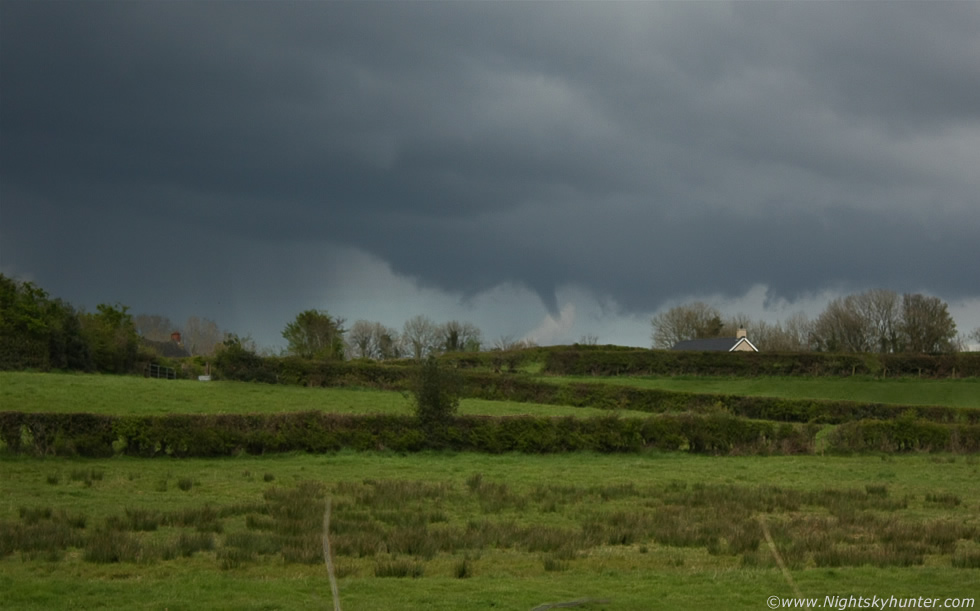 You can see the changing shape of the funnel during these images however I have many more which show its entire life cycle. I was mentally kicking myself for not having my Canon 100-400mm zoom lens with me as the results through that superb piece of glass would have been awesome. The funnel then seemed to dissipate then vanish and after a few seconds it re-formed again for a second time looking almost identical to the first with that smooth dark tube, the forward motion of that line of convection was so slow that the funnel stayed within that same sector of sky the entire time which from our viewpoint was between that house and tree on the LHS. This funnel ranks as very unusual for me because it formed from convection in a cool Nly flow which I have never seen before and also because it formed on the leading edge of a shower line not far from the precip curtains, although this is not unheard of it is still unusual as most funnels form at the rear of a shower or storm so perhaps the shower's outflow had some role to play in its formation, a process that was perhaps aided by the land and maybe even by small scale convergence. This funnel is a well taught lesson for those out there hoping to catch their own funnel clouds and underscores the issue that you don't need big CAPE, negative LIs, strong solar heating, or tall cloud tops to get them.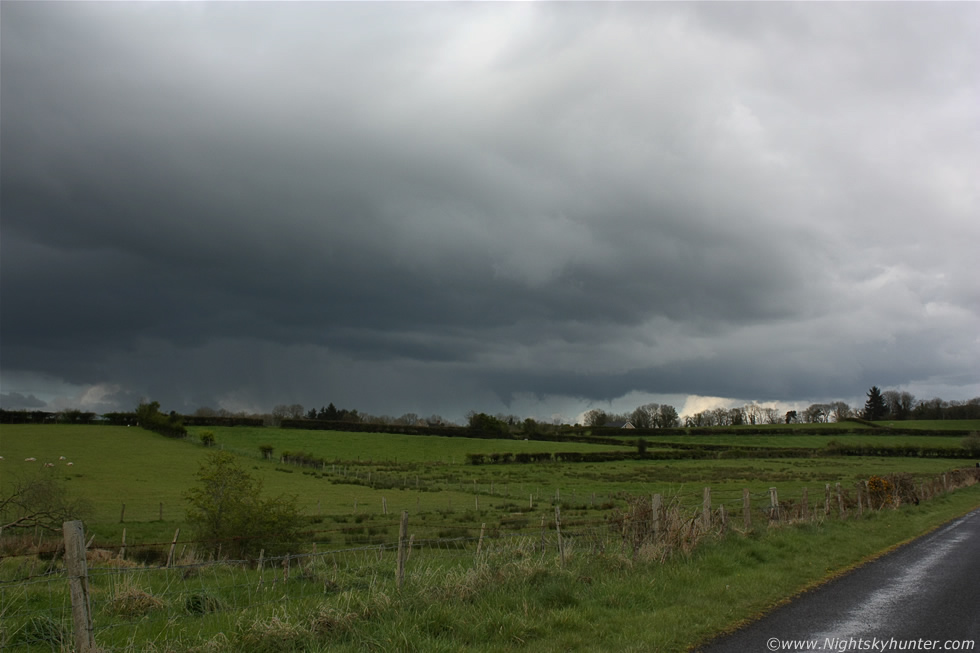 One of my favourite images at wide angle showing the entire shower/cell structure with precip core and funnel all in the same frame. Soon after this the funnel got covered by the precip core and seemed to dissipate and it was gone, the time was 16.10 UT so it had been rotating for at least 10 min's in duration. We got back home and a little later the precip core passed over my home producing moderate rainfall however strangely enough when it passed over Maghera town - which is just a few hundred meters from my house - it produced a very intense hail shower which got the attention of my Mum who was driving through town it at the time so the shower was most certainly convective in nature.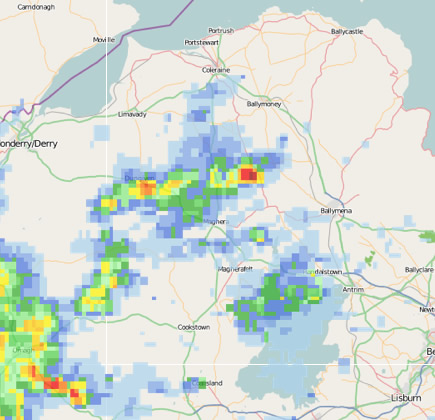 The above high resolution radar image was emailed to me by a contact on facebook and shows the rainfall rates over central Ulster at the time of the funnel observation. The radar revealed a very strong echo (red) from that cell indicating an intense precip core while the funnel was present, but how far away was it? and where was it rotating?, at the time I guessed two miles however I was way out, I combined this radar image with my map and came to quick conclusion that the funnel was over the town of Kilrea (or very close to it), furthermore according to the scale on the map that meant it was 9.75 miles away as the crow flies so the funnel must have been quite large indeed. So there you go, a dramatic unexpected funnel cloud on Friday the 13th, this was my first funnel catch of 2012 and Roisin's first ever funnel sighting which made it even more sweet. It certainly has been a very active period of weather across UK and Ireland this week with the classic 'April Showers' set-up delivering five days in a row of showers and thunderstorms across various parts of the country, indeed England had thousands of lightning strikes the following day along with another good funnel catch. For me it was a busy and productive week, I storm chased on three days, the first two were busts however on the third I wasn't actually chasing at all when I was lucky enough to be in the rite place at the rite time to witness some of the most massive April cells I have ever seen over Lough Neagh followed that night by an aurora then the next day with this unexpected funnel. With this in mind I really do wonder what amazing nights nature will present to us on the weeks and months ahead. Thanks very much for reading.
Martin McKenna