Rare Frozen Waterfall At Downhill Beach - March 4th 2018
Two days earlier I had just witnessed the most spectacular glaze ice event of my life at Ballyronan Marina (report) and I felt sure that this was the end of the Winter spectacle, I had seen it all and nothing else could impresse me after that epic event. On March 4th Roisin and I where driving to the coast and I recalled how the famous waterfall near Downhill beach had froze over several days ago, we had seen the dramatic images posted on social media and I had wished I had experienced that event to tick it off my list, however I assumed it was likely gone now as temperatures had been on the rise so our expectations were low, in truth we were expecting to see the normal flowing waterfall, that is until we arrived on the coastal road, rounded a corner, and there where two frozen waterfalls in front of us!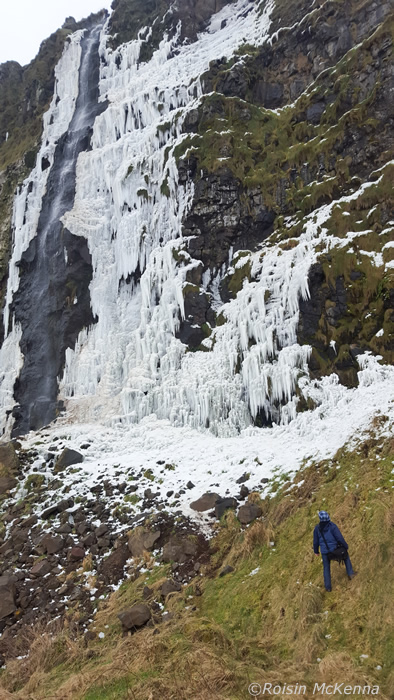 We got off the road and made our way up the grass slope in proximity to the waterfall, it was one of those occasions when images don't do the scene justice, you needed to be standing here with us looking up the cliff face at this complex wall of ice covered in white, it was bizarre yet spectacular, Roisin took this one with her phone showing me taking in the scene.
My initial instinct was to get physically closer to the ice, which was a lot more difficult than it looks here, slowly making my way over ice and uneven ground over a steep incline, I was sliding back one step for every two steps forward, however I eventually made it to the base of the waterfall, I used the 10mm wide angle to get up close and personal.
I would have needed at least five 10mm frames stacked on top of each other to cover the full vertical extent of this ice, some water was falling on the left side spraying the camera and myself.
Look at the size of those icicles, soon the waterfall had attracted a lot of attention, cars galore arrived on the scene and people were making their way up to marvel at this rare event from Mother Nature. Families, children, photographers, a few people asked me to take their images using their phone while others took selfies.
Panning upward, then I heard a loud noise, a huge chunk of ice, likely one of these large icicles, fell from the top and landed at the bottom perhaps 5m to my left, it was quite an impact, I realized it was dangerous standing this close so I warned a few others who had arrived on the scene then I backed off a little to keep safe.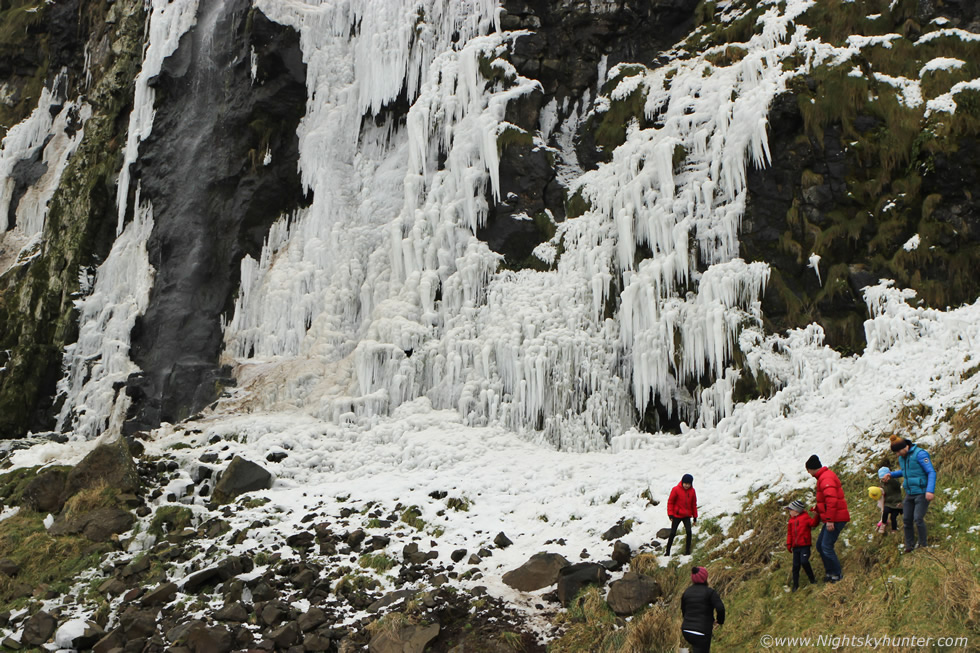 Now at a safer distance with the 24-70mm, people in the foreground made for a great sense of scale. I got chatting to a few locals who said they have been living in this area their entire lives and have never seen this waterfall freeze before, not even in 2010, so that makes this event extremely rare, on a personal level this makes for two rare ice events in the course of three days which I may never see again in my life. Roisin and I took images and video then just stood back taking the view in, we were delighted to have been a part of it. What impressed me most of all was the amount of people taking an interest, cars came and went all day long, families with their children documented the event and getting their images taken with the ice, I have to say it was nice to see nature taking central stage and getting the time and respect which she deserves.
Video clip documenting the frozen waterfall from various angles using the 24-70mm and 10mm lenses with the DSLR, excuse my shaky camera work, it was cold and I couldn't keep the camera steady, I may need to invest in a DJI hand held gimbal at some point for smoother hand held filming. The Winter of 2017/2018 has done me proud, however I'm now ready for Spring and Summer, it will soon be time for chasing thunderstorms, thanks very much for reading.
Martin McKenna