Three County High Precipitation Storm Chase - June 9th 2014
Third day in a row of storm chasing during the current four day long storm outbreak across Ireland. Roisin and I were tired after the two previous days of chasing covering over 22 hours of driving through Sligo, Fermanagh, Omagh and Cookstown and back to home territory and it looked like we would be doing it all again. After a late night and little in the way of sleep we got up early on Monday morning and organised for the chase. The morning model run had updated everything which was even more of a bonus with 1300 CAPE and LIs of -3 in a very unstable and slack SEly flow, there was once again convergence out W and this time enough shear for more linear storms or multicells however certain parts of the country had local wind profiles capable of a brief rotating updraught, ESTOFEX had a 50% lightning box over Ireland and TORRO had issued a convective discussion for funnel clouds and weak tornadoes. It was obvious from the 10.45 GFS run (which was supported on previous runs) that the atmosphere was keen on producing convective precipitation over the W and S of N. Ireland and the republic and after a good look I was able to choose our target area rather easily. There would be storms below the border in no time and they would move NW as the day advanced, I didn't want to end up in Sligo again this time as everyone was tired and fuel costs were being factored in so I decided on Co. Fermanagh once again which looked like a great spot with the option of going N into Donegal if needed, the good news was that CAPE would be present into the late evening and with strong solar heating already at work and high humidity with weak CIN it looked like another day of prolific thunderstorms.
During the late morning I watched developments via my laptop in the kitchen, we couldn't quite leave as early as I wanted due to other reasons however the news was good regardless as the radar indicated thunderstorms had exploded S of the border, in fact - several trains of storms - and they would be heading into Fermanagh and W areas in the near future so at least things were happening. We where on the road for midday and joining Roisin and I for the second day in a row was my Mum and our dog Rua, as we advanced S I wondered two things, 1), would my personal forecast be successful for the third day in a row?, and 2), would we get to Fermanagh in time to intercept those storms?. I felt confident regarding the first however I was uneasy about the second and figured we would be late to the party and would have to wait on new storm development in the evening however there was never any doubt in my mind that we would get on a storm. The journey S was surprisingly good and we seemed to flow through towns and villages and always had the good fortune of getting green lights which made good speed while enjoying the warm air while trees and lush fields whizzed past the windows as we met the open countryside en route to Co. Fermanagh, the mood in the car from everyone was a marked seen of relaxed confidence.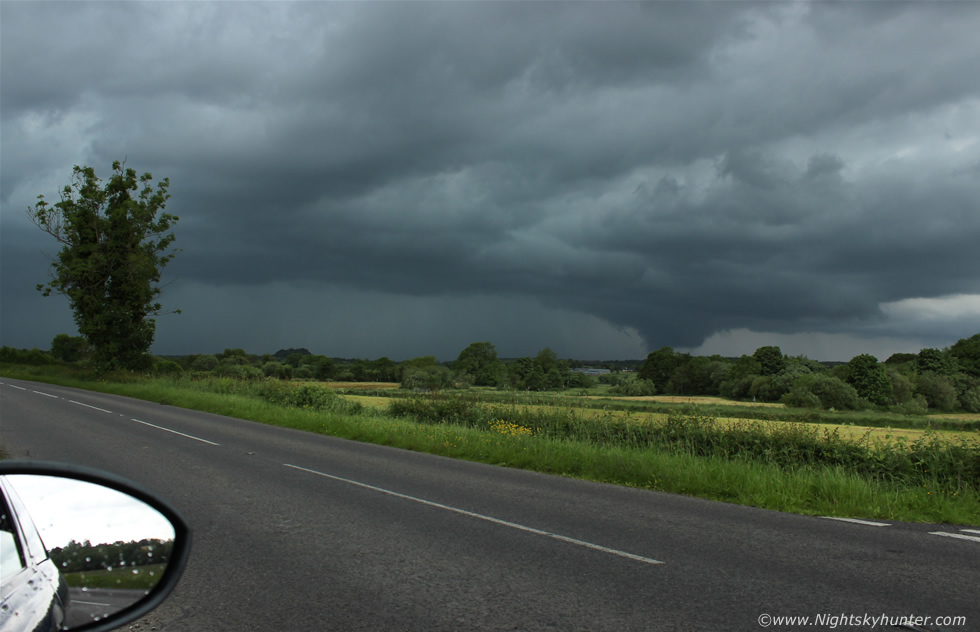 When we approached the countryside to the N of Kesh I knew in an instant from looking at the sky that we were already successful. A beast of a storm could be seen in the distance and it looked close to the ground with sides towering eye into the sky filling my field of vision and it made for quite a sight as we starred at its thundery blue tones and heavy cloud structure, it looked the business despite being some distance away and for a period I could have sworen I saw striation banding at mid levels hinting at possible rotation however we couldn't find anywhere to pull over to shoot it so we kept chasing in that direction in the hope of finding a place to stop. I was worried that if we got too close we would loose our chance at a structure shot, however we were all needing a visit to the bathroom while at the same time feeling concerned that the delay could cost us the storm however we couldn't settle until we got it out of the way so we made a brief stop at Kesh Marina and with much relief we got to the bathroom and back in the car again with 10 min's of lost time to make up for.
We left Kesh then raced S as far as we legally could, mid level cloud had obscured the storm for us so we just kept heading in that general direction even though I was conscience of the fact that the SEly flow might take the storm N and W away from us if we didn't get to it in time which would mean changing the plans and picking a new road network however I reckoned we could still catch it from Fermanagh. 15 min's later we entered the beautiful open countryside of Co. Fermanagh - my original target area - and there was our first thunderstorm of the day straight in front of us, I took the first option I could find to stop and ended up in a very small opening in the grass verge on the L side of the road beside a narrow road which led uphill into a farm, we got the car angled, put down the windows, switched off the ignition and watched and listened. During my first cursory glance towards the storm I thought is that a tornado? - no it wasn't however it was something just as interesting - a wall cloud.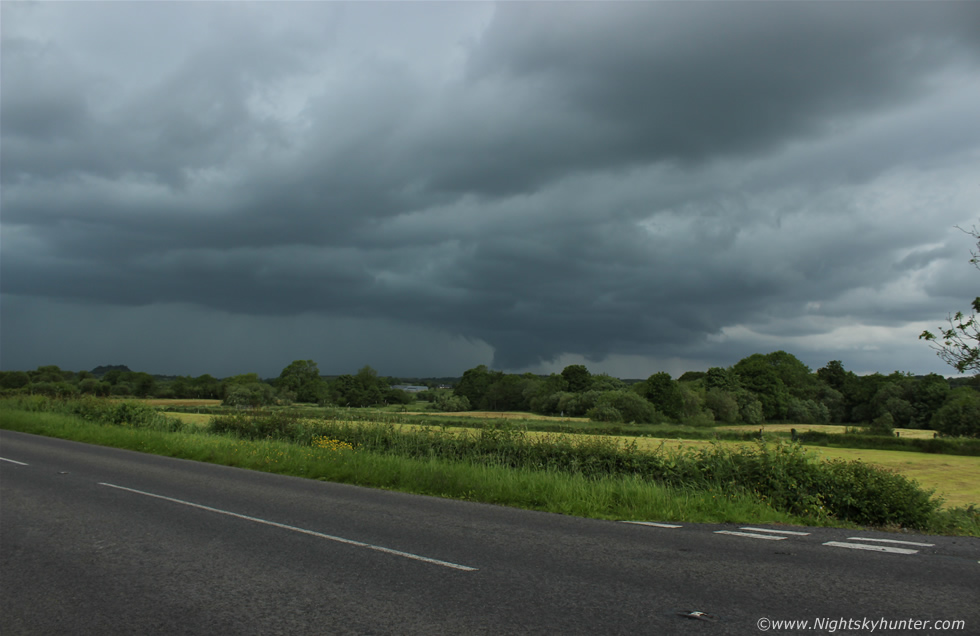 Here's our storm at wide angle, it looked a beautiful sight hovering moodily over the vibrant Fermanagh countryside with the birds singing and the glorious feel of hazy sunshine filtering through the clouds with the humid air wrapped around us like a damp but warm blanket. A farmer in his tractor was working in a field close by and out of frame to the R and we all sat in great contentment watching our well earned storm. Roisin was taking video in the back seat while I shot still images from the front, we could hear rumbles of thunder and observed periodic i-c and c-g lightning within the core, however look at that lowering to the R!, the storm was moving away from us to the NW, this lowering was located at the rear and E side of the storm, it was an inflow feature called a wall cloud which is not to be confused with a shelf cloud because at times they can look quite similar when viewed at different angles and that identity can be even more difficult when the lowering is some distance away. Shelf clouds are outflow features and are usually pointing away from the area of precip, a wall cloud however is an inflow feature in the form of an abrupt and often blocky lowering at the rear of the storm and attached to the base of the updraught, this lowering was pointing towards the area of precip and was also lowered on that side which is a classic characteristic of a wall cloud.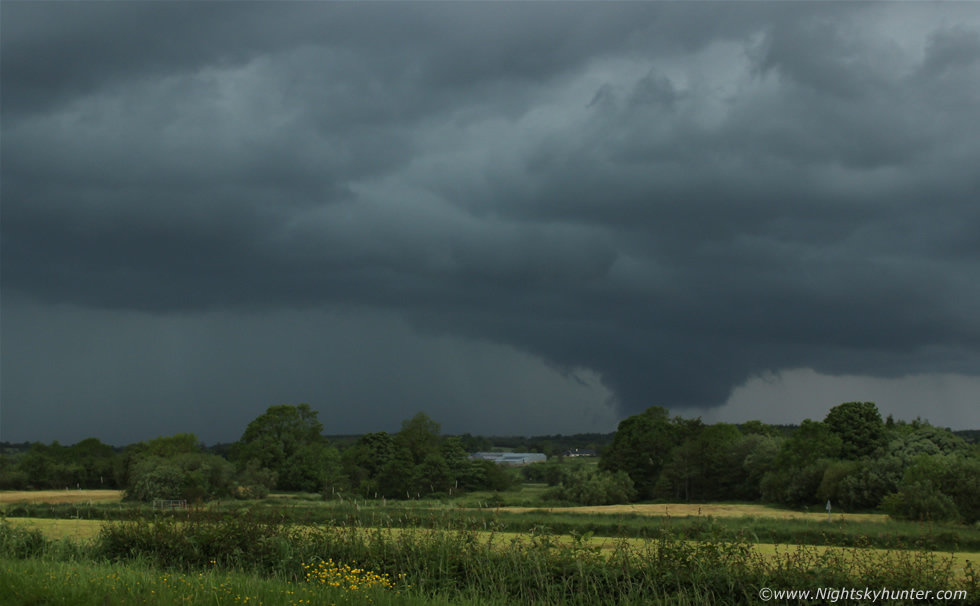 A wall cloud is a prized catch for any storm chaser so I considered this a fine trophy from the chase which was an absolute treat. This wall cloud was large and almost touching the ground and as we watched we could see it rising vertically with scud tags forming and lifting vertically into the lowering, I couldn't tell if it was rotating as it was simply too distant however it was a beautiful sight over the fields regardless. I looked to my R and saw that the farmer in the tractor had been watching us and had followed the direction my camera lens was pointing then he too began watching the storm from his cab, pink c-gs hit and were gone in a second and distant rumbles greeted us across the country then the wall cloud lifted and vanished then was gone for good, I wondered if we had been here 15 min's earlier would there have been a funnel cloud or tornado?, did that bathroom break cost us?, I doubted it and I can live with it, the wall cloud on its own made me happy enough and I enjoyed the memory of all of us watching it together as the birds chirped and the bees buzzed through the lazy Summer afternoon air.
You can see an edited version of the wall cloud on the video, for any readers who don't know, wall clouds mark a region of intense inflow into the base of a storm and rotating wall clouds can be a precursor to funnel cloud and tornado development so they are always exciting to see and tick off your list. I glanced back at the tractor and realized he was waiting to get into the lane which we had been blocking - I hadn't noticed and had a feeling he was waiting for quite some time so I gave him an apologetic wave and moved off, the farmer waved back at me with a big smile as if he wasn't bothered, he was so nice and patient and was kind enough to let us sit there to take our images while he waited, what a true gentleman - that's the kind of lovely people you meet in Co. Fermanagh!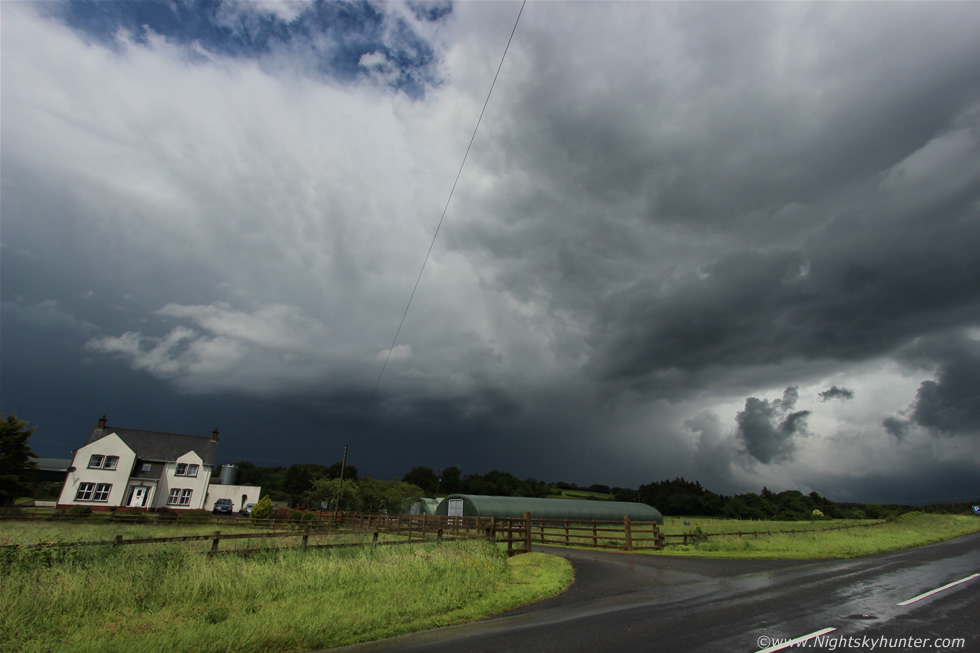 We continued S deeper into Fermanagh and I was feeling elated, relaxed, and confident with our success and that rush to see something had passed, it was out of my system so I was just going to enjoy the rest of the day and anything else we experienced would simply be the icing on the cake, to get three success in three days was very satisfying and I felt I had earned my rite to breath again and enjoy the experience, after all with three days in a row of prolific thunder, lightning and torrential rain I felt at one with the atmosphere and used to it all, it seemed like thunder and storms were a normal thing now, that's how desensitized I felt from our last 22 hours of constant exposure.
We punched through the core of the storm and entered wonderful sunny skies so we once again pulled onto a grass verge and watched the storm move off into the distance. This time all four of us got out from the car and took in the wonderful view and delightful air. This was still in Fermanagh and not far from where I used to stay and fish at Lower Lough Erne when I was younger so being here brought back joyful memories, back then I was fishing for trout however now I was fishing for storms. It was sunny, very warm, humid and the scent of the country made us feel like we were on holidays while butterflies danced in the air and thunder rumbled in the distance. This is a 10mm wide angle view looking N at the back of our now distant storm sporting small mammatus with another storm visible to the R which was moving in behind the first, we still observed in-cloud bolts and heard thunder then a new line of towers to our W got our attention so we got back in the car and headed in that direction, our next stop would be Belleek.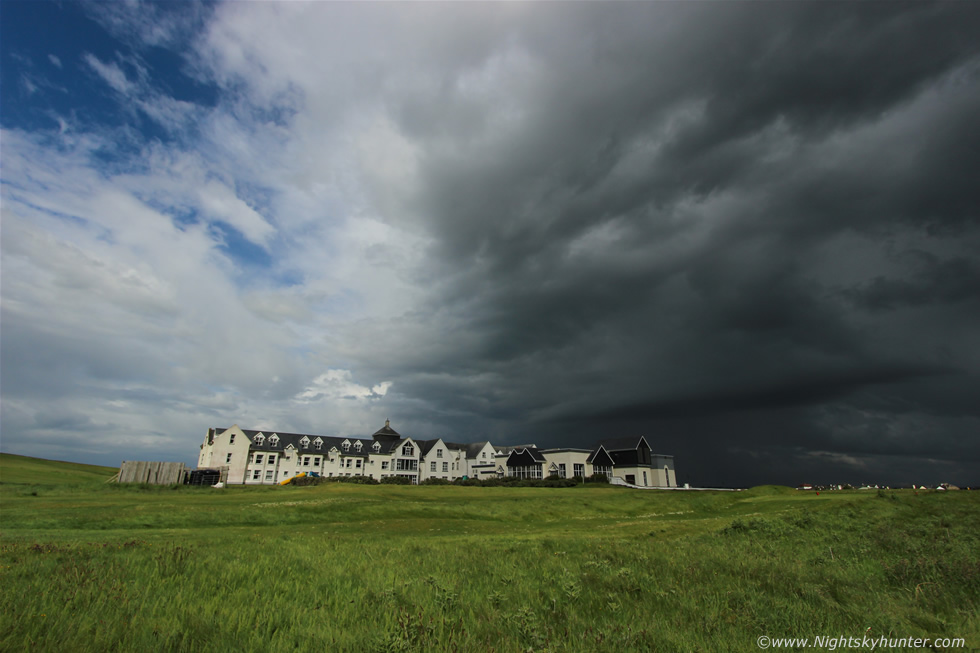 As convection brewed along the W of the country we took a break in our favourite cafe in Belleek and enjoyed a nice lunch with wifi access which showed more storms coming up from the S, the direction was almost identically to Saturday's so we decided we would relocate then wait on them to move up and safe fuel and get some exercise in the process. We watched towers bubbling for a while on the border from the car park at the filling station there then moved into the republic and W then parked at Bundoran. We had a nice window of sunny hot weather to enjoy before the weather turned nasty again so we took advantage of it and had a fantastic walk along the cliffs and took in the magnificent sight of the Atlantic Ocean with Donegal in the distance.
The humidity was really something and walking in it was very uncomfortable but at the same time great to experience, while Mum admired the sights and horses I kept monitoring the sky and noticed the heavy look to the clouds and the towers growing with darkness becoming more notable, I said that we would need to be careful about walking too far as we were a good distance from the car and if any storms formed we could be in danger out in the open so we turned around and began the walk back and within 5 min's we heard a distant but angry growl of thunder, something was out there and getting closer, my instincts had been correct so we made a beeline for the car and had a flask of tea as the atmosphere seemed to change in an instant. The above scene captures this transition from sun to storms very well with a real yin and yang of light and dark, that's the Great Northern Hotel with storm clouds moving in from the R.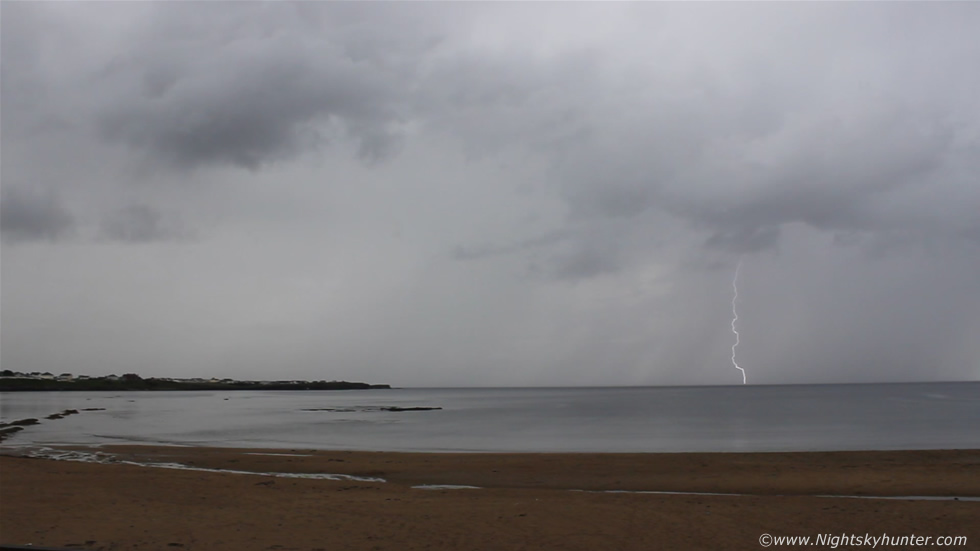 A cluster of high based storms moved in from the SW with thunder getting gradually louder and more frequent, at first the storms where out W then new cells formed over the town of Bundoran itself which began flashing and banging in close proximity. Mum, Rua and Roisin took shelter in the car while I stayed outside to film while light rain fell which felt so refreshing on my skin. The leading storm of the line moved over the ocean so I set my video camera on the wall which ran along the promenade and recorded in that direction, it was getting chancy with lightning over the ocean and a close range inland storm performing a pincer move behind me and getting closer. I could see the lifeguards in the tower watching the lightning over the sea, I got lucky and caught this nice c-g on video hitting the water. The light rain turned heavy and my camera was getting soaked and I could no longer keep the water off the lens so I ran back to the car soaked and got shelter inside and filmed from there, the next three images are video grabs.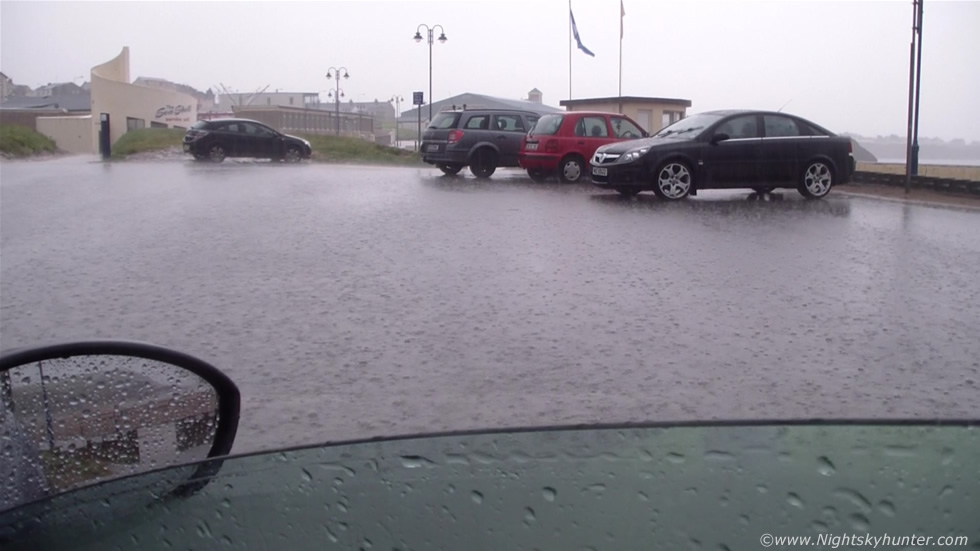 This is when everything went down hill for good, and I mean downhill for the rest of the day for hours non stop rite into the late evening, this was not a day of storms then sun then storms again, this area of the country seemed to be under continuous storms for a very long time, there was no respite and I wasn't complaining. Intense torrential rainfall hit Bundoran saturating the ground quickly, it was coming down so hard the rain seemed to bounce back into the air again if you know what I mean, here's the view out the window which doesn't do it justice at all, all the lightning was in-cloud and we got a great example of shotgun thunder which you can hear on the video. We sat in the car for a very long time listening to the thunder and memorized by the rain however there's only so long you can do that, I'm a storm structure fan, I love the mean yet majestic clouds and I needed that for my photography and I wasn't going to get it here under rain no matter how much lightning there was, it seemed that storms where training or back building over this area, it went on and on, it was actually getting pretty bad so I decided I wanted to get away from it and out to brighter air and back to cloud structure so I cleared the window and we left Bundoran.
My memory of what happened next seemed blurred at this point, I have a recollection of doing a lot of driving through intense rainfall for what seemed like an eternity so I drove E and cleared the storm and parked yet again on the border and watched the storm's edge boast some rotation then we went back N and E again, I figured these high precip storms would continue like this all evening and with this messy sky there would be nothing for me to shoot so I began the drive home again, however once in Fermanagh the S side of the line looked impressive once more so we stopped and watched the storm over the lakes for a while with yet more thunder and lightning, there was a shelf cloud forming with teeth in the distance and I thought that maybe this wasn't over yet at all and the prospect of a big shelf cloud was enough to justify staying longer, I need to stay E of the storm yet again away from these trees so I drove to the junction outside Kesh then turned W and N and back-tracked the way we had come only this time through higher ground, we drove for miles and ended up in Donegal and parked at a filling station as the teeth of shelf appeared above the station, it was hard to shoot but it looked mean visually and the sky was very dark. Roisin and I went into the station for snacks and even while inside we could hear the rumble of the rain on the roof, it sounded very nasty, we couldn't get to the car so we stood at the doorway to the shop and just watched the storm, it was nice to forget about the camera for a change and just enjoy the show with my eyes, big twisted pink bolts lashed overhead and loud thunder seemed to shake the foundation, it was actually extremely dangerous outside as torrential rain hammered the place and lightning struck at regular intervals, we took a chance and made a dash back to the car getting completely soaked in the process.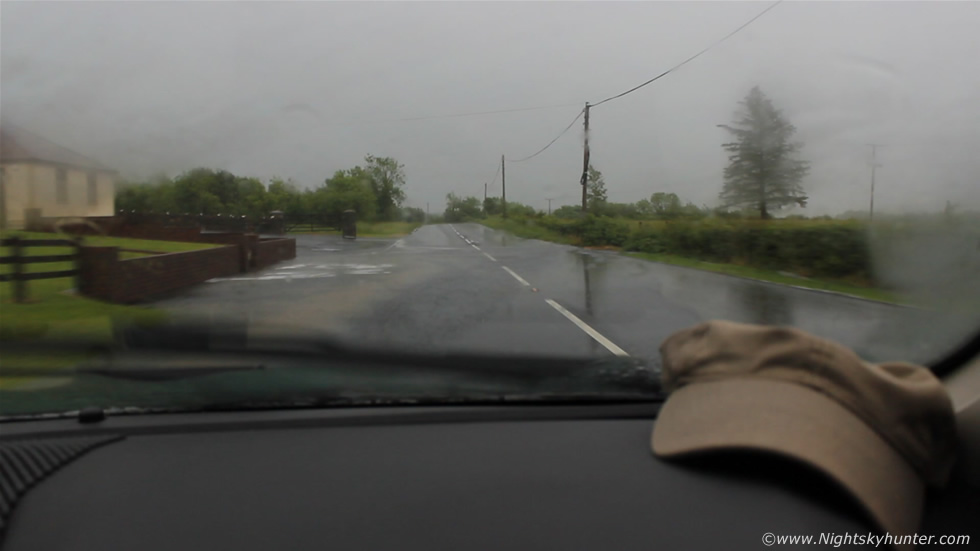 We then drove back E through the back roads of Donegal and it was clear this storm had made an impact on the area, the roads were absolutely saturated, this is a still from the video showing the water across the entire road, this was a common at this time and the water sitting on the road was getting deeper by the minute, we also encountered a great hail core in the middle of this torrential rain - probably due to a new unseen updraught going up above us - and had to pull over to watch the show, the sides of the road were white like a dusting of snow had fell, it was amazing the hail even lay at all from the rain washing it away after it fell, in the above image you can see the white areas of hail near the wall in the puddles.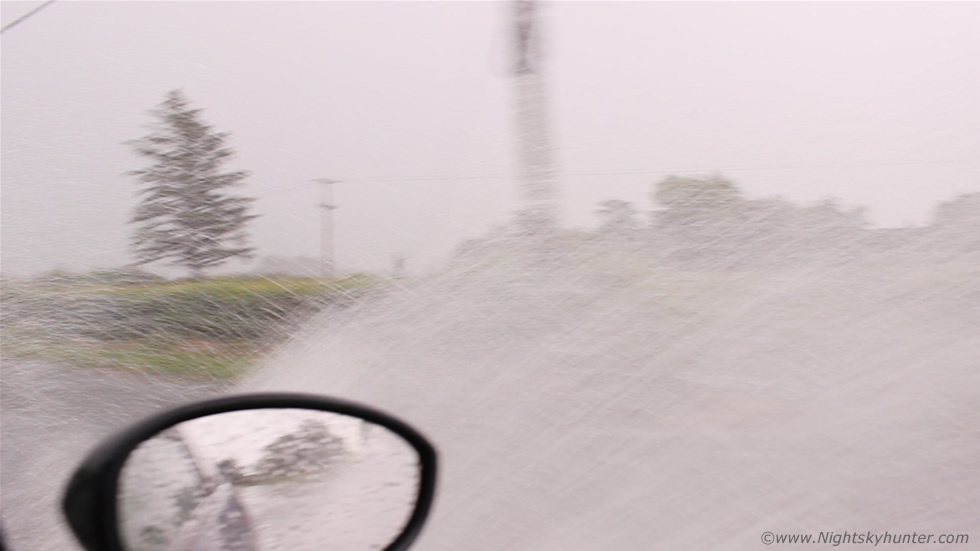 It was great fun to drive along these saturated roads, great waves of water would spray upwards at the side of the car above head height which was really exciting, naturally I had my window down to experience this, my Mum wasn't too impressed however Roisin and I loved it, karma got me in the end though as my legs were soaked to the skin and the front seat was cold and wet for hours afterwards.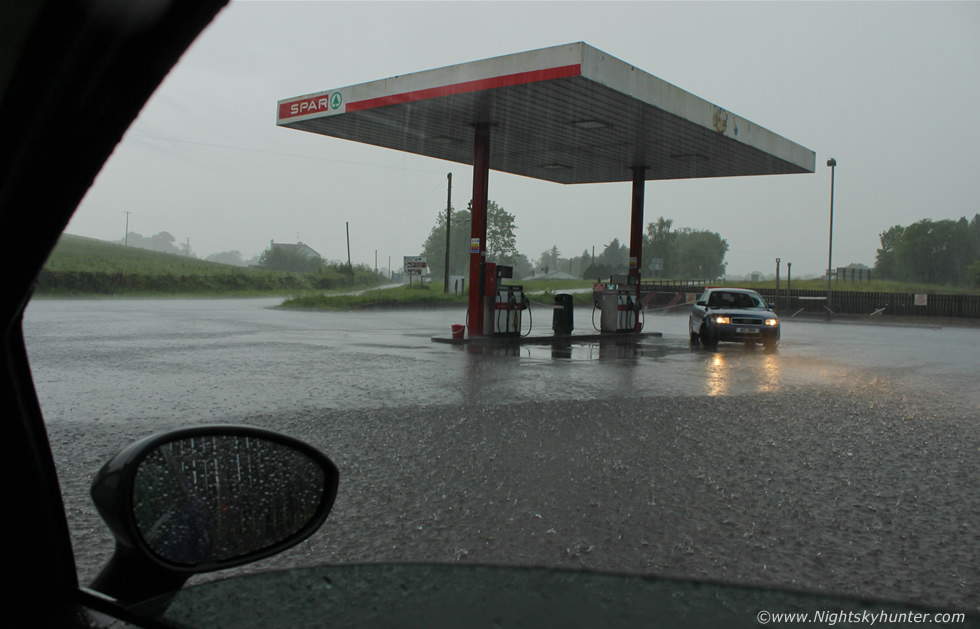 The storm seemed to be building all the time and was chasing us home rather than the other way around, the road conditions got so bad we had to pull over, so here we where watching the storm from the filling station on the outskirts of Kesh. The rain earlier was nothing compared to this - absolutely torrential rain, it was falling hard and fast and there seemed no end to it, this rainfall was actually so impressive that it got my full attention and was even more exciting to watch than the lightning overhead, we watched this for a very long time, this was one of the still images I took during the brief moments the window was down, Roisin and I also got some brief video to document this core, there was no question that these were nasty high precip slow moving cells which kept back building for hours, we were certain there would be flooding and terrible road conditions all over Fermanagh and Donegal for the rest of the evening. Lightning would whip across the sky overhead and I could see its pink reflection on the rain soaked ground outside the door, the filling station was completely saturated and covered with a large scale film of water and it kept on raining with a few hail stones mixed in for good measure.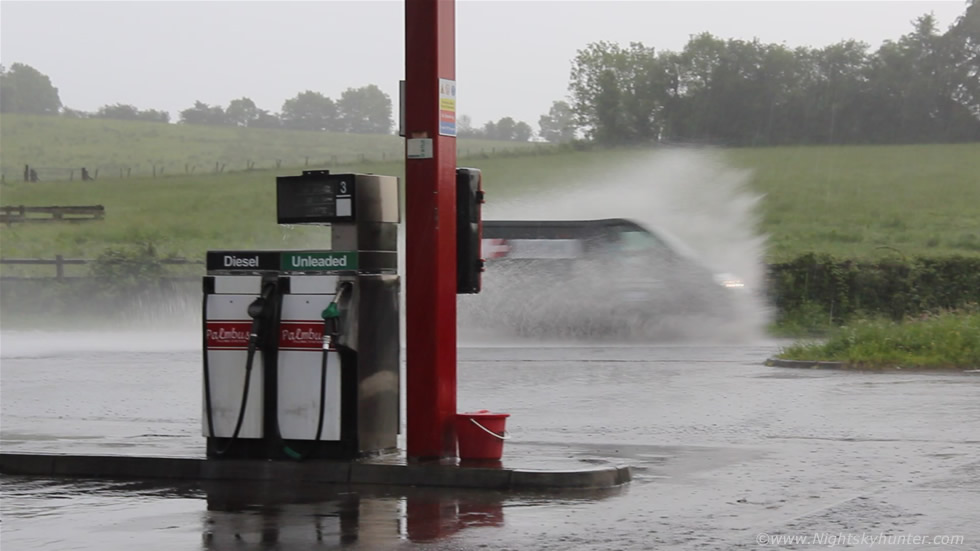 The cars threw up a great spray as they passed us on the road, this is a still from the video which Roisin took, I wish someone else had been there to get a shot of our car driving through it.
We drove forward to the entrance of the filling station adjacent to the road to film cars on the road, here's another video grab, in places the water was flowing down the road like a river which was crazy and for some strange reason there seemed to be a large number of coke bottles floating along these roads, not just here but in other locations too, it was amusing to watch the bottles float by like little red boats.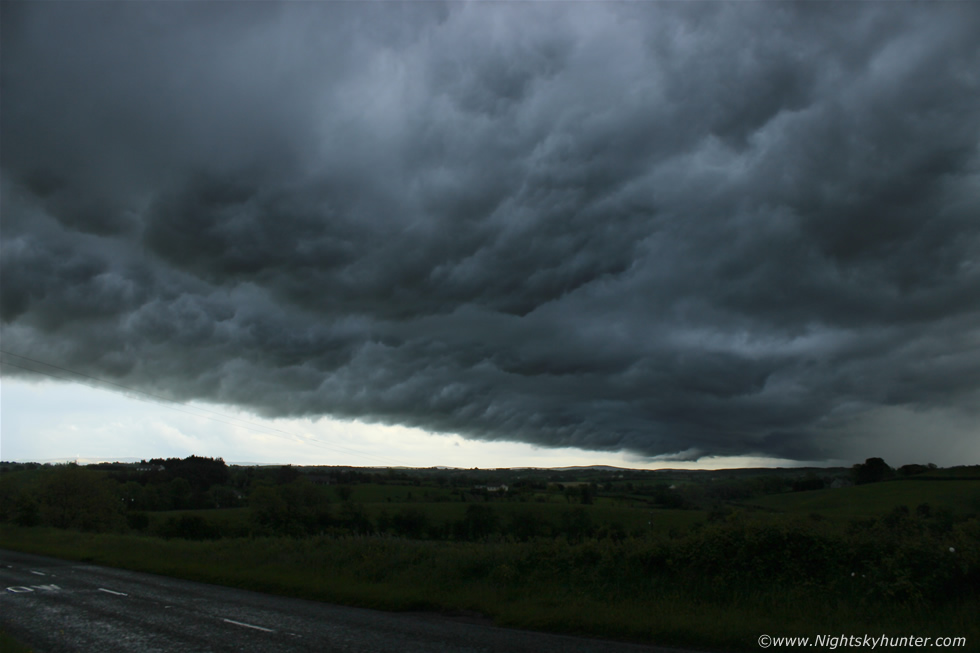 We drove N in the direction of home and soon we emerged from the precip and entered a clearing which revealed that we where under a huge shelf cloud of the high precipitation storm we had just encountered, the shelf was covering much of the entire sky and sported widespread whales mouth, I was thinking this is worth a shot and just as I thought this Roisin said ''Martin, I think we should pull over and get images'' - how lucky am I to have a partner like this?, so we pulled over at the side of the road and got out for a few shots, here's the gust front with whale's mouth, the roof of it was overhead with structures stretching across the W and E sections of the sky, the clear sector in the image is to the N where we needed to go, I figured if we could race ahead of it we could get treated to an amazing shelf cloud in the evening light however since we where parked near the main road on the S side of Omagh I doubted we would make it in time.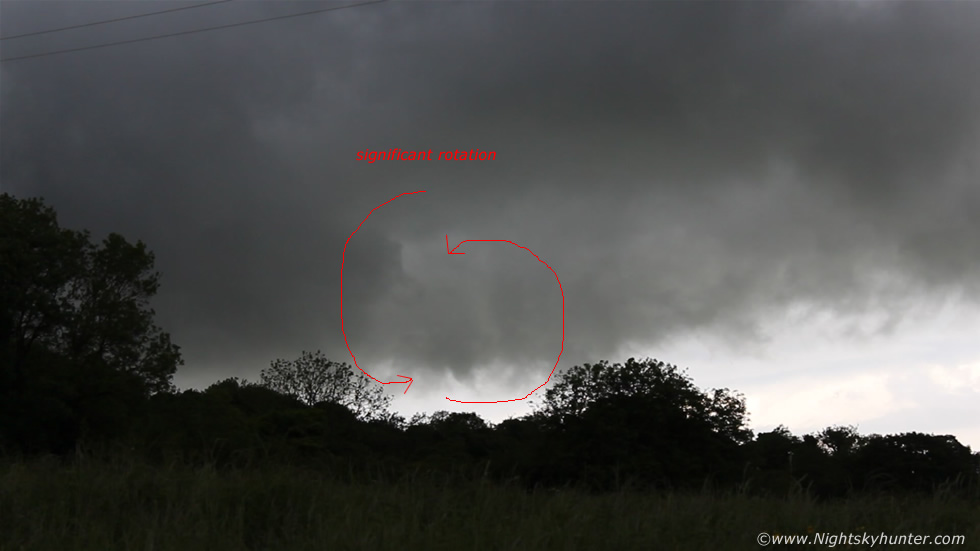 I glanced to the W and got a shock, the storm was rotating like crazy above the trees, the rotation was significant and I can tell you that after driving for hours in heavy rain seeing something like this was very exciting and I immediately felt a rush of adrenaline, quite a few vernacular words were fired in that direction, luckily I got some of this recorded on video which I have included with a time lapse portion on the clip below which really shows the rotation very clearly, it looked like it was about to put down a funnel or tornado at any minute and I was worried that we could lose sight of the area of interest behind those trees so I yelled out loud that we needed to move on to a clearance so Roisin and I hurried back to the car and continued N, above is a video grab.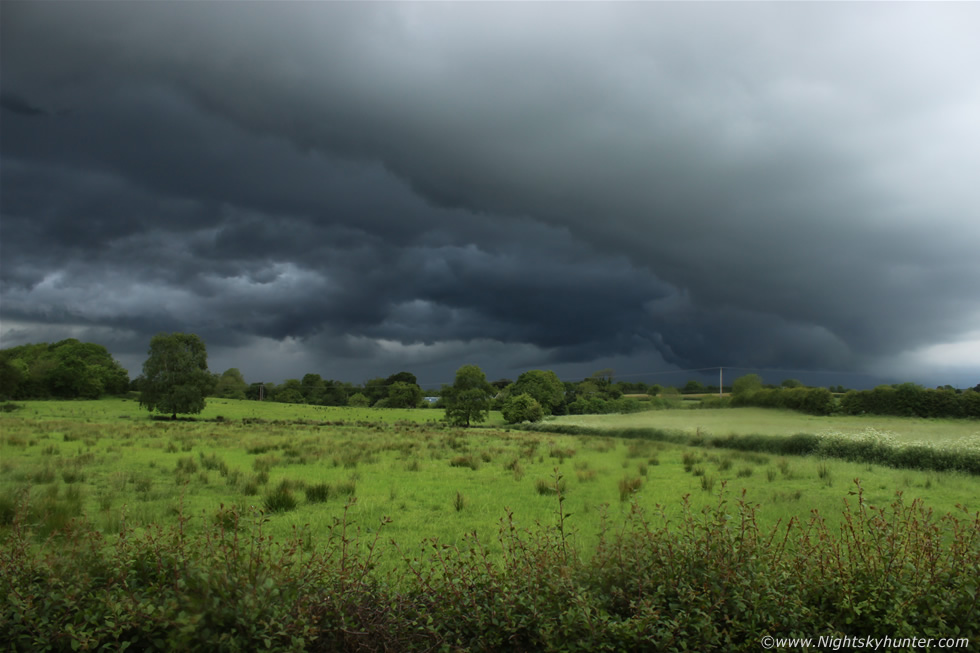 While on the road we lost the circulation from view or it vanished so decided to take advantage of the location to watch the gust front pass over us, the countryside to the S of Omagh was beautiful so we got off the main road again and entered a very narrow lane which I had never been on before in my life with room for only one car, the lane was surrounded by a tall hedge on either side so we drove slowly until we got a lowered section of hedge and got out once again for more shots. The thundery blue outflow dominant storm with whale's mouth made for a striking sight over the green fields, images don't do this scene justice at all and I wish I had video of it, however this image alone stirs up those emotions for me in an instant, Roisin and I stood out shooting this scene with our cameras with this amazing light while random pink c-gs struck down behind the trees with rumbles of thunder.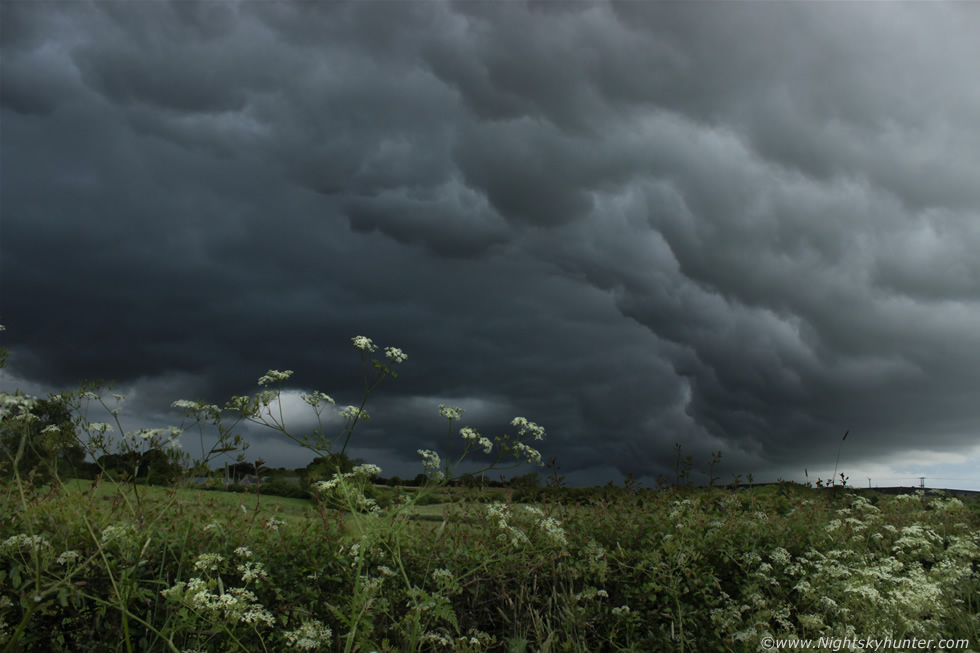 The shelf surged over us as the sky darkened and cool air from the downdraught spread across the land stirring the bushes with a nice whale's mouth cloudscape on show. We met a lady out walking who had also been watching the storm and she took an interest in the fact that we were out photographing it, she explained she loved thunderstorms - unusual to hear that from a non storm chaser in N. Ireland - and that she had been watching the lightning while walking, we explained that we had been chasing this storm all the way from Bundoran and that it had been rotating for a while too and she seemed genuinely fascinated. We parted company then drove through Omagh then left Co. Tyrone making that three counties we had chased through this day, our storm was now spent so we drove home feeling well satisfied with the day's catch, however the drive was a cold damp one for me as the driver's seat and all my clothes were soaked through from all the torrential rain and I felt a chesty cough beginning to form so I couldn't wait to get home and have a warm shower and relax, we were back after 21.30 after putting another 8 hours 20 min's on the road chasing. The latest model update indicated that the following day also looked great with high CAPE so it looked like we had a fourth day of chasing to do so we got to bed early in preparation for day four of storm action which I will cover in the next report.
Full HD chase video featuring the Fermanagh wall cloud and high precip rainfall at Bundoran and Kesh along with the rotation under the gust front of the Omagh evening storm, thanks very much for reading.
Martin McKenna