Return To Fanad Head Lighthouse - Aerial & Time Lapse Shoot - September 20th 2019
Some photo shoots are planned days in advance, some are even weeks or months in the waiting and yet some of the best are the photo shoots which suddenly manifest within a manner of hours with little warning, this was one of those shoots. Early Friday afternoon I got a message from photographer Paul Martin, he was finishing up work earlier than usual and decided he was going to go on a photo shoot to Co. Donegal at the iconic Fanad Head lighthouse, naturally I agreed, 'count me in', I began to gather my gear and prepare for what could be a long night on the exposed Wild Atlantic Way. I asked my other photography friends if they were game for joining us and Nigel McFarland said he was up for it so it looked like a good night ahead, I did a quick check of the weather, clear all night long (unusual for here), good transparency and what looked to be a good hour or more of dark skies before the moon rose, when it did the moon would be a waning gibbous and perfect for illuminating the landscape, we would get the best of both worlds so this was an opportunity not to be missed.
The wind could be an issue however, the Met Office was showing 16-20 mph SWlys rapidly increasing with gusts up to 33mph, this concerned me for several reasons. The main reason was tripod issues, strong gusts could ruin an entire night's work if you shoot time lapse or star trails like we do, the other reason was exposure, I didn't fancy standing out for hours in 30mph winds which could lead to chest infections so I decided I would wrap up extra warm for that reason, the positive side was, according to Nigel, that at least it would be a warm wind, that was very true indeed. My other interest in the wind was that I had always wanted to get drone footage of the lighthouse and this shoot provided me with a rare chance to do that, if the wind wasn't too bad and if we could get there in time before sunset, those were variable 'ifs' however I charged the drone up and brought it with me just in case, if I could get any aerial footage at all I would be more than happy, anything after that would be a bonus.
By mid afternoon everything was packed and the plan was in motion, Nigel set off from Limavady and would make the trip solo to Fanad. I drove to Cookstown, made some last minute gear changes then headed to Omagh where I met Paul, from there Paul took us north to Donegal. We faced quite a drive not to mention rush hour traffic and I wondered if I would get the drone up at all however we got very lucky and made great progress and with Paul's knowledge of the area we made good time and actually ended up ahead of schedule. During the drive up we chatted about our previous night shoot at Fanad which took place during September 2014, we simply couldn't believe it had been five years to the very month, how fast time flies, it really had been too long, as we advanced along the scenic country roads we could feel our adrenaline soar as we got closer to our destination.
When the lighthouse came into view it was greeted with wows from Paul and I, it really made for a striking sight perched on an outcrop of ancient coastline looking across the North Atlantic, it was no wonder many have voted Fanad as one of the most beautiful lighthouses in the world. I said to Paul as soon as our wheels stop I'm getting the drone in the air as the light was perfect. I picked out a suitable take off location and sure enough there was Nigel in action, we could just see the top of his head over the grassy hilly and his Mavic 2 Pro coming in to land, that was a very good sign, it meant I was good to fly. I got set-up and took to the air to make the most of the precious minutes we had before sunset. I couldn't have asked for better light, the low sun was catching the lighthouse itself while parts of the coast and jagged rocks were cast in deep shadow creating contrast and mood. I ended up burning through two batteries taking video and still images, these are a few of my favorites.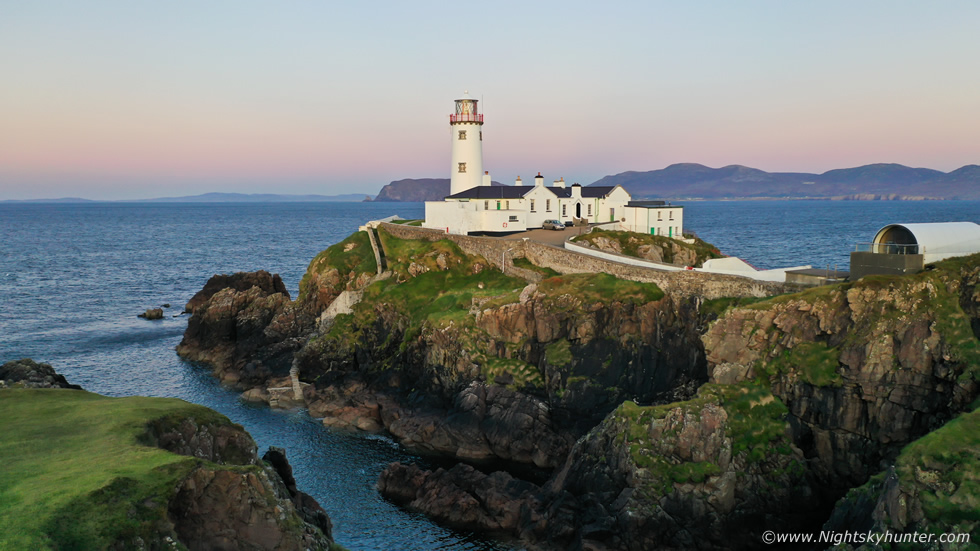 I'm using the drone as a DSLR in this one hovering low to get the shot I wanted, it actually was windy, nowhere near strong enough to impede drone flying but gusty enough to cause conflicting air currents over the cliffs and rocks which caused the drone to shift up and down somewhat when flying low, however with such a good camera and gimbal combination on the Mavic 2 Pro it made little difference, this drone is a superb piece of kit if I do say so myself.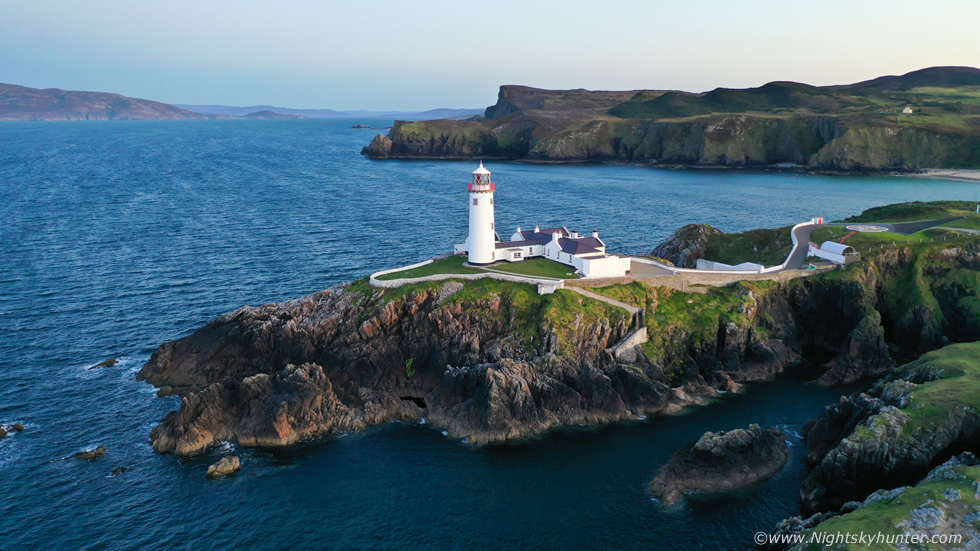 The sun was dropping into the W-SW rapidly so I was fully immersed in my filming, so much so I couldn't chat with the guys until I had completed flying. The lighthouse was built and was operational on March 17th 1817 by George Halpin who was the foremost engineer of his time. The decision to construct the lighthouse was made after the sinking of HMS Saldanha in 1812 when the vessel struck a mine in Lough Swilly. Over 300 lives were lost with the only survivor being the ship's Parrot 'which bore a silver collar inscribed with the ship's name'.
Camera panned straight down and now on battery number two. The lighthouse beam can be seen for 14 miles in good clear weather with a fixed white light towards Lough Swilly and red light towards the open sea, the lighthouse became automated in 1983.
The setting sun made for a photogenic sight complimenting this iconic structure, I was delighted that everything had worked out with the weather and that I was able to get the drone in the air because flying here was nothing short of pure pleasure.
Last image of the day, our night shoot location would be from the outcrop of rocks on the far right. Back to the HMS Saldanha, the story has it she had a secret cargo of 3,211 gold bars which she took with her to the bottom of the sea, apparently 22 of those gold bars are still missing, I wonder if captain 'Jack Sparrow' was up to his tricks again.
After the sun set we got treated to a gorgeous sunset afterglow thanks to volcanic dust lingering within the Stratosphere, this dust had been generating beautiful sunsets over UK and Ireland for a week with strong yellow and orange hues dominating the skyline while others in Europe have been treated to purple glows. Amazing to think this spectacle was generated by a volcano in the Pacific Ocean three months earlier, we also got an added bonus of fanning crepuscular rays caused by the sun setting behind distant mountain peaks, I honestly haven't witnessed rays this long for years, these mobile phone images don't do it justice.
The sunset afterglow, rays, and telegraph posts reminded me of a scene from Kansas. Darkness arrived however the afterglow and twilight persisted for a long time which was spectacular.
I decided to get the drone up one last time and managed to get very atmospheric video of the lighthouse flashing against the twilight sky with planet's Jupiter and Saturn in the sky, these were very challenging conditions for the M2P as the wind was now gusting stronger and light levels very dark however with its one inch sensor and ISO of 3200 I was well pleased with the results, above is a grainy still from the video however the footage itself looks much better than this. You can watch both the sunset and twilight drone videos at the end of this report.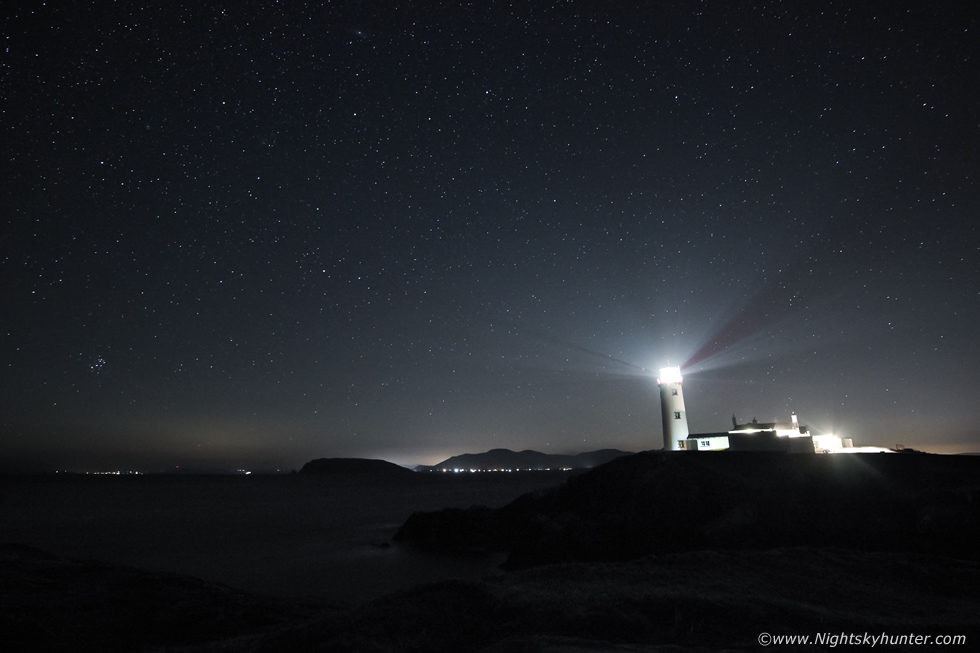 Darkness had arrived and like a special forces patrol we made our way through the darkness, three dark shapes against a background of stars. We set-up on the headland and each of us became absorbed in our own worlds. During our last visit here in 2014 we captured the lighthouse up close and personal however this time we fancied a different approach, I liked the more distant view of the headland and bay, also my intentions were different this time. I wasn't really here to shoot stills which is why you won't see many images on this report, I was here for time lapse photography. This was my chance to shoot a lapse of this legendary location, if I succeeded in getting any I would consider this night a success. The wind was now gusting much stronger and I became concerned about tripod movement, however there was nothing much I could do about it, should I just pack up?, not a chance, I decided I would risk it anyway. I found an even portion of solid ground which was relatively sheltered but still getting hit by wind gusts and just went for it. I had my Canon 600D with 10mm F/2.8 lens shooting 25 second exposures and beside it another 600D with 50mm F/1.8 lens shooting 5 second exposures with aperture wide open, once they begin shooting I backed off and let them do their thing.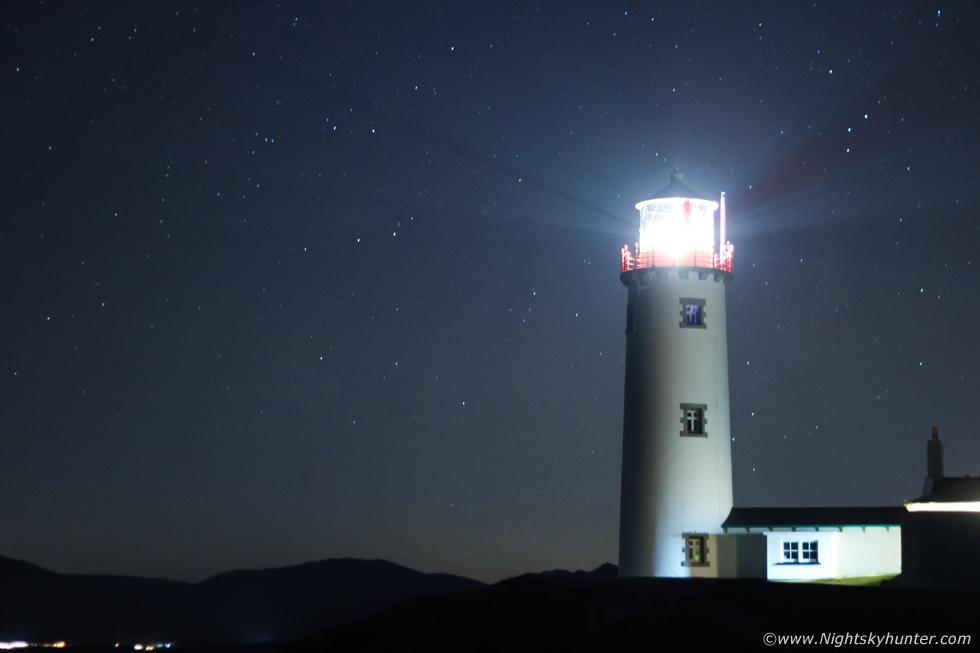 Nigel was to my left shooting his own time lapse and somewhere off in the distance Paul was shooting single exposures of the Milky Way so we ventured over to Paul for a chat. We got down low behind large rocks which provided us with shelter from the wind and the three of us admired the night sky and chatted. We were immediately struck by the quality of the night sky at this location, it was considerably darker than our sky back home and even darker than the Antrim coast. It seemed that all the stars I was familiar with were brighter than normal, all of them, and with the naked eye I was seeing fainter stars which I would need concentrated averted vision to detect back home, but here they were jumping out with a causal glance. The Milky Way was of course stunning with two main streamers intersected with dark absorption nebulae, at times the denser regions of the Milky Way looked like a piece of stationary cloud which never drifted away with the wind. I expressed how I would like to see a good aurora from here and a great comet. We spotted satellites and meteors and distant fishing boats lit up far out to sea then after what seemed like a suitable period of time we returned to the cameras.
The dark sky had brightened as the moon suddenly appeared over the E horizon, the gibbous moon was pure red and ghostly above the flat sea, it was a sight to behold, we decided to let the cameras keep shooting as I wanted to get the moon rising into frame. It was at this moment that Nigel surprised us with the news that he had a BBQ with him, this was music to our ears as we were starting to get a little cold and low in energy so we made our way to one of the abandoned buildings to seek shelter from the wind, we lit the BBQ and cooked burgers and sausages which we washed down with a well earned brew and snacks. We returned to the cameras and adjusted our settings for the moon and began a second time lapse, by now the wind was much stronger. The above two images are from the first time lapse in darkness, the 10mm image takes in a large portion of the eastern sky with the Pleiades and Hyades rising along with other constellations of the zodiac which reside along the ecliptic plane, can you see M31 'The Andromeda Galaxy' near the top of frame? the 50mm image contains stars from Pisces and Cetus.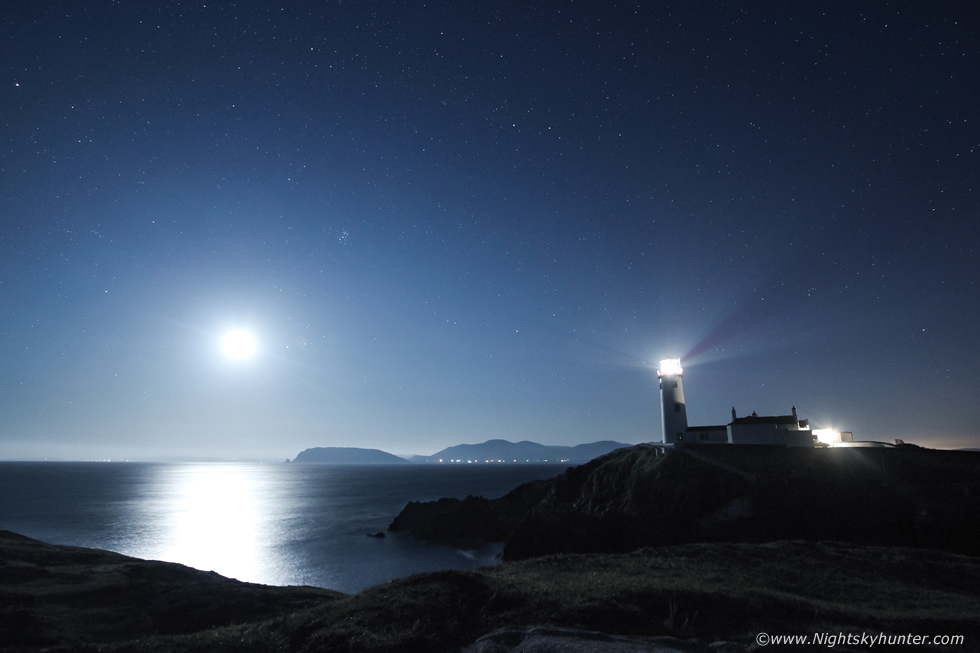 The moon actually made for a beautiful scene when it rose to prominence within Taurus with its glitter path on the sea pointing straight towards us, my two DSLRs were still shooting away doing me proud.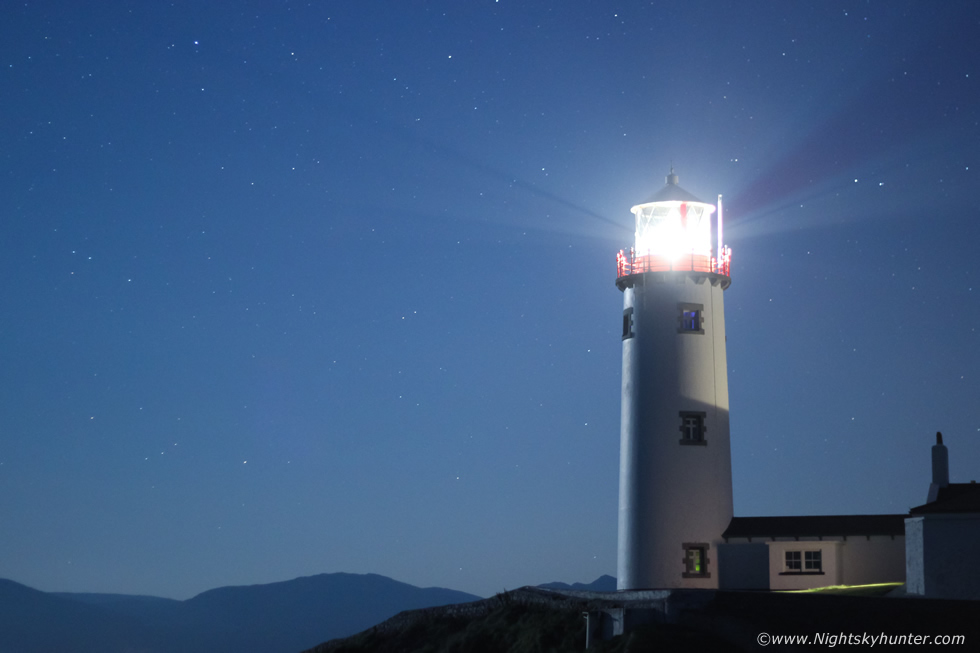 I really like this moonlit 50mm exposure of the lighthouse from the new time lapse, this was only a 4 second exposure. Eventually the camera with the 50mm stopped working due to battery failure, I ended up with more than 1,400 exposures using this lens, the result was one time lapse sequence well over 1 minute long which is the longest night lapse sequence I've ever acquired, however it took my modern lap top 24 hours of constant rendering before the lapse was completed, and by 24 hours I mean day and night non stop working all through the night (spot removal slows rendering times) so in total it took me three days to render all time lapse from both cameras. My main Canon with 10mm lens was still shooting away at this time as I was using a battery grip with two genuine Canon batteries, with this set-up I have never ran out of power to date.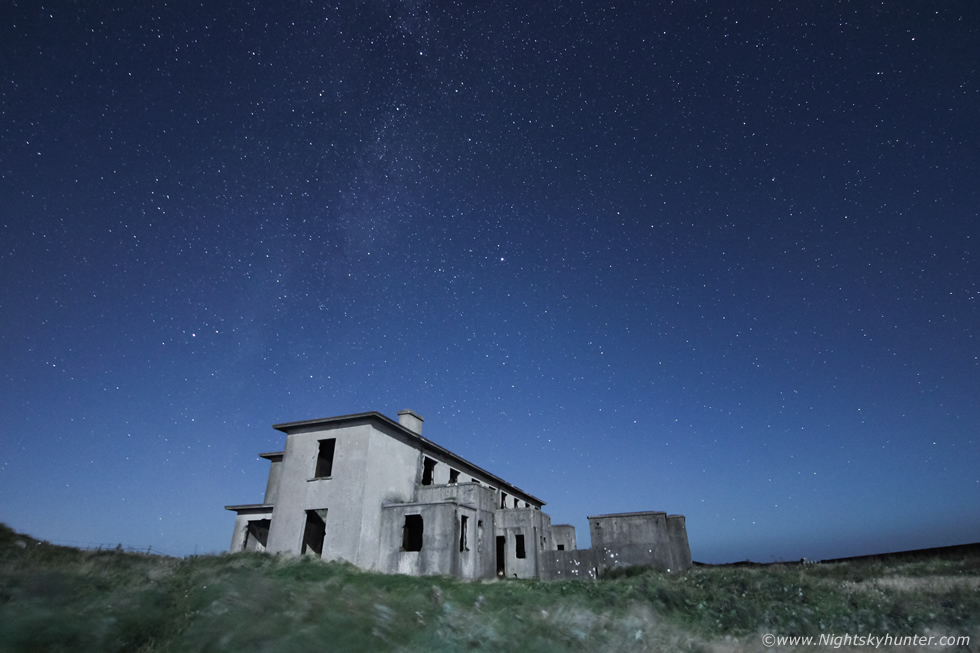 It was now the early hours of the morning, the wind was shaking our cameras so time lapse operations were ceased and with the Milky Way washed out somewhat with the moon I decided to take a few single exposures instead. I have a thing for old derelict buildings, I find them fascinating and often they can make for great foreground interest for photography, this one held my interest the entire night so I had to get a few images. These were the former living quarters for the custom officers, tonight they looked foreboding and creepy so I was immediately enticed by the building. This is three 15 second exposures stacked using Sequador which really helped bring out the stars and Milky Way from the lunar glare. I would love to have shot a time lapse of this but with blustery winds and the fact it was already 02.00 and a long drive back it would have to wait for another time. You can actually see the grass blurred in the foreground from the constant wind, I got the camera as low down as I could behind a wall for shelter but at times I still had to hand hold the tripod to stop it shaking.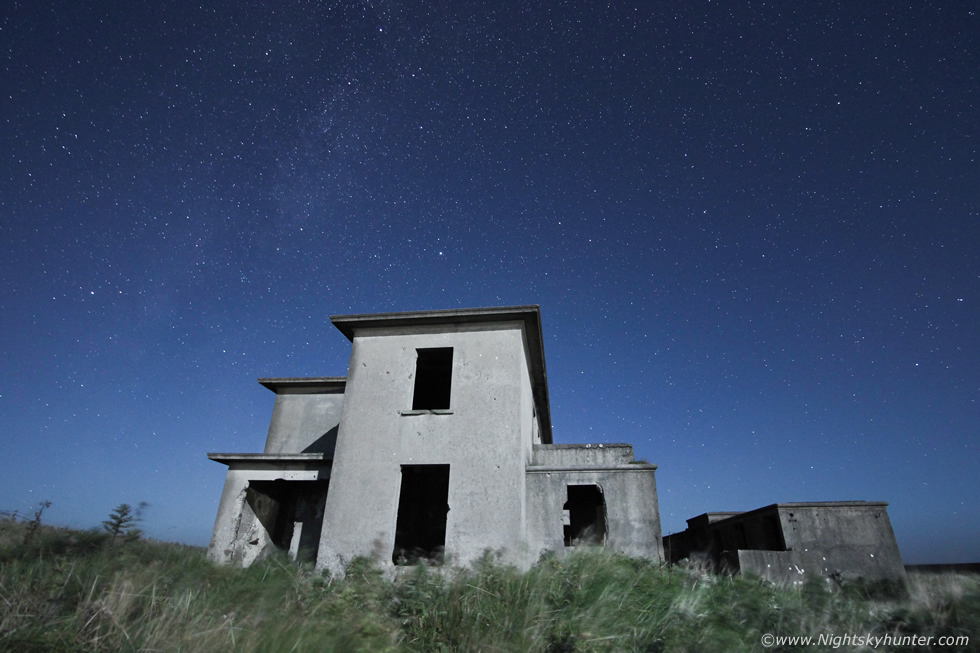 Closer to the building, I was kneeing down among the long grass here, this was four exposures once again stacked in Sequador, Paul and Nigel were packing up in preparation to go, we were all getting tired and cold.
Short star trail at ISO800 shooting 25 second exposures for perhaps 20 minutes then star trails created with Sequador, this software produces a much cleaner noise free result than startrails.de, this was my first trail test with it. I would love to have shot this for much longer however the night was waning fast and it was time to begin our journey home. I arrived back in Cookstown for 04.20 UT however it was 05.00 UT before I got to bed. Another memorable night at Fanad which went in all too fast, I hope our next visit wont be as long in the making. Thanks very much to Paul for driving and to Nigel for the BBQ and good company, now for the videos.
Full drone footage of Fanad Head lighthouse during golden hour and sunset with two drone flights combined into the final edit, make sure to watch at full 1080p and window fully open via youtube for the best experience.
The third and final drone flight of the lighthouse, this time filmed as darkenss fell but with a pronounced twilight glow enhanced by the residue of the sunset afterglow. I really like this footage, the lighthouse can be seen back-lit by the twilight with the big light pulsing, all captured in it's element, you can also make out Planets Jupiter and fainter Saturn, the drone was on ISO3200.
Full night lapse from both cameras featuring four lapses combined, two at 10mm and two at 50mm, before and after moonrise. They came out well however the 50mm lapse did shake a few times in the gusty winds, I hope you enjoy the end result, thanks very much for viewing.
Martin McKenna