Epic Thunder Event Over Cookstown From Severe Elevated Storms - Sept 7th 2023
I honestly thought the Summer storm season was over, for the last two months we had been under the influence of cooler, cloudier, and more unsettled conditions which brought 'typical' N. Ireland weather and the majority of people, myself included, felt like Autumn was arriving early, then suddenly the pattern changed. Strong HP in the form of a warm and very humid Sly plume was advecting N over all of UK and Ireland, the result was a surprise heat wave when temperatures began to meet and exceed 25 degrees C every single day, it felt like Summer had started all over again.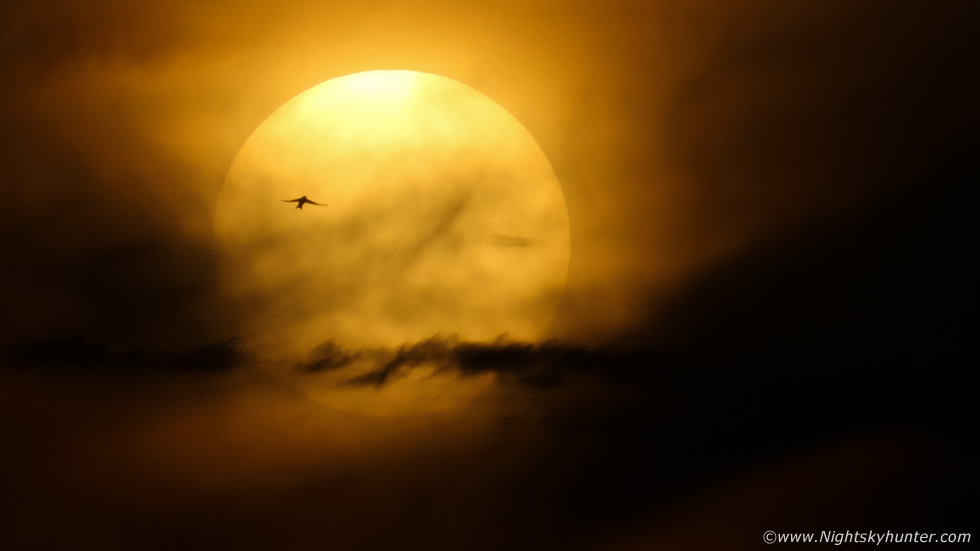 The plume also brought with it significant widespread Saharan dust which began to cover cars and any outdoor structures, the dust also presented the opportunity to witness lovely sunsets in hazy skies with sunset afterglows, so at first my attention was drawn to catching a nice sunset to document this welcome warm period. On September 5th Roisin and I drove out to watch the sunset, we where located on high ground near Moneymore, it felt amazing yet strange to feel so warm and humid in a t-shirt at sunset in September. As the sun lazily sank into the Saharan dust/haze the solar disk become visible with the naked eye and began to take on a pleasant yellow colour. This was taken with the 400mm lens with a nicely timed photo bomb from a bird.
Complimented by a few crepuscular rays fanning upward into isolated elevated convection in the form of Altocumulus Castellanus
Then on September 7th we got a fantastic thunderstorm set-up with 2000 j/kg of CAPE, LIs -5 and 30-40 knots of deep layer shear which was present into the evening hours. If these storms were surface based as models suggested then organized storms were likely, even supercell traits, in fact, hodographs showed marked turning within the low levels with good 0-6km shear and instability, a trait suitable for tornadogenesis. Our forecaster Owain Rice had issued a 10% risk of severe thunderstorms then two hours later Owain upgraded the outlook to a 50% chance of severe thunderstorms.
By Midday storms had erupted below the border, two in particular were arranged into sheared multicell modes which began moving N and approached the border, based on their trek they would be moving over Armagh and Tyrone and parts of Antrim by early afternoon. Things looked very encouraging, I was ready to target the E cell which would cross Dungannon towards Cookstown and the Lough, so I drove into the countryside to walk Rhua and get a visual on the sky, I had pulled over at Lissan.
John Fagan rang me around this time so we chatted at length about the potential, then I noticed that the grey cloud I saw approaching me was actually the leading edge of an enormous anvil, the storm was approaching Armagh yet the anvil was rite over my head N of Cookstown due to strong shear, this impressed us both, and it was clear by the anvil motion that the storm was heading our way. I could see towers behind it and their bases were massive in height, it struck me then that we were dealing with an elevated storm. This was not surface based at all, in one hand I was disappointed, anyone who knows me will know I can't stand elevated storms during daylight, they offer no structure at all and are simply not photogenic.
On the other hand they are prolific lightning producers and can be extremely dangerous for that reason, but if you happen to get such a storm in twilight or night time then the event would be truly epic, but as it stands, daytime storms of this type rarely interest me as a photographer, however I'm a storm lover so I decided to go with it, my view was that I already had an extremely active storm season so even if I heard one rumble of thunder today I would be happy and would be the convective icing on the cake. As the storm approached there was zero structure at all, I mean absolutely nothing, just a vast grey wall of thick haze which was impenetrable, so dense I couldn't tell if there was any rain behind it, so I decided to drive back home to Cookstown and wait for developments.
Back at home I heard thunder in the distance, so I stepped outside under a featureless grey sky and just listened, it was far away, but it was bizarre, was I mistaken? there seemed to be a background rumble that was never ending, surely that wasn't natural?, perhaps there was excessive traffic or some construction work causing that sound as it was too constant and rhythmic, but I soon realized this wasn't man made, it was the 2000 CAPE thunderstorm approaching Cookstown.
I stood outside and just watched the sky, it was warm, humid, dry and dead still, and all I could hear was constant thunder getting closer and closer like some kind of unseen monster stalking it's prey, it was actually a little bit intimidating because it was unlike any thunder from any storm I've ever experienced in my life, it felt like the atmosphere was alive. For the next hour or more I got treated to an extraordinary event which I find it impossible to describe with words. A severe thunderstorm in stealth mode had sneaked up on me, I was hearing constant thunder, this wasn't eventful for its volume, but for its frequency, this was like an ongoing rumble varying in pitch which never ended, it was constant, continuous, unbroken, thunder rolling non stop like a distant jet, I was rooted to the spot with awe.
I just stood in the front yard filming with my phone which didn't do justice to it at all. Never in my life have I ever heard thunder like it, I was buzzing with joy and wonder at how incredible and unpredictable nature could be. This was not a photogenic day at all, but an audio event which I will never forget, the bolts where in-cloud strikes high up in the towers which had extremely high bases, so high that thunder had to descend to the surface from a great height which likely prolonged the thunder, also very frequent lightning would have removed any chance of having gaps in the phenomena.
If this had been night time the storm would have been flickering with constant lightning, I only saw a couple of in-cloud bolts, the majority were unseen, at one stage a new updraught base had formed ahead of the storm, I didn't even know it was a base until thunder rumbled above me, that's how dangerous these storms can be. The precip hit so I retreated inside and watched the storm from a roof space window, the rain was intense and mixed with frozen pea sized hail while the sky flashed and rumbled all the time. Another elevated storm moved in behind this one with a weak gust front producing more thunder then a third storm approached from the SW and this time I got a dry sector before it hit.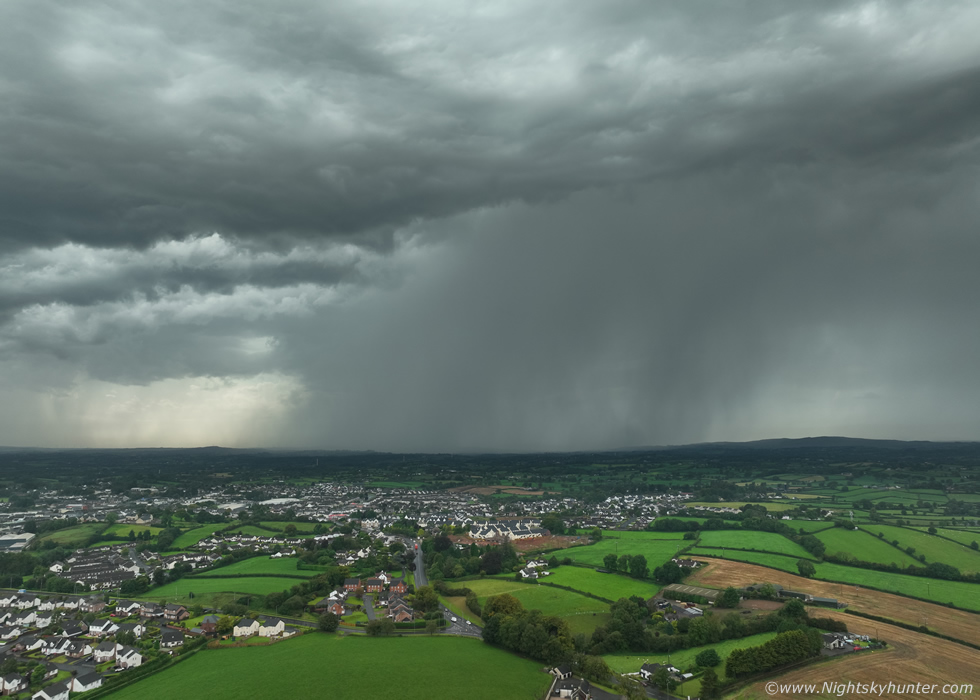 Drone 100m in altitude facing SW/W with the next elevated storm inbound, this was the only time all day I got the drone in the air for images. I watched this precip core form and fall from a great height to the surface in real time then spread out similar to a weak rain foot on the left side, it was like watching a wet microburst, some in-cloud bolts appeared inside the base too.
Horizontal drone pano, three images stitched then cropped 16x9 showing the elevated storm, as you can see there wasn't much to look at it.
180 degree aerial pano with Slieve Gallion on the right and another storm core approaching on the far left. During the late afternoon and early evening I had to do a few errands and during that period I experienced more thunderstorms which knocked the power out and even caused road closures due to flash flooding, it was the most active lightning day in September many could remember and yet the Met Office never even issued a single warning at all which was shocking. By evening time I had experienced a total of 7 or 8 thunderstorms, I was lost count, which makes this day another personal record event.
Phone footage of the thunder, turn your volume up and listen carefully, it really is very cool, but far from doing it justice. I wasn't even going to write up this chase report as I didn't have any good images from the day but I decided I needed to have it recorded on the website since it was such a rare event. In any case I hope you enjoyed reading my description and can appreciate were I'm coming from, if you heard it in Co. Tyrone this day then you will know what I'm talking about it, thanks very much.
Martin McKenna