Co. Armagh Blizzards & Epic Rare Ice Event At Ballyronan Marina! - March 2018
I had a feeling the 2017/2018 Winter was going to perform and it most certainly has in the form of numerous snow events, a severe blizzard, moonlit snow scenes and the events which follow which make this my best and most active Winter weather period since the exceptional 2010 event. I had a strong feeling that a severe set-up was likely in the February-March time frame and sure enough a remarkable and rare event began to unfold to bring us one more sustained Winter attack. All models progged this one two weeks out and instead of downgrading closer to target it actually remained solid and locked, strong high pressure ridging shutting off the Atlantic allowing an uninterrupted flow from Siberia known in forecasting lore as 'The Beast From The East', this event looked to affect all of UK and Ireland, it would begin as a cold dry event then evolve into an historic snow armageddon fall for some parts of UK and Ireland. For us in N. Ireland we would be experencing countless dry days, freezing or below freezing at day time and temperatures in the minus double figures at night with -8C showing over Ireland and a wind chill below -10C.
The midlands and north of N. Ireland missed out on the big snow event however the constant cold was setting itself up to produce a series of localized major events. On February 27th on a beautiful cold Winter's day Conor McDonald and I hit the road on the search for icicles, we headed for Lough Fea and got quite a shock. Large portions of the lough in the corners were completely frozen over on both sides with ice extending across the surface for 50m, in places the ice was thick enough to withstand the impact of a large rock being thrown without even breaking through, we spent some time here enjoying the view and marveling at the ice cover, last time I had seen anything like this was 2010. We headed back during the late afternoon and while passing Glenshane Pass we were delighted to observe an impressive cluster of 1m long icicles hanging from the stone walls adjacent to the main road lit by golden hour sunshine, this was the sign we had been waiting for, with prolonged cold and bitter winds forecast for the next few days we were certain that more icicle formations would form, these would become the focus of our hunts on the days head.
Meanwhile on February 28th a major snow event was affecting the UK, E. Ireland and SE N. Ireland, it looked like our location would miss out on the snow once again so we decided we would go chasing and find the snow ourselves. The Met Office had issued an amber warning for Co. Down and Co. Armagh and after studying radar we decided that Armagh would be a good target area. That region already had an overnight snowfall and reports were coming in of people unable to drive from their homes and estates, furthermore the Met Office warned of blizzard conditions and drifting snow with traffic disruption highly probable, this was music to our ears, radar showed continuous snow streamers building over the Irish Sea and blowing W inland over Down and Armagh, it looked like it was not going to stop all day so we wasted no further time and hit the road from Maghera to Armagh.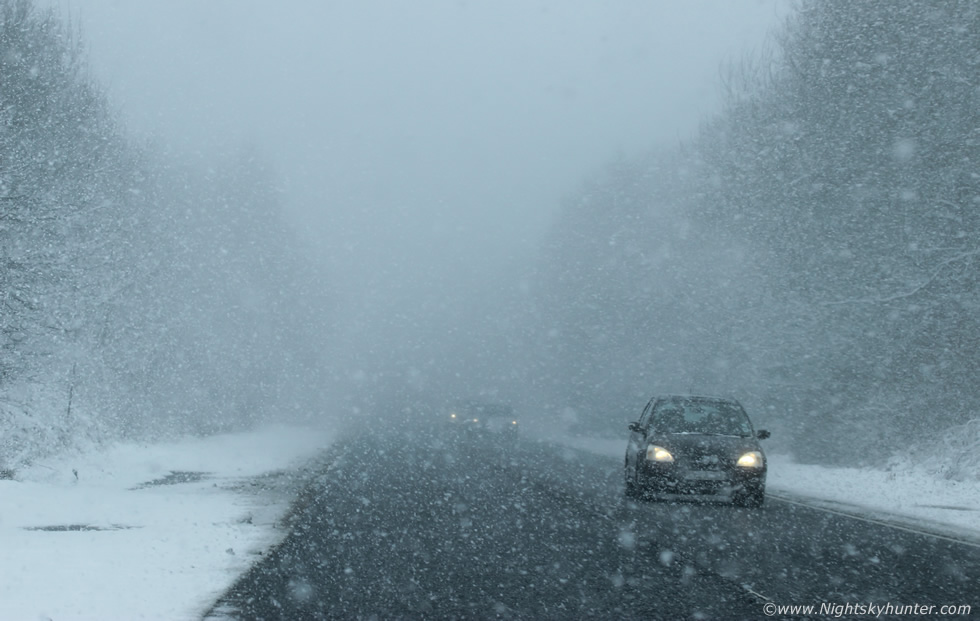 The road was dry and snowless for the entire drive until we arrived a few miles outside Armagh when suddenly without warning we were plunged into a Winter wonderland with heavy falling snow and gusts of wind blowing streamers of dry snow airborne across the road from L to R, the difference between Cookstown and Armagh was literally night and day. This was a chase of good team work, as I drove Conor used my DSLR to capture imagery through the windscreen as we advanced threw the snow storm while also checking real time reports on social media. The road was like this the rest of the day, when we passed gaps in the trees we could get shrouded by jets of blowing snow across the road out of nowhere, it looked like some invisible force was using a souped up leaf blower to whip the snow outwards within seconds, naturally we loved it, however because of its sporadic nature it was difficult to catch on camera, but it showed the potential was there for blizzard conditions later.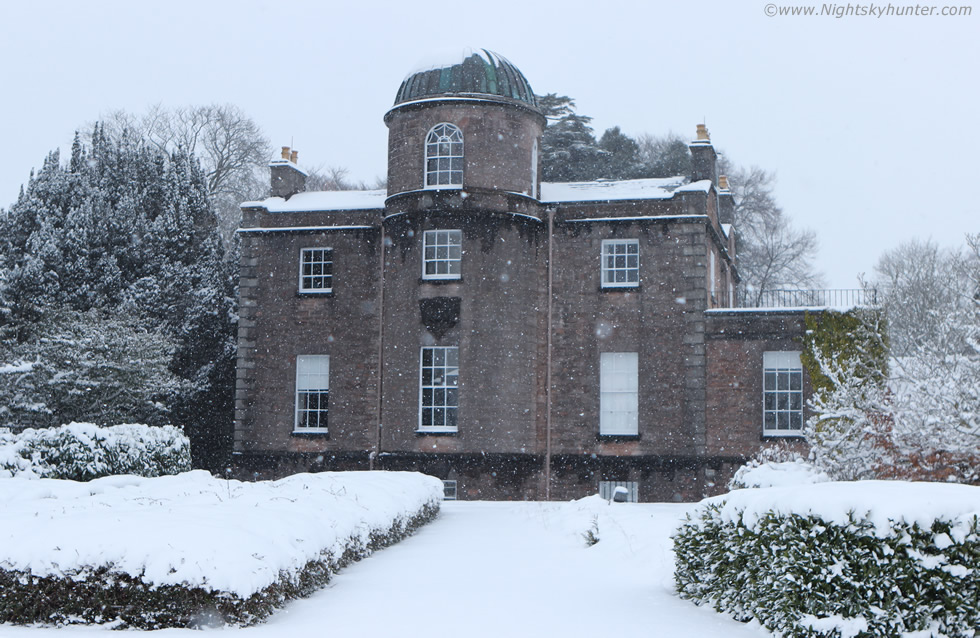 We arrived in the centre of Armagh, drove through the city and side roads to monitor the situation, the place was covered in a widespread fall of 8" at low levels and we were sure that amount was even greater on the hills. We pulled into the car park at Armagh Observatory for a flask of tea and watched with contentment as huge snow flakes fell relentlessly around us, the car park was deep and the snow never stopped once, it would continue to snow for hours and hours without a break. We went for a walk and photographed the observatory covered in snow which is the first time I have seen it in such conditions which was a real treat, inches of snow were piled up on tree branches and it kept falling, it really made for a stunning sight.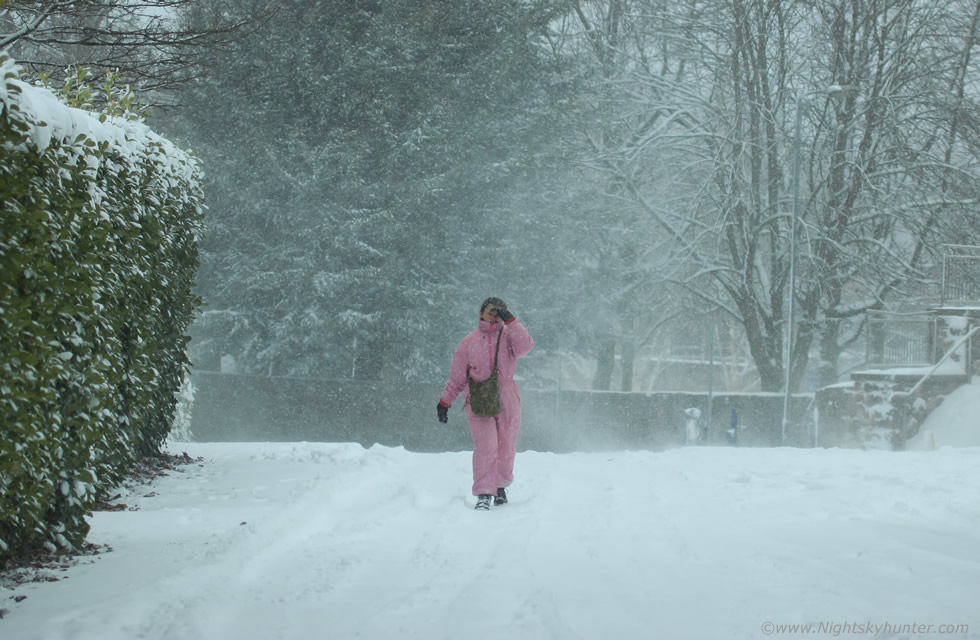 Back in the van we were about to leave when I said ''what's the odds of seeing Dr. David Asher here?'' (David is a world renowned Astronomer and was responsible for naming one of his asteroid discoveries after me ), and by amazing coincidence there came Dr. Asher walking around the corner in the snow with solar Astronomer Miruna Popescu, it had been years since we have seen them both so the encounter rather made the day for me, we chatted briefly about comets and meteors and our snow adventures then David and Miruna (above) made their way back to the observatory to continue their work. After a few minutes of spinning in deep snow and a much needed push from Conor we were back on the road again.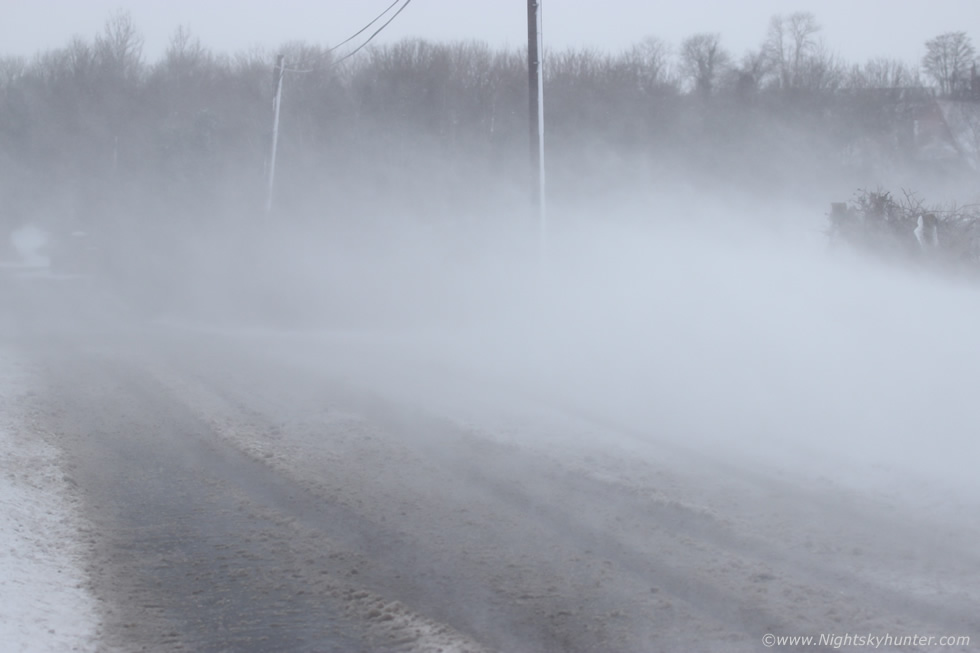 We took the back roads outside the city which were much more treacherous and exposed, the snow was deep and the narrow country roads were unpredictable, some of these roads were entirely new to us so we would find out what they were like first hand, that led to a few adventures and several near-stuck episodes. One such road was so steep and covered in deep snow the van couldn't advance any further and began to slide backwards down the hill itself, we pulled the hand break, turned the steering wheel then gas and the van rotated 180 degrees as it went backwards, or view out the windscreen was a world of spinning white, then the van lined its nose up with the road once more and we were on our way. Then we encountered our first serious blowing snow event of the day on a back country road, we pulled to the side, signal on, and began shooting stills and video. A deep drift covered one side of the road eroded into stunning sculptures by the howling wind, sudden sustained gusts blasted the snow from the drifts across the road which made for a great period of filming.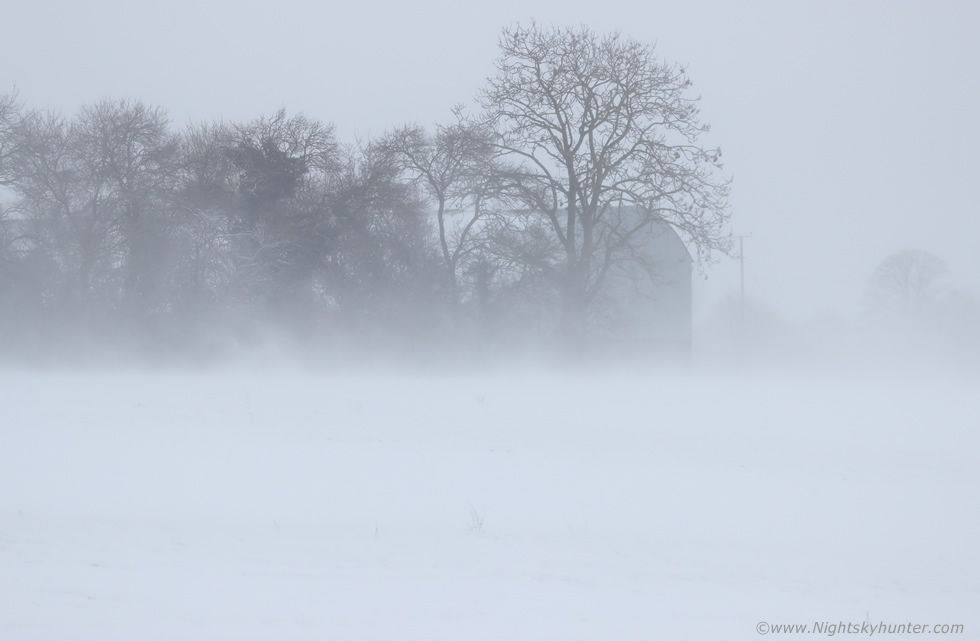 The highlight was this barn in the middle of nowhere which was getting attacked by a full on blizzard, strong winds lifted the snow from the fields in great curling white misty clouds and whipped across the fields from R to L producing white-outs which provided me with my finest footage of the day, this is a still shot taken mid blizzard, you really had to be standing here to see and feel it, it sure was a thrilling experience which fully justified the trip. At 16.30 UT we called it a day and headed back home along dry snowless roads, talk about a surreal experience.
On March 1st I got a tip off message from Eoin McFadden showing images of remarkable icicles on the west shore of Lough Neagh which immediately grabbed my attention, then later that night photographer John O'Neill gave me the heads up on an even more impressive display at Ballyronan Marina, he insisted I had to see them, so the following day, March 2nd, we arranged a shoot, Nigel Mcfarland and myself made our way to the marina and were joined soon after by chaser Paul Martin who had drove from Omagh to experience the show. When we crawled under the gate and made our way around the corner near the exposed section of the lough we were stopped in our tracks by an unbelievable sight.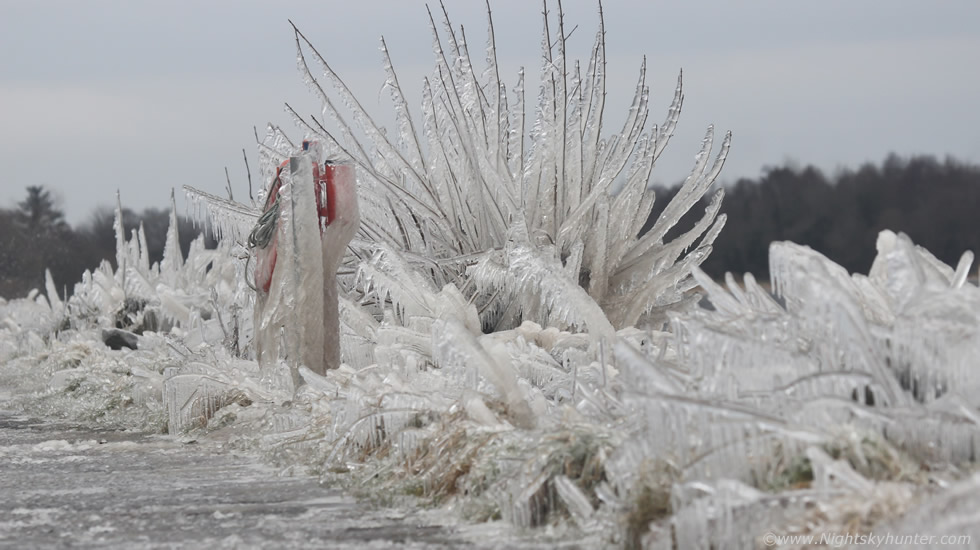 Everything along the shoreline was encased in thick clear ice, it looked like the ground, plants and trees were covered in thick glass, all three of us couldn't believe the scene, it was something that neither of us had ever seen before and looked strikingly similar to the great ice storm events which happened in the USA. We just stood there wondering what to do, our instincts were to just begin shooting rite away however the sight was so awesome and complex we simply didn't know where to start or even where to point the camera first, in short, we were surrounded by an epic Winter event, I got the camera bag opened and began documenting.
This was an exceptional example of glaze ice, water from the lough had splashed over the rocks and trees then froze in the severe low temperatures and shaped by a strong Ely wind blasting on shore from across the exposed lough. This tree looked like a chandelier, you can imagine a wave crashing over this and freezing solid, such a remarkable sight.
Ice crystal forms shaped by the raging beast from the east, the last time I witnessed severe ice was back in 2010 when this entire lough froze solid which was an unforgettable sight, however even back then there was never ice formations like this, a rare Ely Siberian set-up was needed to bring the proper cold and dry air, in short, this was very likely a once in a life time event for us. We would later find out through photographer John Fagan that this event last happened on Lough Neagh in 1982, back then I was only four years old, so this is without question a once in a life time event for me.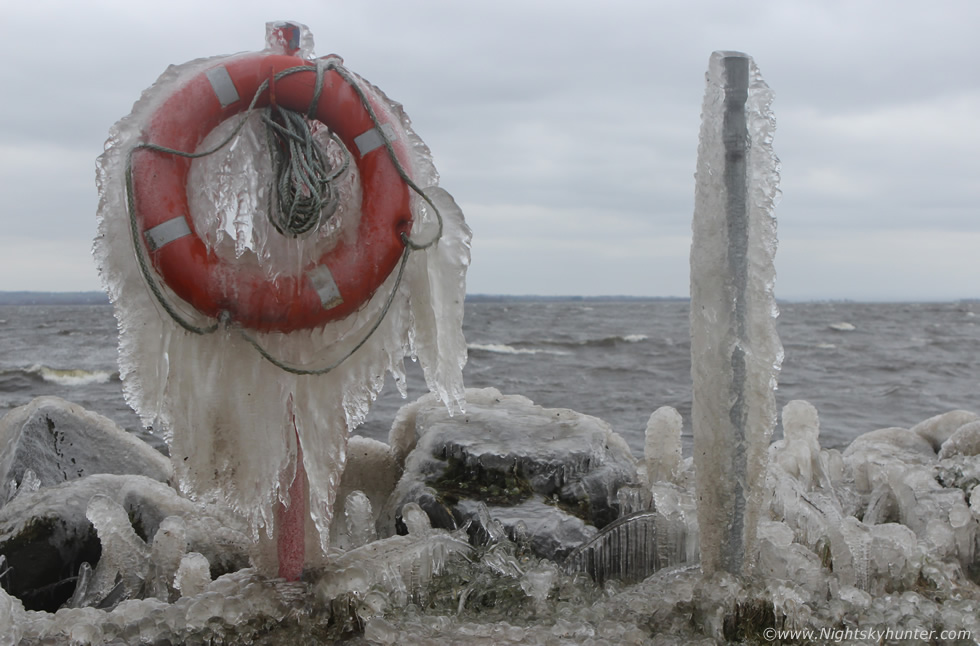 One of my favorite scenes was this life buoy encased in rock solid ice, the sight was astonishing, it looks dramatic in the images however in real life it was even more shocking and in your face, words can't describe the visual impact on location. I spent a lot of time shooting this scene from various angles and using different lenses, then filming with the DSLR and Go Pro while my fingers refused to operate in the bitter conditions.
Turning around to face the W, these trees and branches looked like a glass mould had been poured over them, it was everywhere, thick glaze on the branches, on the rocks and even bizarre ice globules on the path below us which made it a very slippery experience to walk on.
Same branches only this time up close and personal with the ice, this ice storm required the use of all my lenses, specifically the 24-70mm F/2.8. 100-400mm F/3.5 and 10mm F/2.8, sometimes stepping way back zooming in with the telephoto or getting up close with the wide angle, lenses being changed constantly over and over while hands turned raw red in the cold.
Standing back and zooming in at 100mm, so much to look at, seriously where do you begin to look?, complex ice formations everywhere, hundreds of them, I simply shut off that indecisive part of my brain and went into combat mode and pressed the shutter, I would document everything and take time to savour it all later.
Panning the 100-400mm across from L to R, the wind was loud and whistling fiercely through the trees and iron railings, it sounded like a Banshee wailing.
Some of these structures remind me of a scene from the movie 'Aliens' when Sigourney Weaver is breaking apart a trapped Nute from inside one of the alien pods, I was half expecting a face hugger to jump out from inside that alien ice world.
Truly exceptionally stuff, the sight of these formations just screamed severity, I was employing the 24-70mm here for finer detail, each one of those icicles was 20cm long, to me they looked like Tyrannosaurus Rex teeth.
Doing photography in these conditions was brutal, not only was it a freezing day but the howling Ely wind whipped at us hard the entire time dropping the wind chill dramatically, there as no hiding from it, we had to stick it out to get the results, while stopping briefly to breath warm air onto our hands to reduce the painful cold. The waves crashed upon the shore covering our cameras and lenses with water, we were constantly using clothing and tissue paper, whatever we had, to wipe the lenses clean, then sure enough after a couple of images later the gear got soaked again, wipe the lens once more, shoot, and continue.
We took a well deserved break and a warm cup of tea then went for a walk around the N section of the shoreline, it didn't take long before we found more dramatic ice scenes, it was such a bizarre sight to witness long icicles hanging from tree branches over water.
Nigel and I spent a while at this location and tried to work with it for a dramatic image, there was no shortage of drama from these scenes however getting a good angle which did the scene proud was another matter. So we took turns climbing up this tree and made our way across the ice covered trunk to get closer, the 10mm was on, I wanted to get close and fill the frame.
Down on all fours feeling the cold ice first hand while waves crashed beside me trying to soak me and the camera once again, I think this one did the scene justice.
We made our back to the main show once more, here's Paul and Nigel examining the life buoy, this side view shows just how thick the ice was at this section of the lough.
This was the star attraction, I wanted a few more angles of this before the light dropped, still using the 10mm here at close range, even now I still can't believe this scene. As a Winter weather lover I have spent years reading books and examining images online of these extreme ice events and how I would love to capture those severe events on camera, however some of them simply didn't happen in this country, until now, I couldn't believe I was getting the scenes I had dreamed about years earlier, just shows you that anything can happen in this country.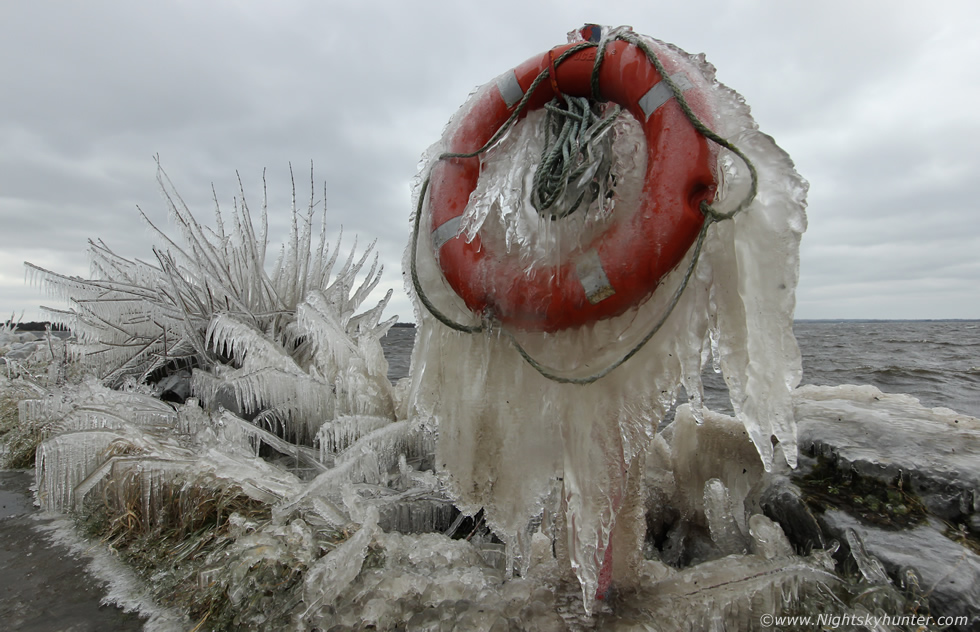 I love icicles and rare ice formations, however this is on another level, I was pressing the shutter knowing this was epic for N. Ireland standards and as I looked through the LCD screen I told myself to savour the moment for it will never happen again. Everyone was lost in a world of their own, Paul and Nigel were shooting away in different areas doing their own thing, we were all captivated and awestruck by this combination of severity and beauty frozen in time by the mysterious hand of Mother Nature, this was utterly jaw dropping, knowing I was capturing the most dramatic and rare Winter imagery of my life was an extremely satisfying experience.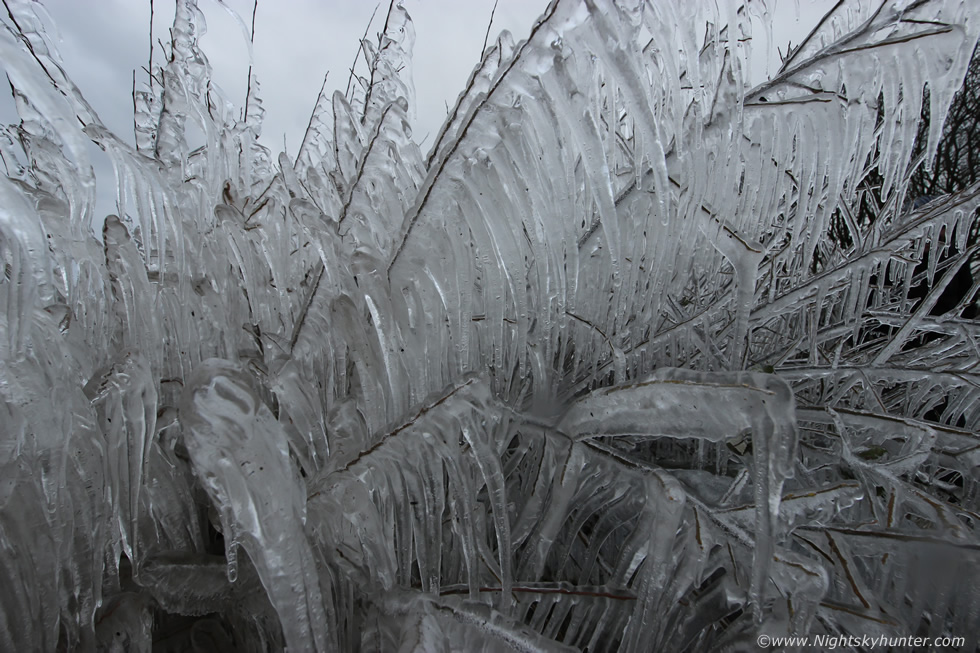 This tree was entombed in ice, great curving teeth of ice hung from branches in their hundreds, these were big, ferocious, and I wanted a dramatic angle before last light. I climbed over the slipperyy ice-covered rocks and positioned myself low near the lough at an angle looking up at this tree from the E side. The water had killed the auto focus on all my lenses so I had to preview everything in live view, magnify x5, manual focus, then take the image and adjust exposure and aperture accordingly, I was stopped down for better depth of focus however I had to ISO up and maintain a fast shutter to counteract my trembling hand. Using the Samyang 10mm I got up close and filled the frame, taking shots, previewing, taking more shots.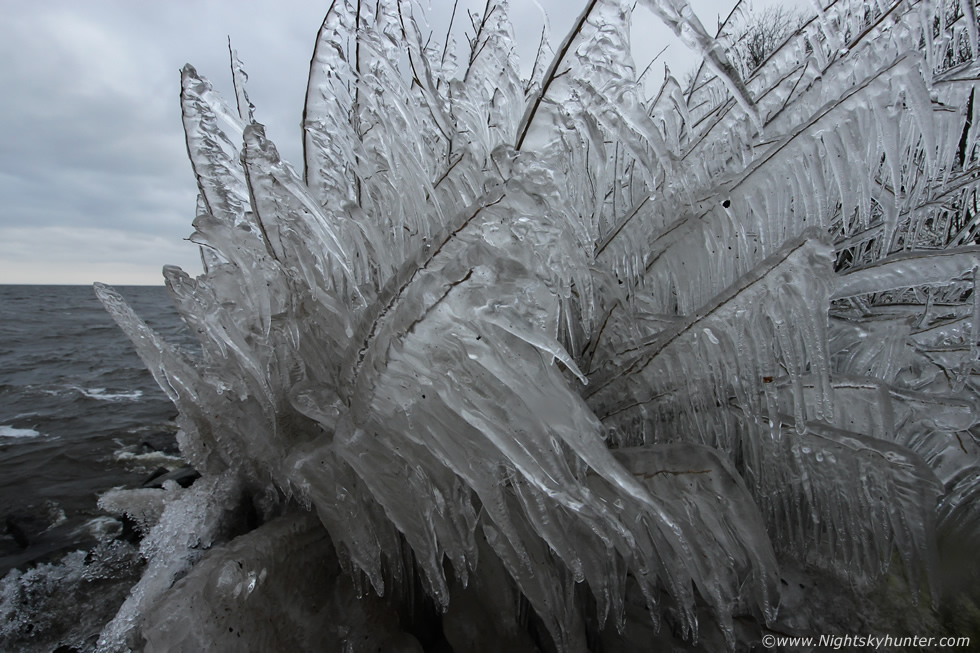 The icy 50km/hr wind attacked the exposed flesh and waves crashed against the rocks completely soaking my back, it wasn't a normal soaking, it felt like a deep penetrating blanket of ice dropping my body temperature, I found new perspectives and fired off more stills. My hands were vibrant red, raw, sore, then after more shutter presses I stopped feeling anything in my fingers at all, not a thing, just numbness.
I don't know how I found the shutter button, this was just pure luck, I simply couldn't feel a thing, I struggled to climb back over the rocks again, Nigel took my camera and was ready to grab me in case I slipped, I used my forearms on the rocks instead of fingers and got back on the path again.
Paul broke this section away (video grab), look inside, that's a thin branch encased in a cross section of 6" of solid ice, check out this section on the video and be prepared to be impressed. After this Paul took a selfie with all three of us together against a backdrop with the ice tree for the memories. What an event this was, without question a day we shall never forget and the finest ice event of my life to date. Two days later Roisin and I checked out the frozen waterfall at Downhill beach which was yet again another impressive rare event which we documented on camera and which will feature on my next report.
Video footage of our Co. Armagh snow chase starting with the observatory then moving on to the thrilling blowing snow and blizzard conditions on the country roads which made the day a success.
Full video footage of the epic rare ice event at Ballyronan Marina filmed with the DSLR using three lenses complimented by the Go Pro and captured in very challenging conditions. Spring is near however the models are hinting and yet more cold air moving in over the Easter period when further snow showers may be possible so it looks like Winter may not be over yet. Whatever the outcome this has been my best Winter chasing since 2010 which has yielded an abundance of photo opps in the form of drone snow footage, ground based blowing snow and blizzards, and climaxing with this unforgettable glaze ice event. 2018 has proven itself to be on top form and my suspicion is that we will be treated to further exceptional events this Spring and Summer in the form of severe thunderstorms and perhaps several tornadic events, thanks very much for reading.
Martin McKenna