Epic Cookstown Sunset Sky Show - January 19th 2010
2020 has got off to an encouraging start, after an overcast begining to the new year the weather became more active thanks to series of Atlantic-driven low pressure systems, one of which was officially named as storm Brendan which ended up delivering 50-60mph winds inland, 70mph gusts along the W coast and even gusts of up to 110mph along the Scottish coast accompanied by high seas and even thunderstorms. In it's wake the storm introduced a series of clear nights and colder air which generated several opportunities for astrophotography. Indeed, I had completed four night shoots already, one at Ballintoy and three at Sperrin View Glamping which I will detail in another report. Those were exciting and busy cold nights so by the time the weekend arrived I decided I would spend the time simply chilling inside and staying warm, I was not anticipating any sky happenings and I hadn't planned on any further shoots however I was on alert as I have high personal expectations for 2020 and I kept my camera and drone batteries charged just in case of a surprise.
Sunday morning January 19th, I had slept in on purpose, and is my custom I logged onto my lap top as soon as I woke to check if anything new had been happening. I was shocked to see social media full of amazing images of a wonderful sunrise sky which seemed to have been documented across a large area of N. Ireland, some of the images were impressive, I admit I was annoyed I had missed it however I was glad so many others had managed to document the event on camera. I thought nothing more of it and went about spending a relaxing Sunday with Roisin in Cookstown. We had just had dinner and were sitting down for the evening when I noticed the pre-sunset sky through the sunroom windows was getting interesting. A strong glow across the horizon of a sand-like colour was intensifying, the sun itself was slowly lowering into that horizon band while sections of mid level cloud began to turn orange then pink, I could see colours to the E, S, SW then soon to the NW, they all had that strange unearthly glow like a warm cast or filter had been placed over everything, I was on alert, a good sunset could be on offer. At this moment it was a nice visual sight but not extremely photogenic, certainly not worth driving out for, so I busied myself with other things and decided that I would check on it later.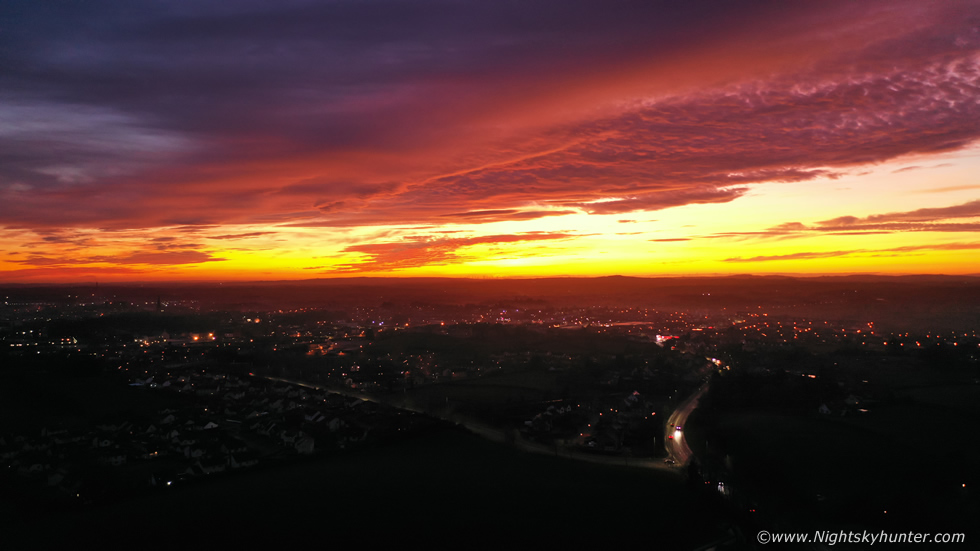 When I next checked the sky twenty minutes later a tremendous transformation had taken place. The sun had just set on the horizon and the sky possessed an intense yellow glow while sectors of cloud began to take on orange, red, and even purple colours, these were not subtle tones or soft hues but vibrant in your face colours fresh from a paint brush which almost seemed charged with energy, I knew I was witnessing a rare kind of sunset, I decided this was now photogenic and worth of my undivided attention, I yelled to Roisin ''look at the sky, amazing sunset!''. Roisin was standing at the front door taking images with her phone, I needed to get away from foreground clutter and houses so I grabbed all the gear and drove out the road to the N of Cookstown into the countryside. I rushed to get images with my DSLR but they didn't do the scene justice at all, I was worried the scene would fade any minute and I hadn't got a record of the sky and panic began to set in, then I thought, the drone?
The Mavic 2 Pro was sitting there ready for the task, in fact, it would be the perfect tool for the job and would offer me a unique perspective of the sky free from foreground obstruction. I double checked my situation, Cookstown is classified as a congested area which means I can only take off from a distance of 150m away from the town and no closer, from my position on the road side I was a good 500m from that area. I then went into a field, powered up and the Mavic ascended into the glowing sky, the land around me was glowing orange and red, even the field was cast in a crazy orange hue. I stopped the drone at 90m altitude, the view was amazing. I busied myself taking aerial still images and several video clips, the cool air was starting to affect my hands on the controller and once I had burned through a battery I landed and drove back to the house feeling content. I went in the door in a slight high explaining to Roisin how beautiful the sky looked from the drone. I inserted the memory card into the lap top and downloaded the images for a look, the sun had now long set and I had expected the sky to have turned darker and for the colours to have faded, but when I looked outside once more I was floored by the sight. The sky show was ten times better, in fact, it was epic, I yelled to Roisin ''I'm away again'' and once more I raced back out the road to my previous location in the countryside.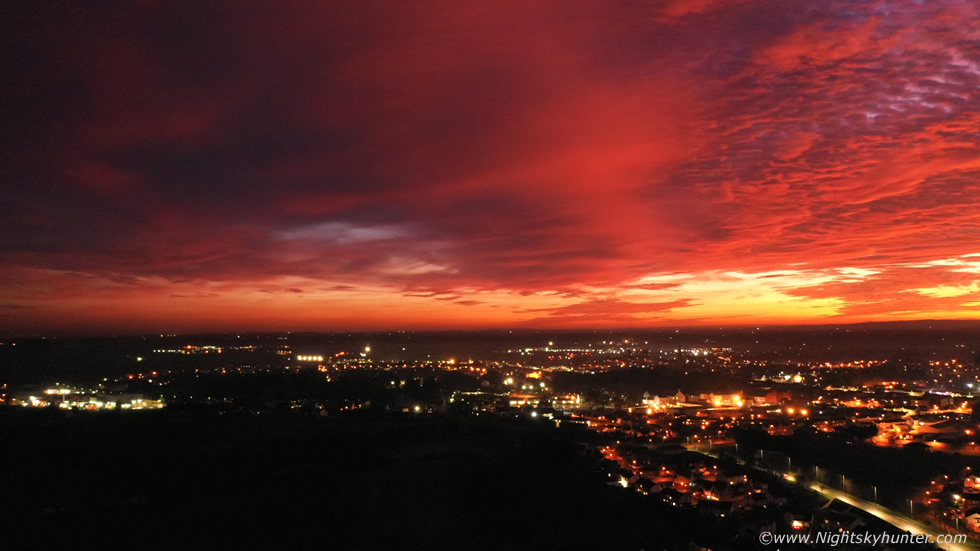 Those few minutes driving were precious agonizing minutes, the sky within both wing mirrors was jaw dropping and I was worried the whole thing would fade away before I got parked and set-up, I reckon my hands were trembling slightly from the rush of adrenaline, I get like that sometimes when I get excited by the sky, my passion burns strongly and my body doesn't understand what's going on. It was freezing in the field and so much darker, I inserted a fresh battery, formatted the memory card, then sent the Mavic back up to 90m for another look. I was saying to Roisin at the start of the new year that I was hoping to see something special from nature to get 2020 off to a good start, I was seeing it now, nature had spoken. A frantic period ensued of visually observing the sky while taking aerial images and video and checking camera settings while keeping an eye on my drone, time seemed to have no meaning, this sunset was all that existed to me.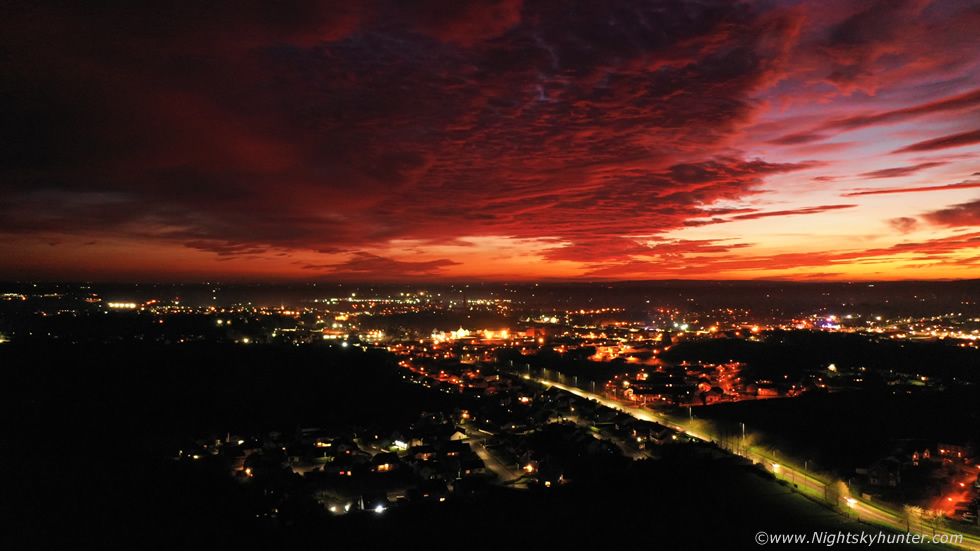 The sunset skyscape just kept getting better and better, the sunset which never wanted to end, it was twilight now and the sky was getting fairly dark and yet the clouds were painted deep red and exhibiting complex solid structure while that yellow glow remained burning across the sky line. That glow had been there for the last two days and seemed to linger, this characteristic reminded me of a volcanic sunsets I had observed back in 2009, I wonder did the recent eruption have anything to do with this afterglow.
That's Cookstown far in the distance, the road to the lower right before the fork is the main carriageway between Moneymore and Cookstown. The town lights, street lights and traffic made for a dramatic contrasting sight against this magnificent sky.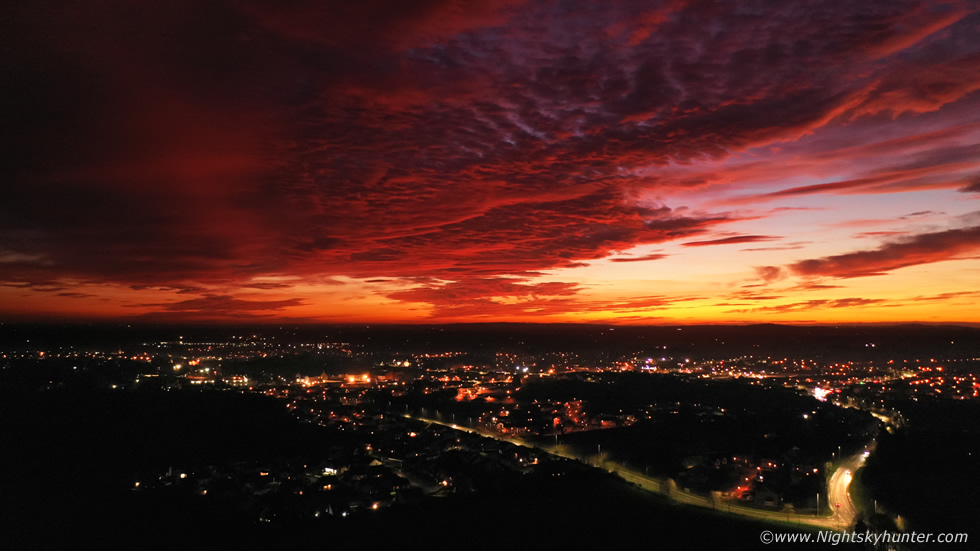 It was now very dark, I looked overhead and could see that the brighter stars were now visible, among them was the flashing red lights on my drone, I could even seen the skin on my hands cast in deep eerie red. The temperature was dropping fast, my breath was condensing into a cloud in the frigid air and my fingers were sore controlling the drone, however it was worth it for a scene like this. I have observed many cool sunset scenes in my life, some of which were remarkable, however this likely is the best sunset skyscape I have ever witnessed, it was visually stunning and very photogenic, and experiencing it through the eyes of a drone really took the experience to the next level. I have not made any colour adjustments to these images, the only editing done is noise reduction and a slight unsharp mask, the colours are straight off the drone's camera.

180 degree aerial panorama, ten x 20MP stills stitched together by the drone onboard the aircraft as it hovered in the dark twilight, you have to see the high resolution version of this image to believe it, the detail is amazing. It was so dark I was shooting at ISO1600 for both stills and video. I landed the drone and packed up and warmed up back inside the van, I was buzzing, yet the show still continued, how long was this going on for?, 40 minutes?, longer?, it seemed to never end.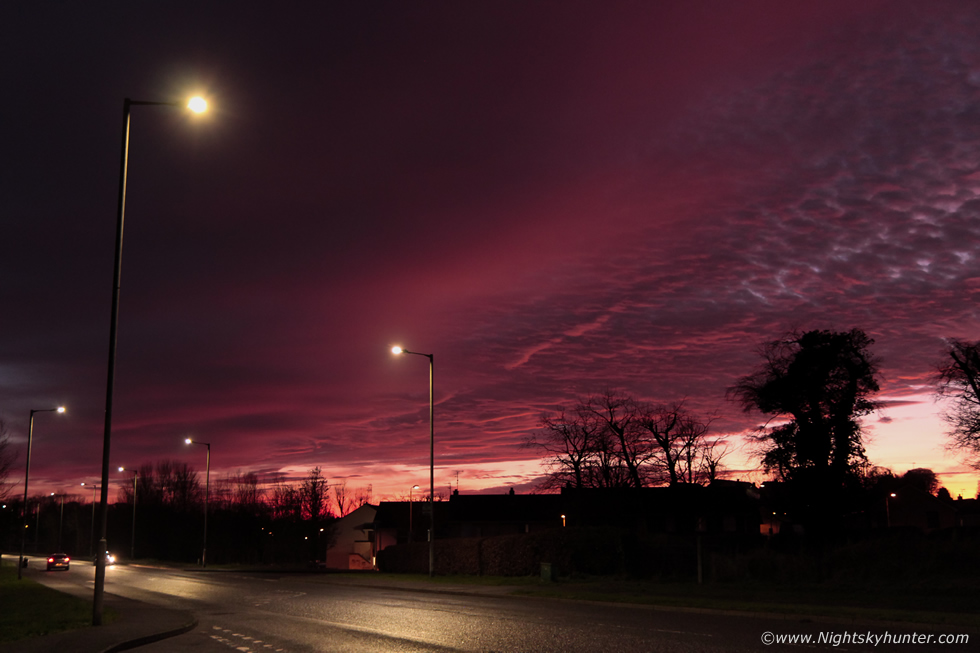 Back in Cookstown I pulled over for a few hand held DSLR images, this doesn't do it justice at all, high ISO and slow shutter speed, I should have used a tripod but this gives you a vague idea of the sky. Cloud structure, vivid colours, afterglow, red shadows, the sky just kept on delivering, I mean it was almost night time, I could see Vega and Deneb half way up the western sky yet this was what the SW sky was doing at the same time, for this reason I have rated this sunset as my personal favourite of all time. I went back home yelling to Roisin ''I'm back'' (she knew I was buzzing and let me get on with it) and once more I downloaded the images onto the lap top, I was happy and content, it felt great to get excited by nature again so early in the year, 2020 has certainly got off to a good start.
Drone footage of this unforgettable sunset. Many others across the country witnessed a superb show this day, however it seemed to be at its finest over the Mid-Ulster area, many people from Co. Tyrone agreed it was the best sunset they had ever seen. I wonder will we see another one of this caliber in 2020?, if it does I would love to shoot a time lapse, nature is off to a good start, thanks for reading.
Martin McKenna