Enniskillen Low Topped Supercell & Tornado Attempt - July 6th 2015
This day began with a minor collision in Cookstown and ended with a probable low topped supercell trying to plant a strong tornado over Enniskillen, however let's back track to the previous evening. Roisin and I had spent July 5th storm chasing which had turned into a thrilling day of action which ended the long thunder drought and left us buzzing. As we sat out in the warm sunshine after watching storms for hours and getting close range lightning bolts we bathed in the warm evening light while eating a snack with blue skies and convection bubbling gently into the sky as the day's activity began to wane. I said to Roisin that I would love another storm chase soon because that glowing feeling inside which only comes from experiencing the wonders of nature first hand is hard to shake and I found myself wanting to feel that glow once again. We arrived in Maghera that night and after a walk in the country I settled down for the night and checked the charts, well I was in for a pleasant surprise, it looked like there was a real chance of severe weather across Ireland and N. Ireland the following day, there was even a chance of low topped supercells and tornadoes from every online convective source, here's two of those outlooks issued...
Convective Weather - In the wake of morning rainfall, advection of a warm, moist surface airmass (characterised by dewpoints of 15-17C) beneath the forward flank of an Atlantic upper trough will generate instability in the order of 300-700 Jkg-1 CAPE. Expect scattered showers and a few thunderstorms to form this afternoon across W/SW Ireland, moving/expanding NEwards with time towards Northern Ireland (particularly western parts) by evening. With the jet aloft, 40-50kts DLS will allow storms to become organised; indeed with a surface low to the west of Ireland, surface winds farther north will be increasingly backed, suggesting the potential for low-topped supercells. Rather low LCLs (given the high dewpoints) and strong LLS also increases the chance for a tornado, especially given very curved hodographs - particularly over northern parts of the SLGT where the best backed surface winds will be present. Some small hail is possible, although rather moist profiles may limit the hail potential somewhat. Nevertheless, with PWAT 25-30mm, there will be a risk of localised flash flooding from slow-moving torrential downpours. Given our criteria for issuing a SVR threat level, have issued a SVR primarily for the isolated tornado threat.
Tony Gilbert - Slight Risk of Tornadoes NW Eire 09z-00z. Mid Atlantic low pressure remains quasi stationary with continued unstable moist flow northwards across Ireland. Strong divergent upper jet stream overlays CAPE at front left exit region. Cold front expected to develop convective showers. Some of which might become thundery. DLS and LLS sufficient for storms to potentially develop an isolated tornado event as per map. Conditions look to peak in association with triple point north central region late afternoon just west of Omagh through to Cardonagh 16z-19z. My attention was drawn to this outlook by the NMM model predicting as much as 550 m2/s2 SRH values. This is quite a remarkable prediction.
These forecasts really got my attention and there was no question in mind that I would be chasing the next day, it was going to happen, an outlook like this is too rare to pass up and these low CAPE high shear set-ups have produced tornadoes before in Ireland and after such a quiet storm season this finally was the first real forecast worth pursuing. On the morning of Monday July 6th I posted the convective risk map on facebook then a little later I received a comment from Ian Carruthers, Ian is no stranger to severe storms, he chases in Ireland and in the USA and is a very good convective forecaster so I always make note of any guidance he offers. This day his reply was short, informative and exploding with confidence, it simply said ''if your'e chasing today you should try get to the Enniskillen area by 4pm'', I knew Ian was on to something when he said that and his target area closely matched my own, originally I was considering the region between Enniskillen and Lower Lough Erne however I trusted Ian's instincts on this so my plan was to get to Omagh then rest up and wait and try and get online for a radar check and take things from there, I knew I would end up going S after that. I had a few things to do that morning and I realised I had to rush if I was going to make it to Enniskillen by 16.00, I might end up late but I should be there in time for any action which kicked off. I got the van ready, packed fresh water, a flask and some snacks, put £20 of diesel in then had to do an hours driving in a different direction then came back home for 14.00 where I had one last look at the radar, nothing amazing was happening yet, certainly no sparks however I wasn't interested in lightning, I wasn't expecting much of that today as the air aloft may not have been cold enough however what I was interested in was storm structure, rotation and tornadoes, I just needed a cell to form and sure enough on the next update a heavy shower/cell had fired far away down S in the midlands, it was the only thing in play, nice and isolated and moving N, I figured that once it moved into the more unstable air during prime heating time and the good shear it could do something, I just hoped it would survive its long journey and not die on me, so that was my last look at radar then we hit the road around 14.30, my Mother had come along for the chase, I didn't mind as she would give me some company on the road, we had chased together numerous times in the past and seen some great storms and funnels so maybe today we would strike it lucky yet again.
We left Maghera heading S, I have to say the sky was not inspiring to look at and little in the way of visual promise, this was not your classic cold core set-up where viability was good, this was a more rare warm sector chase and ahead of the area of interest was grey flat skies and rain however I had to have faith in the forecast, I could visualize a clearance over 100 miles away to the S where solar heating could get to work behind the frontal rain, in fact, before I left I heard a report from below the Republic of temps at 21 C in the hazy sunshine so this was promising. It was one of those chases which seemed like everything was trying to hold me back, there was little chat in the van due to the oppressive grey skies which made us feel subdued and tired and the traffic was slow going, I couldn't understand why it was so bad on a Monday afternoon around 15.00, we kept getting stuck in slow queues even on the country roads and got held back by numerous slow moving tractors, it felt to me like one of those anxiety dreams when you are trying to run somewhere and can't move it all, I felt like I wasn't gaining much ground and the clock was ticking.
Cookstown was a complete nightmare, packed with cars and lorries at all the junctions, there were tail backs in the main street and mad congestion at the roundabouts, I took the first roundabout and headed straight on between the traffic, there was a row of parked cars on the left side of the street and in one car a guy was standing outside with his door partially open, I was in the process of driving past him when he suddenly swung his door out fully and I heard this loud THUMP that sounded horrible, I immediately thought the entire side panel of the van had been dented in so I pulled over to catch my breath, I did a check and amazingly everything seemed OK, the left wing mirror had been folded against the window so the mirror must have whacked his door as he swung it open, it took the entire impact and seemed none the worse from the encounter. I looked up the street and saw him scanning for me so I jogged over, turned out he was OK and there was no damage to his car either, he then handed me my blind spot mirror which had got blasted off during the impact, I hadn't even noticed it was missing, it was fine too and just had to be screwed on again, he said he was sorry about that and since everybody was fine we parted ways feeling thankful that it hadn't been any worse. I pulled over on down the road and screwed the blind spot mirror back on again and continued driving S feeling a little bit shook up from the impact, it had set me back a little from the sudden adrenalin rush so I had to mentally relax myself, I decided to focus instead on the storms.
Eventually we made it to Omagh which would serve as our base and even here the traffic was crazy in the middle of town and it seemed like we had spent a good 20 min's to get through the lights then finally after all that driving stress we got through the worst of it and I let out a sigh of relief, things were going to get better from here on, I could sense it. We stopped in ASDA car park and using the laptop I managed to get wifi and get online however first I had submit my details and wait on a code to be text to my phone before I could gain access. I checked facebook and there was no news then I had a look at the radar which showed a very big shower/cell now half way up the country and gaining ground fast, it was interesting but seemed to have weakened on the latest update so I decided to shut everything down and take a break. We went into ASDA and had a nice hot chocolate drink each, I spent some time checking out the DVDs then went to find my Mum, I suddenly began to feel this rushing sensation as if my instincts were telling me we needed to go now so I listened, I found my Mum waiting at the tills with only three products in her hands, all the tills had queues with big trolleys full to the brim which had yet to be put through, I said to Mum that we needed to go and we couldn't waste time waiting here, this could take forever so she returned her goods and we went back to the van for a last look at the radar. I checked facebook first and saw that Ian had responded saying ''Shit man get to Enniskillen now!!'', I didn't waste another second after reading Ian's words, I closed the lap top down and made our move S immediately, I was in full storm chase mode, I told my Mum that something big was happening, I wasn't sure what it was yet however I knew Ian would never use those words unless it was big, I had a feeling a supercelll was about to hit Enniskillen.
We still had another 26 miles to go however the going was good and I was driving a lot faster than usual. The closer we got the more the sky began to show signs of developments, we had cleared the drizzle and now it felt warm and humid with breaks in the cloud. To our S and E within a narrow clearance we could see a line of black towers in the distance, our first convective sight all day, and those towers looked solid, then as we got closer to town a gap yawned open overhead to reveal the forward edge of a huge anvil high overhead with mammatus, there was no dought that something was brewing. We entered the N side of Enniskillen and made our way through the first two roundabouts then it quickly became apparent that we would have no view at all from inside the town due to buildings and high trees which obscured a large section of that all important sky sector on the horizon and furthermore if something exciting did happen we could well end up snookered in traffic queues, after all this was rush hour in a big town and if we got held back then we would not be able to chase anything which came into view. With that in mind and not being familiar with the road network here I turned around and drove back through the two roundabouts toward the N edge of town, past the filling station on the left hand side then spotted a narrow country road which climbed steeply into a forest of trees which lined the road, the sign beside it said 'scenic route' so I took that option in the hope of getting away from traffic and a better view of the sky. This was the back road which was only narrow enough to fit one car with comfort, the road was winding with hills and dips, it was beautiful countryside however I was not getting the view of the landscape I needed so I kept driving and eventually came to a halt on high ground with trees on either side of the road, I spotted a gap on the L hand side, left the van idling, then ran up a slope to a gate, on the other side were Cows and a large field and beyond that was a narrow but great view of the horizon and our incoming target.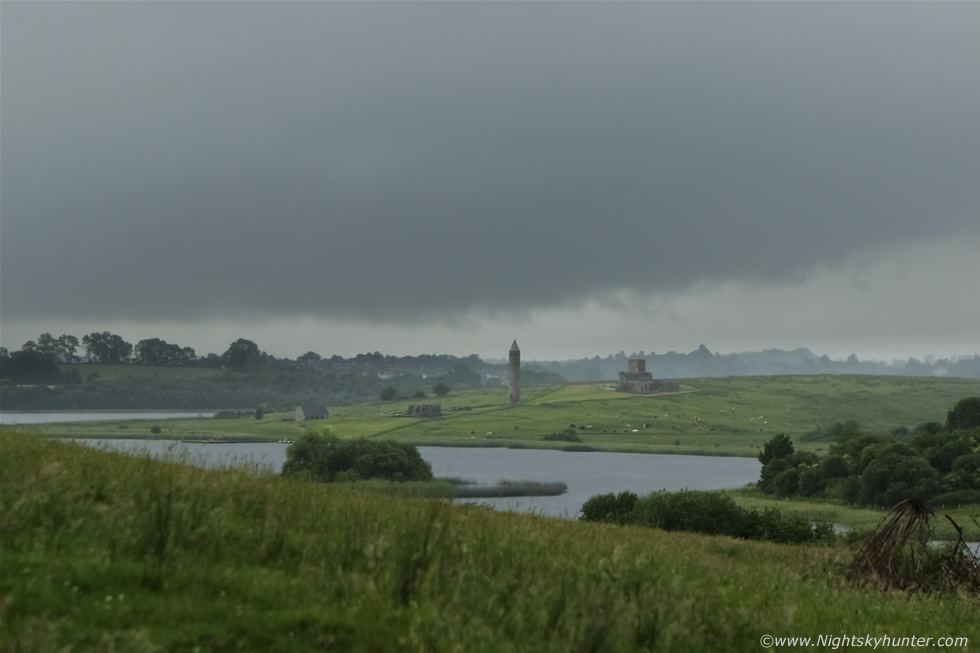 The view was beautiful with Lower Lough Erne complimented by Devenish Island and round tower and beyond this famous tourist landmark was what Ian had been so excited about, I knew it in the instant, this was the base of the big storm I had been tipped off about and the very same shower complex which had been working its way up the country for hours into an unstable atmosphere with strong speed shear and directional shear, the long base was very dark and mean looking and attached to this low base were numerous tendrils of scud flirting with the ground and swirling, vanishing and reforming again indicating vigorous inflow motion, to the R hand side was a vast silvery-grey precipitation (precip) core which looked extremely heavy, the entire base was moving R to L across the landscape and I immediately knew that given the shear here in conjunction with prime heating time and maximum CAPE this storm was likely a low topped supercell. Here's a quick shot with the 24-70mm F/2.8, I took a short video clip with my arms leaning on the gate to try and steady my hands however the Cows on the other side began to vibrate the gate with their heads so I had to cut short the filming, then the rain began and I ran back to the van. I informed my Mother that I could see the base of the cell and that the core was about to hit and that we had to get into a good position and get the camera ready for filming, I kept the 24-70mm on the DSLR.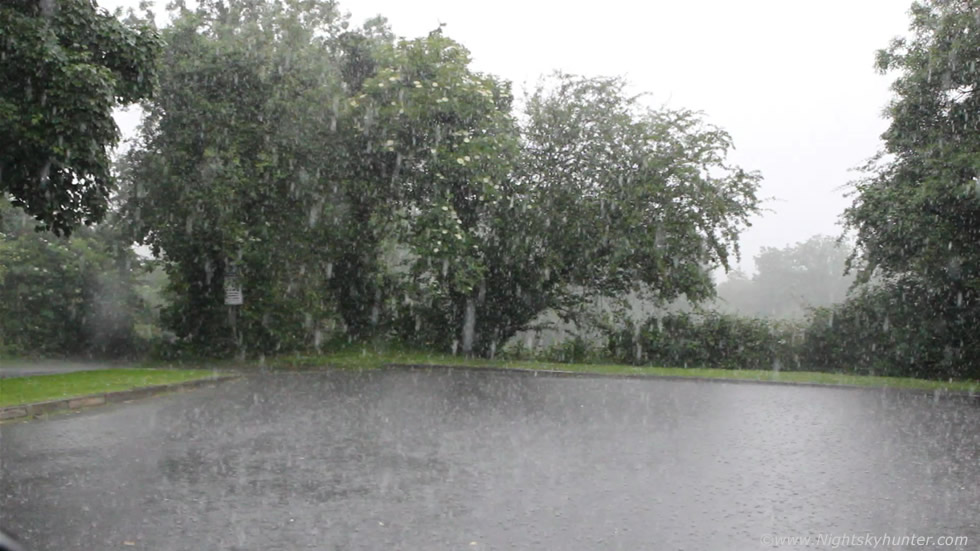 I drove into the small car park, put down the driver's window half way and began filming. The core hit and the rain changed from normal to monsoon within seconds and was so intense the ground became instantly saturated and began to flood, the rain drops were massive and the sound of the torrential downpour was so loud it sounded like a constant rumble of thunder, I could tell from this intense precip that we were dealing with a strong cell. Here's a video grab from the DSLR footage, in fact, most of the images on this report are grabs from the video footage unless otherwise stated.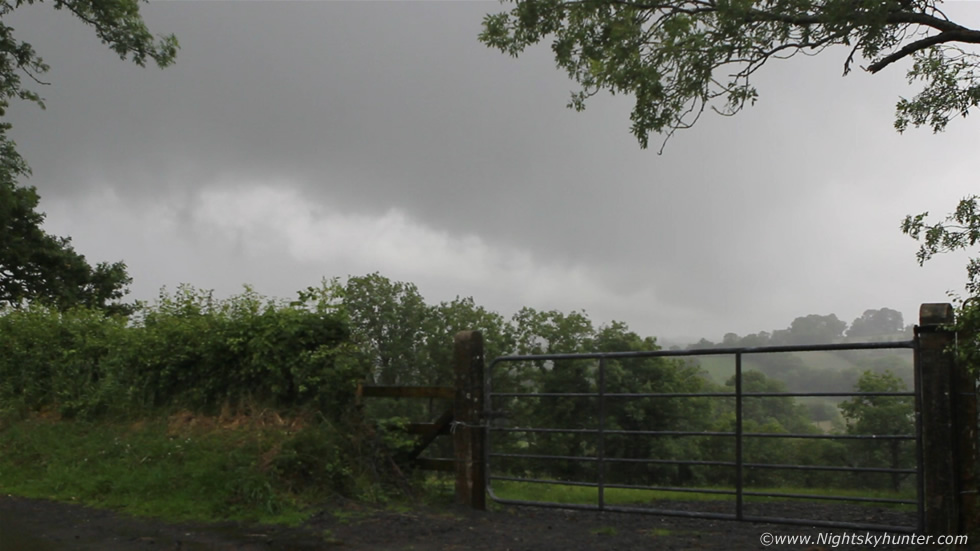 We drove further along the narrow road then suddenly the downpour eased with improved visibility then just as we passed a small clearance in the hedge facing S/SW I instantly stopped the van for something remarkable was happening, beyond the gate and above the tree tops the base of the storm was clearly visible exhibiting very strong broad scale rotation, in the above frame the entire cloud formation was rotating in a counter-clockwise direction (cyclonic rotation) like a giant pinwheel spinning in the sky while to the lower R a large lowering could be seen lurking half hidden in the low contrast hazy sunlight, to the L the cloud fragments above the trees were spiraling and lifting upward in an angry churning configuration, I instantly said to Mum ''major rotation'' and knew I was looking at the base of a mesocyclone which was in the frantic process of trying its best to drop a tornado rite here in the fields beside us and adjacent to the outskirts of town. The sight was so dramatic I felt 100% certain that a tornado was imminent any moment and I have to admit that for the first time storm chasing in this country I actually felt a tinge of concern, perhaps 5% fear (the rest was excitement) because this really did look like a major event unfolding. I have observed numerous funnel clouds over the years and rotation events (even at close range) in this country which have awed me but never once did I feel threatened by what I saw for the areas of rotation were small scale, however this day was different because I was seeing something quite large, strong and potentially dangerous, you might sense this emotional state on the video when I say ''we are so close its not even funny'' and I actually found myself thinking of an escape route, I knew where to go if the situation got worse however until it did I was staying with the meso.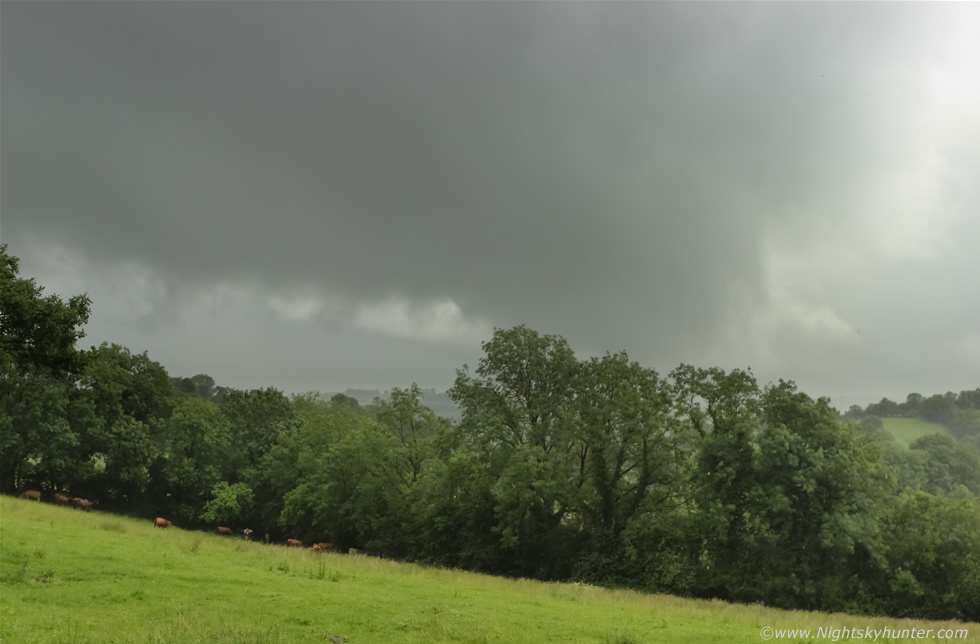 Brighter sunshine penetrated through lighting up the lush green fields, here's one of the few DSLR images I got showing the entire rotating storm base with big lowering carved out at the rear, that's a tornado aloft trying to plant on the ground behind those trees!, to the L the base was agitated and stirring as if trying to form another vortex on the forward side, entire storm base moving R to L across the landscape, for all I knew there could have been contact on the surface below that lowering within the fields outside of town.
Back to the slightly overexposed video stills, a large wedge type lowering can be seen through the hazy sunshine with the back end (R) wrapped up tightly while vigorous rotating inflow continued under the area ahead (L).
Anyone who has watched their fair share of youtube videos showing wedge tornadoes about to plant from supercells in the USA will see a great similarity here.
It was difficult to see my camera's LCD screen due to the sunlight and I was worried that everything was getting blown out so I manually changed the ISO down to 100 on video mode which dramatically helped show the storm structure a little better. That's a big tornado close to a touch down rite there and that wedge lowering now had a very clear bowl-shaped form as it flirted with the ground, we could see all of this rotating like crazy, it seemed to never stop, I was concerned this was already doing damage on the ground or at the very least having some kind of surface effect below the wedge.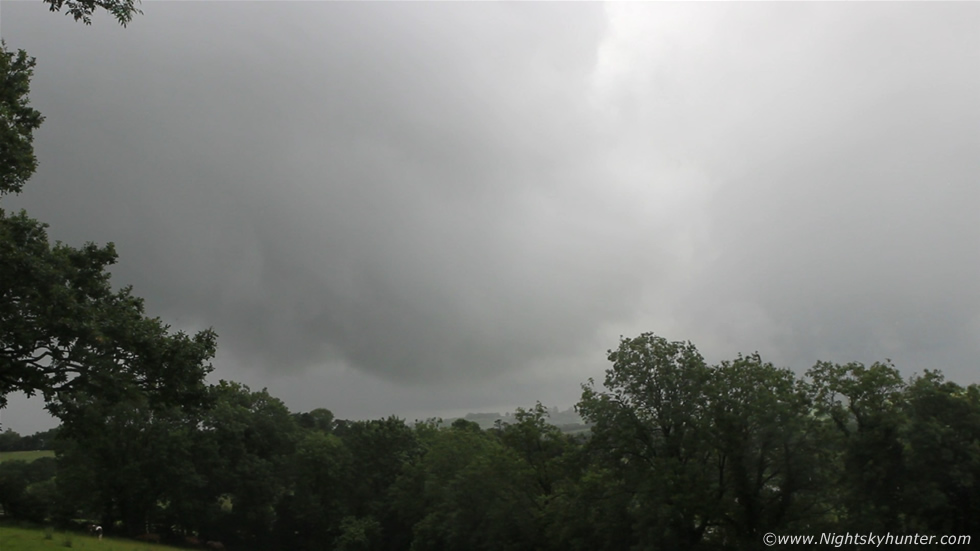 Look how close that circulation is to the ground, you don't need to see a funnel going all the way to the ground for their to be a tornado present and with wedge-shaped tornadoes like this there may be little or no funnels present at all, the vortex which connects the tornado aloft to the ground below can often be invisible or transparent and only reveal its true nature when dirt or debris at the surface is lifted aloft or damage is later reported under its path.
Crop from the above image, this is the closest I have ever come to getting a violent wedge on the ground within N. Ireland, at this moment in time I was confident I was witnessing a serious event near Enniskillen.
In this video grab you can see the wedge now moving out of sight behind the trees however aloft you can clearly make out the bell-shaped updraught, mid level striation banding, and even a large collar/flange skirting around the bowl, these are classic visual signs of a mesocyclone.
My Go Pro Hero 4 was filming the entire time from inside the van windscreen with its high definition wide angle view which took in the entire scene. We rushed across to the other side of the road and watched the base of the meso as it swirled at fairly close range to us. The area to the L of the tall tree was going crazy with rotation and the area to the R was still rotating too, I wonder now if these were two cells with mesos in the complex or else a cell spitting event. You can watch this on the time lapse section were two areas of rotation and strong inflow can clearly be seen.
One of the other DSLR stills at 24mm showing the mesocyclone, the base of the rotating lowering was now partially hidden by the brow of this waterlogged field, the entire cloud base was still rotating keenly, a wrapped up cloud band can be seen curving around the rear and the scud to the far R was rotating and lifting adjacent to the main circulation.
Back to video stills, curved striation band clearly visible with fingers of scud wrapping and curling over the bushes in unison. Amazingly there was not a single rumble of thunder from this rotating beast and to the untrained eye it would have went unnoticed, just like a stealth bomber.
Then as if things were not exciting enough this white scud tendril spun up from nowhere on the edge of the circulation behind the trees lifting and rotating briefly like a sub vortice (we observed others too) then like a ghostly apparition it was gone, even brief spin-ups like this could have touched down in the fields beyond, it's a pity this wasn't a flat field for a better view.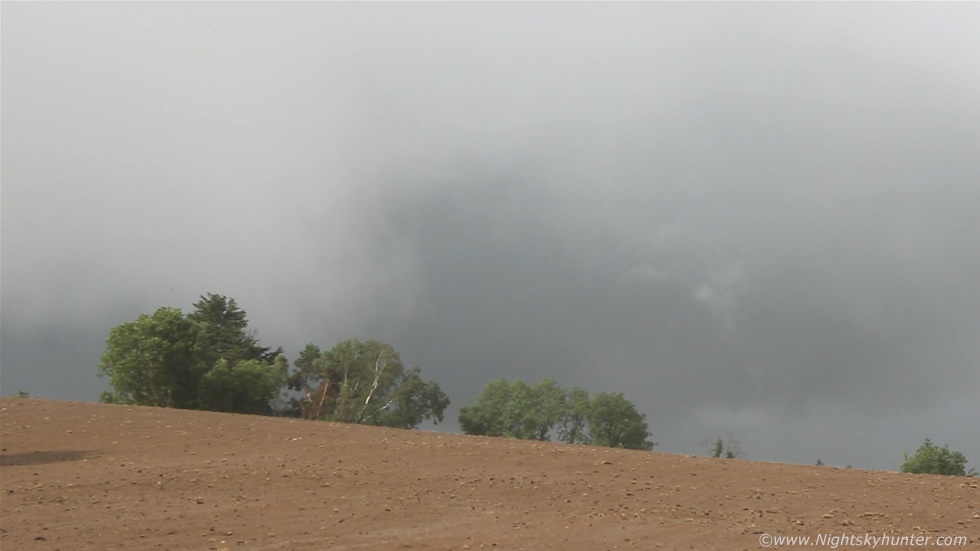 The most intense moment happened rite here, I was leaning on a wooden fence trying to film this rotation with the DSLR when this sudden mass of cloud and precip appeared from the L and began sweeping across the field to the R, I was stunned, what the heck?, the main area of precip under the cell was moving R to L however this was racing in from L to R against the mean flow, I knew instantly what it meant, this was a massive area of circulation wrapping up around the cell in extremely close proximity to us, there was no question there was serious rotation going on at this moment in time and that a tornado was already likely happening somewhere behind those trees.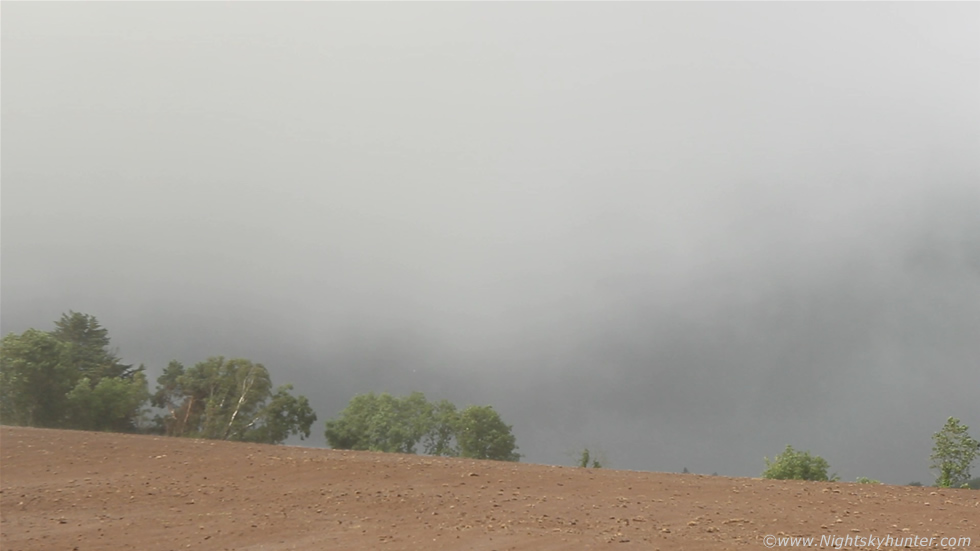 A few seconds later and that wall of white cloud had covered our field of view obscuring everything in sight and I felt a sudden slap of warm precip against the L side of my face, we later learned that this event coincided perfectly with a well defined hook on radar. We were practically within the hook and close to the bear's cage - I can't believe I'm using terms like these for a chase report in this country. Compare the above two images to see the motion of that area wrapping up as well as the time lapse section on the video below, it was like a wet RFD.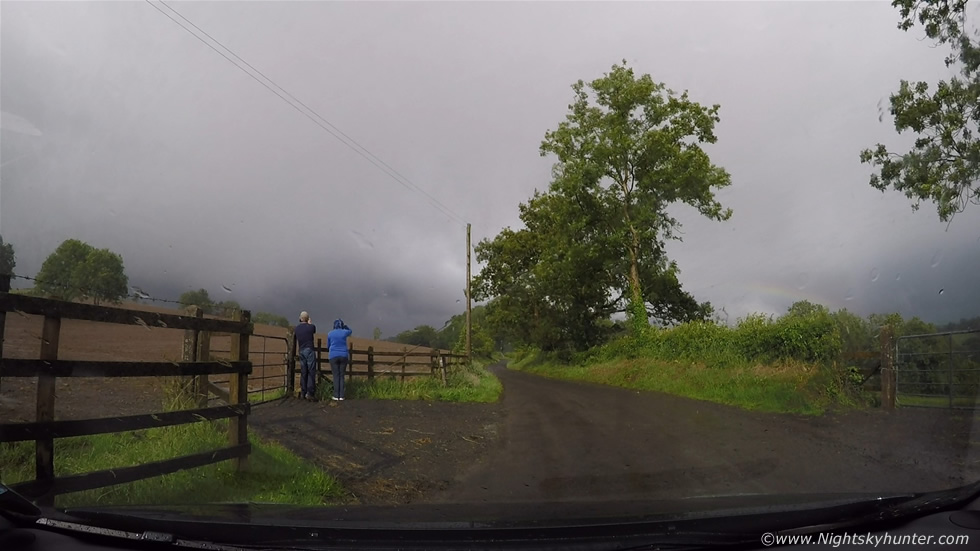 Go Pro still of the same scene and massive area of strong rotation as my Mother and I look on in amazement, quite a nice memory. We rushed back into the van and drove another 50m or so along the road and once again found another gap in the hedge then got out for another look. On view was a beautiful lush green sunlit field with Cows grazing complimented by a close range rainbow with it's southern base visible at the bottom of the sloping field. Beyond this and loft was a complex form of white scud swirling and lifting along the outer perimeter of the main circulation. The mid level cloud parted and for the first time during this event I got a glimpse of the storm's top, the cell was massive in vertical extent and I could barely fit in the towers with the landscape together.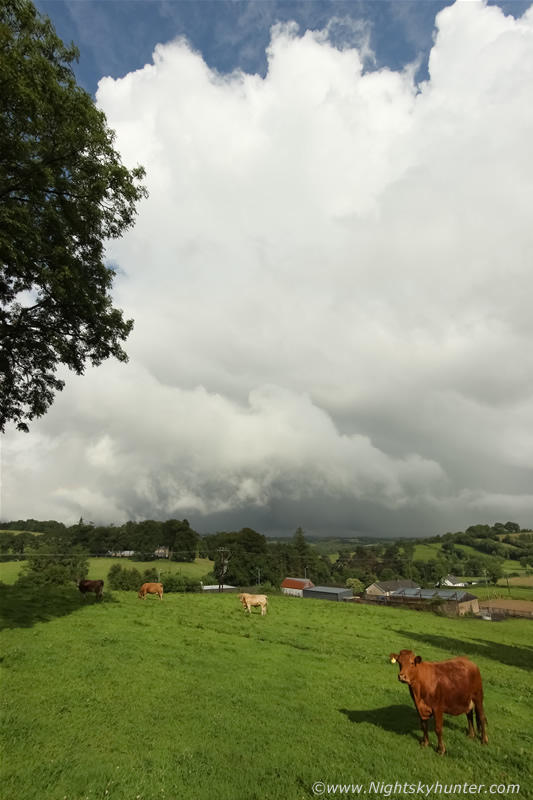 Both these images are 10mm portrait versions, the main circulation and lowering were now hidden from view by low cloud and precip however we could still see good rotation and lifting in that area behind the tree tops on the L.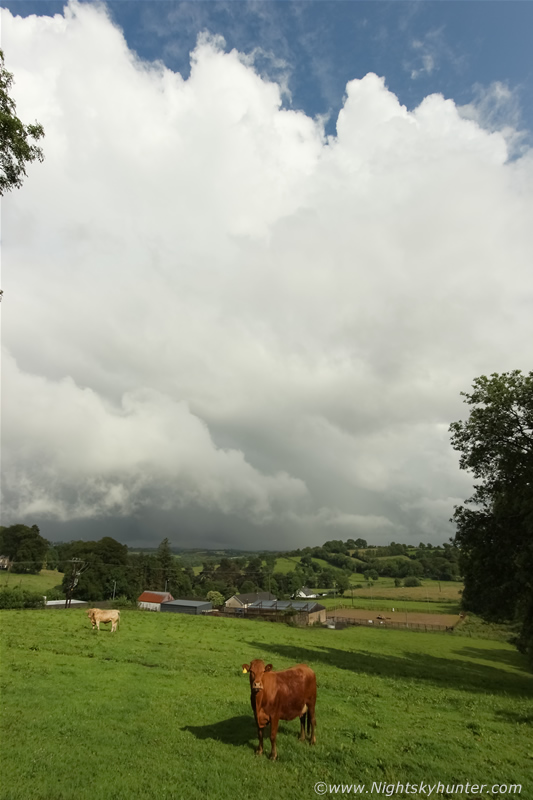 This may not win any prizes in a photo competition however in the rarity category this would score 10/10 in Ireland, it's not often one can confidently say they have an image of a low topped supercell in this country. I have seen supercells at night before some 80km away off the Mullaghmore coastline which were amazing and over the years I have observed numerous funnel clouds, rotation events and even cells with brief meso-like motion but never before had I seen this type of aggressive rotation so close to the ground until this day. The above image sums up my elation with the updraught towers above a low topped supercell as it trekked across the beautiful countryside into the distance and even at this range I could still see rotation. This entire event took place between 17.00 UT and 18.00 UT with the strongest rotation observed between 17.30 UT and 17.45 UT, however the show was not over yet.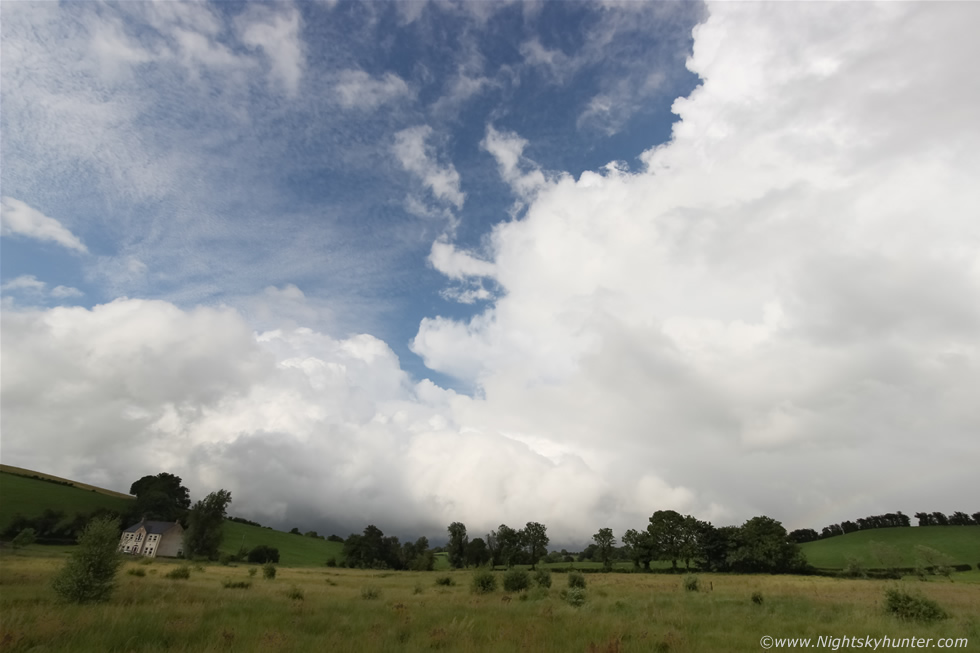 We gave chase NE after the cell, got quickly through the roundabouts and took a turn off the main road into the beautiful countryside to the N and E of Enniskillen, the atmosphere was warm and humid and the sun had lit the clouds into brilliant white with thundery blue skies across the green horizon. Finding a flat location with a clear view toward the storm was an absolute nightmare, we kept getting caught up in trees and tall hedges then when a clearance did come into view a hill in front of us would cut it off again, however as soon as I found a flat section of country road I pulled over onto the grass verge and got out for a look. This is another 10mm image of the supercell moving away into the distance, the base was obscured by cloud so I had no idea what was going on in there however the cell did look more linear at this time but even so I suspected there could be small scale rotation going on unseen so it was decision time. Should we chase after it or stay here for any new cells which formed?, as if in answer my phone rang, it was chaser and good friend Paul Martin who would soon be finished work and was about to get on the road himself, I quickly explained that I had watched a likely supercell try to plant a tornado near town and Paul informed me that the storm had a hook on radar which supported everything we had seen visually - you can hear this conversation on the chase video - Paul said the cell was heading in the general direction of Omagh, I wished him all the best with his chase then we turned tail and headed back N towards Omagh, I was delighted to hear about that hook echo and was thankful that Paul had rang to inform me of the latest, I had a feeling we would bump into each other later.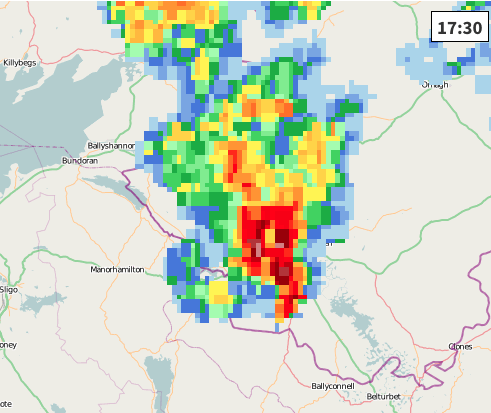 Here are two high resolution radar grabs between 17.30 UT and 17.45 UT, check out the classic flying Eagle signature which is typical of sheared storms and supercells with hook forming at the back edge.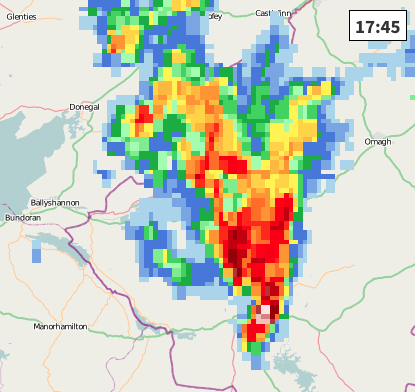 15 min's later there is a very pronounced hook and dry slot indicating strong rotation or even a tornado forming, from the radar image the main circulation (or unseen tornado) would have been close to and SE of Enniskillen placing it over the countryside to the N of Upper Lough Erne. The radar doesn't get any more text book than this, the storm's rotating updraught (mesocyclone) is dragging precip around with it which shows as a curved or hooked feature on the rainfall radar, this has been termed a 'hook echo' in storm chasing jargon. The clear area to the left of this hook is where the updraught tower would be located along with any tornado pendant from the base, in many cases - but not all - a hook echo means a tornado is forming or is already in progress and always indicates a region of very strong rotation. Interestingly the Enniskillen hook echo points the wrong way compared to a typical supercell hook, perhaps this was induced by some other factors or from anticyclonic rotation.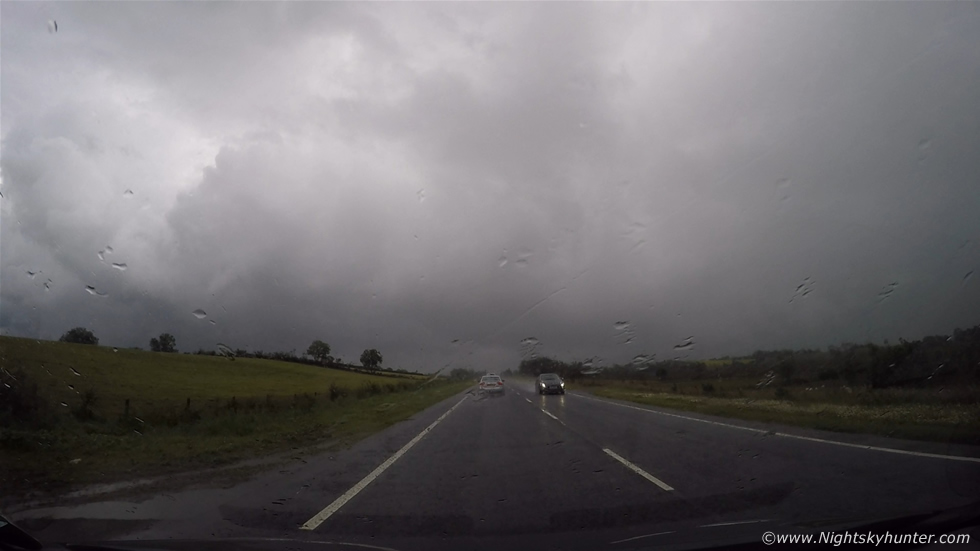 Our fast paced drive back N soon became interesting as we caught up with the back end of the now strong cell approaching Omagh, this is a Go Pro still showing the chunky towers on the L side of the cell, even at this distance I could see rotation and good inflow motion this side of the base.
While on the main road south of Omagh I pulled into a lay by on the road to Kesh to shoot this dramatic scene. Through the rain we could see this crazy looking updraught very close to the ground with rotating elements, I put down the driver's window and took a few images at 10mm while big rain drops and small hail stones fell from the sky, you can see them streaking through the image. Paul Martin was now shooting images from the hills outside town which would show structure not dissimilar to a HP supercell complete with abrupt lowering, possibly this very same one we had at close range.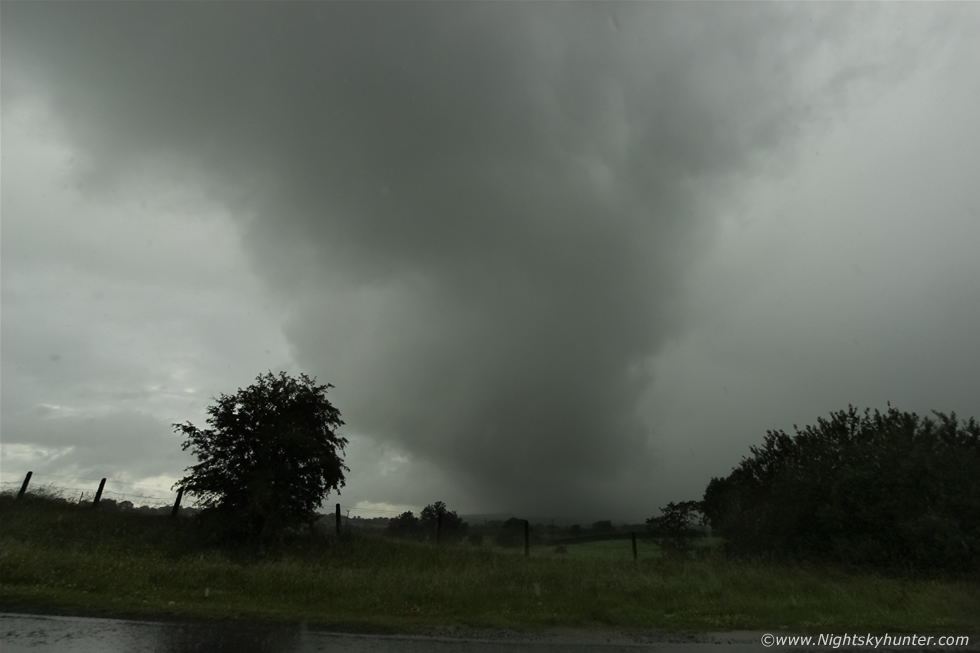 The visibility improved offering a better view of the updraught base which looked a menacing sight over the fields at the edge of town, this is one of the few structure shots I got from this chase, the radar showed a very strong core under this cell however no hook this time but it's my belief based on visual observation that this was a brief and skinny mesocyclone/updraught base because of its sheared profile and rotation. It was fairly moving N so we wasted no time and chased after it once more and soon caught up with it on the open road, we punched through the core and encountered absolutely torrential rainfall and hail stones, it turned dark and visibility dropped so bad that many drivers had pulled onto the shoulder with hazard lights flashing, I passed many of them, in fact, in all my years of chasing I don't think I have ever seen so many cars pulled over because of heavy rainfall until now, their appearance almost gave the impression that something big had happened and that we had been late to the party, we ploughed on through the core regardless then suddenly encountered a rapid change in wind direction, beforehand the wind was calm then suddenly the trees began to sway dramatically on one side of the road then in an instant the trees on the other side began blowing a different direction, this was accompanied by a sudden blast of horizontal precip going from L to R which then changed from R to L, I believe we drove through some sort of weak ground circulation at that point associated with that dramatic updraught I had shot min's earlier, the encounter was quite exciting despite being non violent in nature, the road was completely saturated from one side to the other and it felt like driving through a shallow river, it was certainly quite a core.
The cell moved on so we parked outside of town on the Cookstown-Omagh road at a lay by and tried to get in contact with Paul, a quick text message informed me he was on the hills outside town and that he would keep us informed when the latest radar update arrived (I had no wifi here for the lap top). Paul Kindly did and drew attention to more strong linear cells to the SW moving up so any thoughts we had about going home were soon forgotten. It was late evening and the last time we had eaten was in ASDA earlier in the day so we were both hungry and getting tired and needed a break. After much thought I decided to drive to a high vantage point so we could keep an eye on the sky, I'm uncertain what roads we took however we must have spent 45 min's going through back roads I had never been on in my life, two hours before sunset we navigated across a mountain road so narrow it could barely fit one car, it was badly overgrown and the grass and thistles were whacking against the van's bodywork, we reached the peak and pulled over beside a gate and watched a distant dark base move across the landscape out W with swirling scud and weak rotation, we got out the flask and made a well earned cup of tea and snacks as we watched the distant convection do its thing, the shear was still good however the air was getting less unstable and with solar heating cooling off it looked like the best was over. At last light we drove back down the mountain and stopped briefly at the junction to the Omagh road and there was Paul in his jeep heading back home too, he spotted us and pulled over for a good chat about the day's events and looked forward to another chase together in the near future. Then we began the long drive home and by 22.30 UT I was back in the house exhausted but buzzing from what turned out to be an epic chase day. This wasn't a day of photo rewards however it was an amazing visual experience and emotional roller coaster ride which made the day unforgettable. Tony Gilbert's forecast turned out to be exceptionally accurate and Ian's predictions were uncanny in the extreme, he had picked the correct location and was only out by one hour!!!, now that's a great piece of storm forecasting.
Many thanks to Stuart Markham of Chorley Weather for putting together this youtube video featuring a full sequence of radar images showing the storm and hook forming near Enniskillen.
Full chase video over 24 min's in duration and best watched in HD with lights out showing footage of the rotation complete with 4x speed time lapse sections to show the circulation more clearly followed by the Omagh updraught and intense precip core. The video doesn't even come close to capturing just how amazing the rotation looked in person however it will give you some idea of what was going on and if anything else it should capture the thrill of the chase.
In Summary, Enniskillin came close to getting hit by a wedge tornado from a low topped supercell (thunderless) storm, it's not often I get to write about something of this caliber and once again I have added a new rotation event to my ever growing list and certainly came very close to seeing my first tornado touch down in Ireland. Despite numerous requests for information I have been unable to find anyone else who witnessed this event or who experienced sudden strong winds or unexplained damage, it astonishes me that not one single person saw the rotating clouds near a busy area near rush hour, however that doesn't mean that no one observed some portion of the event at all, it's just that I haven't heard from them yet. So far I have been unable to confirm any touch down from that wedge however lack of damage doesn't mean there wasn't some kind of brief kiss with the Earth at a country location that went unseen, perhaps more information and witnesses will come to light in the near future. I contacted Irish tornado investigator Dr. John Tyrrel from Cork University who has recorded the event for records at TORRO for future reference. Thanks very much for reading.
Martin McKenna