Emyvale Lightning Show (Possible Supercell) During Heat Wave Break Down - Aug 14th 2022
Well well Mother nature, you have certainly turned the tables haven't you?, if you have already read my previous reports you will be well aware that N. Ireland has had it's worse cloudy grey Summer on record with little in the way of storms, no sunshine worth talking about, and no clear nights. It has been difficult to pursue good photo opportunities when dealing with this kind of cloudy high pressure set-up, however despite all the negativity we still managed to get one spectacular sunset and a surprise supercell thunderstorm over Lough Foyle on July 24th which for me was my personal highlight of the season. Now being well into August I was coming to terms with the fact that Summer would soon be ending and that any chance of exciting sky action was likely over.
Then high pressure returned, I was skeptical and suspected another cloud fest however this time nature was kinder to us. We actually got warm weather and many days were very sunny with clear days and nights, I even got several early night shoots done with the Milky Way, two nights of Perseid meteor watching and a rare late season NLC display, however I will save these adventures for the next report. The Met Office officially announced a heat wave for Ireland and N. Ireland and even had warnings out for the high UV and temperatures, I can't recall the exact figure however we officially had our hottest August in 20 or 30 years.
Then the models began to show potent thunderstorm potential for August 13th and 14th with big CAPE and explosive energy waiting to be released. The 13th turned out to be capped for us in the north so we ended up with another hot sunny day however it was the 14th which really got our attention. A Sly plume of hot humid air was already advecting N across the country with temps expected to reach the mid to late twenties, CAPE values were forecast between 1200 and 1500 J/kg with lifted indices between -5 and -6, such deep negative LIs can be suggestive of severe storms. The upper air was very cold over this in the -30 range due to an approaching upper trough from the Atlantic, this trough engagement and clash between hot and cold air was the perfect recipe for nature's fireworks. Normally N. Ireland is always badly positioned in these set-ups which is why England usually ends up getting all the action, however this time we where ideally placed so this in itself was exceptional.
It was a complex forecast with multiple rounds of action anticipated, the convective outlooks from Convective Weather and Netweather.tv made for interesting reading, both sources had placed us in their moderate risk boxes and in a severe thunderstorm risk zone. The main threat would be intense lightning and flash flooding from slow moving storms and clusters. Elevated storms were expected during the day and over night and during mid afternoon surface-based storms where expected across N. Ireland which could be spectacular, rotating updraughts were forecast by the CAM model and given the strong 30 knots shear storms would be organized, in other words lines of storms, or storm clusters in multicell fashion and even supercellular modes. I'm not a fan of elevated storms during daytime so I was holding out for the SB cells during the early evening.
Sleep wasn't easy due to the heat that night, I drifted off a few times then at 05.15 Rhua wanted outside to go to the toilet so I went out with her. I immediately noticed how warm and humid and absolutely still the atmosphere was at this early hour, I looked up and saw the sky filled with well developed Alto-Cumulus Castellanus, a sure sign of instability at the mid levels. Then I glanced to the SW and there was a big flash of lightning!, I wasn't expecting to see that at 5am in the morning!. I fired up the lap top and checked radar which confirmed storms where forming to the SW, over the Sperrins and near the north coast, all had red cores. I stood outside on the warm ground and could hear distant rumbles, this was great, I want back to the room and woke up Roisin, we could hear the thunder getting closer, so we lay on the bed with the window wide open and spent all morning listening to incessant thunder. You might be saying, why didn't I go out chasing? the answer is these were elevated storms, their bases are extremely high at the mid levels, as a result these storms never have great structure and are simply not photogenic so I just relaxed and enjoyed the booming from high up in the sky.
The Sperrins W of Cookstown were rumbling for hours, it was somewhat unusual for me to just relax and enjoy it without dashing out on a chase so this was pleasant, one of the few times I can say I ate breakfast and enjoyed my tea in the company of thunder. The Met Office had issued a yellow warning for thunderstorms and it looked like everything was working out great, my chaser mates and I were on the chase, if these elevated cells could continue after sunset we might just be in for a rare night time lightning show, we were quietly optimistic this was going to happen but where was another matter as the models were all over the place. By early afternoon Roisin, Rhua and I went out chasing through the Mid-Ulster area, we spent several hours on the road and pulled over at road sides watching and waiting however I never liked the look of the sky.
A milky veil of cirrus was covering the sky has far as the eye could see and there was no direct solar heating, I knew these conditions would impede any surface based developments. We pulled over at An Creagan to have a picnic before heading back, then we saw rapid Altocumulus Castellanus formation, and within minutes we had a thunderstorm directly overhead with big rain drops falling, we had to take shelter incase a c-g struck, cloud to ground strikes from these high bases are deadly, often positive strikes capable of doing damage to structures, starting fires and killing livestock, we never saw any c-gs so all our bolts were in-cloud. I love the thunder from elevated storms, even when above you it sounds distant as if it was descending from a great height (which it is), in some ways the muffled acoustics is somewhat similar to thundersnow. Roisin and I drove along the Omagh road, we had one cell to our left, another to our SW, and another to the E, they were all thunderstorms and we were surrounded by them, all elevated with nice laminar wave forms around their edges. I got calls from my mates, John Fagan was hearing the thunder from Dungannon, Nigel McFarland was on the Sperrins hearing thunder and seeing sparks and Colleen Webb got a great complex c-g strike on her dash cam near Swatragh, things were kicking off big time. The two cells over the Sperrins merged into one large elongated storm and for the second time this day thunder rumbled for a long time over the midlands. I stopped and got the drone in the air for a few images, as you can see these storms are not photogenic no matter how energetic they are.
My new plan was to rest for a while at home, monitor radar, and hope for night sparks after dark, I was expecting a night on Benbradagh or Slieve Gallion watching cells approach N. Ireland from the border so I got something to eat and rested for a while. During the early evening I checked radar, a tremendous thunderstorm had erupted rapidly over Co. Mayo, it was producing serious lightning strikes and flash flooding, it soon got the attention of anyone interested in storms in Ireland. As the radar updated every five min's the storm kept getting better and better, the precip became strongly sheared to the NE with prolific lighnting inside the forward flank downdraught, the anvil itself and the updraught region, the storm grew enormous in size with huge white and white cores, at one stage the rear side had a huge white ball on radar. My mates and I chatted about this online, would this storm reach us later?, it was moving NE but very slowly in the slack flow, it was clear that anyone below it was getting hammered by lightning and rain/hail for a very long time, as far as I was concerned this was the storm of the day, we all suspected it would probably die out but it kept going and never seem to end, we were fairly certain given the shear, the big CAPE, and it's long life cycle that this had to be a supercell. It was likely elevated in nature so there would be no structure but we knew that if this kept going after sunset there could be an epic light show.
I was chatting with Paul Martin, John Fagan, Nigel McFarland and Colleen Webb about potential plans. If we waited at home it could be with us in approximately 3 hours at least, that's a very long time to wait, then as time went on I noticed it began to deviate from the surface flow and trend a little further E instead of NE, in other words it was a right mover, another trait of supercells. We decided we couldn't wait, the updraught of the main storm was still below the border however its sheared anvil was over Fermanagh and we suspected the main core might pop over the N of the border later, but we needed to meet it half away. A plan was quickly made, I would meet Paul Martin in Omagh then chase further S from there if needed, John would let us know his plan soon.
I grabbed the gear and left Cookstown and headed out the Cookstown-Omagh road driving as fast and safely as the law allowed, luckily traffic was light and I made swift progress. I stopped five miles outside Omagh and switched the engine off, I heard distant rumbles, I was certain of it, at least the storm was still going. I met Paul and his partner Tracy Sharkey in Omagh, we did a quick radar check, the storm was still flashing away, Paul reckoned it was at least another hour away from us, we also needed to re-position further S, so we re-located to Ballygawley and pulled over for a brain storm. At Ballygawley John Fagan was parked across the road so we all had a team discussion on our options. It was around 21.00 and the light was dropping fast, we knew it wouldn't be long before we saw flashes. Our next move was further S into Aughnacloy, then finally we once again went further S for a better position, as we drove along with our three vehicles in pursuit it really did feel like one of those classic storm chases. I could see lightning flickering in the sky to my half right, it was then I knew we had succeeded in our quest. We all pulled over onto the side of a footpath in a village called Emyvale in Co. Monaghan, we where literally not far from the border.
We all rushed out to watch the sky, Paul had picked a good spot, had we drove on our view would have been obstructed by trees and hills, even though we were rite beside a busy road with traffic passing all the time the view was good towards the storm, which if radar was correct, was coming straight towards us. We could see the massive area of precip which was being lit up from within by very regular lightning, we were all buzzing, yessss!!!!! fists in the air with delight, the gamble had paid off. It was dusk/blue hour, however with the overcast sky it was darker than usual so it was perfect for sparks. We all got into our own photography zones, some shooting vlogs, others video, others stills. I decided to shoot video as a priority, for this I used the Canon 5D Mark IV on a tripod with the 15-30mm F/2.8 lens, this is why I got this camera, for it's high dynamic range and low light performance and ability to shoot video at high ISOs with less noise for low light situations like this. The shutter was 1/50th of a sec, ISO very high, I left it running the entire time which was a good idea. I then set-up my old Canon 600D with 10mm F/2.8 lens and began shooting short exposures. We all agreed it was difficult to get the flashes to show on camera, I was shooting between ISO 200 and 400 and shutter speeds between 4 and 6 sec's.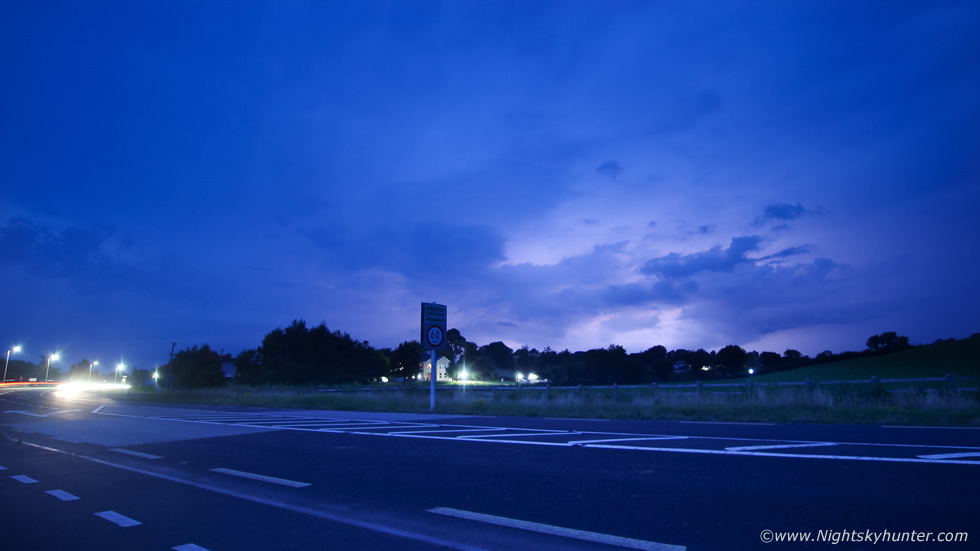 We all yelled with joy as the sky lit up with a well earned late Summer lightning display. We had never seen such active lightning since Lough Neagh on June 6th 2016 and the Mullaghmore storms of July 19th 2016. It was amazing to think that this beast had been producing near constant thunder and lightning for over four hours without a break, and now here it was. The cell was hidden by cloud but it was lit up from within by very active lightning, many in-cloud bolts and some c-gs too, it was like watching a distant air raid on a city during the Gulf war. This was what we had been waiting for all Summer, and to watch it on such a warm muggy evening in a t-shirt was a true pleasure.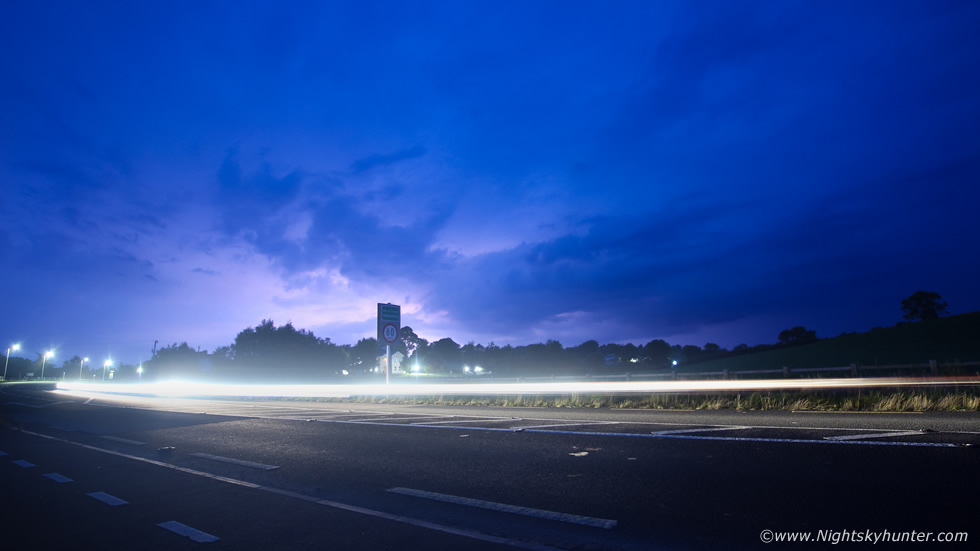 The passing traffic made for interesting photo opportunities as we could now capture light trails with the storm in our exposures. The sky was flashing and pulsing with light, it was absolutely surreal, Paul said the storm was still a good 20 miles away from us which was amazing, and what made the experience even better was that we were completely dry, there wasn't a drop of rain on us. Parts of Co. Fermanagh under the anvil were getting a remarkable show with pink and purple anvil crawlers almost constantly creeping across the sky like large electrified spiders. Power was knocked out and many said it was the 'worse' lightning they had seen since 1985.
I didn't even try to count how much lightning there was, I just wanted to enjoy the experience, which I was certainly was, there's no better feeling than driving miles with a low chance of success then everything comes together for a great intercept against the the odds, when this happens, just sit back and enjoy the show.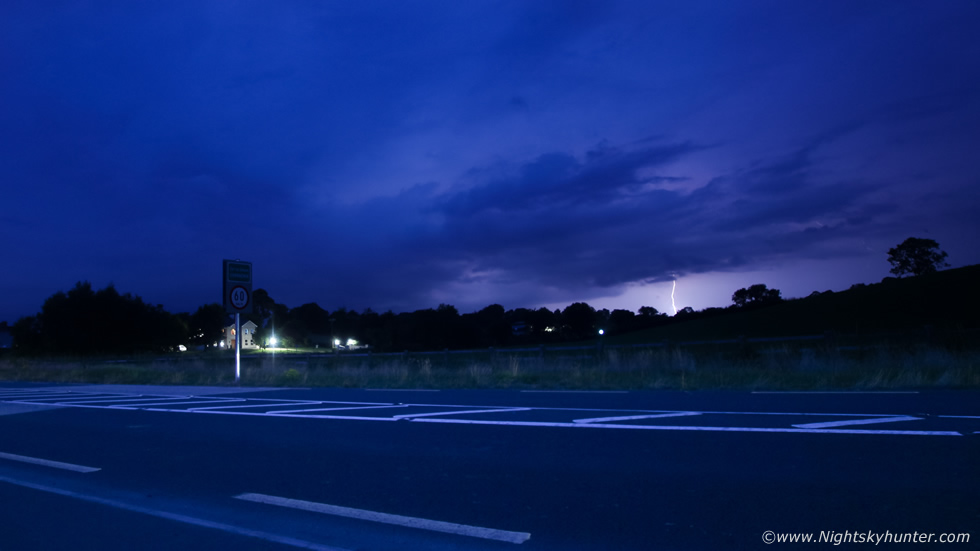 Unless you where here watching, it is difficult to describe, there isn't much more I can say other it being an epic lightning show, and as the minutes ticked by it was getting closer and closer. It wasn't just one flash, there were two or three at the same time, even four a few times, the lightning would internally moving across the sky from L to R inside the precip, these were likely spider lightning or anvil crawlers when viewed from under. This was a nice c-g at the end of one of those internal barrages. We all yelled with delight, it was like being at a concert watching your favourite band, who knows what the people in the passing cars were thinking of us, there was a house beside us and they could hear all our yelling and a few curse words too, I'm surprised they didn't come out to us.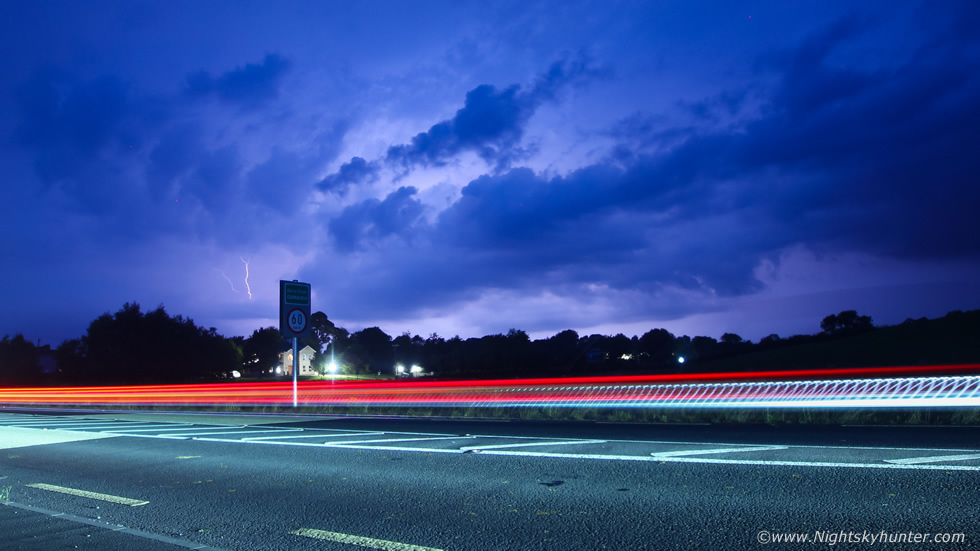 My favourite exposure from the night, car trail with illuminated cell and a bolt can be seen too. Taking exposures really was difficult, I kept the wide angle on because bolts would appear anywhere along the skyline, and it was getting closer too, add to this another storm was firing below the border and we could see its lightning to the far left over those trees. We all knew if our storm kept coming it would be rite over our heads and we could get the best storm of our lives.
The following are all still frames taken from the 5D Mark IV video footage which in a way I think captures the light bulb flashing effect better.
This was approx 22.00 BST
I should have put the drone in the air and recorded footage too however handling both cameras and making constant adjustments just kept me too busy to focus on a third device.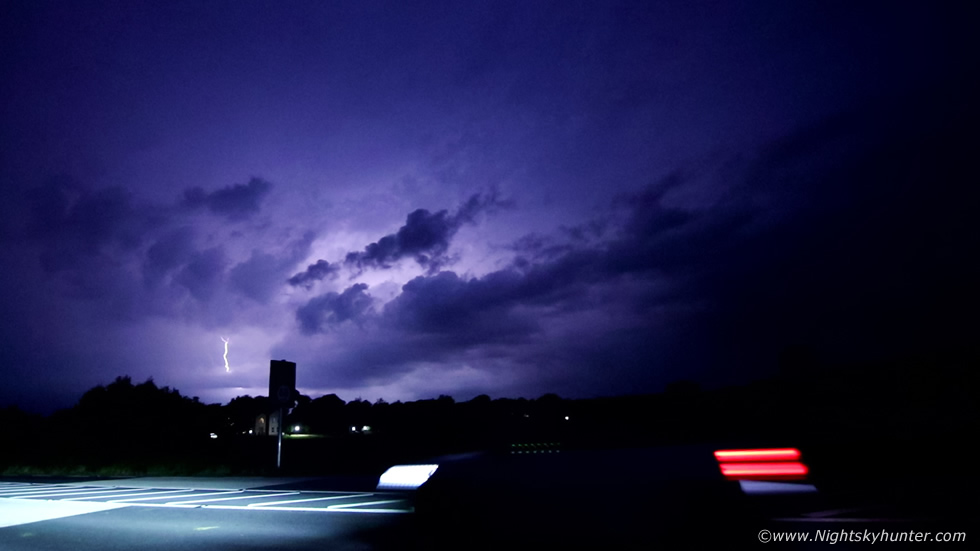 Then suddenly, without warning, the lightning stopped. We assumed the storm was cycling again or a new updraught would pop up but it never happened, we were plunged into darkness and radar showed the cell dying, just when it was close to moving over the top of us, that was disappointing but not unexpected either, after all it had been flashing for about five hours now!!!, it had done itself proud and we were happy enough to experience this hour of great lightning and to finally get the Summer experience we wanted. Paul, John and Tracy headed home due to having an early start in the morning, I decided to get a snack in the shop then re-located to Co . Armagh as the second storm was approaching that area, when I arrived John rang to say it was dying too, it looked like there would be no more storms moving into the north this night, the remaining action would be far down S. Well, I could hardly complain so I made my way back to Cookstown.
At it's peak when below the border this storm was producing 80 flashes per minute (thanks Owain Rice), rates which are rare or virtually unheard of in Ireland, and considering the radar, its massive life cycle, sheared aspect, synoptics, lightning rates, it was most certainly a supercell. There where other storms this day in Ireland which also had supercell traits too. Hopefully this isn't the end of the Summer storms, we still have late August and even September before solar heating begins to wane and the convective potential shifts towards coastal areas, can naure bring us one more Summer storm before then?, thanks very much for reading.
Martin McKenna