Beaghmore & Cookstown Strong Thunderstorms With Flash Flooding - June 20th 2023
I was still absolutely buzzing for on June 19th I had just experienced the most beautiful and dramatic thunderstorm convection I had ever seen from the north coast and when I made it back home I said to myself that if that was the last day of storms this season then I would be happy, anything else would just be icing on the cake. However I've said it before and I will say it again, 2023 is the season which just keeps on giving and just when I thought I could give my camera gear a day of rest it looked like there would more thunderstorms for the fifth day in a row. I ended up staying up late yet again getting all my footage and images download to the external hard drive then getting all the batteries charged for yet another chase day.
The set-up was good with over 1500j/kg of CAPE, a cool pool aloft, 10-15 knots of DLS, trough and a humid air mass with very warm temperatures forecast with one or more convergence zones. What I liked about this set-up that it yet again indicated a local chase so I could focus my hunt within well known local areas which didn't involve driving to Co. Sligo, so for that I was grateful. Models indicated that storms were very likely over the Sperrrins and Co. Tyrone before propagating NE into Co. Derry and Co. Antrim as the day progressed, there were suggestions of multicell line convection so this could be a lively day. My plan was to begin within the Sperrins then perhaps chase into the Ballymoney area for evening.
By 10am on June 20th I was already seeing very robust updraughts, perhaps among the strongest I had ever seen for such an early morning period, I knew then that this was going to be a very busy day. I didn't need to hit the road early so I took my time prepping the van, making snacks and filling water and getting the gear ready at a leisurely pace, outside it was very warm and humid with convection stirring in all directions. I would abide my time then head out later as the approaching upper trough would come into play and invigorate activity. By early afternoon my dog Rhua and I hit the road, the game plan was simple, place myself within the Sperrins target area and wait for developments, I had one last check on radar which showed elongated showers to my SW and W, some with sparks, if that area of interest continued moving E then I would be perfectly placed for any action, I reckoned I had a couple of hours and by then I would be maximizing on stronger solar heating and bigger CAPE.
After experiencing so many storms over the last four days in a row I felt like this was my life, watching convection, seeing lightning and hearing thunder were the norm, this had become my every day experience and because of this I had 100% confidence I was going to catch more storms, I had that much faith in the forecast, in my chasing abilities, and in the season itself, the Universe had aligned itself to make it happen and there would be nothing stopping me from catching a storm, that's honestly how I felt and what my confidence level was like, something which rarely happens during a N. Ireland storm season.
I decided to drive to Beaghmore Stone Circles in Co. Tyrone, a region not only famous for its large complex stone circles and dark skies, but also for its scenic landscape. But crucially it had one important factor for storm chasing, a decent horizon, at least to the SW, W and NW anyway. I love intercepting storms in the countryside however to increase the photogenic potential one needs a location free from clutter and annoying foreground obstructions in order to make your storm images more effective, this has become an important factor for me in recent years so my chase locations often factor in this criteria, if the landscape doesn't work, I still had the drone. I pulled into the picnic area before Beaghmore, had a lunch, walked Rhua and just enjoyed the warm sunshine and convection.
Half an hour later I parked at the stone circles and made my way in. Rhua and I lay down on the stiffing warm grass within one of the large stone circles and watched cloud bases for funnels, my eyes were starting to hurt from watching convection so much, even with sunglasses on. We walked around to kill time, convection was getting taller and more agitated but still looked capped, far to the W/SW the sky was getting darker with precip curtains on the horizon, that was likely that line convection I had seen on radar getting closer. There was a couple sitting under the only tree in the area, they looked like hibby types, like a scene from Easy Rider, they shouted across at me ''hey we love your camera'', I was walking around with the 100-400mm on the DSLR, I thought it was a weird comment, their was a strange scent in the air, they might have been on the wacky tabacky. They said ''are you taking pictures of your dog?'', I said ''no, I'm here to shoot thunderstorms'' and they looked at me as if to say yea rite, the sky was sunny and a perfect example of a classic Summer's day.
I took a break from the sun inside the van, it was mid afternoon when I got a text from John Fagan tipping me off to a big cell located to the SW of Lough Neagh. Thanks John for that message!, I got back outside and listened, then I heard thunder, and more thunder, but it was coming from the behind me and to the W, I was hearing thunder from John's storm and that line approaching from the far side of the Sperrins, I was literally between two storms, but which was chase? The Sperrins complex didn't look photogenic so I decided to treat John's message as a sign from the Universe and began pursuing that option. My view to in that direction was hidden by the hills so I began driving along the back roads waiting for a clearance, then I recalled the beautiful scenic route over the back roads between Beaghmore and Cookstown, I had been checking it out over the last few weeks and loved the elevated viewing position and the scenery and had made a mental note that it would be good for storms so I decided to test that out.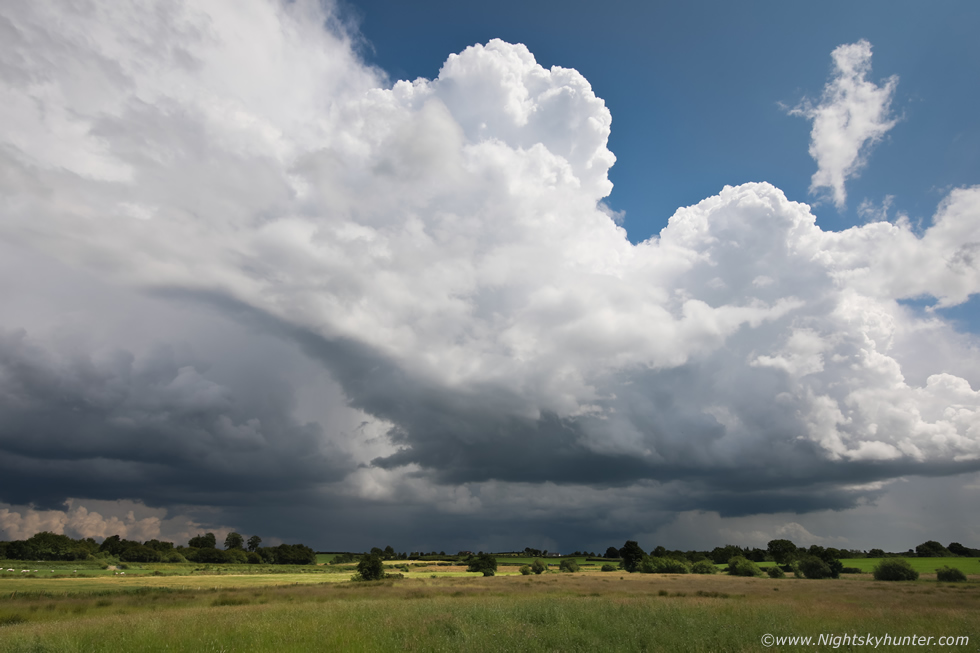 I took a left onto the scenic route and when I did the Lough Neagh storm came into view, I gasped for a second, it was a beautiful big storm, how the heck had that sneaked up on me so fast?, it was clearly the biggest cell in view in all directions. The road and the landscape either side was absolutely gorgeous with acres of fields, wild grass, heather and marshland with sporadic photogenic trees, random stones and rocks, and with beautiful country houses and the odd barn, it was like the middle of nowhere and the perfect place to encounter a storm. I rounded a bend in the road, saw a gap near a gate and pulled in onto the grass verge at the side of the road and got out. I grabbed the Canon 5D Mark with 15mm wide angle, crossed the road into this nice field and there was the storm in full view.
This was the same storm which had moved N along the SW side of the Lough, in the distance at centre was the precip core and above was the principle updraught plume connected with that distant base. The updraught was expanding in real time rapidly and looked fabulous in such stark contrast to the clear blue sky around it. Thunder began rumbling regularly from this storm, I had to admit this was my perfect scenario yet again, watching a thunderstorm in full sunshine over the countryside in a t-shirt with not a single drop of rain on my head. The storm was moving R to L and even had a lowering under the base for a time. What caught my attention was the other smaller updraught which had formed in the flanking area (R) which was exploding up, this looked like it was another storm forming and already had a very nice base. I was perfectly positioned, the cells were moving very slowly so I stayed where I was within this field in the middle of nowhere.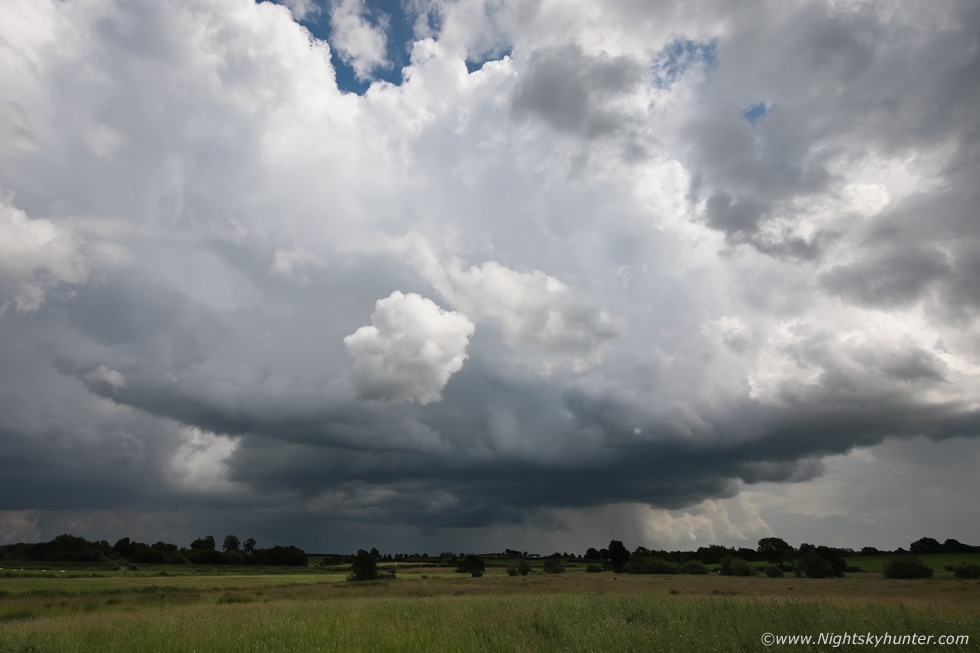 Within ten minutes that flanking updraught had grown big with a gorgeous base adjacent to the main storm, this was a back-building multicell which was still rumbling away and I was still basking in the hot sunshine loving every moment.
Minutes later that flanking updraught had turned into a thunderstorm, the lightning discharges where happening high up inside the updraught, I couldn't seem them at all, however the thunder was deep and gave the impression of descending from a great height, every time it felt like I was being ambushed by thunder somewhere unseen inside it. The other storm behind it was rumbling with occasional in-cloud bolts flashing inside the precip and their was more lightning out of frame to the left from the leading edge of the core, I had two storms side by side doing their thing, it really doesn't get much better than this, and easier than this, all I had to do was take images and enjoy nature at her finest.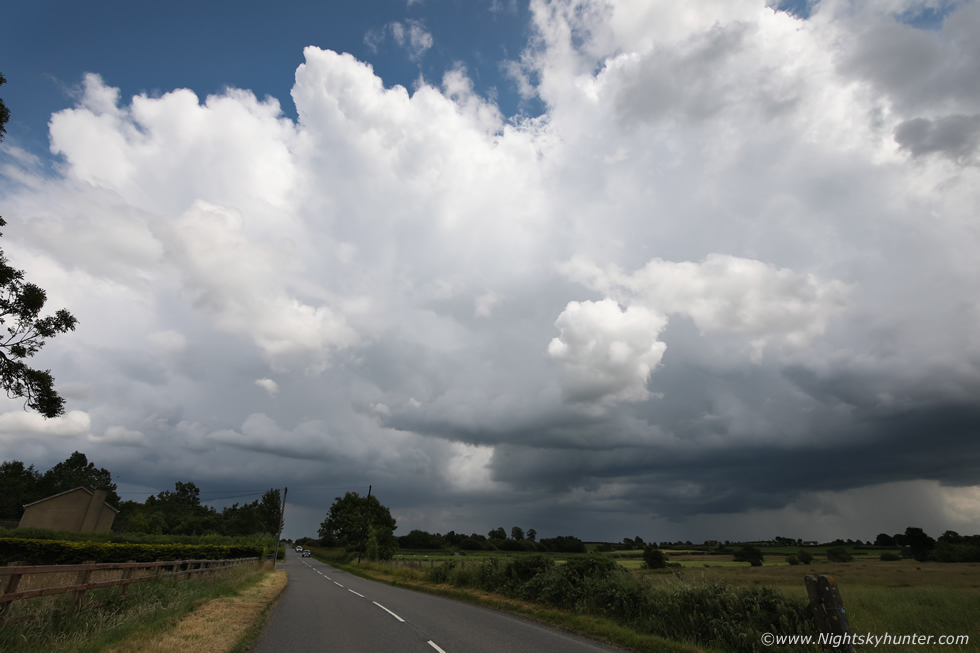 Panning fully to the left, the precip core of the main storm had spread out into a large area with regular thunder/lightning, the core was now approaching the W side of Cookstown. Then I heard a very loud new rumble behind me and turned around to see yet another storm approaching, it was that line over the Sperrins catching up with me which had fired into a storm, I was now located within the middle of three very active thunderstorms.
The central storm was my favourite of the trio, the sun was still shinning on the field and updraughts and everything was beautiful and serene. Occasionally the serenity was broken by passing cars but once they were gone the countryside was back to tranquility, the only sounds were from cows swishing their tails from the field behind me and lots of thunder. A very nice updraught base had formed under this storm with rather nice structure, the base remained rain free for quite some time and it even had a somewhat rounded look.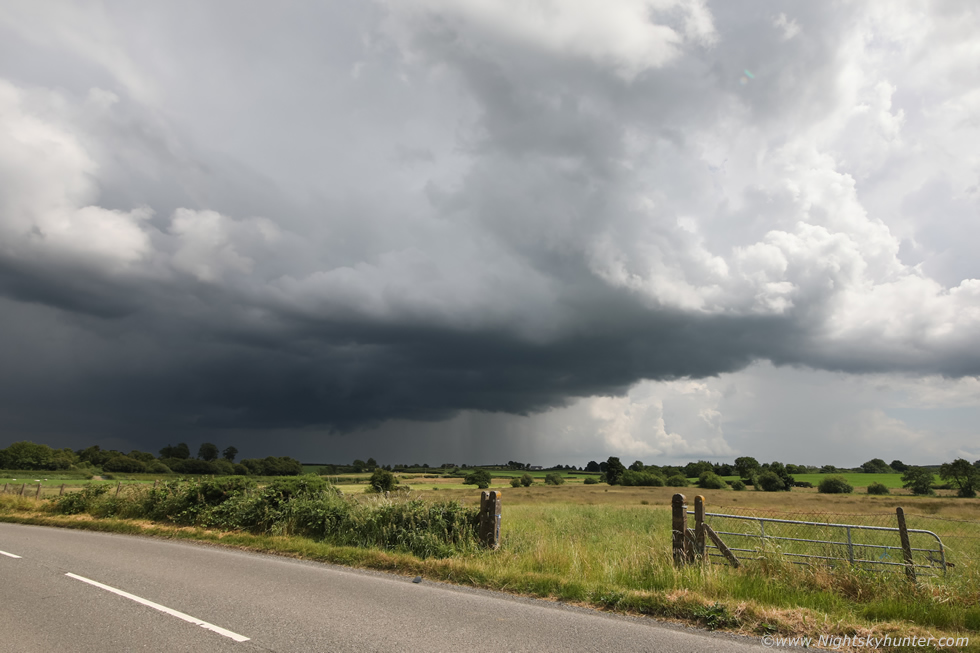 Standing on the country road for a different view, that was the field I was in for all the other images on here. The storm was developing good rising inflow motion, scud was forming, lifting, and rising vertically into the base. There's something very special about hearing thunder from the countryside, it has different acoustics and the experience feels far more intimate and personal, this has always been my favourite experience with thunderstorms. It brings me back to the days before I got my test and couldn't chase so I had to walk deep into the countryside and climb a steep hill outside Maghera with all my gear, often spending eight to ten hours a day exposed to the elements, it was during those earlier days that I developed that communion with storms and the countryside, I always felt like I was in my perfect happy place so anytime I find a good quiet country location and hear thunder it contents me greatly.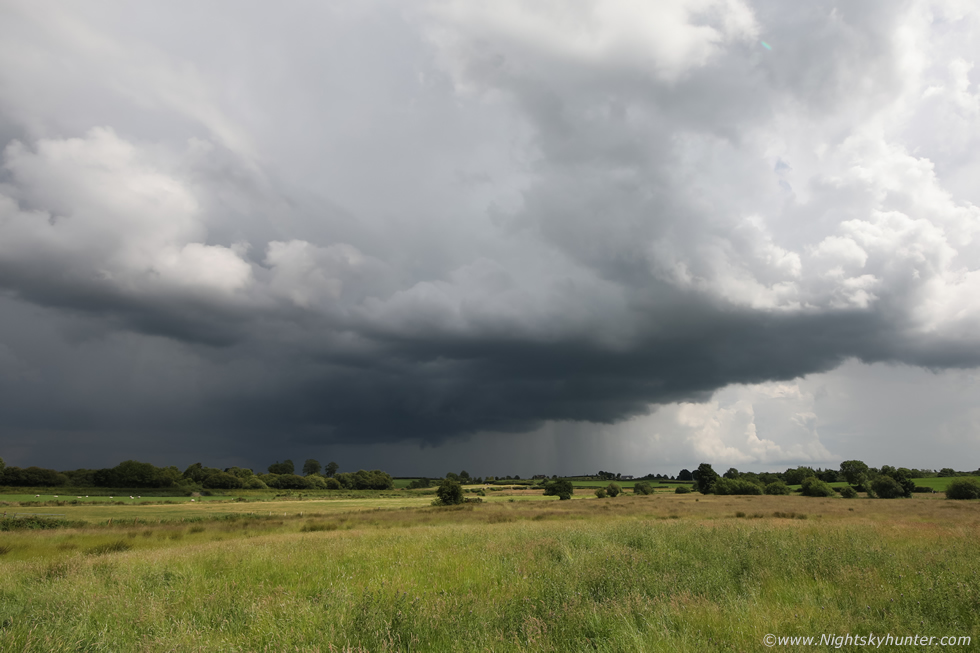 Back into the field again, thunder booming all around me, I saw two c-gs hit from the central precip core. I don't know why I didn't shoot a time lapse of this or get the drone in the air for footage, I think the reasoning was that the storms where too close and the drone's FOV wouldn't be wide enough to take in the full storm and the same with a DSLR time lapse, but looking at it now that base would have made for a very nice lapse.
16x9 crop showing the updraught base. The big line was close to me just out of frame to the right, I knew it would eventually kill the light and bring heavy rain soon so my time with this cell was a priority, I would cherish every minute of it. The line to the right wasn't photogenic, it was just a huge silver-grey core with rumbles getting louder, however the motion of everything today was so slow I reckoned I still had a good twenty minutes before having to change location.
My favourite scene from the day, the updraught base at its most impressive phase with scud appendages and the base itself had lowered too. I was thinking how awesome would it be if a big black funnel formed under this base rite in front of me over this field, my adrenalin began to surge just thinking about it, it wouldn't very have far to go to touch down.
Inflow motion was apparent again and even some lazy rotation with the scud at the rear but I never did get that funnel, but no matter, the storm itself was enough to make me happy today.
It sure did try to drop an fc though, last attempt before the other core would move in and ruin the view. The storm was a very high contrast scene, the towers were brilliant white in the sun and the base was very dark and the field bright, such dynamic range was challenging to shoot and present on camera.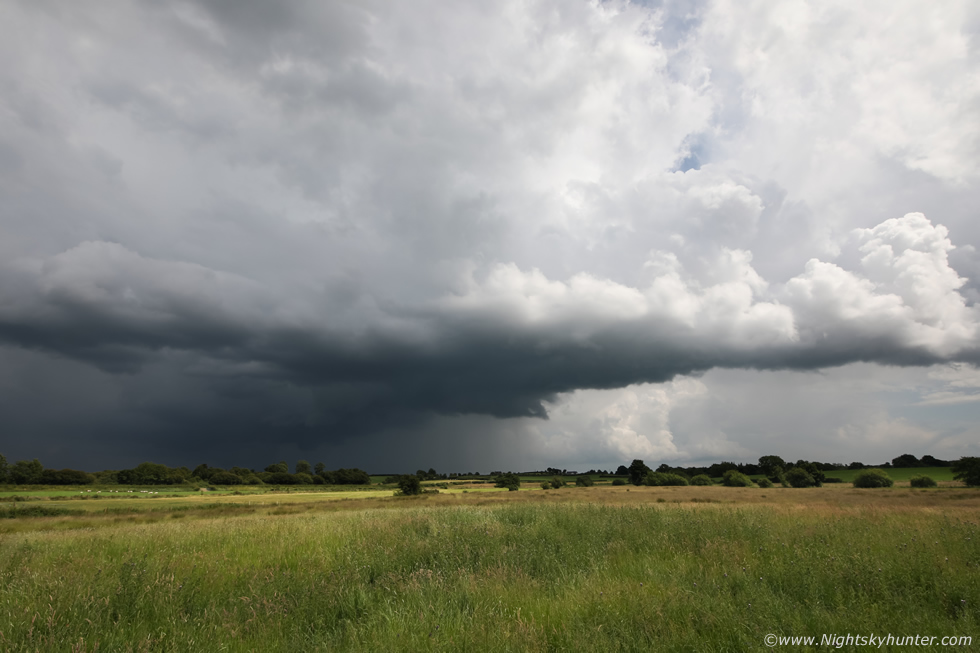 Full wide angle capture, this storm was shifting L away from me and the convective line was almost on me, the core of that was perhaps 1km away. I decided to get back in the van and drive into the core of the first storm, once I get some structure I do enjoy a good core punch just to see whats going on. Within a few minutes I was in the core, complete monsoon torrential rainfall completely saturating the local area, the roads were like a shallow river and great sprays of water would shoot up over the bonnet onto the windscreen, it was quite intense, some of the other drivers were struggling, obviously not used to driving in such conditions, I had to overtake them even though it may have looked reckless to the untrained eye, but I've no patience for people driving 30mph in a 60mph zone just because its raining heavy.
I decided to head back to the house in Cookstown where it was dry again, I did a quick check on radar. Unknown to me that convective line that was behind me on the scenic route had turned into a monster. It extended across much of the country from the border, through Tyrone and into Antrim, huge red and white cores along its entire length and sparking away all over the place. One of those white cores was approaching Cookstown, I ran back outside, heard thunder and felt rain begin to fall, I drove out and decided to try and get ahead of this line for a few shots just in case it had a shelf cloud. I took the Old Coagh road, raced along it as safely as I could, I managed to get ahead of the precip core by several miles then pulled into the first lay by I could find and got the drone in the air.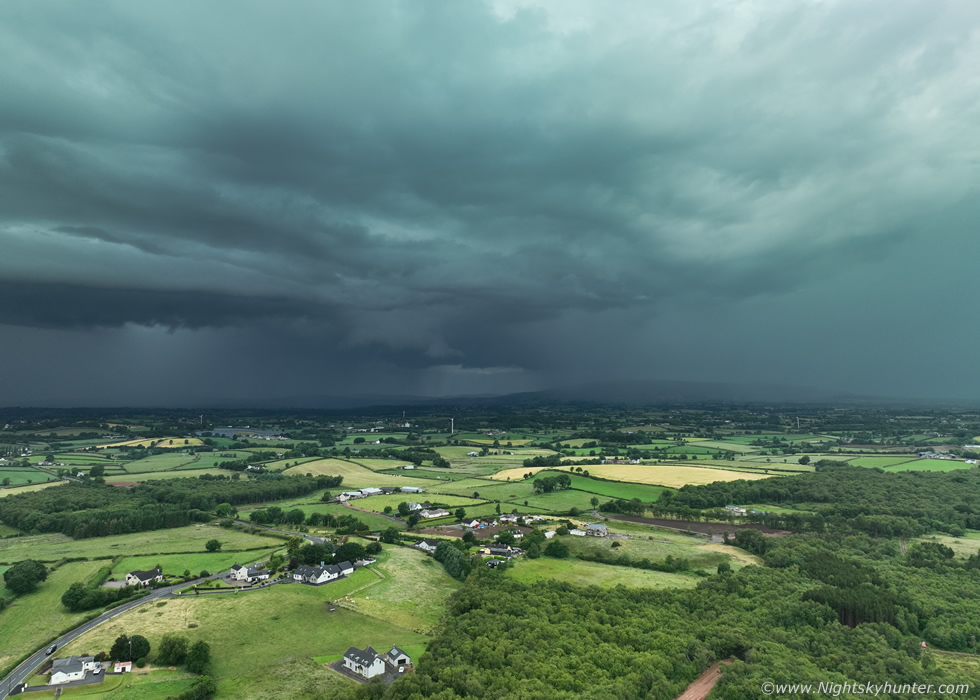 I was greeted by this truly mean sky, this was the middle sector of the vast line, the left core impacting Cookstown and the right core Moneymore. It didn't have a shelf as such however its appearance was still very dramatic with dark storm clouds over the lush countryside. The precip core even had a subtle green-marine blue hue with the naked eye. Thunder boomed with anger but all the bolts where hidden inside the updraught towers as before. I shot footage for a few minutes anyway then as the cell approached I landed the drone again.
I chased ahead of the core but eventually pulled over, it never formed a good shelf, there was certainly a linear gust front feature along the leading edge with whale's mouth below and swirling scud but it wasn't photogenic. I decided to end the chase here but before doing so I took the road back around Coagh then into Moneymore while sampling the core. On the carriageway into Cookstown I was under the line and could see the gust front from behind as a dark angry form with dozens of black scud tags hanging low over the countryside, some may have mistaken those for funnel clouds, but they were all outflow features, but dramatic nonetheless.
John Fagan rang me, he was coming back from work in the far SE side of the line and said it had an impressive shelf in that area with three tiers. The E section over Ballymoney became highly electrified with many c-gs impacting the area, some people had very close calls and several buildings were struck. I went back home and enjoyed my dinner with Roisin, it was raining heavily outside so I just enjoyed the thunder while relaxing. Once the storm had passed I checked radar again, there was nothing of interest behind it, despite CAPE remaining well into the evening it looked like this storm had modified the atmosphere.
Vlog from this day, I just used my phone to film aspects of this storm, my phone is old and the footage is low contrast and bland which doesn't do the storm justice, however you can see the updraught base and towers and hopefully sense my happiness from this local chase. 2023 has been an amazing season and there was more to come so please check out my next report to see what happened then, thanks very much for reading.
Martin McKenna