Cable Laying Vessel C S SOVEREIGN At Drains Bay N. Ireland - January 11th 2022
It was the night of January 10th/11th 2022 that I made the decision that I was going on a late night ship chase. I had been in the process of scanning through the ship tracking websites when I happened to notice a most unusual vessel located off the NE coast of N. Ireland, her name was C S Sovereign, she was a Southampton based cable laying vessel at 130m in length and she was at anchor off shore at a location called Drains Bay between Ballygally and Larne. Truth be told I had actually been tracking her for a week or more and monitoring her every move to see if she would come within range and if that range would correspond with a dry weather window with a chance of good light to justify the trip.
In all cases she was too far out to sea and not within range of my drone but I never gave up. Then suddenly within the previous 36 hours she had entered Drains Bay and dropped anchor, from her position on the websites she looked very close to shore and easily within range. A quick check on the weather models showed a clear night and dry day for January 11th with no precip, broken cloud, and a light SWly breeze coming off-shore, my suspicion was that even that breeze would be blocked by the Antrim hills so in all likelihood the air could be relatively benign for drone flying. Sunrise was after 09.00 UT which matched the period of the lightest winds so I decided that it was now or never. I should stress that just like my previous chase to get the MPI Adventure back in December 2021 there was no tip offs, intel, or any indication that she would be staying at all. There was a strong possibility that she could sail back out into the North Channel at any moment, even when I would be driving, and the trip would be in the vain. However, I don't think like that, if there was a chance at all I would try and besides, it would make for a great adventure and in my failsafe mind-set was that even if she wasn't there when I arrived I could still film sections of the Co. Antrim coast which I had never done before so this was going to be a proper drone filming trip.
I made sure the drone and all my cameras were fully charged, I packed food and drink supplies, warm clothes, planned my trip using google maps then came up with a basic plan. I would leave at 02.00 UT, travel under cover of darkness, if she was still there I would film her at night then wait to sunrise and get her again in good light. In between those two flights I also decided that I would visit and take night time test images of the famous derelict Cairndhu House in the area so there was plenty of rewards to justify the drive. I slept downstairs on the sofa under a blanket as I didn't want to disturb Roisin when I woke up, then settled down in the hope of getting some sleep before the big adventure. However due to the planning and anticipation and slow release of adrenalin my sleep was badly broken, I got perhaps one hour of shut eye then woke up at 01.40 UT, ten minutes before my alarm was due to go off. I changed into warm clothes, washed, grabbed all the gear and headed out into the van which was partly covered by a frost with windows steamed over, once cleared I was on my way ten minutes ahead of my planned departure time and drove off into the darkness through empty roads, my Dog Rhua was by my side.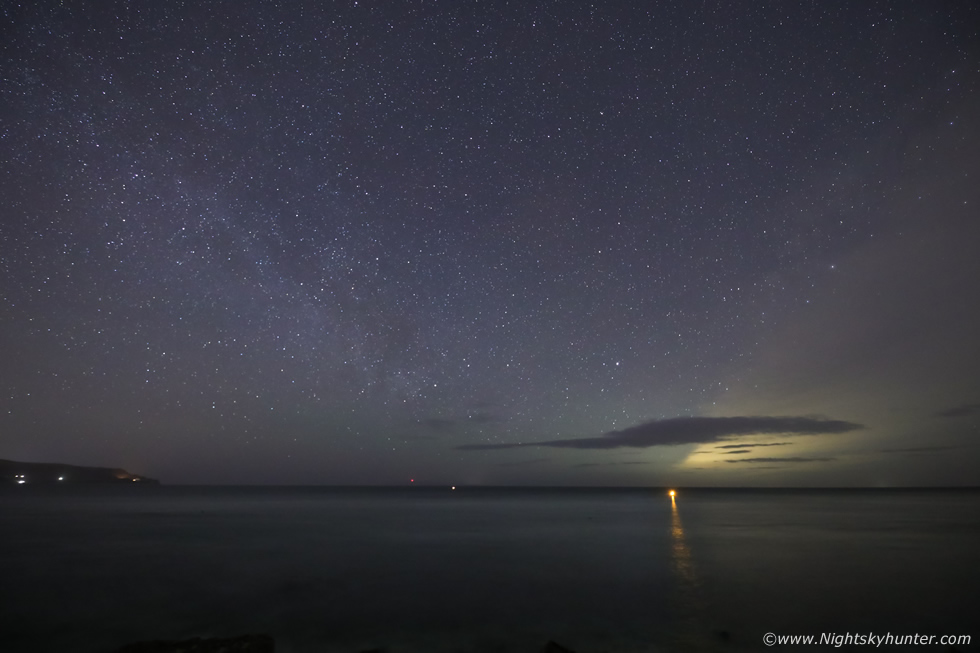 I made good time despite crossing the Broughshane mountain roads which were covered in frost, I love driving late at night, there was no other traffic at all which made the trip easy going. I pulled into a layby near Glenarm for a break and a look at the sky. There was a very strange glow coming from across the ocean to the W of N, there was nothing out there that should be causing that glow, at a first glance I suspected a low level aurora because with the naked eye it looked like a green enhancement, it actually looked a little like a slanted form such as a pyramid not unlike a super bright version of the Zodiacal Light however it wasn't the correct time to observe this phenomena and it wasn't even on the Ecliptic. I took this exposure with the 5D Mark IV at 15mm F/2.8, you can see a very faint green glow above the horizon to the left, that's airglow, however the bright light source to the right had me stumped, this I decided wasn't natural, it had to be man made for there was nothing out there over the ocean to cause this until one arrived at Scotland. I suspected that perhaps this was very bright lights from ship operations at sea.
I then continued driving around the twisting Co. Antrim coastline, along curved roads, seascapes to the left and high hills and mountains to my right, then suddenly I rounded a corner and there was the C S Sovereign, she was rite in front of me at extremely close range and she was lit up like a Christmas Tree with multicoloured lights. I pulled over at the side of the road, switched off the engine and got out to adjust to my new environment. The stars shone overhead, the air was calm and the coastline was silent, even the sea was quiet, it really was such a sublime peaceful night, I was already glad I had made the decision to go out. There was one sound though, it was the vessel herself, it must have been her diesel electric engines ticking over or whatever power source she uses.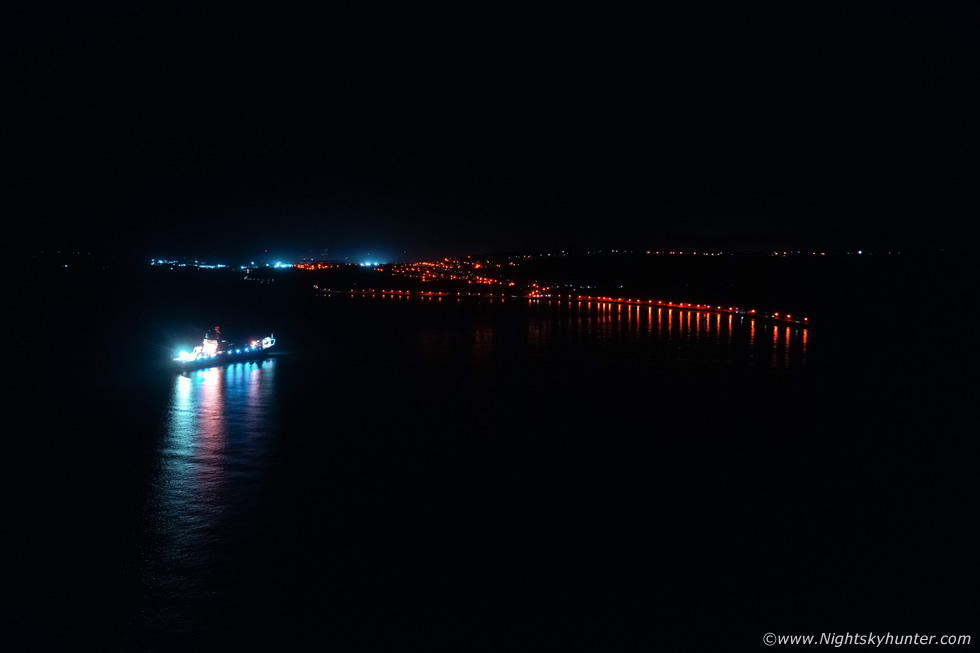 I was worried that she might leave at any moment so I decided to get set-up and get a flight in, at least that way I would have some record of her and anything else would be a bonus. There was no one about, no persons and no cars, it was like a deserted part of the world, the time was 04.00 UT. Flying a drone anytime is an exciting experience however flying one at night can be exhilarating, especially when doing so over the sea. It was pitch black once the Mavic 2 Pro crossed the water, the only thing visible by eye and on the screen was the ship itself, I had the landing light on to help with VLOS and of course the telemetry on the screen would keep me right, the rest was physiological, you are always afraid of the unknown and what you can't see, but this fear gets tempered with experience, after all, the drone doesn't know its over water, it's the pilot who has to take charge and remain confident. I took this high exposure as an opening shot to reveal the overall scene.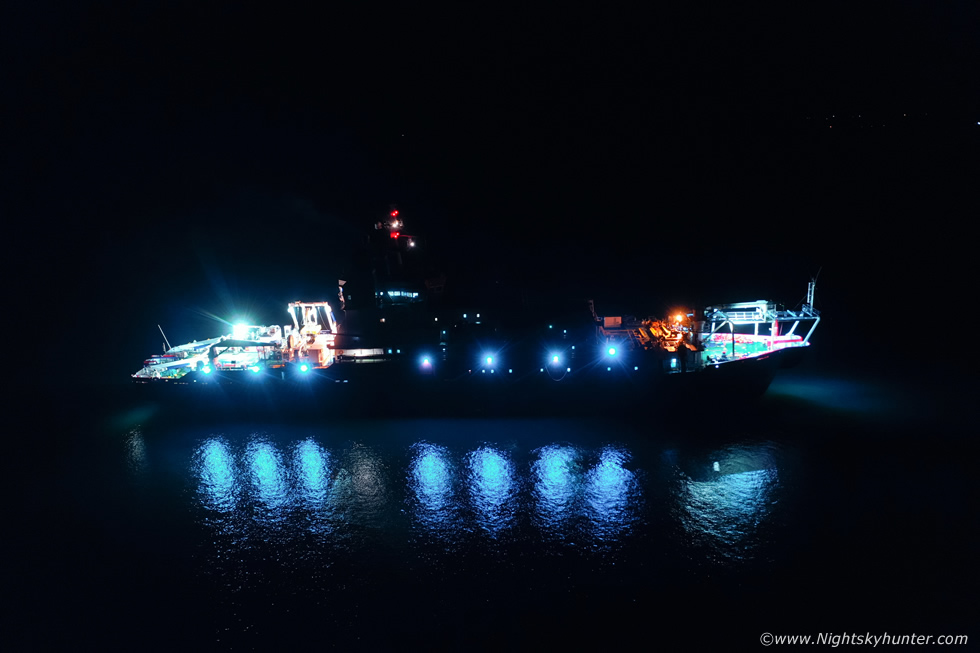 I dropped in altitude then flew across the bay towards her, I was shooting segments of video then hovering for still exposures, a combination of auto and manual camera settings. She made for quite a beautiful sight with her lights glowing on the water.
She reminded me of an Extraterrestrial spacecraft hovering in deep space, not unlike the spaceship from the movie 'Aliens'.
I love this angle showing her stern and the distant lights from Ballygally. I noticed the breeze was a lot stronger than what the charts had shown, it was dead calm on shore where I stood, no doubt sheltered by the hills behind me, however I could tell by the controls that the drone was experiencing stronger winds off-shore, however she was holding position very well indeed and the situation was well within the flight parameters of the Mavic 2 Pro, in fact, I was impressed how steady she hovered for all these exposures.
This was the bow, this section pointed directly towards shore and would be the main focal point of operations when daylight came.
Overhead with camera panned down
Departing image before heading back to shore. I then switched over to a second battery and did another flight out and by the time I had finished I was more than content with my night footage. Now I had the long wait until daytime, however I decided to try out some astrophotography and Cairndhu House became my next subject. The entrance to the area was blocked by a barricade which I hadn't expected so I ended up having to walk, Rhua and I, along the trail in complete darkness. Then my head torch began to act up, the light began to dim even though I had it fully charged, then as I walked the entire glass element fell off its mounting and crashed to the ground!, my head torch was dead, this was a £50 head torch which I had been using for years and suddenly it just falls apart during the exact moment when I needed it most, I actually couldn't believe it.
I was thrust into complete darkness, not exactly the kind of situation I wanted to be in when crossing unsafe ground to an abandoned and haunted house at 04.30 in the morning. I was annoyed with myself because I came so well prepared for this trip, I had everything except a back up torch, all I could do was use the feeble light from my phone which switched off after 10 seconds which was quite useless. So Rhua and I trodded carefully through the trail, through dense sections of trees, it was actually pitch black, even my dark adapted eyes were not seeing much. The silence made the experience even worse, it was almost too quiet, it felt eerie as if something was going to happen, I was not really afraid of the paranormal, but more of meeting a person in the darkness at this time of night in an area I didn't know very well, it really screamed of danger, but I pressed on regardless, I was really focused this night and wasn't going to let anything get in my way, if I had backed off with my tail between my legs I would never have forgave myself.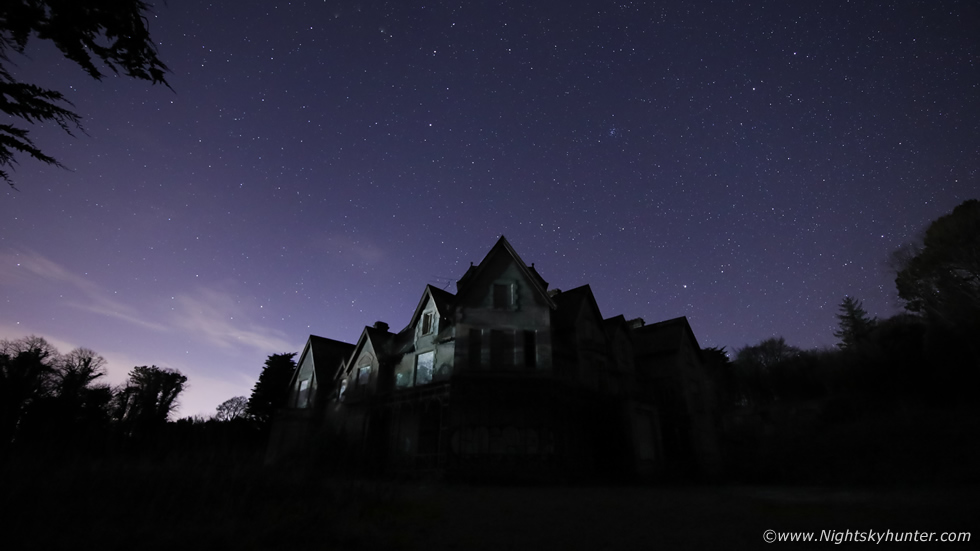 Rhua and I stepped through a large hole in the perimeter wire fence and there we where face to face with this amazing yet intimidating house. There are no shortage of reports of haunted happenings here, the place has a varied history which lends itself well to such activity, there have also been several reports of a ghost boy about the ruins, the above image is hardly worth posting but you can sense how frightening it was to be there. I had to mentally block all of that out and stay strong, I then set-up the camera and took two exposures, I knew then that this shoot wasn't going to work at all, at least not on this night. Unfortunately it was just too dark, the waxing moon had set earlier so the building was in complete darkness, then the very ship I had come to film was so bright that her lights from out in the bay had lit up the top half of the building while the bottom was in shadow, it just didn't look rite at all. I decided to pack up then Rhua and I slowly and carefully made our way back through the darkness, to be honest I was glad to out of there surrounded by those trees. At least I had did it, I will return another time when light conditions would be more favourable for a shoot.
I then parked close to the shore almost at eye level with Drains Bay and orientated the van so I faced the ship. It was 05.00 UT and dark, the stars were out and the ship lit up the ocean, it really was a cool sight to watch as I waited. I kept the engine running to re-charge my drone batteries and RC, I ate snacks, had a warm brew, then I wrapped Rhua in a blanket on the passenger seat and she went to sleep. I rolled up my sleeping bag up and placed my head beside her and rested my eyes, I never slept, I just listened to the sound of the sea gently stirring against the rocks and periodically popped my head up to check the ship was still there. I watched the sky slowly brighten as dawned approached in a perfect clear sky then waited for the sun to rise.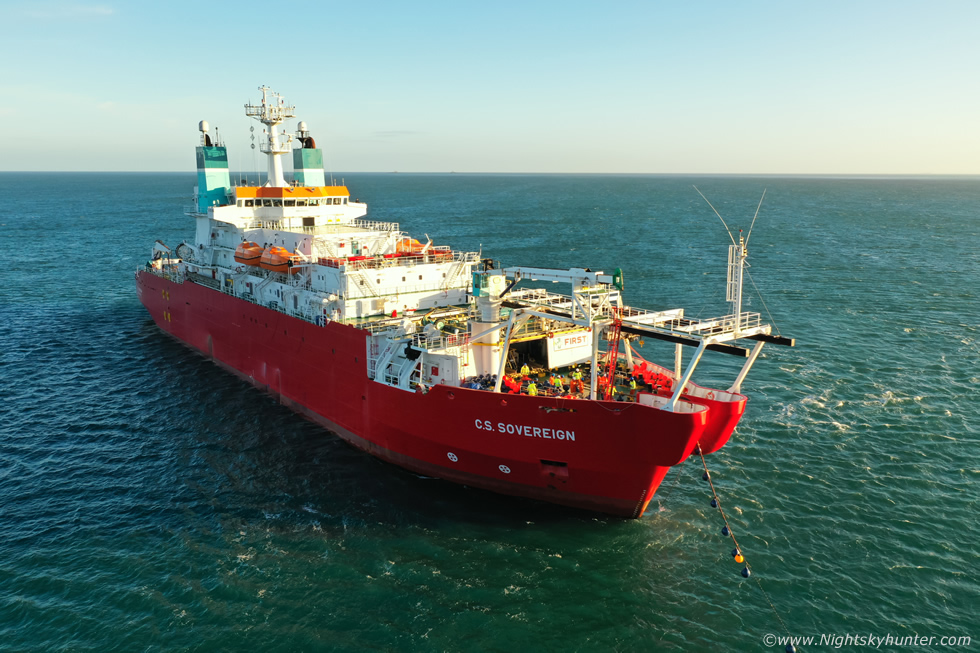 The sky was completely clear except for a band of cloud low in the E which dimmed the rising sun, the cloud was 15 degrees high and I knew it was only a matter of time before the sun rose clear and I would get the light I needed. Rhua and I went for a walk along the shore and trekked across rocks until we found a position where I had excellent visual line of sight, then waited. At 09.30 UT the sun cleared the cloud bank and lit the ocean and ship in perfect low angle light, it was time to fly.
I ended up doing two flights, one from this position with the ship back-lit by the sun and the second from another location on around the shore which provided me with a head-on view of her bow. The light was great, it looked like a Summer's morning however it still felt like Winter, a cold breeze blew across the land and off-shore rippling the ocean water and causing the drone to work harder, this wind and its chilling effects shortened the life of the two batteries so I made sure to make the most of every minute in the air. The C S Sovereign looked impressive, dominating the seascape with the sun rising over Larne behind her, yet at the same time she possed a majestic beauty for a work horse of the sea. The cable laying operation was under way at first light, thanks to the view from the drone I was able to watch as the crew attached weights to the cable and the line was slowly pulled over the sea towards land while the ship's thrusters kept her in perfect position. I recorded video and several high resolution aerial photographs, the above was one of them.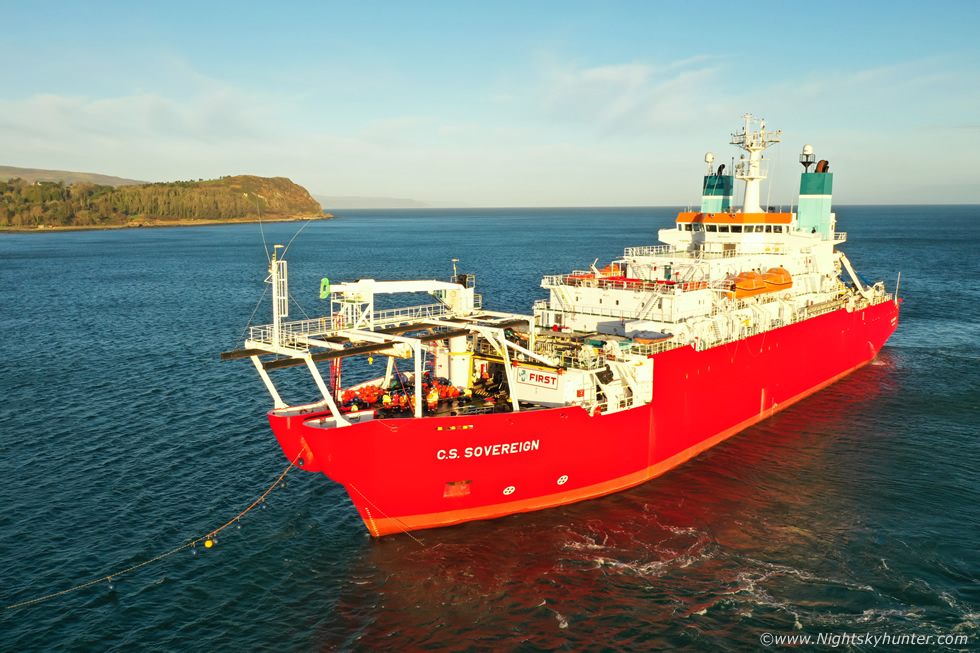 Moving around to her Port side where she was fully lit by the sun
View of the cable extending from ship to shore
There where three other smaller craft aiding with the operation, one looked like a tug and the other a RIB vessel, two of them are visible in this image.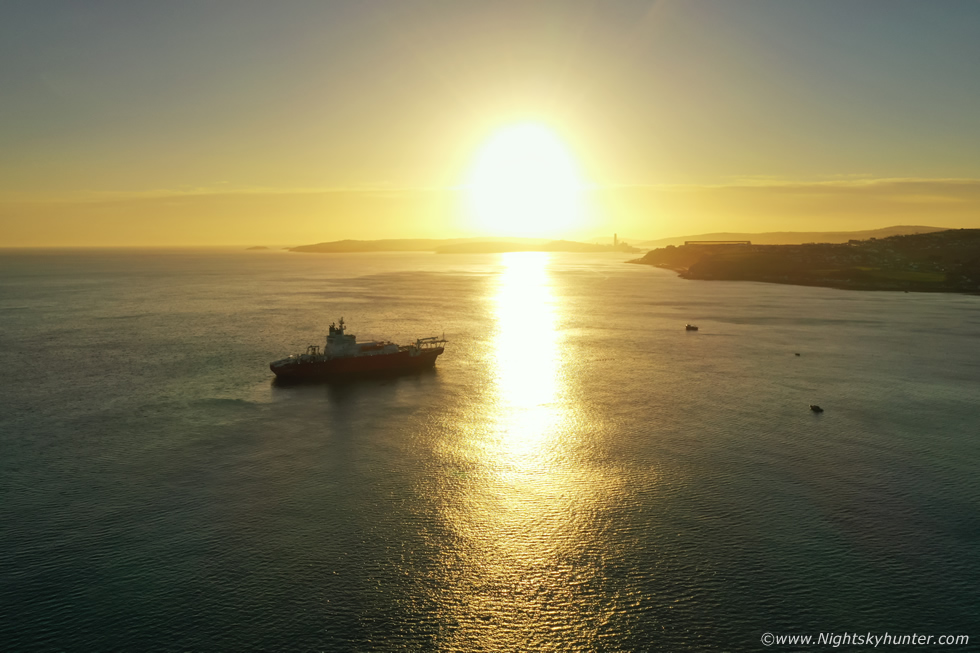 After fully exhausting two batteries I flew back to the home point revealing the ship and three small craft, fibre optics cable, and rising sun with glitter path. In total I had done five flights between 04.00 UT and sunrise, all of them around this ship. I considered the adventure a complete success then Rhua and I returned to the van and enjoyed a breakfast with a hot brew and snacks, Rhua had earned her chicken pieces and devoured them. We began the drive back, this time at a much more leisurely pace taking in the coastline and mountains and making mental notes of future locations for aerial filming. Even though I was tired I was buzzing so much from this ship chase that I didn't feel the need for any rest, I was on a natural high, so much so that I stopped off at Slemish and walked up the mountain to enjoy the fresh air and sunshine and I even managed a sixth fight.
Night time drone footage of the C S Sovereign lit up on Drains Bay, a combination of three flights edited together in complete darkness and with a keen wind, the only thing I could see on the FPV tablet screen was the lights of the ship.
Sunrise flight to the C S Sovereign with three small craft, fire optics cable in the water and visible crew working on the bow section, this is an edit from two different flights in the glorious morning sunshine. A few days after I published the footage on youtube I recieved this wonderful email in my inbox...
''Good morning
May we firstly say how impressed and amazed we were with your footage. The whole ship very much enjoyed watching it and as such we wanted to thank you for your efforts in this matter. It was a very well made and professional video and we all thought you were very brave to fly the drone in some pretty windy conditions. Again, thank you for your efforts and on behalf of all the whole ship may I wish you all the best with your future endeavors.
Many thanks
Bridge Team
C.S Sovereign''
For my regular readers who are more used to reading image reports on storm chasing and Astrophotography you may find this subject quite far removed from my usual content, however it's my hope that you will find it equally fascinating and can share my interest in the mystery of these amazing ocean work ships in their element and the chase adventure required to get the footage. The heart of this report really is the video footage so please take time out to watch the footage on your lap top for smart tv for the best experience. As always, thanks very much for reading.
Martin McKenna