Beautiful Sea Fog Inversion On Binevenagh Mountain - May 7th 2017
The weather has been great over the last two weeks thanks to high pressure becoming established over the NW of UK and Ireland. While much of England was under cloud and experiencing cool temps we in N. Ireland were getting treated to blue skies and warm sunshine on a daily basis. When I say clear skies I truly mean clear skies, there were many days when you could barely see a cloud at all, the night skies were the same, I was shooting a star trail with friends and we all agreed how exceptionally rare it was to get a night with nothing but stars in the sky with no cloud to hamper the trails, you could count those days in one hand during the course of a year - if you were lucky - now it seemed like this was the norm, what a treat it was. The daytime sun was warm and relentless, I spent much of my time out filming with the drone along coastal areas, walking the beaches and taking in the much needed sun while topping up on my vitamin D levels.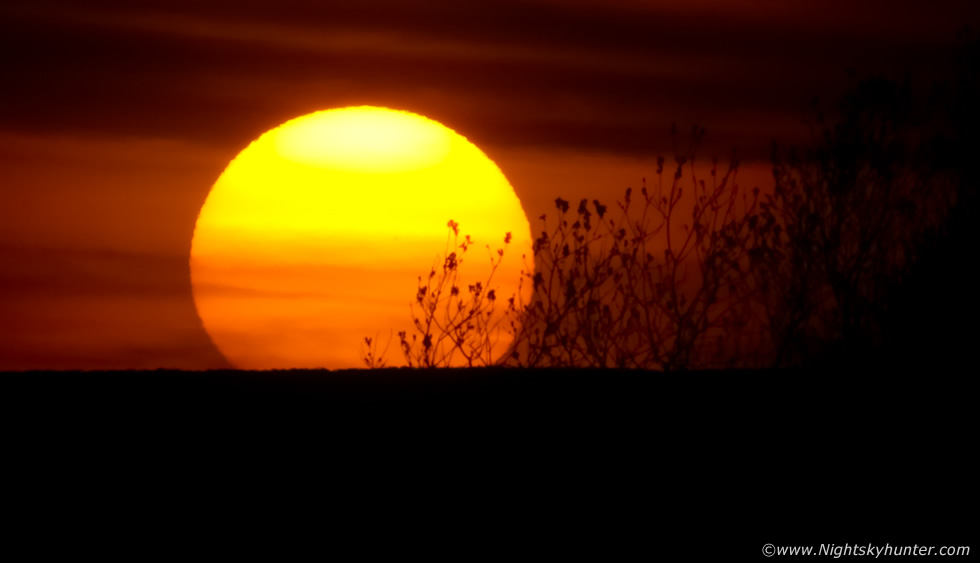 When high pressure dominates the weather for more than a few days I'm always on the look out for nice sunsets. A sunset in a clear blue sky, although nice to look at, is simply not photogenic on camera. The best sunsets are the kind that have the correct combination of mid level and/or high level clouds above the sunset point, when these become illuminated from below the cloud deck they can take on dramatic high contrast structure and colour which can be truly spectacular. The next great set-up for a sunset was what I captured this day, the sky can be otherwise clear, however if there's a bed of cirrus or haze on the horizon the sun can enter this region allowing it's disk to be seen comfortably with the naked eye just before it vanishes over the horizon. This evening I was at Lough Fea in Co. Tyrone and I knew there was going to be a sunset worth shooting, so I walked along the floating jetty over the water and attached the 100-400mm lens and waited for the disk to drop in height and emerge itself within a band of haze. To the naked eye the sharp disk took on yellow and red colours and was beautiful to watch, the disk was still brighter than I had wanted so I ended up shooting at 4000/sec with the aperture stopped well down, however I got away with it and captured the sun setting over the crest of the Sperrin mountains with foreground bushes at the other end of the lough. The wind had turned calm and the mild air was wonderful with a hint of BBQ scent in the air, the flies began biting so I retreated back to the sanctuary of higher ground and drove home feeling content, how could I not be, the forecast was showing more of the same weather every day into the following week.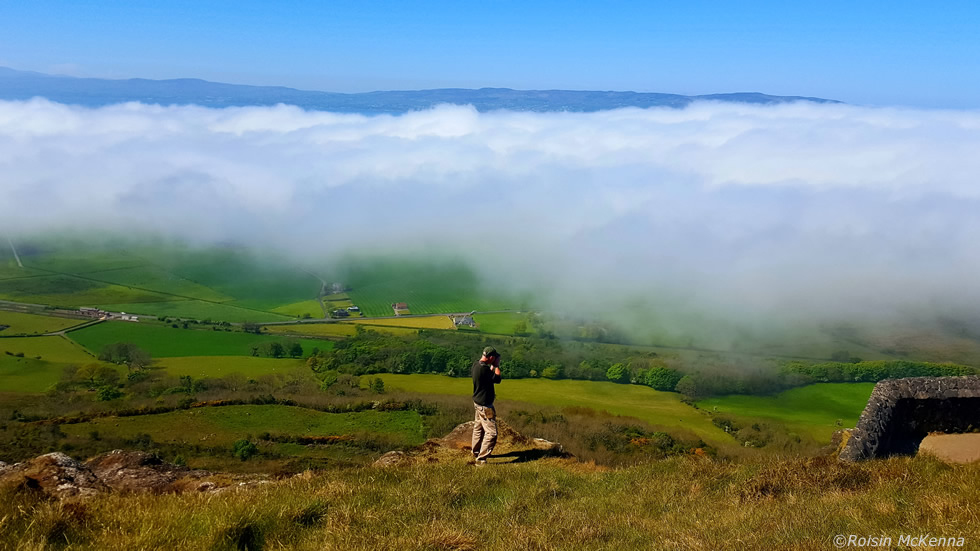 Sunday May 7th looked to be another stunning day so Roisin, my Mum and our dog Rhua decided we would head to the coast for the day and enjoy the excellent weather and perhaps get in a little drone flying too. We left Maghera in the early afternoon and drove north through blue skies and burning sunshine, we were excited by the prospect of being out in this weather with the ocean to look at. Once we approached Coleraine we noticed grey 'clouds' on the horizon and the closer we got the worse they appeared. We turned off at the roundabout and headed in the direction of Castlerock but before we even got there we where suddenly engulfed in a grey world. We couldn't believe the transition, we where under a dense low level bank of fog, minutes before it felt like Summer but under this it looked and felt like a bad day in Novemeber. We noticed a lot of traffic, cars, people carriers, caravans being towed, they where all leaving from the very area we where driving too, it was obvious they had had enough and where leaving to try other areas of the coast further around which looked to be in sunshine. As we drove on our world became one of darkness and dampness and visibility was down to meters with low fog so thick it was like cloud with tendrils of fog scud trailing across the road and tree tops, it was all very dramatic, although we couldn't see the ocean at all and the temp dropped so fast it felt horrible.
At this point we were all frustrated and disappointed, the entire country was enjoying sun and blue skies and here we where under the only place in the country were a micro climate ruined the day, now I knew why the other cars where leaving this area, the thought of this being here for the rest of the day was depressing, I wanted sunshine, vitamin D, I wanted to fly my drone, I was seriously considering turning back and driving to the Antrim side of the coast or even back inland. I thought about what was happening for a moment, this was a classic sea breeze temperature inversion taking place. The ocean was generating a lot of moisture over it's surface and with high dew points that moisture turned into fog, then the keen on-shore NEly breeze blew the fog towards shore, the coast to the N and NE was sunny, but because of this wind the coastline to the NW was downwind of the inversion so it was here that was being affecedt only, this was extremely localized. I suddenly thought this could be extremely photogenic, if somehow we could get above the fog and look down on it from above then we could be in for a spectacular visual treat. I decided that I would drive to the top of Binevenagh mountain and see if we could get above it, I suggested the idea to Roisin and my Mum although they seemed skeptical, we were all low in energy and everyone was craving lunch and a coffee before getting on with the rest of the day however I reassured them that despite being a gamble it could be worth it, it might not work but if it did we could be in for a rare visual spectacle, besides it was only a few miles detour uphill, they didn't sound convinced, however I was the driver and the decision was made, we would be going up the mountain.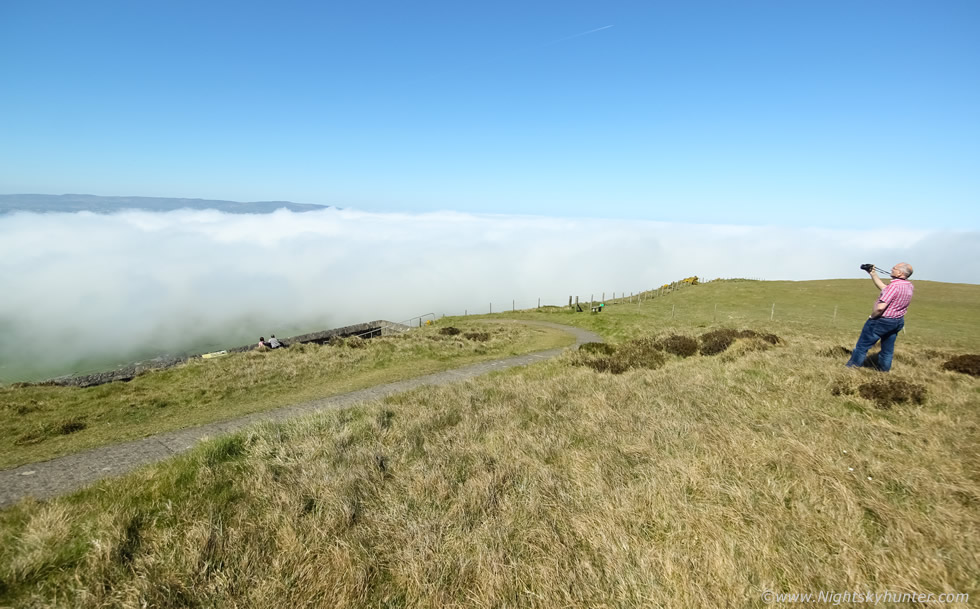 We ascended Binevenagh, climbing higher and higher and we where still inside a world of dark, cold and wind, I was beginning to think we might never get high enough to get above it when suddenly we burst out into a world of sunshine, we had made it, the fog was around us and minutes later when we reached Gortmore viewing point car park we were magically above it all, the gamble had paid off. We got outside immediately, I grabbed the camera gear, long lens and drone, asked Roisin to get images too, then we hiked up the path and onto the edge of the mountain. What a contrast, we where standing under blazing sunshine, blue skies aloft, and below us a blanket of white fog, I think this the first time in my life I was deliberately above a sea fog inversion. I began taking 10mm shots rite away just in case it all suddenly vanished. We where not the only ones mesmerized by the view, there were quite a few people enjoying the spectacle.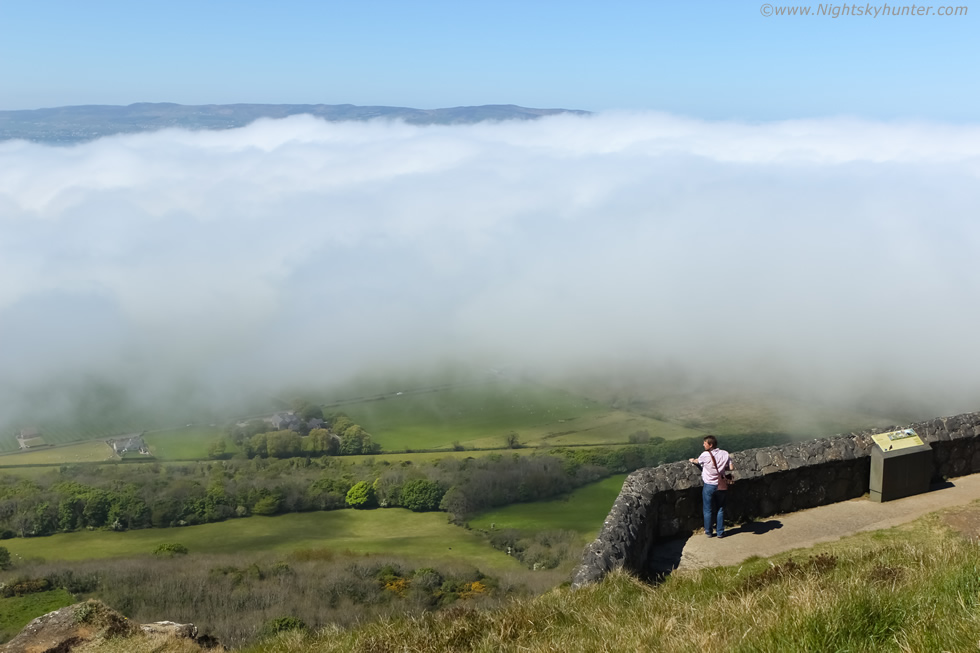 Roisin, Rhua and my Mum sat down on the warm grass to take in the view while I ventured over to the edge of the summit for a more personal view. It actually was extremely difficult to shoot, the sun was shining intensely on my LCD screen making it difficult to see if my exposure was good, further more it was simply difficult to do it justice, I switched to the 24-70mm.
Very difficult to portray it's beauty with the camera, however with the naked eye it looked like Heaven, a thick undulating white carpet of fog below us and it wasn't static either, it was blowing rapidly from R to L (NEly wind) through this valley and looked almost alive, this was a dynamic transient weather phenomena which was changing appearance by the second, it felt like a living dream, or some fantasy land, I was happy I had made the rushed decision to come up here because Roisin and Mum loved it too, none of them had seen anything like it before in their lives.
The tourists were loving it, everyone had their cameras and mobile phones out snapping away, the rich green countryside contrasted beautifully with the white fog and distant blue from Lough Foyle.
Standing near the edge made for a nice view, if you have never been here before I recommend that you do so on the next good day, the view from here is jaw dropping offering sensations similar to looking down from a plane, Benone, Downhill, Castlerock, Lough Foyle, Magilligan Point, the rapeseed fields and Donegal itself can all be seen in a single glance, no wonder this location is classified as an area of outstanding natural beauty, however add in this sea fog inversion and the view was simply indescribable.
I actually don't like looking over the edge of that stone ledge like the guy in the image is doing, every time I do I feel like my legs are going to lift from under me and I will fall head first over the edge. When you look down at the bottom your stomach gets in a knot and you feel light headed and dizzy, try it and see.
Sunday afternoon views don't get any better than this. Despite the swift movement of the sea of fog below it was surprisingly calm on this mountain top and I was considering sending up the drone, in fact, I should do it before the fog vanished, it actually seemed to be getting higher now so time was getting short, I took a few more snaps then ran up to get the case.
Roisin took this cool action shot of me in my element, you might think this was staged but I can assure you it wasn't, I was in the zone taking images and absorbing the moment and didn't even know Roisin was taking images at all, I really liked the image so decided to keep it on here for the memory.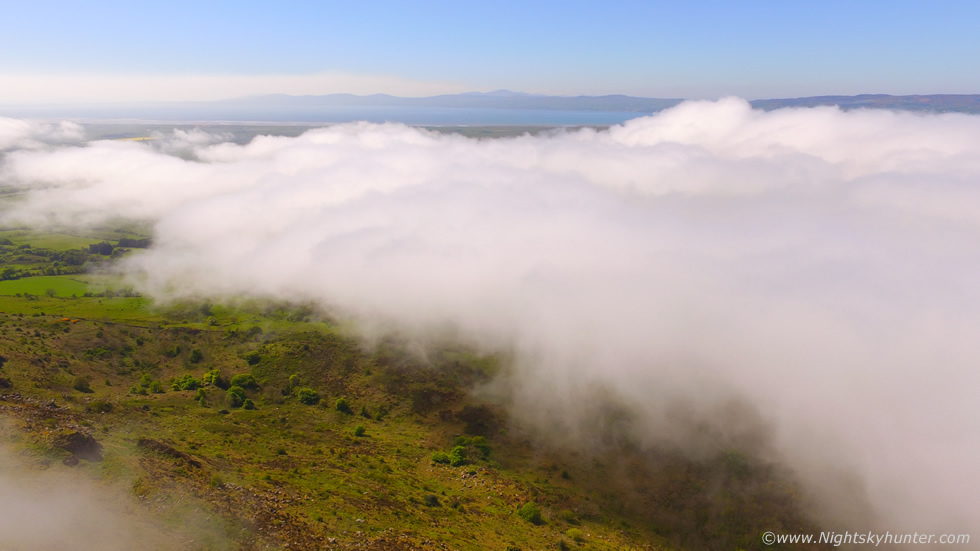 I walked into a field away from visitors and got the Phantom 3 Advanced airborne, however once aloft it was obvious the breeze was a lot stronger with height so for this reason I settled on 50m altitude and filmed from there using simple movements, the view was wonderful, this was one of the still images taken. Drone regulations dictate that one must have visual line of sight of the drone at all times, so for this reason I launched in the clear sector where I stood where visibility was excellent and this way I could watch the P3A, I didn't need to go far anyway, nature did everything for me, just hover, pan/yaw and take in the view, I got a good 12 min's of filming done when I noticed the fog had climbed in height and was closing in so I landed, job done. We drove back down to sea level, made our way to Benone tourist complex for snacks and coffee when suddenly the fog cleared through and once again we were surrounded by blue skies and blazing sun for the rest of the day, the transition was that quick, the fog inversion had almost seemed like a dream, we had done well, we had trusted our instincts and got above it, got the images and aerial footage all before John Carpenter's apparition vanished from sight.
Drone footage of the sea fog inversion on Binevenagh which I hope you find relaxing and almost spiritual in nature as this was how it felt to us at the time, best watched at 1080p for best quality. We stayed at the coast until sunset, walked the beaches, bathed in the sunlight, flew the drone three more times, however it was this fog inversion which everyone was still talking about on the way home, thanks very much for reading.
Martin McKenna