Epic Winter View From Benbradagh Summit - February 2nd 2015
January has been a good month for Winter weather in N. Ireland with two cold spell events almost back to back which has kept me extremely busy. I have been doing day and night snow photography, taking video footage and also have been enjoying the physical challenge from numerous walks in the snow and, in particular, hiking up snow-covered mountains which has fast become a bit of an obsession with me. Although these cold spells have produced some degree of snow at low levels it really was the high ground where all the action was. There are several mountain locations across N. Ireland which always produce the goods for snow events each year and these are the places to be if you fancy the high elevation full-on Winter experience or wish to get great landscape images, these locations are, and not limited too - the N and N & W over the hills of Donegal, the Sperrin mountain range which extends from near Omagh to Benbradagh, Glenshane Pass, Slieve Gallion, Cairn then to the E and SE within Co. Down where the majestic Mourne mountains grace the sky.
I have always considered myself extremely lucky to have been brought up in Maghera and to have lived here all my life because I have the honor of experiencing both the town life and that of the countryside, both of which can be accessed on foot in just several hundred feet of walking for within min's by car. I have always considered Maghera to be located at an excellent central point in the country because from here I can get access to many wonderful locations available at all compass points. To the N is the Antrim coast, to the S is Lough Neagh, SW I can get into the wonderful hills and countryside in Tyrone/Omagh (nice chasing territory) and further S still I can make it to the Fermanagh lake lands and beyond. To the E is the flat Antrim basin (another hot spot for storms and funnels) where Slemish punctuates the sky and to the SE beyond Co. Down can be found the Mournes. However the terrain to my W is much closer to home and within a 15 min drive I can be on high ground within the Sperrins and it is here where I have spent a considerable amount of time and a lot of hours driving during the Winter months in search of snow-related photo opportunities.
Since I began to drive I have spent countless hours chasing snow storms on Glenshane Pass and over the last three years I have become drawn to the famous Benbradagh near Dungiven. Since late December 2014 I have hiked up this mountain perhaps half a dozen times already, either with Roisin or my Father and even on my own and always in the snow. There's something about this mountain, once you see it appear on the skyline covered in snow against a blue sky it simply blows you away. Every time I see it proudly wearing a blanket of pure white my heart starts racing and I can feel myself pressing harder on the accelerator in great haste for I simply can't wait to get out walking in that snow and check out the view. Earlier in the month I walked up Benbradagh in near blizzard conditions with white-outs and during a recent solo climb two weeks earlier I had passed a personal milestone by making it over the gate on top and beyond into new territory making a new personal record. On February 2nd Roisin and I had planned on being here once again, we had been out the day before walking in snow with a severe wind chill on the hills above Lough Fea which was an awesome experience with Polar air and numerous anvils gleaming white in the sun however today Roisin wanted a serious walk and I wanted to get more snow photography done so Benbradagh satisfied both our needs. I parked the Berlingo as far up the sloping road at the foot of the mountain as I could however there was only so far we could go, once we entered the snow line the wheels would loose traction and the temps would drop drastically with the height then we encountered ice under snow and at this steep climb there was no way on Earth we would get any further without a tractor so we pulled over at safe spot, locked up, and began our ascent.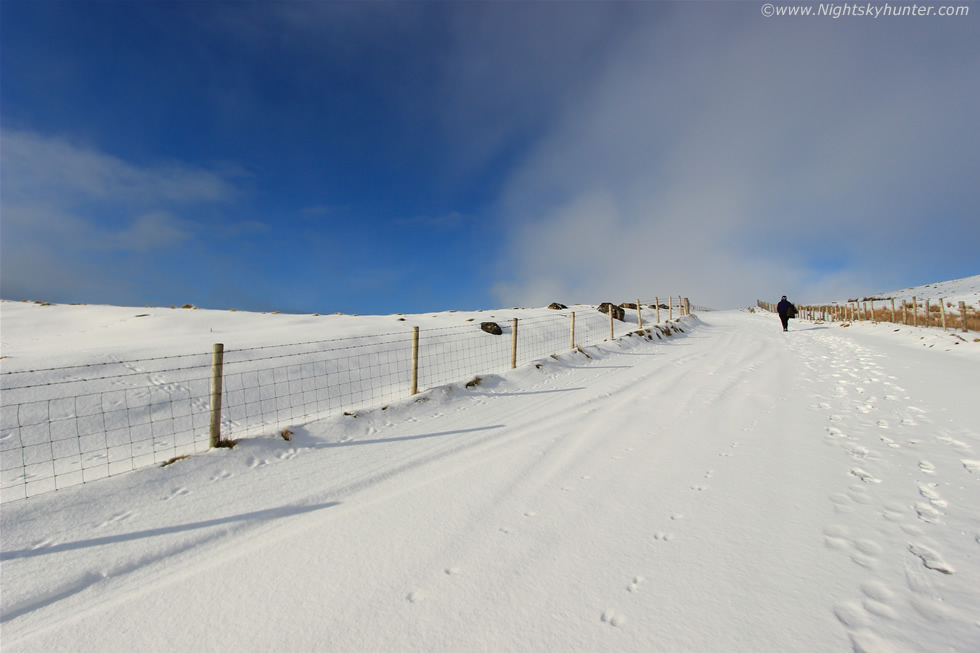 We kept our weight down as much as possible, I was carrying my camera bag and 100-400mm lens while Roisin looked after our phones and carried two bottles of water and oranges to keep us hydrated. The first section of Benbradagh is extremely unforgiving, you don't have time to warm up or to tackle a gradual climb in height to get mentally prepared and take it one step at a time. As soon as we exited the van we were walking uphill, then around a climbing bend and straight up, this stretch is perhaps the most difficult section of the mountain because it is utterly unforgiving, even on a Summer's day it can take it out of you however combining this with walking on snow and ice makes things ten times harder, your legs and back get a serious work out and muscles ached in places were you never knew you had muscles. We had to stop several times to catch our breath, the mountain literally takes the wind from you and your heart beats like crazy so several breaks were needed to control our breathing and pace ourselves, then we sipped a little water and moved on. However as we gradually climbed in elevation the view would become more spectacular and so visually stirring that we soon forgot about our physical hardship and became one with the mountain, the energy was beyond words, it felt like our minds were raised to a higher level and soon we found our second wind and were in top form as if we had been hiking up mountains all our lives.
The rest breaks become less frequent until the only reason for any stops would be to do photography, it was almost as if we were either getting fitter by the minute or so distracted by the view that we didn't even feel anything else. There's a section on this severe uphill climb which sports a stone wall on each side of the road and I have always said that once that landmark is reached the climb becomes much easier. Here's Roisin now on the section beyond the stone wall ascending at a swift pace, this was beautiful virgin snow, the only tracks were from us and from the many wild Rabbits which hopped over the road and hills, they were well camouflaged between the white snow and brown and black rocks however it was always their movement which betrayed them. We spent a little time watching them in the snow, appearing from behind rocks, scratching behind their fluffy ears and watching tiny snow balls roll down the hill in the wake of their feet causing numerous trails down the flank of the mountain which looked like tiny avalanches, in my 400mm lens I could see their noses twitching and big soft eyes watching our every move.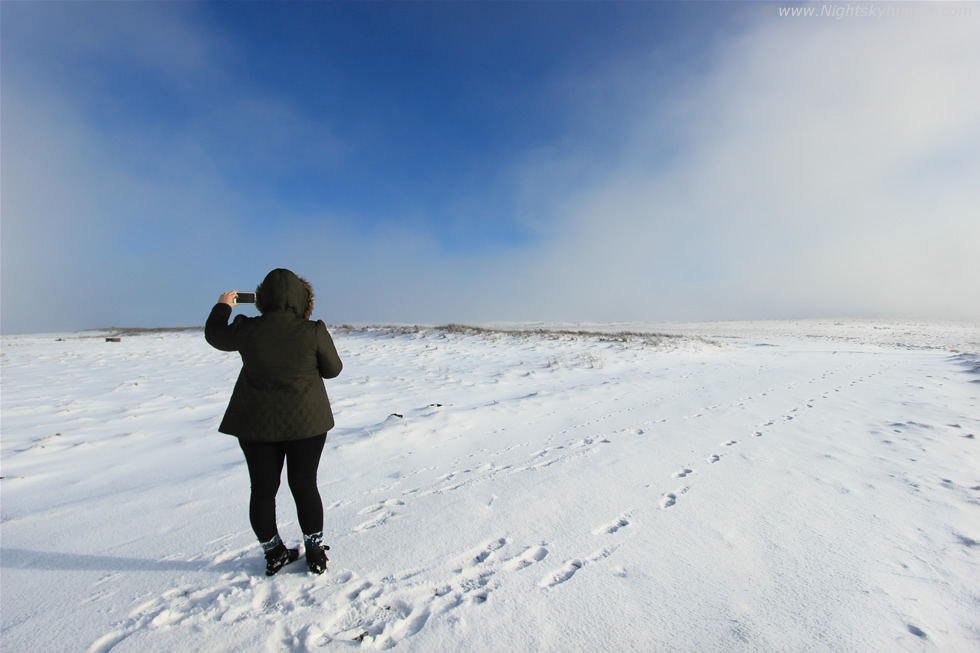 We made it to the top of the first summit then climbed over the wooden style beside the gate then dropped into deep snow on the other side which reached knee height then we crunched our way through the snow along the W side of the mountain, I wanted to take Roisin to the view point I had found during my last solo hike but first we stopped for a few images. This was clean Polar air in a Nly flow straight from the Arctic, when you get flow from that direction the sky tends to be clear and blue in a manner seldom seen during any other time of the year, this clean blue sky effect is even more accentuated at this great height and what made the experience even more surreal was the complete absence of sound, there was no wind this day so the mountain was silent which made it feel like we had walked through a portal into another frequency, it was unreal and we loved it, for some reason Roisin and I spoke to each other in whispers which was unintentional, it was as if we didn't want to break the ambience so we blended in with our environment and showed our respect, it was as if the mountain was alive and watching. Roisin took several images with her phone then we continued our walk across the top, the sound of our breath and the squeak of the snow underfoot was the only sound.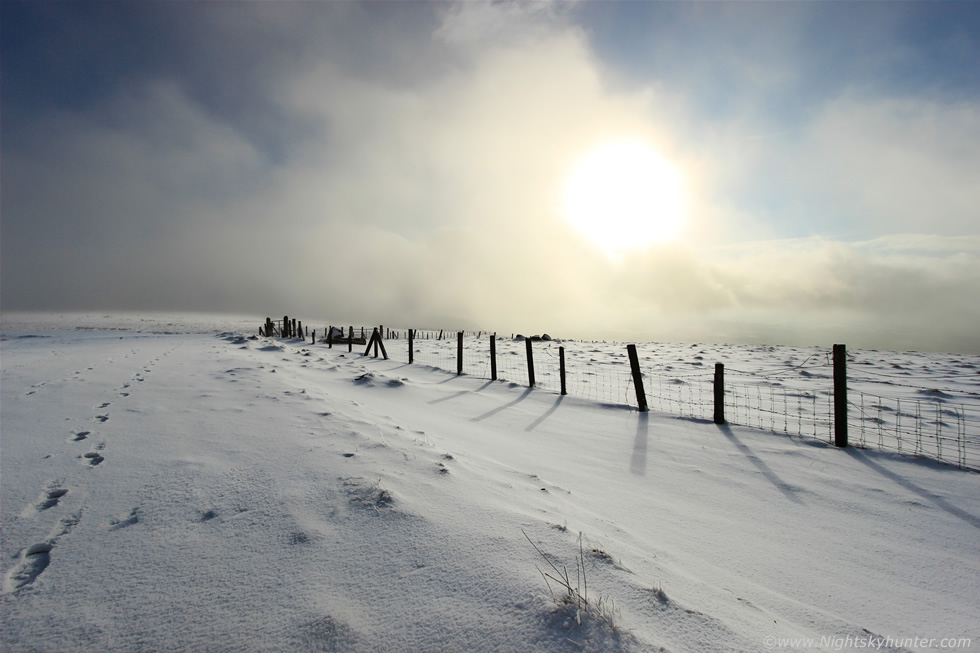 I stopped and turned around facing back along the route we had taken and just had to get an image, the place looked brutal in a beautiful way. We where actually standing within the clouds here, that's surreal in itself - standing in the clouds - one moment it would be blue skies then the next we would be shrouded in a ghostly white veil when the cloud was upon us, the clouds seemed to me moving swiftly yet when we were in them we didn't even feel a breeze, that made the experience seem all the more remarkable, perhaps we really where in Narnia. From this point on the photo potential was quite exceptional with amazing light then an orange-coloured corona appeared around the sun as a waxing and waning ring due to sunlight reflecting through water droplets in the clouds. The above image captures the moment rather well, or at least it shows some of this essence, this was complete exposure on a mountain top where episodes of severe Winter weather events had taken place on the days and nights prior to our climb, the wind had raged, the temps had dropped with a wind chill of - 15C and snow and hail lashed the summit repeatedly and now had frozen over into this silent and beautiful spectacle with blue skies and clouds fleecing over the top.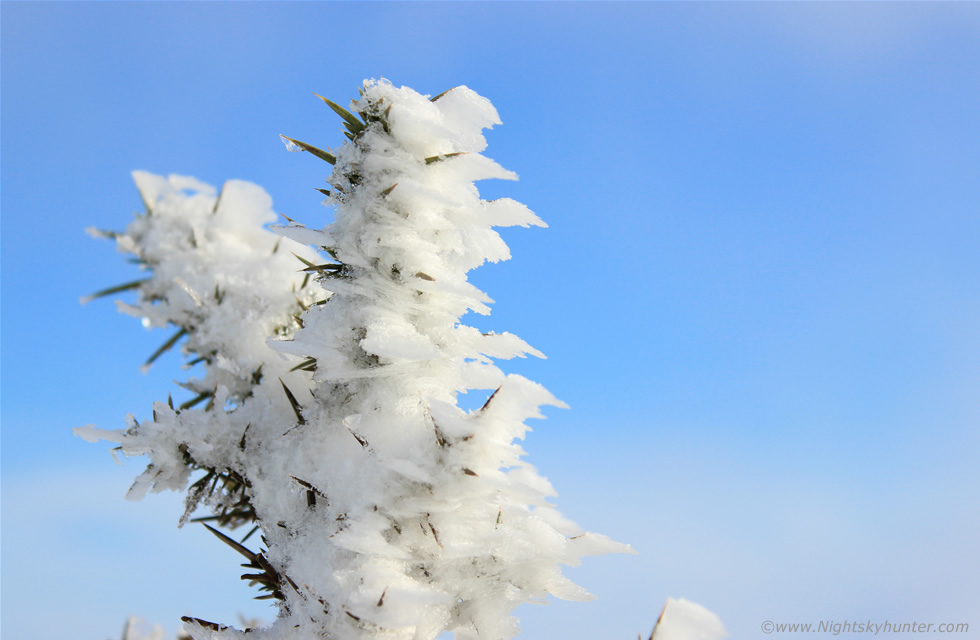 The summit must indeed have been exposed to severe conditions because we found widespread rime ice formations everywhere we looked. The rime covered portions of the wire fence in conjunction with dozens of frozen water droplets and it even coated every blade of grass which punctuated through the snow layer, then Roisin spotted this bush of shrubs which was covered in a very grand formation of rime which had formed in supercooled conditions then sculpted by the raging winds. Hoar frost is made from ice crystals, rime tends to be white and more solid, here it is swept to the S downwind during the recently Nly gales and squalls which had affect this part of the country. This was the first time I had seen it this Winter which made for quite a treat, I had to lay down flat on my stomach in the snow to get this image of the rime against the blue sky.
Then we made it to the view point on the summit that I had wanted Roisin to see, we had done it, this was what it's all about, all this turmoil, hard work, aching and sweating to get to this well deserved moment, we both went silent when we saw the view, that said it all. I climbed over the fence and ventured into deeper snow and new territory, I felt an immediate high as if I was living a dream. I used my trusty Canon 10-22mm F/3.5 lens for these images so I could take in a huge field of view to get good landscape-sky images. With the exception of optical displays I seldom ever shoot into the sun however in this case I made an exception as sun shooting can really make for very dramatic snowscape scenes and thanks to the good craftsmanship of this lens I got little or no flaring on the glass. I was able to stop down to F/7.1, F/8 and even F/10 for some of these hand held images because of the brightness and high dynamic range which allowed be to use the lens stopped this far down while having sufficient light for a 800/sec shutter speeds at ISO 100. The lens being stopped down this far made the images very sharp and of high contrast which really captured that deep blue sky incredibly well. I seldom get light conditions for this kind of aperture setting without using a tripod or increasing the ISO so I made sure to take advantage of these rare conditions and took many images while alternating the f stop as the light varied with the clouds.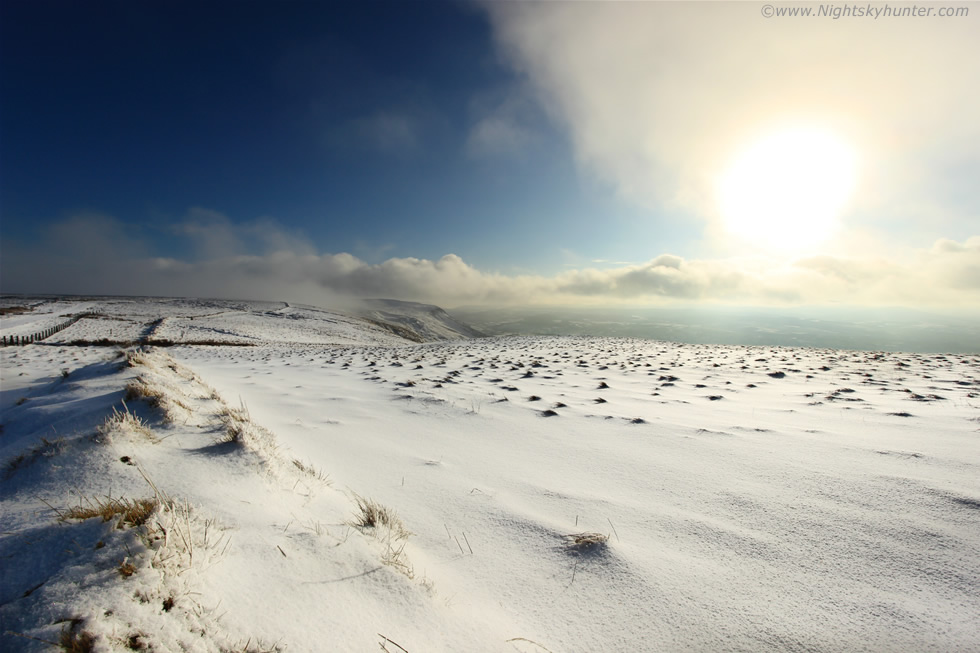 I ran over to this ridge covered in snow and stood on top to take in the view, I have to say that this was pound for pound the most sublime Winter experience I have had this season, I honestly felt like I was at the Arctic, surrounding me were vast snow fields with drifts and foliage covered in rime ice while silky white clouds drifted over the peak while the blazing sun with its orange corona lit the snow into a place of magnificent beauty and all contrasting against the pristine blue sky thanks to the Polar air. It was silent, peaceful, wild, desolate and pure. I could feel the sun warming my face while the cold chilled by skin, it was this bizarre contrasting world which made me smile on the inside, this was the view I had been looking for, these were the atmospheric conditions I had been seeking and here it was all together in utter perfection, I really and truly felt connected with nature at this moment in time and could have stood here for hours.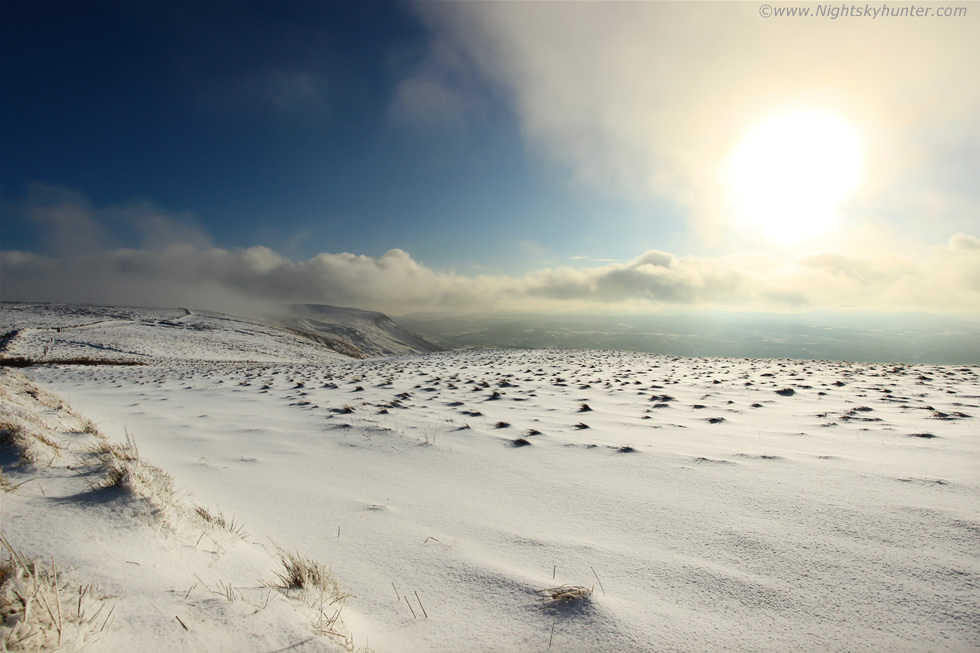 Breathing in the freezing air felt like it was cleansing my soul, both of us felt unbelievable peace and more content than ever before, it was as if the mountain was cleansing us. I stood here in complete harmony taking images then making sure to forget about the camera and take it all in visually, this was snow serenity at 1,526ft.
I could hear Roisin taking images with her phone behind me and that gave me an idea. When I had last stood here during my solo hike in the snow I was kicking myself that I hadn't brought a tripod with me, getting images of this scene was one thing however I needed that personal touch, I wanted an image of myself standing in the frame for the memory and to add that much needed Human element and sense of scale, I had no tripod however Roisin was with me, the atmosphere was perfection and now was the time so I crunched my way back over the snow to Roisin.
I focused the camera, selected the shutter speed and aperture and explained to Roisin the exact composition I wanted and passed the DSLR to her then I ran back to my spot on the ridge. Roisin took images and got that magic shot that I wanted, here it is, thanks to Roisin for getting this amazing result capturing this special memory.
Roisin took this short video clip of the scene through the 10mm lens, you can hear a breeze at times however this wasn't audible to the ear at the time, the sensitive mic picked this up, however of greater interest are the segments when there's no breeze, in fact, it's so silent on the summit that you can only hear the camera's static or 'white noise' on the audio, it doesn't get any more peaceful than that. We got hydrated then began our descent back down the mountain, gravity seemed to pull us down and we could really feel our muscles aching from all the work. The sun had lowered into the sky and illuminated the mountain with its warm light, the tall trees were cast in gold and bronze colours like a scene from Africa and in the background was the cold 'Arctic' snow, it seemed the light show never ended. We reached the van then began our drive back down the mountain to lower ground into a world of noise and traffic and our connection with the mountain was terminated. After such great exercise and visual delights we had earned ourselves a treat to we had dinner out in a cosy restaurant and relaxed for the rest of the evening - this was one of those perfect days which I shall never forget. Thanks very much for reading.
Martin McKenna