Beautiful Single Cell Storm Chase & Funnel Cloud - July 26th 2013
This was my fifth day in a row storm chasing during this fantastic hot and humid thundery breakdown. I had been doing long miles making frequent trips to near the border while visiting parts of the country such as Co. Fermanagh and Bundoran during the last three days all in hunt of thunderstorms, just 24 hours earlier Paul Martin and I had chased a severe thunderstorm from outside Omagh all the way to near the coast and back again. I was still on a high from all this chasing, each day and night seemed to blend into one entity of storms, heat, and roads, I didn't have much time for normal things, and that included sleep, however sleep could wait for I was in serious storm chase mode once again and this time the action promised to be much closer to home which made for a much welcomed change. This looked like another good day with 1600 CAPE, LIs of -3 to -4, strong surface heating expected with temps in the 26 to 28 degrees C range, cold air aloft, great lapse rates, numerous convergence zones and several troughs crossing the country in a Sly moist unstable air mass which originated all the way from the sub tropics.
I woke up early in the morning and yet again the sun was shinning strongly generating great lift and thermals which would easily fuel storms today, the humidity was palpable in my bedroom, the same humidity prevented me from getting much sleep the previous night however I think I managed to drift off around 04.00 but after four days in a row of chasing, and with the knowledge of more storms the following day, sleep and excitement generated unrest at night so I more or less struggled through the night. I was up and ready for action as soon as I got out from the bed and felt as sharp and focused as a Canon 100-400mm lens. Thunder rumbled in the distance, or did I imagine that?, then another rumble, brilliant, I was getting storms this early in the morning and not far from home either, I was buzzing. Radar showed storms to the E and NE of Maghera with healthy radar signatures which were rather shocking for so early in the morning with pulse storms rapidly forming on what appeared to be a convergence line in the Portglenone, Kilrea, Swatragh and Coleraine sector, these were popcorn storms, by that I mean single cells with little shear with short life cycles so they grew, matured, and died in a short period of time so I decided to let them go in the hope of seeing their better cousins a little later so I happily let the thunder roll as I ate my breakfast and besides I could afford to be thunder snobby after yesterday's encounter with bolts which produced thunder loud enough to shake the car!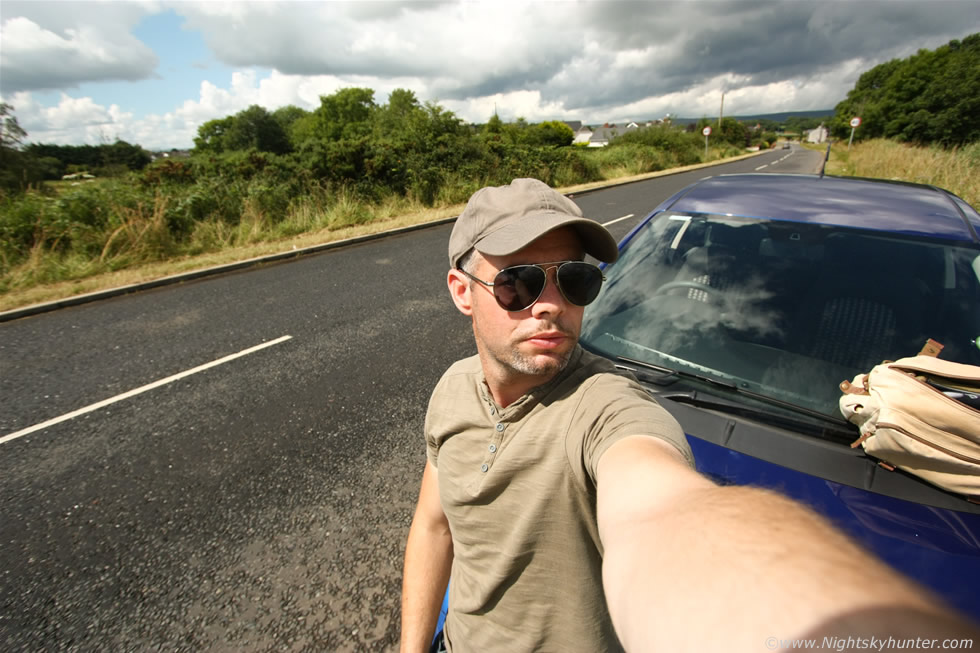 Midday and the atmosphere was really heating up, I delivered a photo print to the home of a customer then got out into the countryside to check out the sky. Here's a memory shot of myself near Crewe Road outside Maghera. I was in my element and loving nature, what was not to like, catching rays, hot sunshine, humidity, convection going up everywhere all around me and close to home too, this sure beats driving a couple of hundred miles. I observed new towers going up to the E and N of town and keen looking cumulus gathering over the Sperrins so all was good. I returned back home to monitor the radar when I got a call from my Dad wanting to meet up for lunch just as dark clouds and heavy showers were brewing in the Maghera area. We had a nice lunch at the Mid Ulster Garden centre sitting outside around a large wooden table while in the distance thunder rumbled once more, it was great sipping a lovely cup of tea and eating a panini outside while a storm announced itself in the distance.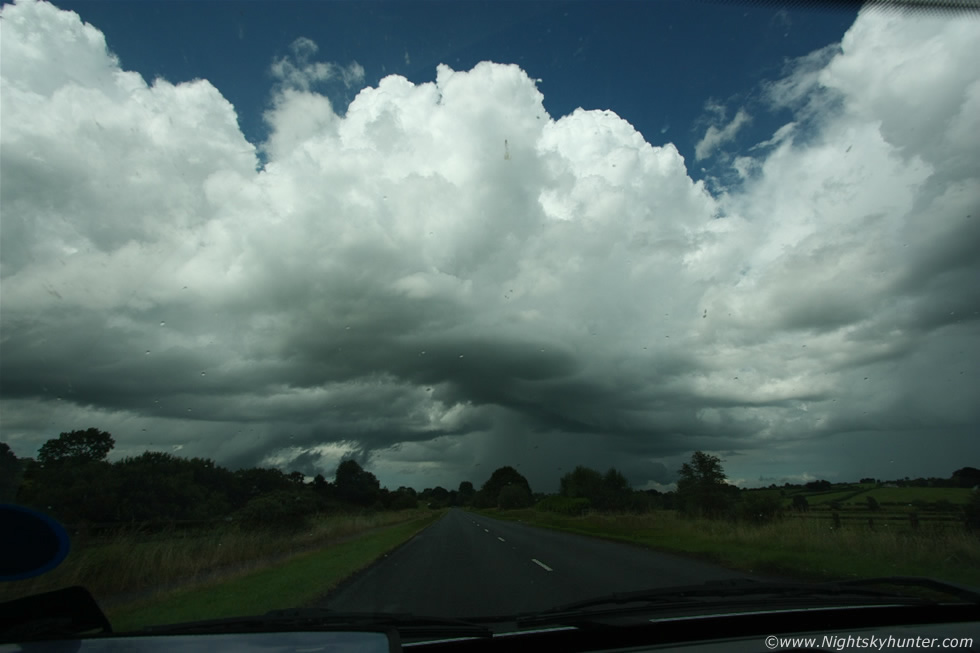 As we ate a beautiful updraught tower went up rite over our heads with nice dark base, multiple cauliflower heads formed above with crisp solid edges sporting great structure, I pointed them out to Dad and drew attention to the edges of those brilliant white congestus plumes and sure enough, in great contrast against the clean blue sky, we could see those towers billowing upwards by the very second in real time and soon the tops where extremely high, it was clear there was no capping inversion at all and true instability from the surface to the Tropopause was being fully tapped into and as the young cell slowly drifted away to the N I said to Dad that that was going to turn into a storm. Half way through our second cup of tea we could hear several rumbles of thunder in the nearby area and there was no question they had come from our cell so we decided it was too warm to drink all the tea so we hit the road to chase after that cell to see what it was doing. Here's the view through the front windscreen as we gave chase along the Coleraine road between Maghera and Swatragh, the cell was moving from L to R here and away from us however it was a slow mover in the slack flow so we were doing a great job catching up on it, all images of this storm were taken with the Canon 10-22mm ultra wide angle lens.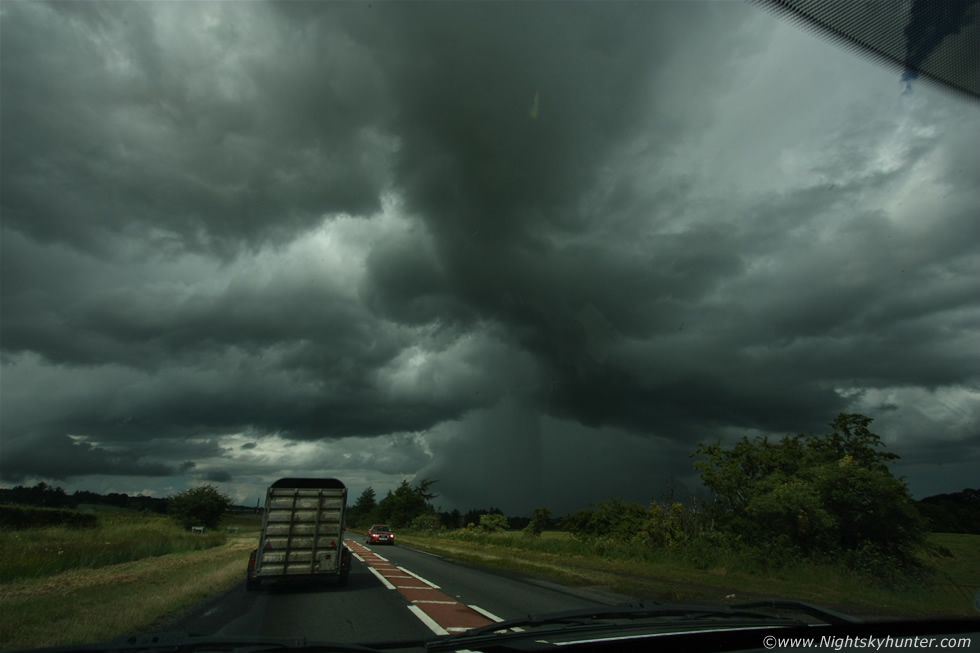 Another through the windscreen shot showing the very dramatic skies with promising cloud structures with plenty of mid level inflow evident, this storm was using up plenty of atmospheric juice in this area and exploiting it fully, there was nothing else of significance close by so this storm was free to do what it wanted with no competition, for a single cell it looked surprisingly good. I thought the cell was due N however from this S-N road it became clear the storm was more to the R so we exited the main road and found a quiet country road leading NE.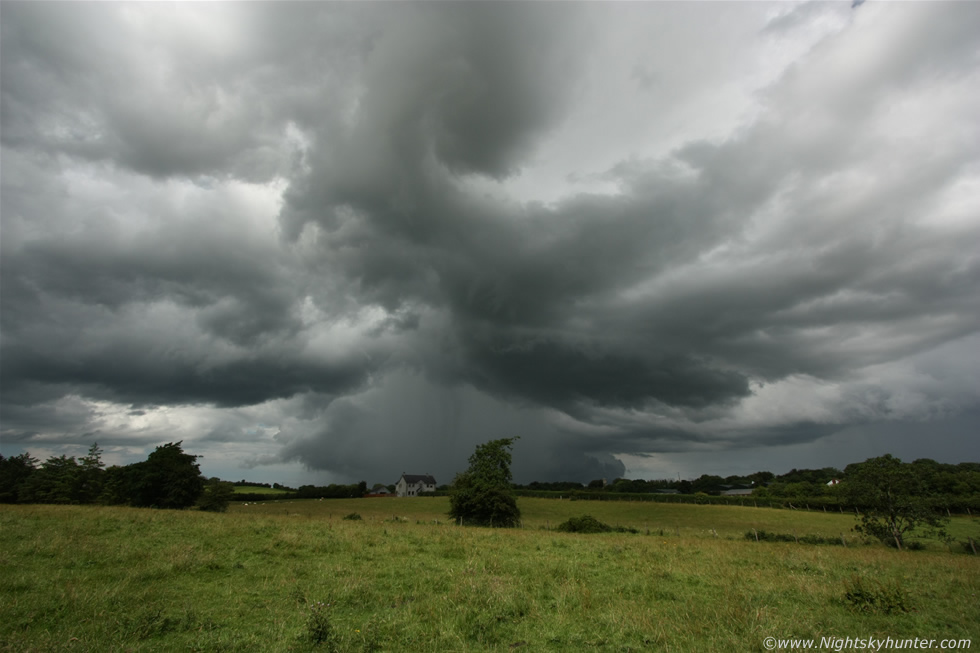 We drove along narrow country roads with beautiful sunlit fields all around, our view was periodically obscured by trees and hedges so it was difficult to find a location with a good view for photography however Dad found the perfect spot on a quiet stretch of road that I don't think I had ever been on before. I climbed over a gate and entered this field while at the same time doing a quick check for Cows and Bulls, it seemed safe so I jogged into the middle of this large field until I was on the other side of the power lines and got this image of the storm showing off over the countryside. I wanted a more clutter-free foreground so I ran to the other end of the field where that fence can be seen and as I ran thunder rumbled from the storm's core.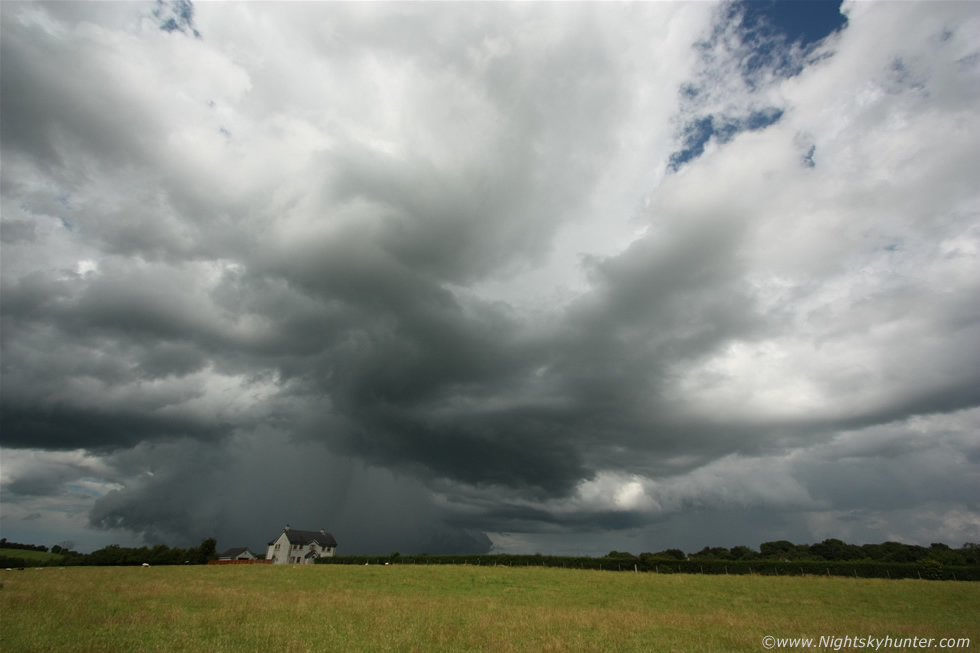 Now at the fence with elbows propped on the posts for extra support. This view made the chase, 10mm ultra wide angle of this really cool looking storm, the sun came out and lit up the fields for me which really added to the contrast and that isolated house on the hill was the icing on the cake for photography, I was really enjoying this and loved this scene.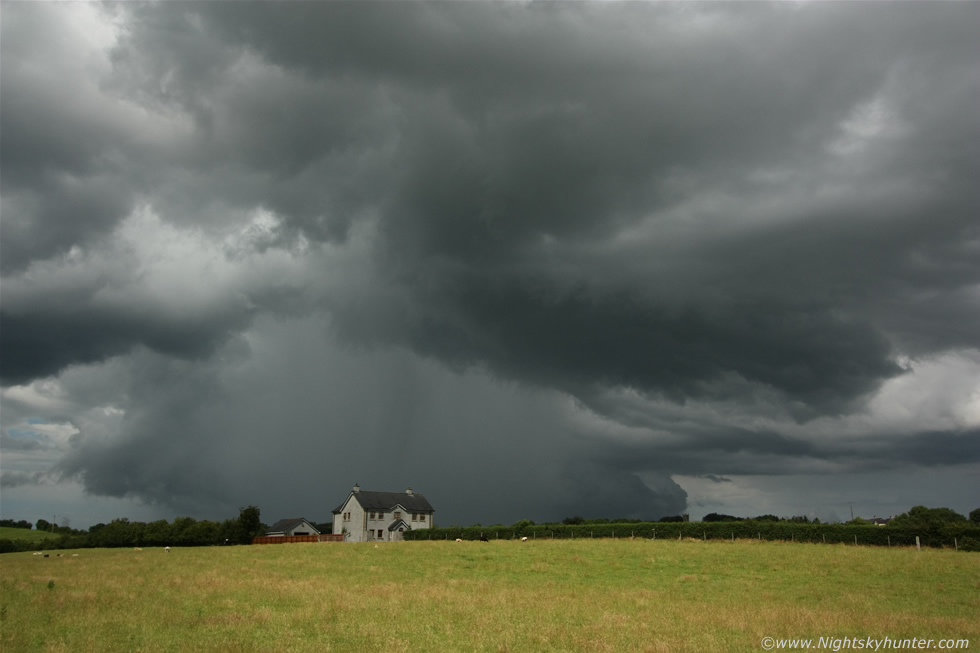 22mm zoom into the precip core which was now highly concentrated in size but very intense, the radar was showing red and white echoes indicating torrential rainfall and I knew from the visual appearance as we approached that there where hail stones falling in there too. Note the lowering block of dark cloud behind the precip core and to the R and L very close to the ground, that was cloud associated with the storm's outflow so that entire lowering on either side of the precip is the shelf cloud as seen from behind. The inflow or rain free base area is visible to the R of the precip in the clear air, that's where any funnels or tornadoes could form so we where perfectly placed to observe those if they wanted to greet us.
Another ultra wide structure shot for good measure, the storm was simply class looking behind that single country house with the N. Ireland 'plains' in the foreground, this is the kind of foreground I like to shoot storms over.
Portrait version with top of the anvil visible against a blue sky, hard to beat good light and atmospheric clarity for storm structure. I ran back through the field sweating like mad in the humid air then met up with Dad and we got back on the road, I was already happy with today's photo rewards however we decided to keep on chasing the cell anyway.
We ended up on the back roads somewhere between Swatragh and Kilrea on high ground looking for a good vantage point to watch the storm, we drove past this old church and Dad said I should shoot this with the storm over it, that sounded like a good idea so we reversed back and pulled in for a few images. This turned out to be an excellent photo opportunity with the storm looming over the isolated church, thanks Dad for the idea!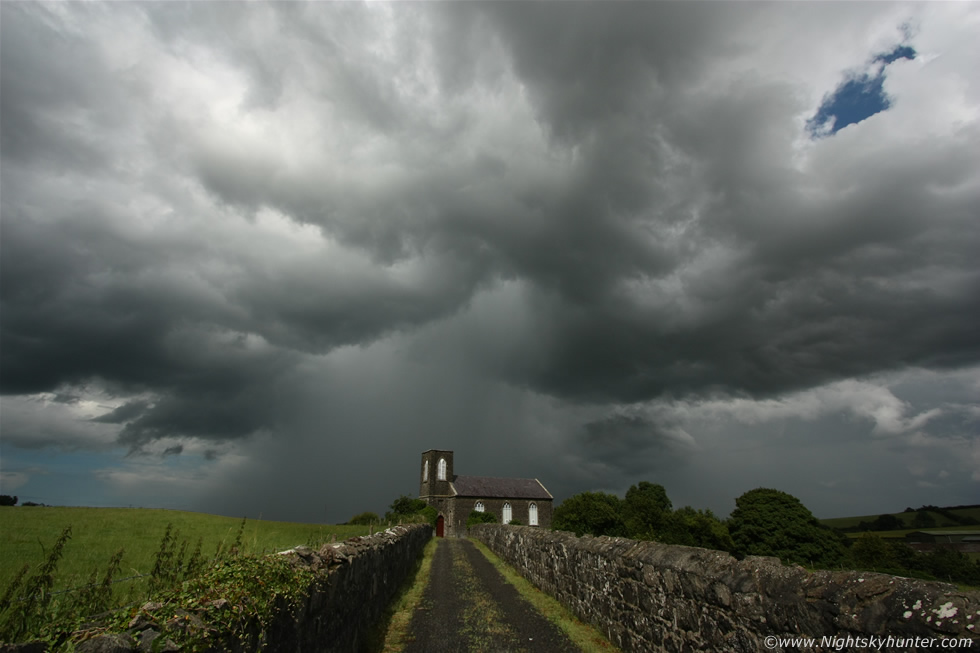 Another looking straight along the entrance to the church, I had to stand on the stone wall to get this angle as a large metal padlocked gate stopped us from gaining entrance. In both images check out the 'rain foot' visible at the bottom left of the precip core, this horizontal foot-shaped precip extension is a sign of strong surface winds blowing the precip outward away from the cloud base, a rain foot can also be a visual sign of a wet mircroburst in progress. In fact, as we watched from this distance the calm warm air suddenly turned chilly and breezy as the storm's gust front spread across the countryside as an invisible expanding pancake-shaped mass of rain cooled air. I have to say this is only the second time I have observed a rain foot from a storm in this country, the last was from a multicell in 2009 however this one is the best example I have so yet again thanks Dad for wanting to stop here.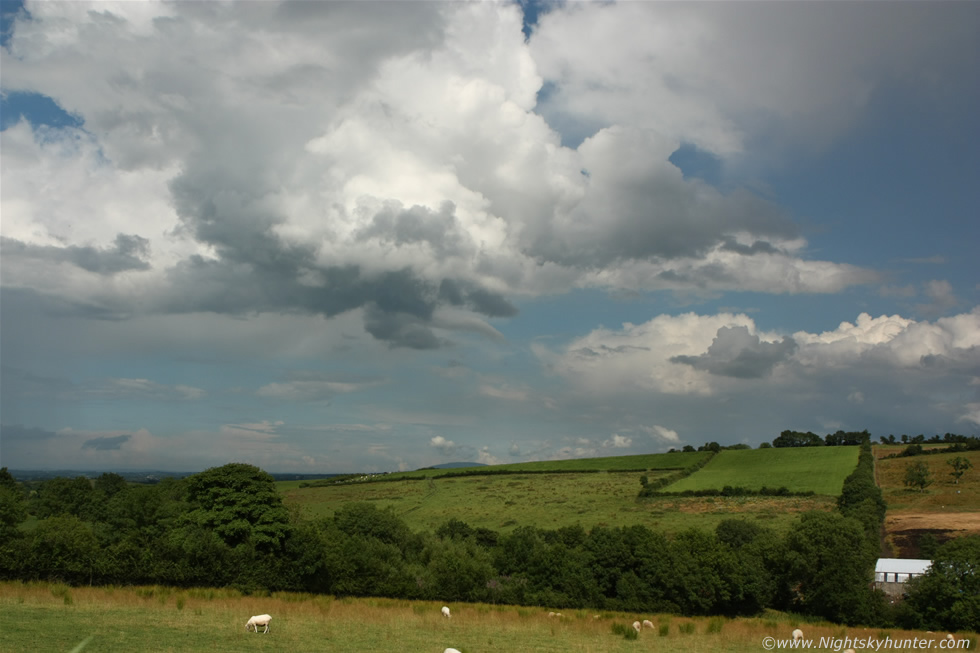 The storm was outflow dominant and dying so we drove through the beautiful back roads outside Kilrea and spotted a new tower going up behind our old decaying cell so we pulled over to watch. The tower wasn't very big and had a very elevated base so I wasn't expecting much however just when I thought the day was over this funnel cloud appeared from the base, it was mostly in a horizontal configuration with a smooth downward curving tube which we watched for approx 5 min's, I switched lenses to the Canon 24-70mm F/2.8, this is the 24mm capture.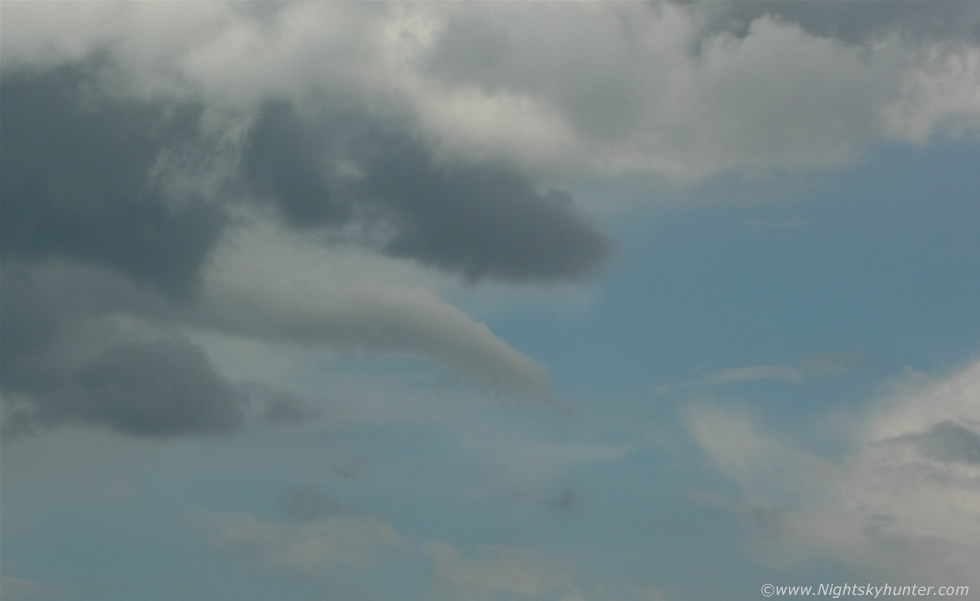 This is a crop from a 70mm frame, this is the first time I have ever seen a funnel cloud with my Dad so that was a cool experience so thanks to nature for that one. The countryside was beautiful here, the fields were awash with vivid green colours contrasting with blue skies and white convection with soaring temps, this was heaven. A farmer stopped to talk to us, he thought we were Sheep thieves or something as I guess we looked suspicious however once he knew what we were doing he was happy enough, I even got a chance to talk a little about how storms form and pointed out cumulus congestus clouds and explained about how they can turn into storms and so fourth. We were getting dehydrated and it looked like the best was over so we drove back to get some refreshments and ended up having a fantastic honeycomb ice cream which was so massive it took me 20 min's to eat and even then the rest had to go in the bin, that did the trick, the perfect end to a perfect day. That was a fun afternoon, storms, funnels, great countryside and all spent with Dad which was a very memorable experience for me.
Here's a short video clip taken through the car windscreen as we drove along the narrow roads outside Swatragh showing that dramatic dark precip core, I really should have took more video this day. When I got back home and checked online I was shocked to see numerous images posted on facebook and twitter of a stunning funnel cloud over Glenshane Pass and judging by the times it would have been when I was sipping tea, furthermore it was one of the most stunning funnels ever seen in this area for years and I have just heard that it may have touched down as a tornado and is currently being investigated by TORRO, that was hard news to take as Glenshane Pass is practically near my home and is an area I would often be so talk about a shock.
That's storm chasing for you, one can't be everywhere at once and besides there will be more funnels and tornadoes to catch in the future and I was happy anyway with our own storm and photo catch so I consider this a very successful day. During the early evening a big storm passed over me on Glenshane Pass near the bus stop with loud thunder and close range in-cloud bolts so that's several storms I experienced this day. I got on the bus to Belfast feeling very content however some of the views out the window to the E were amazing with massive storm cells with primary cell in shadow with bright sunlit flanking line of towers exploding skyward from the rear which looked an awesome sight over the fields, I tried to get video from the moving bus but it was hopeless so I left them to it and smiled because I knew from looking at the models that there was a chance of more storms all over the weekend and Belfast could be in the firing line, however I will tell that story in another report. Thanks very much for reading.
Martin McKenna