Beaghmore Stone Circles Multicell Thunderstorm - September 10th 2023
On Thursday September 7th I had just experienced the most insane unbroken thunder event I've ever experienced in my life, on September 8th I got treated to a rare twilight thunderstorm flashing away internally over the Sperrins in a perfect clear sky, a spectacle I had always wanted to see since I first got interested in storms. Then much to my delight another thunderstorm outlook was forecast for Sunday September 10th in the midst of a sudden unseasonal heat wave across the country.
A Sly plume was introducing very unstable humid air with CAPE values between 600 and 1000j/kg overlapped by 20 knots of deep layer shear and complimented by 20 knots of 0-6km shear within the lower sector of the atmosphere. With temperatures expected to exceed 25 degrees C yet again and very high humidity levels it looked like another day primed for thunderstorms, I simply couldn't believe my luck after already having an outstanding season. September can be a strange month in N. Ireland, in local folklore its almost always associated with a return to sunny settled weather just went kids and students return to school, much to the frustration of parents. This has certainly been the case in more times than I can remember however this month can also produce thunderstorms, some of which I have experienced in earlier years.
However, any storm activity I can recall during this month, especially inland, has rarely been exceptional. For the most part cells would be in the form of thundery showers in the wake of a cold front so these tended to grow from a cooler air mass. Personally speaking, I've never seen such a prolonged high pressure set-up with plume conditions so wide spread like they were over this weekend. Sunday's air mass had all the hall marks of a thunderstorm outbreak, however the upper cloud tops were not very cold, in fact, using the word marginal would have been a little on the kind side. Based on these temperatures alone, during a typical set-up, I would have considered this outlook a bust, however we had several factors at play which could tip the scales.
A surface trough was moving across the country from W to E during the afternoon hours during prime heating which also coincided with the period of maximum instability. The presence of this trough would also generate a very well defined convergence zone aligned N-S and slowly moving E throughout the day ahead of the trough. The convergence, trough itself and strong solar heating in conjunction with lift from local terrain would all act as sources of lift, it was my hope that these parameters would fire, what could be, our last thunderstorms of the warm season Summer period. I was still concerned about the cap, however I was hoping this would be overcome with the lifting mechanisms we had identified.
The Met Office had a yellow warning out for storms, GFS was showing activity all across the country with perhaps elevated storms later in the E. AROME on the other hand was full of confidence, showcasing surface based storms forming over the W of Ulster then trekking E/NE across the Sperrins to the midlands later, pretty much through my favourite chase territories, so there was no question that I would be chasing this day, after all, it was the last chance of Summer and after what I experienced on the 7th and 8th I was highly confident nature was going to treat us once again.
The day began 100% clear and very sunny and by late morning humidity was increasing. Solar heating was intensifying and small cumulus puffs were already present. By noon Roisin, Rhua and I where on the road heading W, my target region was the Omagh area then chase back E later. We stopped off at An Creagan for lunch then by early afternoon a radar check revealed cells already close to Omagh on the W side, all with red cores, and they looked sheared, this was looking very promising indeed. We took the back roads and made our way into the countryside outside Greencastle, we where on high ground on scenic back roads, we spotted a lay by beside a field and pulled in near a gate to watch the sky.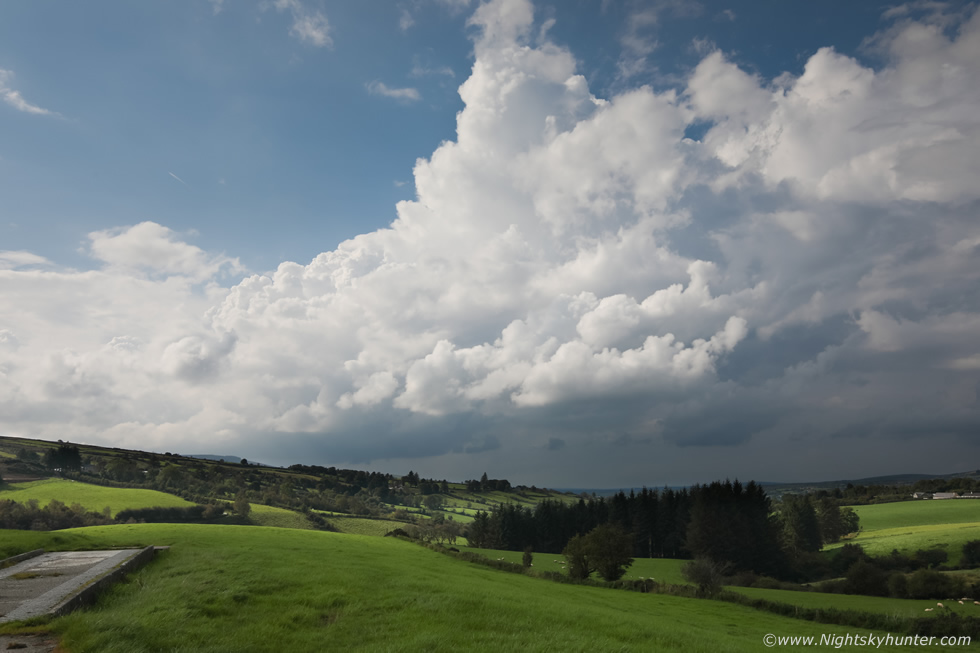 I can tell you rite now that the heat and humidity at this location was remarkable, perhaps it was the intense heating on high ground or the marsh land and fields adding to the moisture, but it was unlike anything I had felt before during the month of September. It was stifling, I had to take my t-shirt off and stand at the road side half naked, and even then I still felt uncomfortable. Convection formed in lines across the Omagh area, there were even white cores on radar over the other side of town. We had such a terrific view from there, looking across gorgeous countryside and down into a valley, brilliant sunlit towers boiled over and over forming a flanking line, they were crisp and solid and tried to become storms but they just couldn't do it, the cap was too strong.
Roisin and I remained committed for a long time here burning in the sun, I was yelling at the sky, but that invisible warm lid wouldn't yield, the towers kept rolling over on themselves and they even had that warm look to them, we agreed the cap had won. By mid-late afternoon we decided to call it a day and considered it a bust, however we still had a great time on the chase and enjoyed the drive. We began driving back towards Cookstown, I couldn't shake the feeling that the cap was going to break, I couldn't describe it, it was just a gut instinct based on the previous storms I had experienced this season, I said to Roisin the cap could break later, and I recalled a quote that some USA chasers liked to day - ''five o'clock magic''.
We arrived home and I went straight on the radar, I was shocked to see an outbreak of cells with red cores near Omagh and W. Sperrins moving NE, then Colleen Webb reported seeing lightning from her chase position on Benbradagh then Nigel McFarland began hearing thunder from Gortmore, the cells on radar were starting to show sparks, the cap had broke!. I needed to come up with a plan and make a very careful decision, storms where forming over Fermanagh moving NE, others near Omagh, these were forming into SW-NE lines along the convergence zone, they were clearly sheared into multicell storm lines/clusters and if they kept going they would be crossing Mid-Ulster in an hour or so, it was time to chase. I decided it was either going to be Beaghmore or meet Colleen at Benbradagh, I was in two minds and couldn't decide, yet I felt drawn to Beaghmore, simply because the scenic flat countryside would lend itself well to storm spotting.
Then I got a message from John Fagan asking if anyone was up for chasing those storms, I said I was game, I asked where do you want to meet? and John said Beaghmore, so I considered that a sign from the universe. I filled a container of water, grabbed the gear, and Rhua and I began driving back out the Omagh road once again. As we drove I saw a massive cell to the NW along the N Sperrins with a text book solid anvil, it looked the real deal, but my target was further away to the SW unseen behind cloud. Then I made my way onto higher ground and got a surge of adrenaline when I could see a very long black base covering the entire SW-S skyline with black scud lowerings hanging down, the sky looked foreboding and heavy, it didn't take a genius to work out that a thunderstorm was looming. I looked at the clock, it was near five o'clock, the magic had worked.
I arrived at the car park in Beaghmore and got out for a look, it was busy with other visitors, a gentleman approached and asked if I was here for the storm, he must have recognized the website wrote on my van, I said I was tracking a storm moving NE across the Sperrins. He informed me they had been listening to it for a long time, then I heard thunder rumble in the distance, then a few moments later more thunder, that sounded like a very active cell. I grabbed the gear then Rhua and I made our way into the circles for a better look. It was a warm, humid and absolutely still evening, not a breath of wind, thunder rumbled deeply from the W/NW, it must have been from that anvil I had spotted, whoever was under that was getting a good show. The W/SW/S sky sectors were dark with cells however no structure was visible due to mid level cloud obscuring the tops. I figured this wasn't going to be a structure day so I may as well record the storms for the record so I got the Mavic 3 Classic in the air and began recording footage.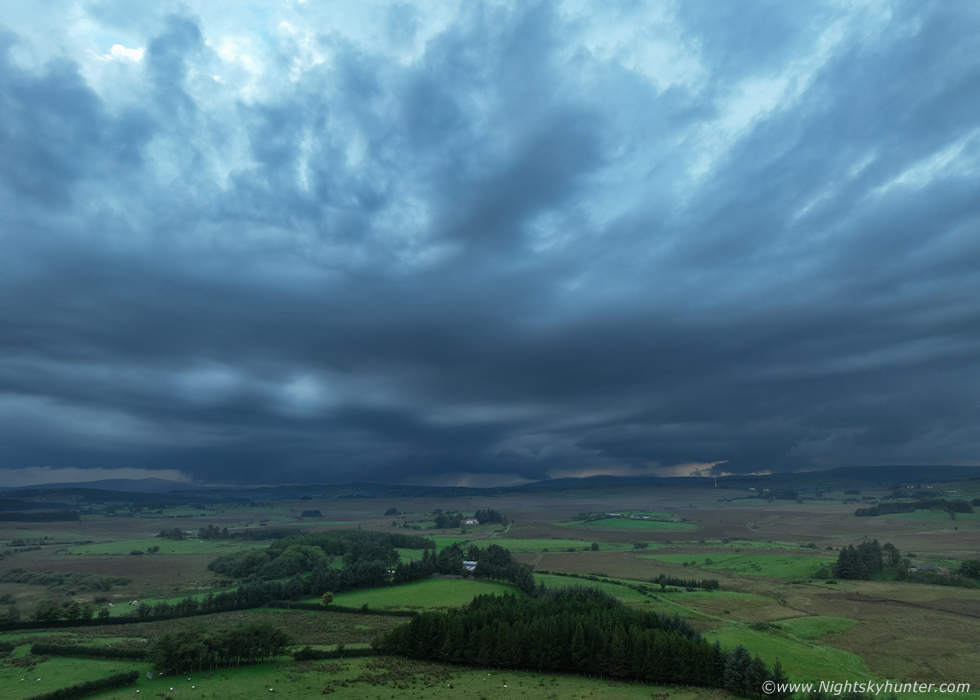 I must have stood here for 35-40 min's flying and listening to regular thunder, I was in my element and having a great time, to me there's no greater sound in all of nature then thunder cascading along the hills and valleys of the Sperrins. John arrived around this time and he too was pleasantly surprised to hear thunder, we smiled with delight, ''success!''. Even though cloud hid the tops of the towers and anvil the scene began to get very interesting and rather beautiful in its own peculiar way. The clouds associated with the multicell line had a streamlined look, almost lenticular in appearance, likely shaped by shear and convergence. The long base was very low with big chunky lowerings which appeared to be scraping the hills. The lowering on the left in this image marks the base of a new updraught which had billowed up in the flanking region of the line, it was producing thunder now as well along with the other cell to the N.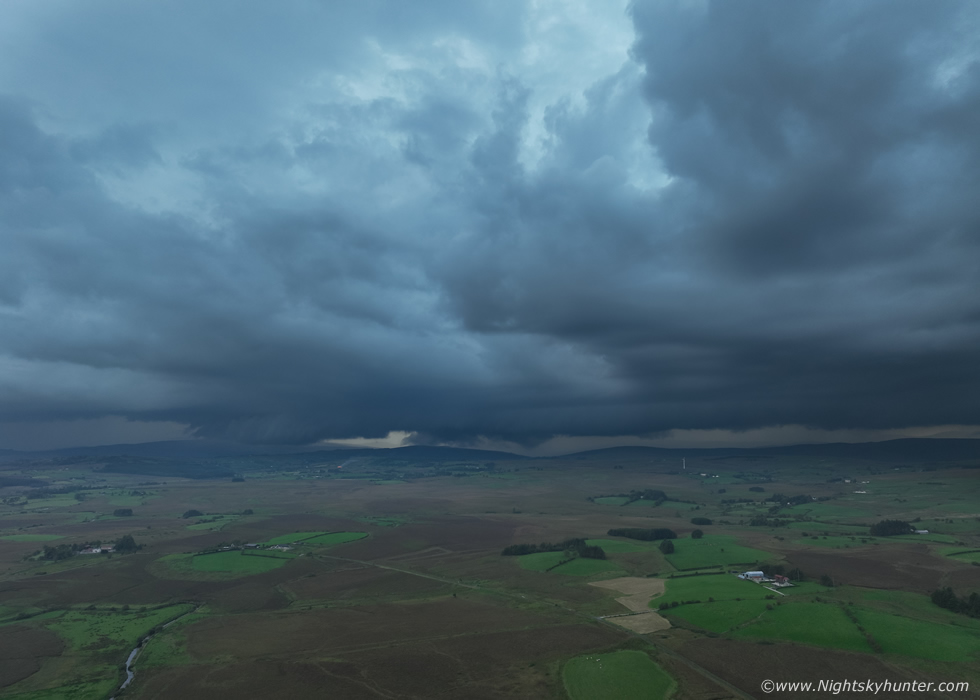 Slowly but surely the storms began creeping in our direction as they moved NE, the base began to merge into a larger cluster and thunder became louder. The majority of lightning was in-cloud, hidden within the cell or updraught plumes, however on occasion we observed the precip core light up pink for a brief moment. I was already on my second drone battery at this time, the low scud was now becoming sculpted by invisible outflow dynamics causing the clouds to form a linear structure called a shelf cloud. John saw a c-g strike down to the left of centre, it looked to have struck the region behind Broughderg. That distant white turbine is near the Lady Of Wayside chapel, I suspect the shelf cloud would have looked mean as hell from that location, but we held our ground and let it come to us.
Drone 120m altitude facing W, multicell storm with shelf cloud, regular thunder, what more could anyone want during September.
Actually the structure was quite cool at this point, when I see mean surface based storm clouds then I'm a happy man. John, Rhua and I made our way over to the famous standing stones for a better view. John began shooting images with his DSLR while I continued shooting with the drone.
Another c-g lit up the precip but I wasn't recording video at the time. Then I got a low battery warning, I landed, switched over to my third and last battery and got back in the air again. This storm was so slow moving that it felt like we had been watching it for a very long time, and my battery usage was a testament to this.
Some time later the storm had gotten much closer, this was my last drone image before I was forced to land again due to a low battery. I had burned through three batteries watching this storm, considering that on a calm day like today I was getting 35-40 min's flight time from each battery, that worked out that we had been watching this active storm for more than 200 minutes or well beyond an hour and a half, and the storm was still going. The shelf had beefy menacing sections of dark scud rising into the structure, this crossed the entire SW to N skyline across the hills.
I packed the drone away and reached for the ground camera, from now on I was using the full frame Canon 5D Mark IV with 15mm super wide angle lens. The shelf had a bowed appearance here and gazing upward you could almost perceive the updraught leaning over to the N.
John and I were now in awe, the underside of the shelf had the classic gust front complex textures with knots and undulations, furthermore warm sunlight began to filter through and began painting segments of the storm in subtle orange light. It was quite a surreal moment to be standing beside these ancient standing stones with a storm rumbling above, we both agreed we had never experienced an active thunderstorm at this location before.
Iconic scene
There were a few visitors at the location, the storm had grabbed their attention too and when thunder announced itself it caused an excited but anxious yell from behind me.
The storm was almost on top of us now, precip was moments away from hitting and we where in the lightning danger zone, but we held out for a few minutes longer for this was the moment when wide angle lenses reigned supreme for storm photography. Super wide angle with gust front structure over the stones and one of the famous circles. I was hand holding the DSLR and the sky was getting so dark I was on ISO1600.
Images don't do this scene justice, to the naked eye the precip core and the textured sections of the clouds were bathed in orange colours, a soft but warm colour like that of sand on a beach before sunset. Contrasting against this were dark blue and black storm clouds. I may be wrong but this stone circle is likely the one called the Dragons Teeth, due to the large formation of smaller rocks inside the main circle.
Classic gust front outflow feature with whale's mouth structure. I reckon I had my shutter speed too low here, I must have shook the camera or my hand was shaking in the rush, the stones look soft in the image.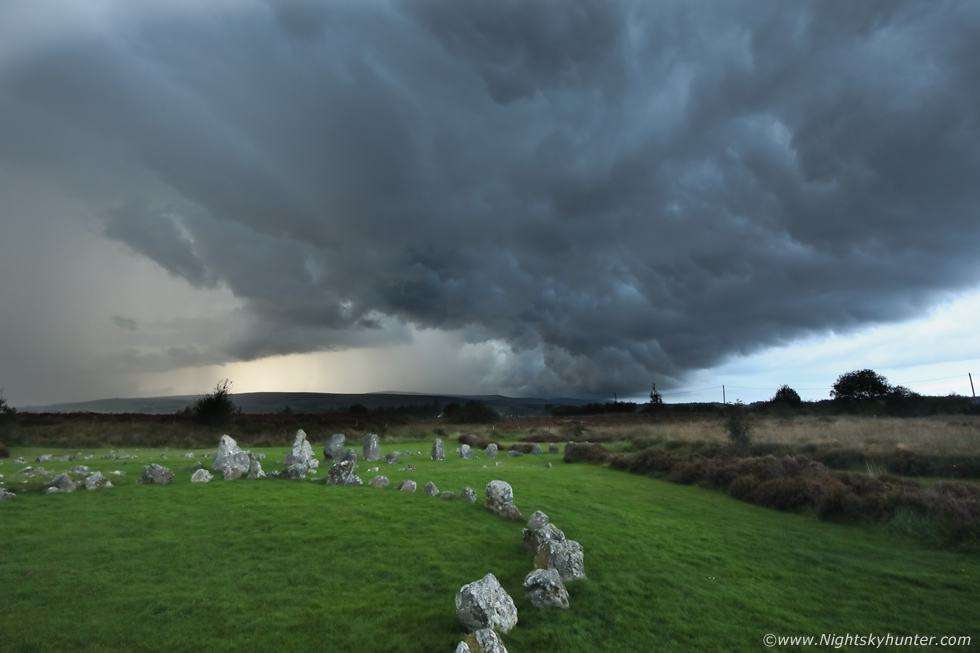 Spots of rain began hitting us, the visitors began running back to their cars as another rumble of thunder warned that trouble was coming. Last shot of the day, this time at ISO3200. John, Rhua and I jogged back to the cars, but it was too late, we got absolutely soaked. I jumped in the van and immediately drove off and managed to get ahead of it into dry air again but it looked like it was moving out of range to the NE. It was almost 19.00 so I headed back home to Cookstown feeling high from experiencing yet another thunderstorm and another great memory to go along with it. Even at home Roisin and I could hear distant thunder from another storm which had formed to our SW but it was on a weakening trend, and besides, I was already happy to have crossed paths with a mean multicell from an old favourite location, and the silver lining was the gift of storm structure.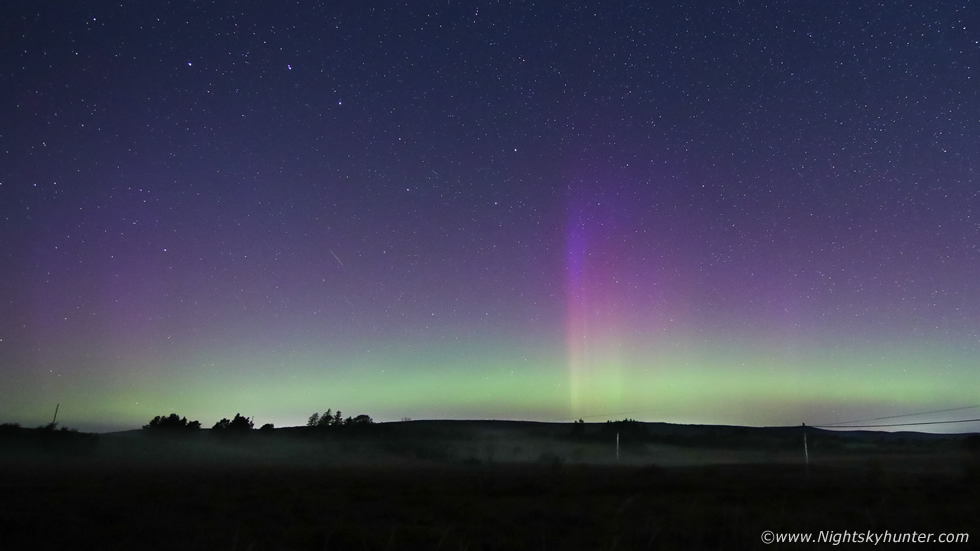 Two nights later I was back at Beaghmore, a surprise CME had impacted our magnetosphere generating a G2 storm during the evening hours when it was still daylight. No one had seen this coming so it got the aurora hunting community in a state, the night was forecast to be perfectly clear and the stats were promising so I decided to give it a go. I met Paul Martin at Beaghmore then we found a country road in the middle of nowhere, as darkness fell we could see a naked eye band above the horizon which began to get more striking with time. The band remained unchanged for a long time so we figured activity was perhaps waning, then suddenly this solitary beam shot skyward from nowhere which coincided with a dip in the Bz. The beam pierced the hind legs and tail of the Great Bear and was easy to see with the naked eye.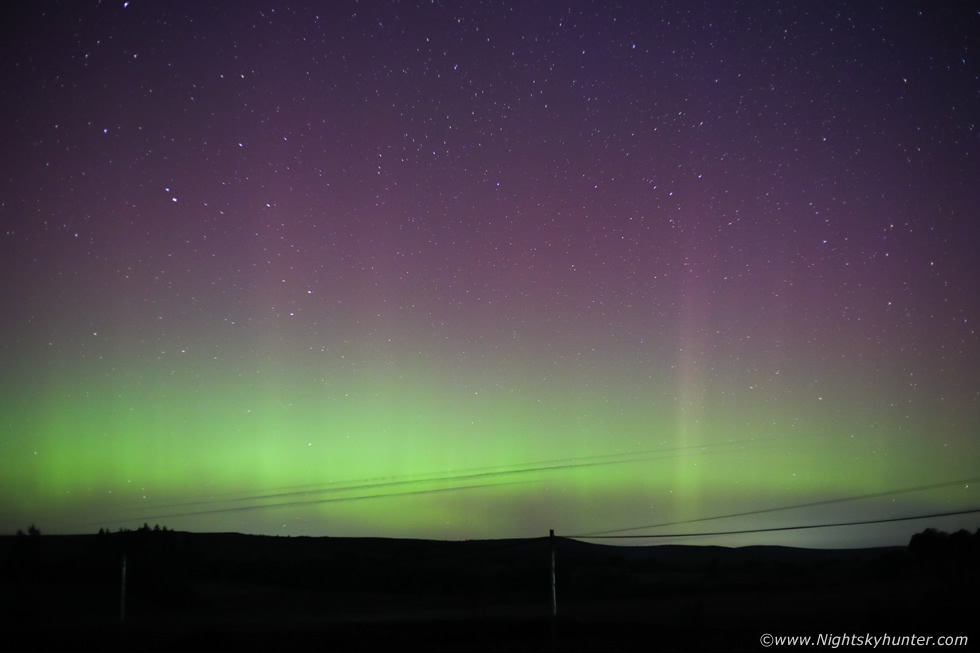 50mm F/1.8 isolating a section of the band with many fainter rays lurking within. Paul and I enjoyed the show then called it a night. Thunderstorms and aurora all within a couple of days at the same location, this is the year which just keeps on giving.
If you have been reading my chase reports and updates then you will know how impressed I've been with this storm season, the likes of which I've never experienced before for quality and frequency, it's a season which I think will take a VERY long time to surpass, here's an overview of the highlights...
1) Phenomenal warm sunny and humid weather during June.
2) The most stifling hot humid day I've ever experienced, almost tropical - Mullaghmore chase day.
3) Prolific thunderstorm activity from May through all of June.
4) The most active thunder I've ever heard.
5) The most photogenic and beautiful thunderstorm convection I've ever seen in my life.
6) Best wall cloud seen to date
7) Dusk/night time lightning from elevated storms.
8) The most dangerous close range lightning strikes experienced since the sheep killer day in 2009.
9) Over four hours of thunder in the same area - this happened twice!
10) The most insane long duration unbroken thunder I've ever experienced from elevated storms.
11) Best thunderstorm convection DSLR time lapse I've ever shot.
12) Best chase adventures in years.
13) Best September thunderstorms ever experienced.
14) Hottest and most humid September personally.
15) Twilight multicell flashing away over the Sperrins in complete isolation while wearing a t-shirt on September night.
16) 7 or 8 thunderstorms encountered in a single day, a new personal record.
17) Mammatus clouds with lighting at same time with distant tower flashing in sky with mammatus overhead
18) The most spectacular storm updraughts ever observed.
19) Mesoscale Convective System chased in 3000j/kg of CAPE, the highest instability I've ever experienced in this country.
In addition to these highlights was the best sunpillar I've ever seen and the visual astronomical events such as the mag +10 supernova in M101 and of course the surprise amateur comet discovery C/2023 P1 Nishimura which I spotted with the naked eye on several mornings. This all makes for quite an eventful personal list. I can say categorically that 2023 was the best storm season of my life to date, but not only that, I'm beginning to think this entire year is rising to the challenge too, we still have four months left before the year ends so I suspect something else exceptional is going to happen.
Drone footage of the September 10th multicell storm as it slowly approached from over the Sperrins. This marks my 13th day of storms since late May, thanks very much for reading.
Martin McKenna