Beaghmore Stone Circles Convection - March 29th 2016
After my previous two chases it wasn't a long wait before my next chance on March 29th when freezing air aloft would overspread a moist SWly flow generating instability with uncapped air rising into a Tropospheric cloud top temperature of -35 degrees C. The only downfall to this day would be cool temps at the surface (9 degrees C at best)and no convergence or shear, however on the plus side there was plenty of weak Spring solar heating with good lapse rates, no CIN, and clean crisp air which would offer excellent visibility and hopefully photogenic convection. CAPE would peak at 400 during mid afternoon before falling to 200 during the evening hours. Based on convective precip charts and wind profiles it seemed that three areas where most at risk. Fermanagh, perhaps the north Antrim coast, and the N and S Sperrins. I decided the night before that the Sperrins would be a good option because they offered good visibility, nice foreground scenery and aided with forcing air parcels aloft due to orographic lift, I decided that Beaghmore Stone Circles in Co. Tyrone would be a nice place as a base of operations and with any luck we might get to stay in that area the entire day. The following morning the models remained resolute so my target area was uncharged, soon I was chatting to Omagh chaser Paul Martin and Dungannon chaser John Fagan and they all agreed that Beaghmore would be a decent area for any action, we all agreed to meet in the car park at 13.00 UT.
My Wife Roisin and I went to the shops in Cookstown, bought snacks, water supplies, filled a flask then hit the road and arrived at Beaghmore Stone circle car park. A few min's later John arrived then Paul with girlfriend Tracy and their dog Oscar so in total there were five of us storm spotting (six if you include Oscar) so it was already turning into a memorable day, it felt great having everyone together in the one area with camera equipment eagerly hoping for something nice to shoot in the skies. Our hopes of seeing anything nice at the beginning of the watch were low as it was cold with a cool breeze which seemed to penetrate through our clothes, this seemed to be N. Ireland in a nutshell over the last year or so, it was meant to be Spring yet it still felt like Winter. There was little in the way of solar heating with a sky packed with Cumulus clouds however we were all optimistic before we left for the radar showed an abundance of cells down S and crossing the border and some of those would be heading towards the Sperrins riding on the swift SWly flow, it was just a waiting game. We all stood outside chatting, catching up, talking about convection and storms, all of us were quietly optimistic yet not wanting to say anything out loud to scud the day. As time passed the Cumulus deck developed small gaps, they too widened allowing pockets of sunlight through and by early afternoon we had good clear gaps and the sun was working on the ground. Within a very short period of time the clouds were growing vertically into Mediocis then Congestus and we had our first towers going up all around us, there was no question that the atmosphere was really trying, then distant bases were dropping precip miles away to our SW and moving in.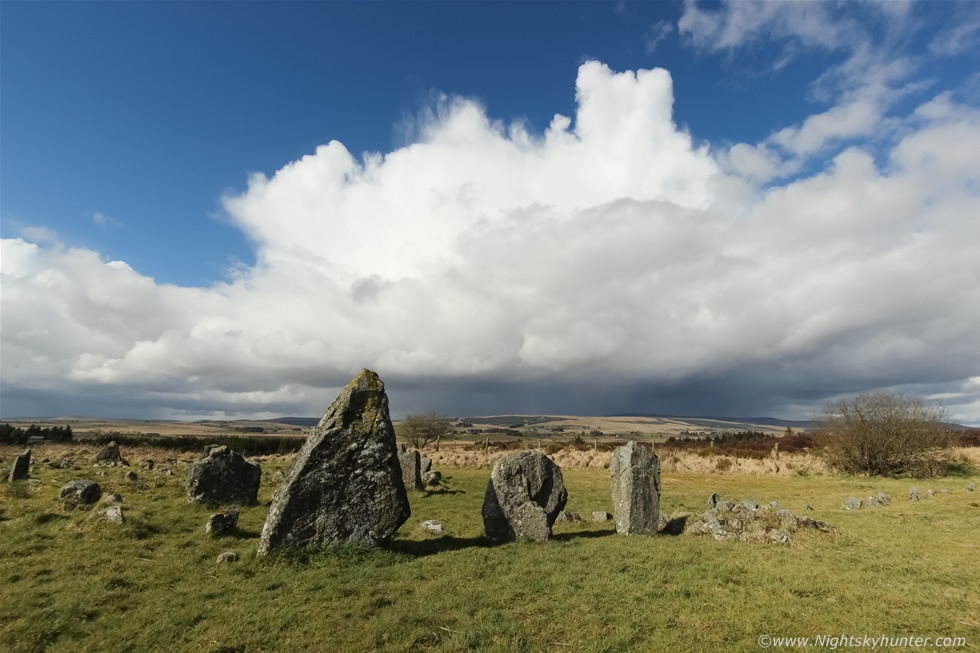 Half an hour later our first cell of the day appeared, it developed from a line of small towers and seemed to hit a good pocket of unstable air and began to rapidly ascend and within min's it looked beautiful, all of us began to notice and in an instant we where all out with the cameras taking images and getting a feel for the cell. It was growing fast so we walked to the grounds where the stone circles where located, they made for great foreground interest, all of these were taken with the 10mm wide angle Samyang F/2.8 lens. You have to appreciate that in the flesh this was quite a big cell, it clearly dominated the sky and grabbed our attention, it was a pleasing sight sitting over the crest of the southern Sperrins with dark base and hail curtains majestically dropping over the mountains.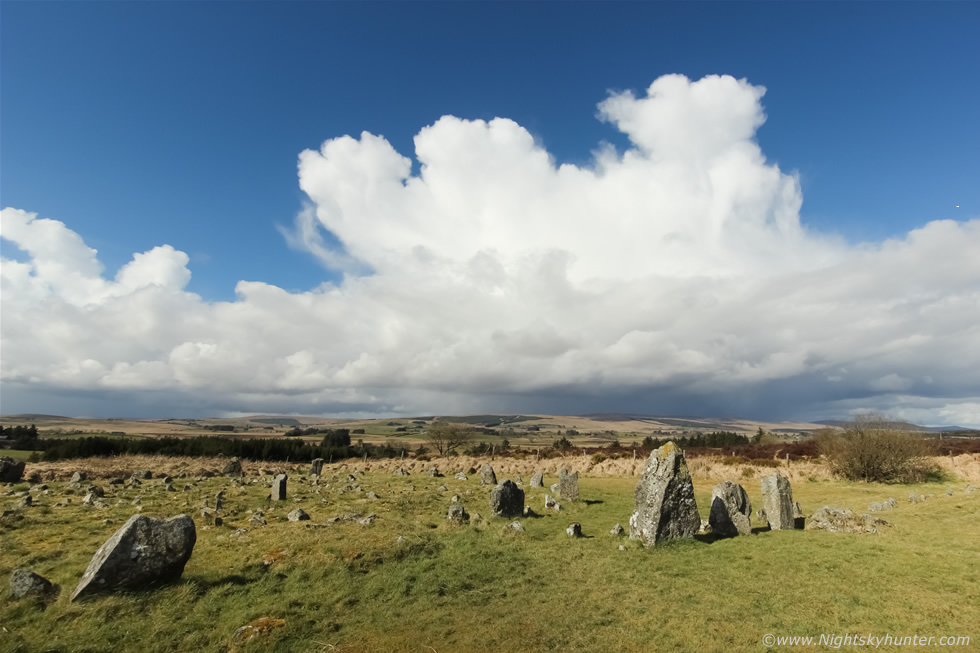 Check out the plane on the right hand side, that provides a good sense of scale, you can really appreciate how large this was. We couldn't have asked for more, the wind had slackened so the cell had slowed its pace to a crawl allowing us a fantastic long duration view of its entire life cycle. I set up the Go Pro on a tripod here and began recording video with the intention of making a time lapse. The cell was passing to our N so we had a perfect view of it sailing by us with the added luxury of observing it in full sunlight and getting no precip on our lenses, that's always a desired position to be in for storm photography, the deep blue clean air really made the view highly photogenic as it contrasted with the lush fields below.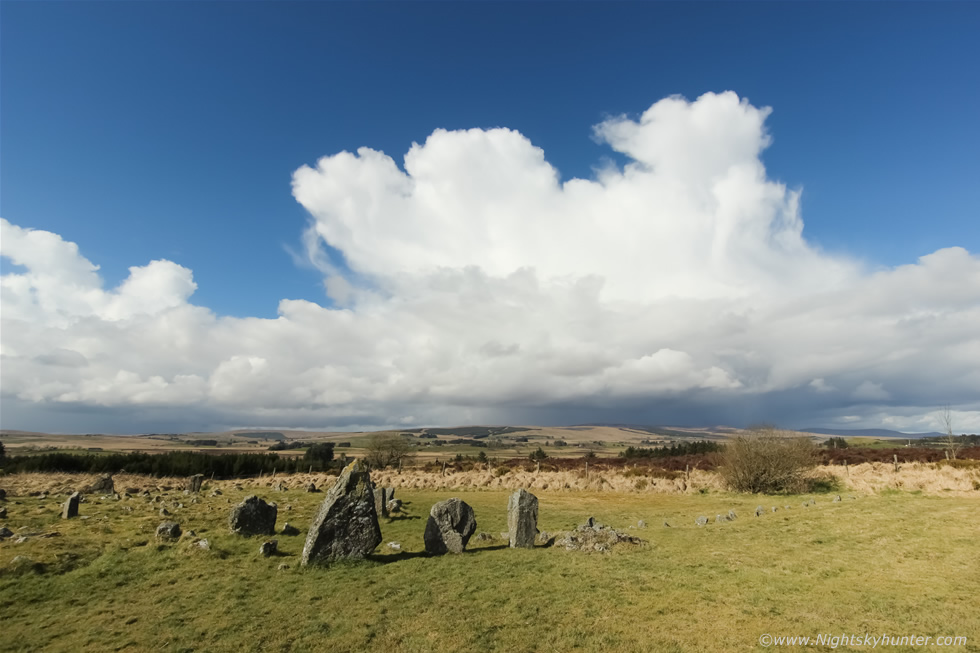 Paul was nearby shooting stills and John was off to my right shooting as well, all of us were in a world of our own lost in our own thoughts as we enjoyed the cell from such an ancient megalithic location, it had felt like a long wait for the 2016 Spring storm season and now it was here and earlier than we expected, we had all earned it and it felt great to be back chasing convective weather again. Standing here brought back fond memories of watching a beautiful geomagnetic storm a few years back with Paul and a local newspaper reporter, there was a harsh frost on the ground however the aurora was glowing so intense with red colours that the entire frosted grass upon which we stood was glowing red also, what a sight it was.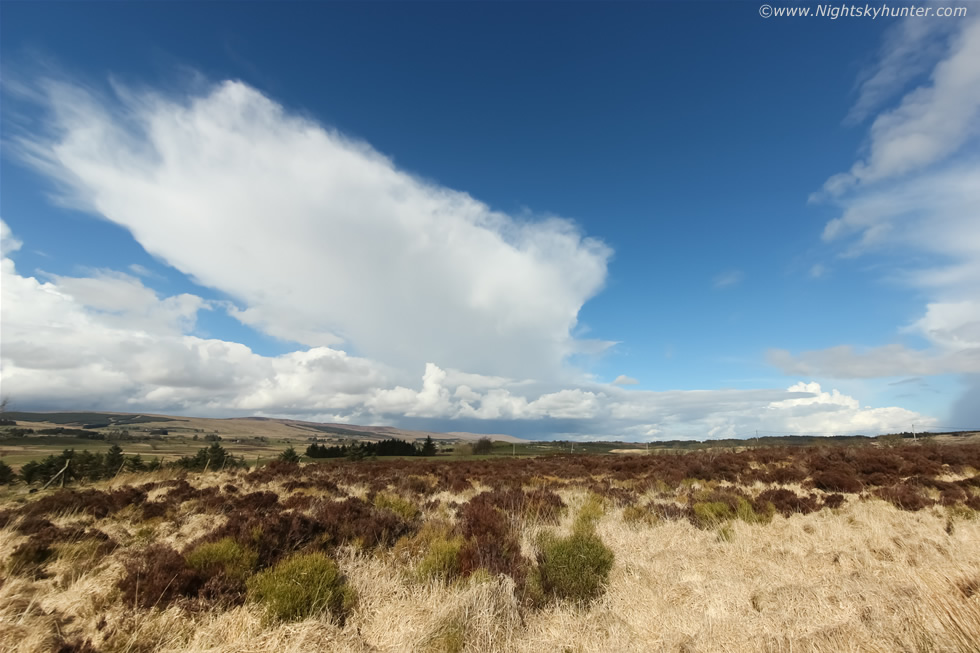 Later our cell was now a proud and majestic Cumulonimbus (Cb) which was now located over the northern Sperrins not far from Glenshane near my home area, check out the huge anvil projected downwind in the beautiful blue sky, radar indicated a red core so the rain and hail under it was locally very heavy, we where surprised it didn't give out a rumble of thunder because it sure looked the part on radar and visually. At a quick glance this could be confused with a back sheared anvil, when that happens the updraught is so strong it pushes the anvil backward into the flow and is one visual cue of a strong updraught, however this case was one of the exceptions to the rule. Here the cell is moving L to R and away from us, the wind (SWly) is also coming from the L, but the wind at the height in which the anvil is present was now very weak, the flow closer to the surface was stronger pushing the base and precip ahead of the storm so the anvil looks like it is projecting backwards, so in short this is not a true back sheared anvil, but beautiful it was.
We stayed our ground for several hours, we got briefly suckered into driving up the road to check out cells to our SW because the sky was dark in that area with that thundery blue look however after a short spotting session from a hill we knew it wasn't as good as it looked, the cells were elevated with no bases or substance so we returned back to our usual spot. A new radar update indicated a scattering of cells across the country however one which stood out was a nice cell over Enniskillen which was slowly moving N, it had an elongated red core on radar so looked strong so we decided to wait for it to move into our target area. Cell motion was now very slow so we waited and waited and remained patient then we spotted its top on the horizon, it already had an anvil with new towers accompanying it like a pack of dogs following their leader. We had time to kill so we chatted more, listened to music, had tea and snacks, then the cell arrived and it looked rather mean.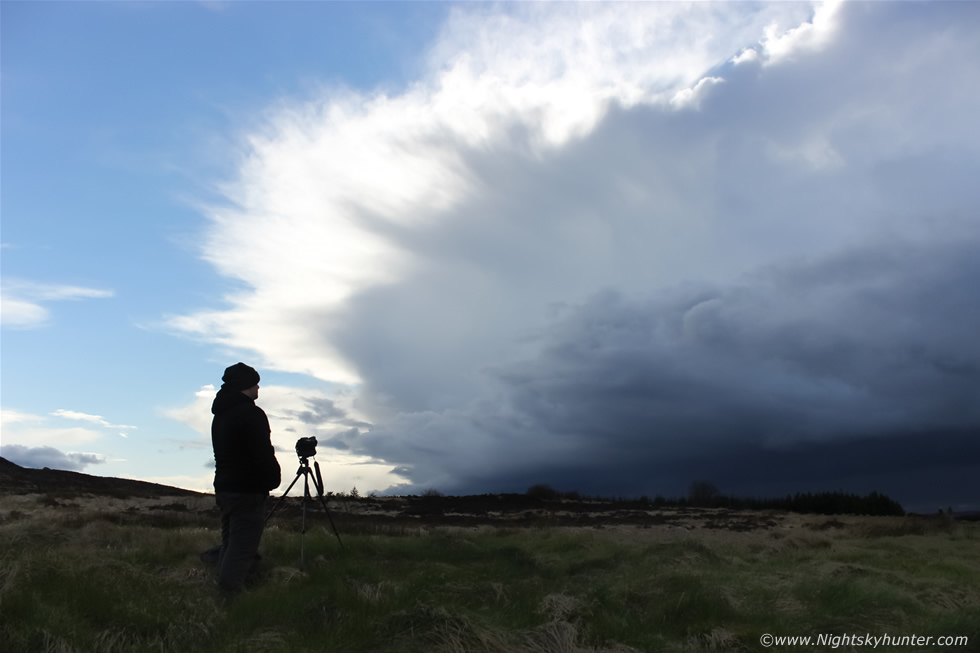 There was no doubt that this was our main cell of the day, it was surrounded by clear air to ingest the moisture it needed with no other competition and it arrived during prime heating and CAPE overlap, it was slow moving and going to brush past us closely but not close enough to dump any precip on us. The rain cooled downdraught was blasting across the land and we could feel its icy blow as we stood out in this exposed location, the same outflow produced a gust front of cloud along the leading edge, all three of us where already back out shooting. Here's John in the process of admiring the view and shooting a DSLR time lapse, I could hear the shutter opening every sec..click, click, click..its a sound I love to hear.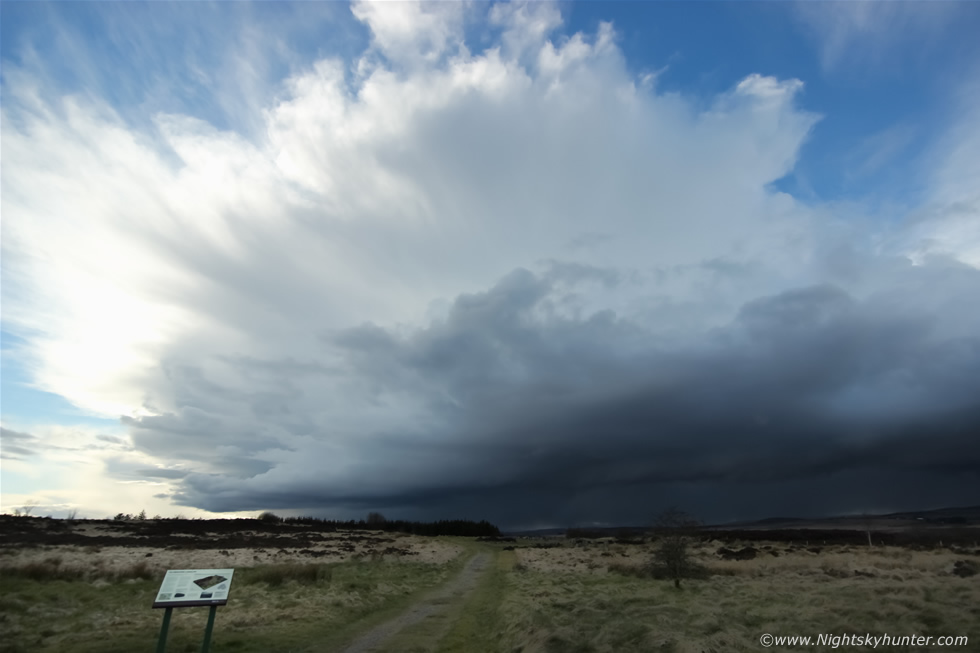 Closer now and still at 10mm wide angle with the entrance sign to the stone circles in the foreground, the anvil was really large and sweeping outward in a fanning oval, I bet it would have looked nice and round from above. A small shelf cloud had formed on the outflow cloud to the right of centre, this was turning into a very nice cell indeed. I had the Go Pro doing another time lapse and had to use the super wide angle FOV to fit it all in.
Who can complain about experiencing this for an early start to the storm season? beautiful isolated big cell with anvil and blue sky all around, this day was yet another photographic success.
Majestic sight and a great way to end the day, the core was dark with mottled hail strands falling to Earth however amazingly there wasn't a single rumble of thunder, we were shocked because we could sense the energy in the atmosphere, it was like a thunderous boom was going to happen at any sec.
This was its most photogenic moment, 20 min's later it drifted past us to the right and began to dissipate and we barely had one rain drop land on us the entire time. By 18.00 John headed home, Paul and I stayed another 30 min's until we were sure there was nothing else to see then we decided to get something to eat so Roisin, myself, Paul and Tracy headed into Cookstown and had a well deserved chinese in a restaurant, it felt good to get sitting in the warmth again after being out in the cool air for the entire day. A very successful day out and nice catch up all the guys, may this be the start of a great season of action ahead.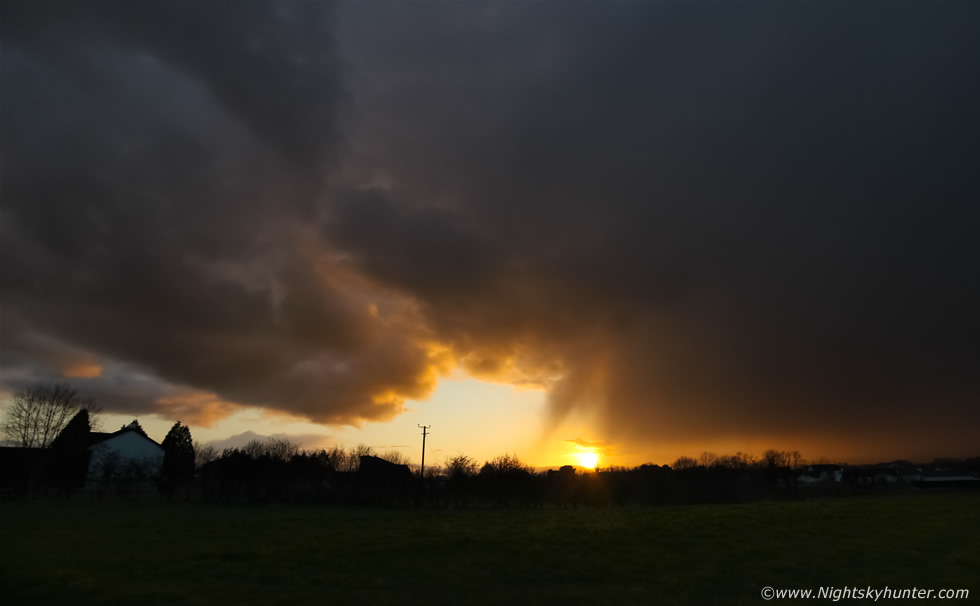 The following day March 30th also had a chance of pulse storms however the air was less unstable with 200 CAPE and this time E areas of the country were favoured. I took my Mum out chasing with me during the afternoon and we spent the rest of the day on the road, parts of Antrim and Ahogill, the convection was nice for a time however it was moving too far E and I couldn't keep up with it and besides we were loosing the heating so I turned back and returned to Maghera. Two hours later I left Maghera with the intention of collecting Roisin however I got briefly stopped by an unexpected photo opportunity. This was near the junction on Crewe Road, I quickly pulled off the road and ran across to the other side, leaned on a fence post and got this capture. A decaying cell was moving in from the W with very dark precip core, the sun appeared from behind the core and under-lit the precip and clouds just min's before disappearing over the Sperrins. I like the shaft of precip to the left of the sun, new observers sometimes mistaken these for funnel clouds.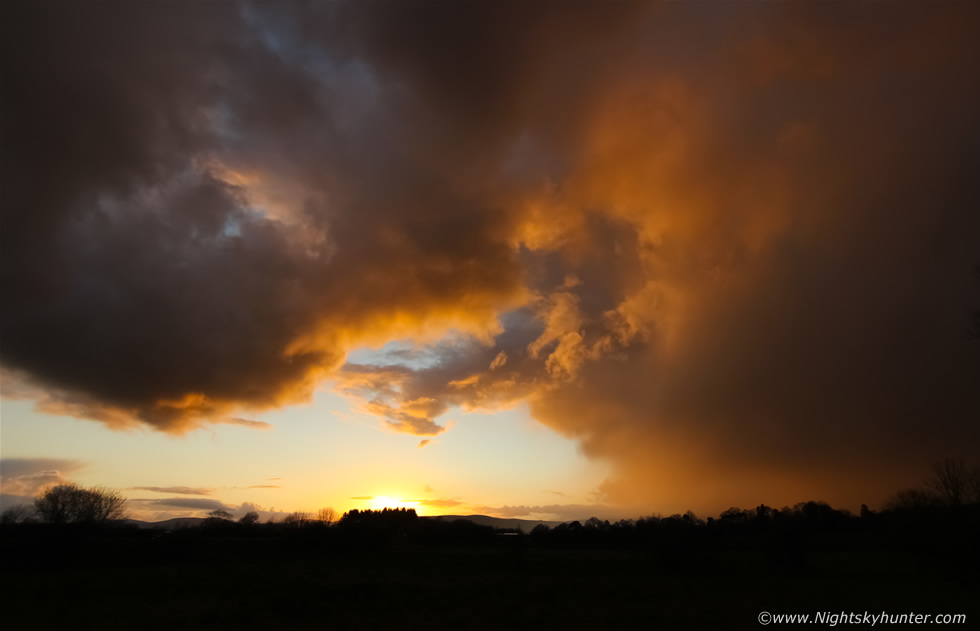 I drove through Maghera and pulled over at another junction near Glenshane Road, the time was 19.50 UT. The clouds were turning into wonderful fiery colours, I was hoping for a dramatic rainbow however I realised the angle was all wrong, I needed to be further W of the core but it wasn't in the direction I was going so I was aiming for dramatic clouds instead.
I couldn't resist it and had to pull over again, this time on the shoulder of Glenshane Road half way to Castledawson roundabout. The sky looked dramatic as hell in the glorious pre-sunset light, this must have been a reward from nature for the entire day driving in the E with nothing to show for it, I decided I would take it. I had to include the van in the scene for the memory.
Last image of the day, the road went quiet with no cars in sight so I ventured out onto the tarmac and got this departing shot of the storm clouds and setting sun and with the road so silent it almost seemed I was on some lonely road on the great plains. I met Roisin and had a few digital trophies from the chase so it was yet another successful day.
Footage from our day at Beaghmore Stone Circles on March 29th with handheld DSLR footage at 10mm and Go Pro time lapses of the passing cells. Thanks very much for viewing.
Martin McKenna