Nocturnal Storm Chasing, Causeway & Ballintoy Aurora - March 20th & 31st
Spring had just arrived and with it came my first storm chase of the season. This would be a Winter set-up and a night shoot thanks to modified Arctic air advecting SE towards UK and Ireland. This air was unstable with -35 degree C upper air overspreading a warmer Atlantic Ocean. This fetch of freezing air over the Atlantic would generate instability with GFS indicating 100-200 CAPE with LIs of 0 and -1. CAPE would be present across N. Ireland for 48 hours both inland and over surrounding coastal regions. March 21st looked even more unstable with greater instability and with weak solar heating it was possible for our first land based convection of the season. Convective showers were forecast turning Wintry on the night of March 21st with hail and snow over high ground accompanied by strong winds. Since CAPE was expected to arrive during the late evening and over night I decided to make this a night chase, the plan was to hit the north coast close to the more unstable air with the anticipation of shooting night cells and sporadic lightning, perhaps even thundersnow. John Fagan had been thinking the exact same thing so we quickly made arrangements and decided on a joint shoot.
Downhill Beach would be our target area, it was a good location with flat ocean horizon and as cells arrived from the W we would get them crossing us, the cold air set up suggested a night of regular cells with clear skies between which we both liked, the only negative was no moon light so we would be shooting in dark skies, we knew the lights near Downhill Beach would help illuminate the storm clouds for us. The Met Office had warnings out for ice and hill snow, furthermore GFS showed wind gusts of up to 45 mph, this worried us slightly as it would made taking exposures all the more difficult however since it has been a very quiet convective period we decided we would make the most of this opportunity.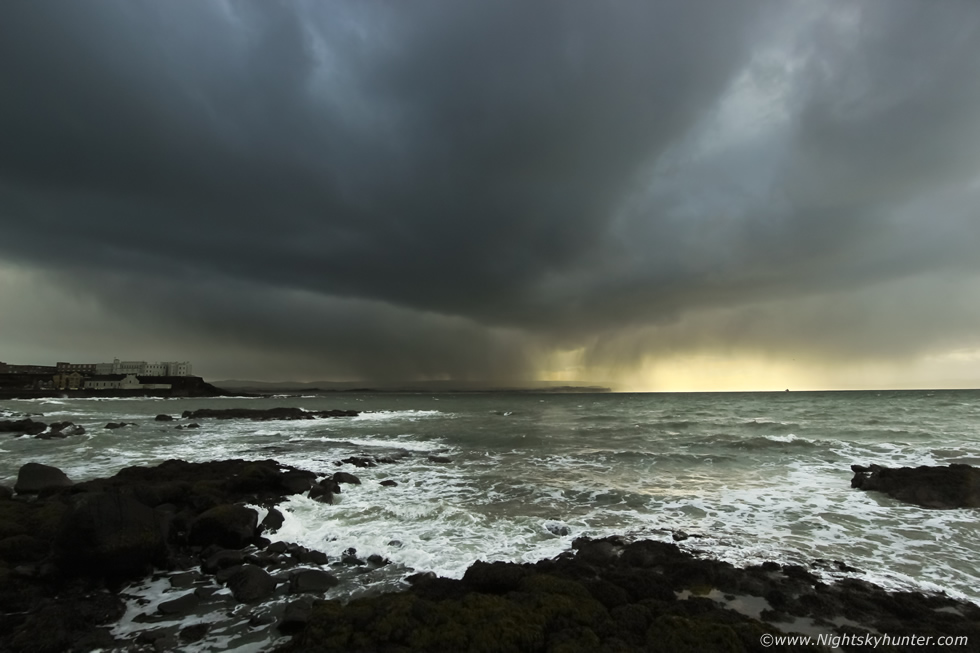 We decided meet at the coast during daylight incase there was a good sunset, also radar indicated cells moving in from the W so I was hoping for cool storm clouds while waiting for nightfall. I left during the late afternoon and arrived at Portstewart where John and I had arranged to meet. I grabbed my camera bag and 100-400mm lens and went for a walk along the shore enjoying the fresh sea air. I spotted mean looking skies heading my way so I replaced the 400mm with the 10mm and got shooting, this cell looked very dark and was newly born, first a black dry base, then curtains of precip began to fall then within five min's it sported a massive curtain of hail stones traversing a good 160 degrees of sky, the hail looked impressive back lit by the lowering sun. On the left is Portstewart Convent which is now Dominican College and to the right on the horizon was a ship about to get a soaking under this cell, I have an interest in tracking ships so I knew it was a small cargo ship called ISIS which was waiting to get into Coleraine.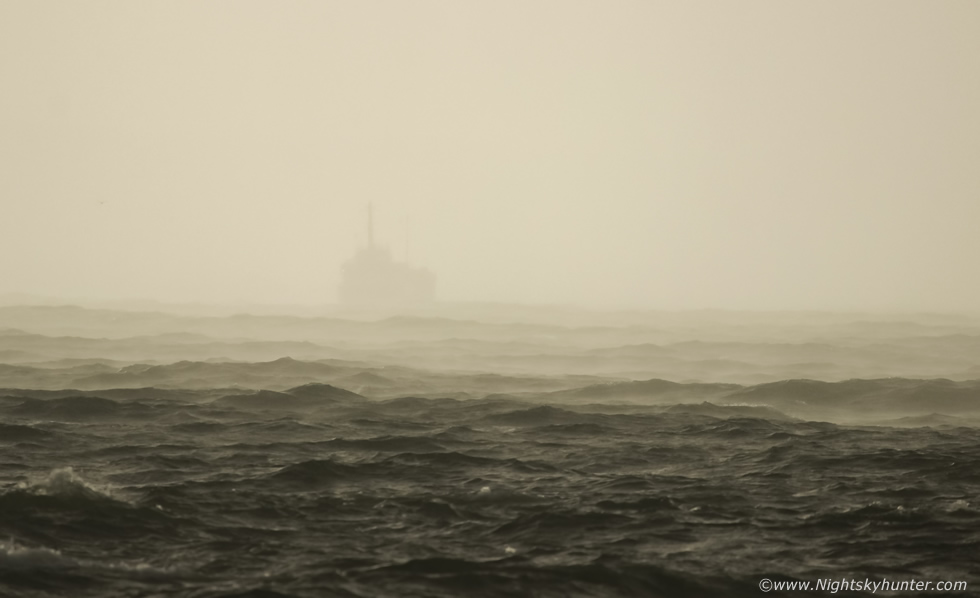 The wind picked up then the cell hit quickly with a bone chilling downdraught then I got a battered by small hail stones blowing sideways into my face, I had to turn my back and let them pelt me as I was too far from the van for shelter, I ended up getting a rather bad soaking then when it eased I put on the 100-400mm and snapped this image of ISIS clearing the hail with sunlight filtering through the air, however this would not be my last look at ISIS, unknown to me I would be getting a better look at this vessel the following day. I had a small takeaway as I had no dinner then John arrived and together went to Morelli's along the promenade for a well earned coffee and tray bake, it was nice to sit in the warmth for we knew we had a rough night ahead of us. A check on the internet showed no sferic plots over the sea at all, this had me concerned and in hindsight I did notice that the charts had shown CIN or Convective Inhibition over the area similar to a cap, however I reasoned that the more unstable air and approaching troughs would generate enough lift to overcome this.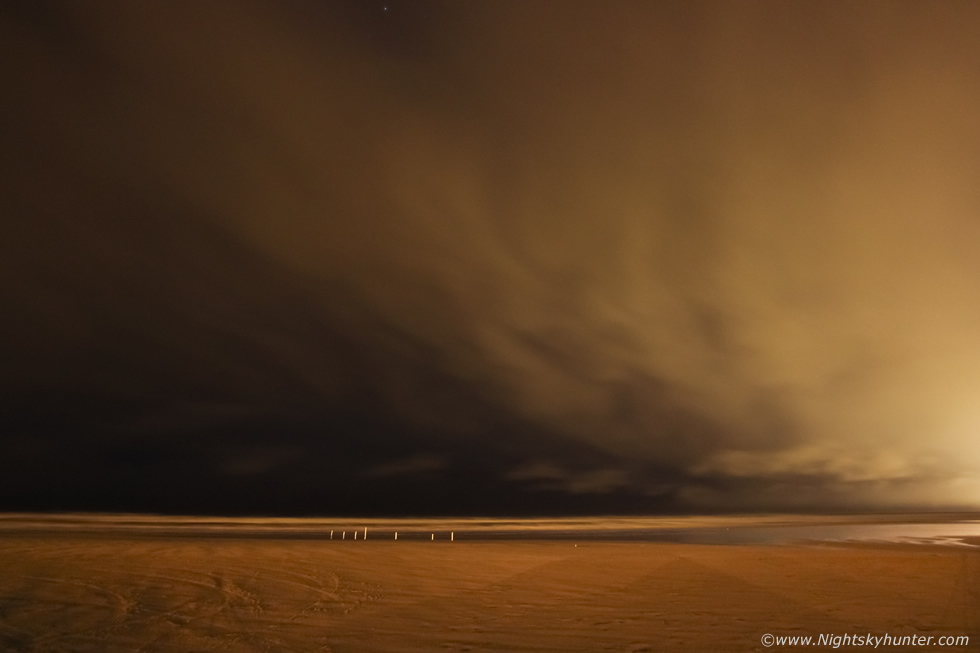 At 21.00 we arrived at Downhill Beach and it was here where we would spend much of the night, it's a good job we are patient photographers and have a passion for our subject otherwise we would have packed the bags a long time ago. It stayed cloudy for much of the night, complete cloud cover while we periodically got slammed by wind driven sleet and snow showers, we could see no structure, no lightning and no stars, there was simply nothing to shoot so we waited and waited and waited again. Later we were getting 15 min rain free periods and a few stars came into view which lifted our spirits and it was during these moments we took exposures of the sky in case of a random strike. It was one of those nights when things were going pair shaped and nothing went to plan. At one stage while shooting a time lapse a sudden gust of wind came from nowhere and my camera did a 'face plant' - a term coined by storm time lapse legend Stephen Locke - as it fell John and I both yelled ''face plant!!!'' while laughing at each other, I think we were loosing the plot at this point, with luck the camera impacted the sand and all was good.
It was one of those days, even during day time while I was driving along the new Toome bypass a truck carrying stones flew past, one of those big stones went air borne and impacted the van's windscreen head on, it was moving at some speed and the noise was loud and frightening, for a moment I thought it had come through, Roisin let out a yell, it was a sudden scary moment. The windscreen had a crack below however as I was driving to the coast for this shoot I noticed the crack had spread so it looks like I will be needing a new windscreen. After midnight there was talk of calling it a night and saving our energy for the following day however a sudden clearance lifted our hearts so we drove along the road and spent an hour shooting an old church with a scattering of stars, that soon closed in with more cloud and snow. We decided we would definitely head back home this time, however we agreed to stop at Downhill Beach once again for a last look before committing ourselves.
So there we where sitting in our vans on the beach getting hammered by wind and blowing snow, after 15 min's it eased, I was looking to the W for new development however I could see in the dark that John kept looking to the N and NE, he had his window down with mount taking test shots, then I heard him get out in a hurry shouting that he could see an anvil and mammatus. I grabbed my camera which was mounted on its tripod in the passenger seat then the tripod fell and the camera hit me straight on the cheek bone below my eye, to say it was sore would be an understatement, I felt like I had just been punched in the face, I thought the skin had even been opened and I was bleeding and bruised but John reassured me there were no marks. As soon as I saw the sky I forgot about the pain, the entire N and NE sky was covered by a large anvil with mammatus, the anvil was back sheared and lit by the nearby lights, here's a 20 sec exposure, moving L to R in the frame with nice structure.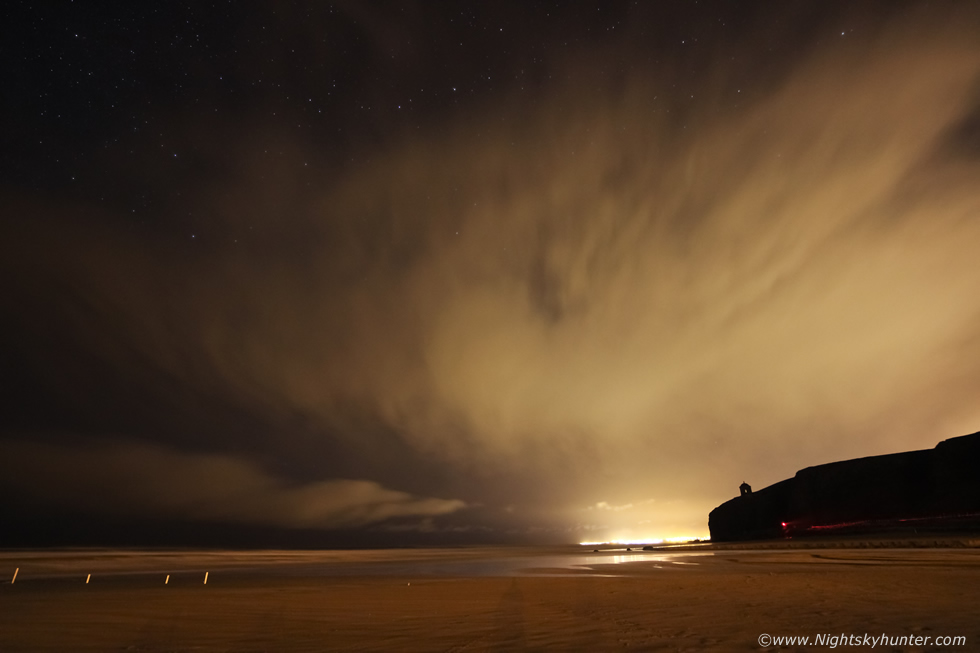 Same anvil a little later now further E and with winds aloft shredding the anvil, it looked great with Mussenden Temple on the cliff with stars appearing. We took as many exposures as we could and even a few selfies, this scene was without question the highlight of the night.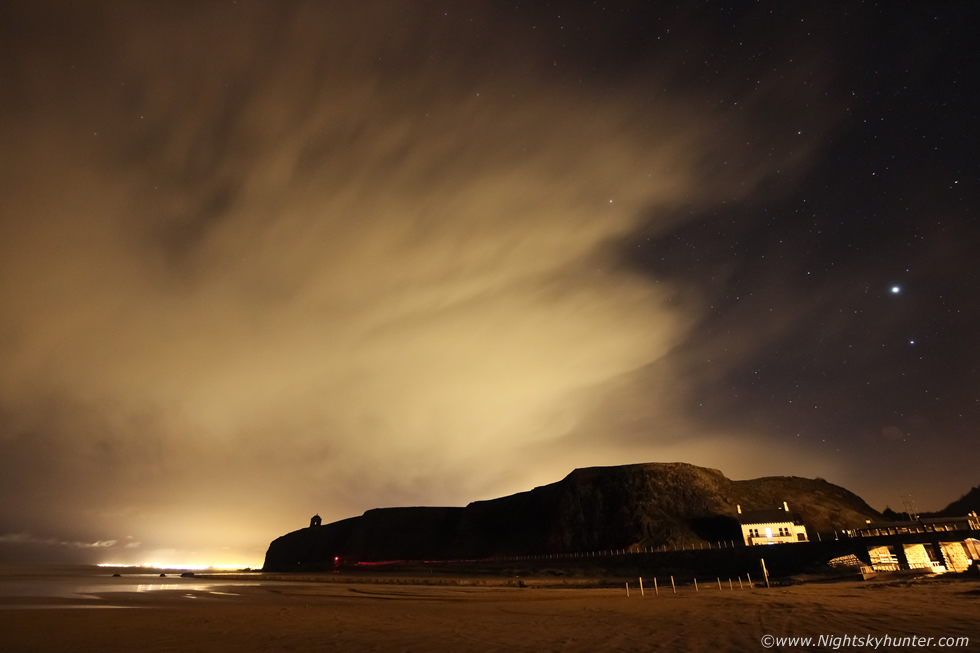 Another snow shower followed and behind it another anvil, moving R to L with planet Jupiter in the clearance. There's nothing like standing on a beach at night with camera mounted and ready with the rumble of the sea in the darkness. John and I stood and chatted for a while then we noticed a new cell arriving from the W which was growing rapidly, then we saw black sinking forms falling through the air towards the lights at Magilligan prison, the black forms were curtains of dense precip, so dense that they made the bright prison lights completely vanish until that area of coastline was complete blackness, we had never seen anything like that all night, we knew something big and heavy was coming fast, an eerie feeling arrived, the wind picked up and the first drops of precip began to fall so we went back to the vans for cover. Then it hit, the convective highlight of the night, a snow squall which whipped across the air at blinding speed, full headlight beams on, the air was dense with large snow flakes blowing sideways in proper blizzard fashion for 10 min's, the sight was spectacular, I tried to film it with the Go Pro and my phone but they didn't do it justice. Once it passed we considered it a good chase, we did the best we could and had decided that CIN had stopped any sparks, however at least we did get convective action, it was time to get some rest for round two tomorrow, after a careful drive home in the frost I was back in Maghera for 02.30.
I was hoping for a lay in as I had stayed up very late studying the models for today's chase however my dog woke me up early and there was no going back to sleep. John and I had agreed to meet for a daylight inland chase however once I saw the latest models I changed my mind, the CAPE had been downgraded, the precip was weak and CIN was present once more so I decided to stay home and John agreed also. The forecast was for clear skies so John and I decided that we would go back to the north coast for a photo shoot and perhaps get a star trail or time lapse done, that was the plan anyway. During the afternoon thinks suddenly got more interesting. A fast moving solar wind stream which was due to hit on the following night - which would be cloudy - had arrived earlier than expected with a solar wind speed of 600km/sec, furthermore the BZ was trending S and I suddenly began to get a good feeling, NOAA issued a sudden G1 storm watch. Now it looked like this night was going to be more interesting than expected, normally given the way the aurora season has been I wouldn't have been excited however my gut instinct was saying tonight would be different, I also liked the charts and the fact that Spring had arrived which often helps with aurora development due to more favorable magnetic field contributions which are not yet fully understood. A plan was formed and photographer Glen Miles decided he would join us also so it was shaping up to be an interesting shoot.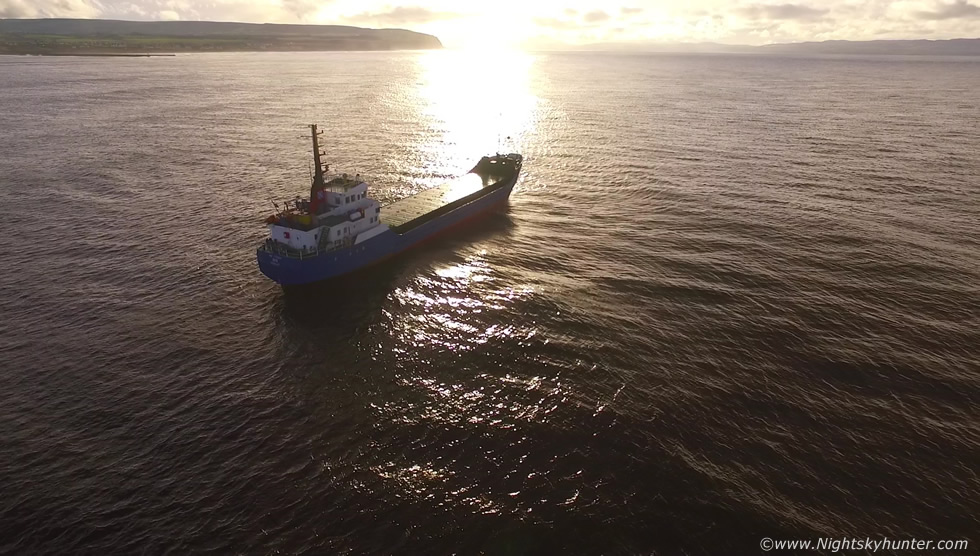 I left early, 1.5 hours before sunset, with the intention of getting a flight in with the drone before nightfall, once again Portstewart was where I would be meeting John. The drive N transitioned from grey clouds to glorious sunshine, upon arrival I noticed that cargo ship ISIS was still there and this time she was very close to shore so I made my way to Portstewart Strand and parked on the sand which gave me great line of sight and a launch position from the closest point I could find. What a gorgeous evening it was, sunshine, blue skies, approaching golden hour, the breeze was 10 knots coming from the W so I launched at an angle and flew over the sea into a headwind and arrived at ISIS which was bobbing up and down on the gentle waves at anchor, she looked great floating on the sun's glitter path.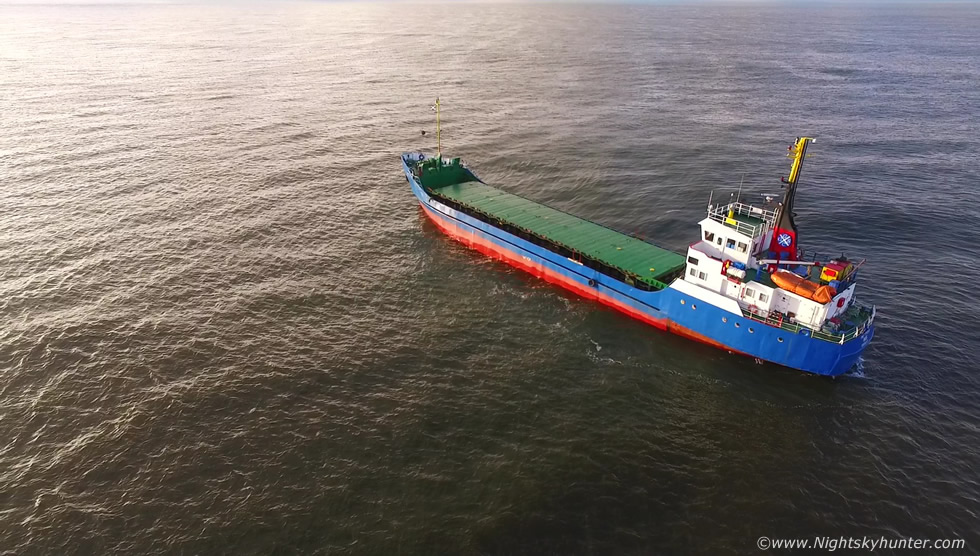 I moved the drone in a 180 degree wrap to the sun ward side of the ship for another look then after a suitable period of filming I turned around and flew back to the beach, this time with a tail wind which made the return trip much quicker. 15 min's after I landed she started her engines and sailed off into the sunset then entered the Bar Mouth before heading for Coleraine, you can view the drone footage here. I did another flight to film the beach and ocean at sunset then filmed the convent/college when I met John. Once again we had a coffee in Morelli's, enjoyed the sunset, then as dusk approached we hit the road and made our way to the Giant's Causeway.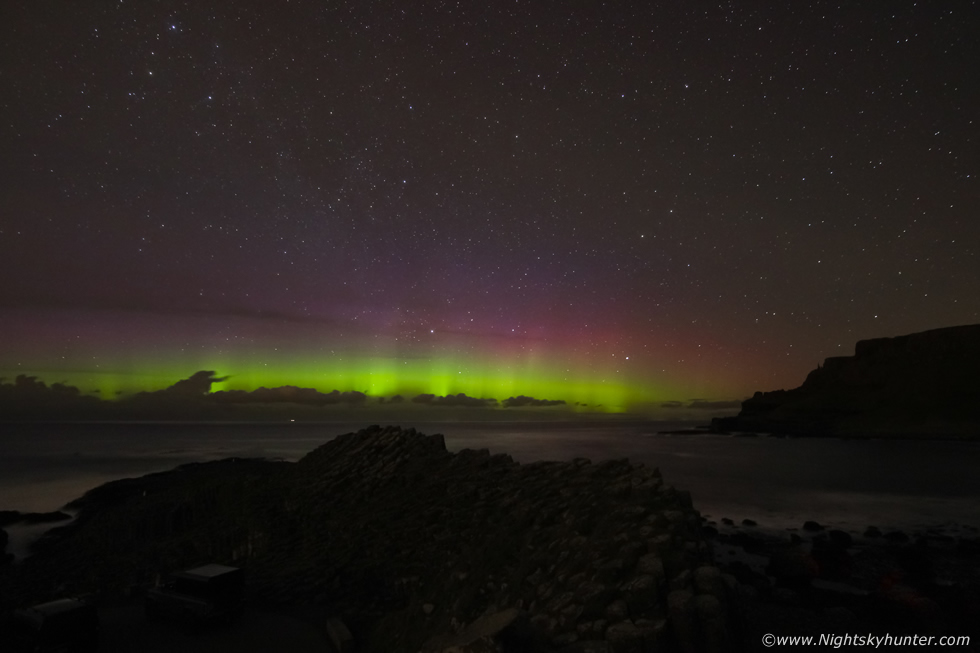 All three of us arrived and had the place to ourselves followed soon after by another car. It was still bright, the first stars were visible and the twilight was advanced but even so I sensed something was happening, the twilight looked different, the subtle colour and texture did not look normal, I suspected the aurora was already present. Glenn went for a walk around the corner to take a test image, soon he shouted that there was an aurora, it was already green on the horizon with purple on top as captured by camera, having that purple is always a good sign. I got the camera on the tripod which took approximately 10 min's due to a faulty screw then as the sky darkened further we could see the green band with the naked eye, actually it was surprisingly good and I knew by the look of it that an outburst was imminent. John and Glenn got set up with their own compositions then I decided to try the high ground behind me where I had never been before, so I climbed the wall and made my way up the steep slope full of rocks until I found a high outcrop of grassy rock which looked down on the car park and coastline from an elevated view pont, it would have to do, I had no time to be picky.
Then the aurora went into outburst and within seconds it was already the best aurora I had seen in more than six months, perhaps even as much as a year, either way it was happening now and our long wait had finally been rewarded. The visual show was highly impressive, even more so than what the camera shows, the horizon was covered in a complex network of vivid green/blue vertical spikes. I began shooting a time lapse/star trail, this was great because as the camera snapped away I was able to stand back in the darkness on this high position and take in the entire show with the naked eye in complete peace. It really was beautiful, I had never expected anything of this caliber so I was overjoyed with the way this day had worked out. I even recorded the sound of the ocean using the recorder on my phone to capture the moment, I heard John shouting from the darkness beyond, yelling with triumph, I yelled back, we were in the zone. More and more people began to arrive which unfortunately meant an increase in car headlights and head torches, these cars ruined numerous exposures and as a result they completely destroyed my time lapse. I don't hold a grunge because it's not their fault, one has to use headlights to navigate the dark road to avoid an accident as it's pitch black at the Causeway, I need to do it myself, however it still ruined my time lapse and star trail. The above image is one of the 30 sec exposures, the row of distant cumulus in the sky really made the scene even more contrasty. I climbed down to lower ground and reunited with John and Glenn, we had a conference, there were too many people here with lights so we decided to change location.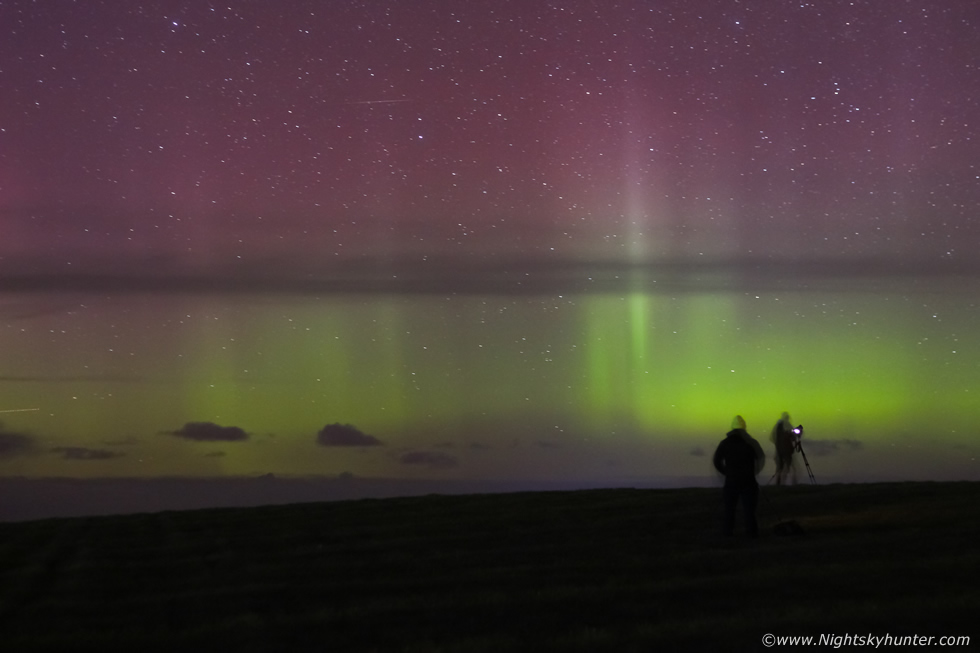 We raced along the back roads then arrived at Ballintoy, this time we stayed at the top and made our way across the fields near the famous church. This now felt perfect, it was exactly what we were looking for, darkness, total peace, solitude and more importantly no more people. The aurora had faded to a glow with no beams so we set up the cameras and did a star trail, I stopped to try a new lens for a different perspective, this time it was my old faithful 50mm F/1.8. Just as I got it attached the aurora went into another outburst. I quickly got focused using Vega then panned the camera to the N, John and Glenn where standing in the frame on the brow of the hill, I thought they added great foreground interest and a sense of scale, check out those beams.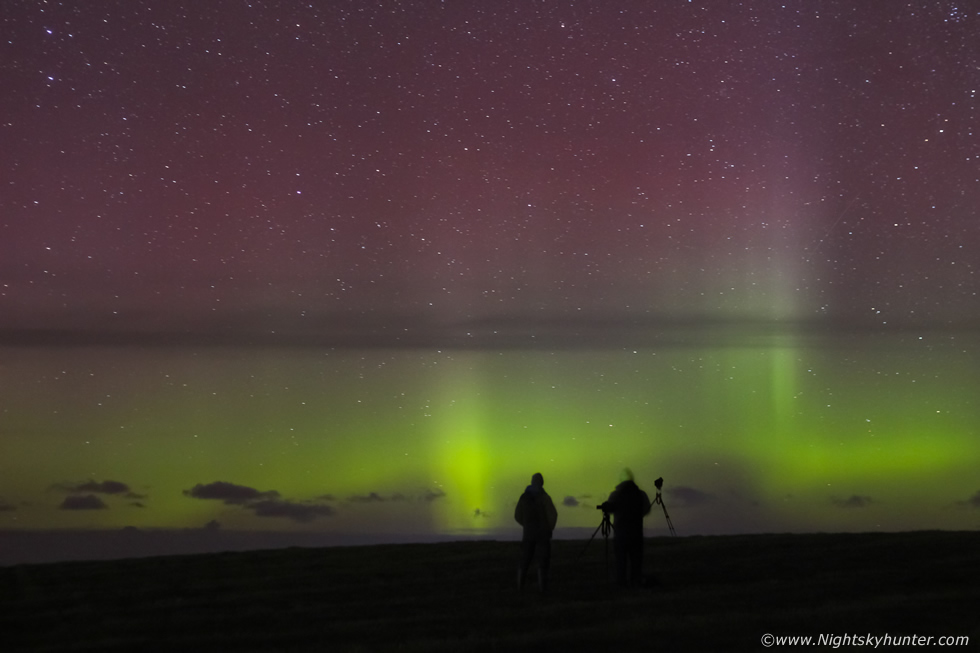 I shouted from the bottom of the field ''guys stand still'' and I ended up with this image which was one of my personal favourites from the night. The reason this one is special is because it captures a genuine authentic moment in time, a great visual and sensory experience. From my perspective crouched in the middle of this field in the darkness the scene was epic, the two figures with cameras shooting the living sky around them, green rays slowly danced across the sky from L to R while John and Glenn stood captivated, I loved this moment.
Switching to 10mm F/2.8 capturing Ballintoy church with aurora outburst and Milky Way with Vega rising to the E of the church. After such a cloudy uneventful Winter this was heaven, a beautiful aurora and perfect clear skies, it had been a long wait however now it was all the more sweet when it happened.
The star trail turned out perfect, I was really happy with this one. All three of us had a fantastic conversation while observing the aurora covering all aspects of photography, this chat with good like minded people really added to my experience of this aurora. After several outbursts and numerous hot brews later the aurora faded back to a glow, it looked like we had captured it at its best so after many hours exposed to the cold we decided to call it a night. The drive home was easier than usual, there's nothing better than a late night drive with no other cars on the road knowing you have experienced a visual treat from nature with a few nice images to take home as a digital trophy.
Short time lapse of the aurora (before outburst) and Milky Way over Ballintoy church at 10mm, you will see a sudden jump in the footage, this happened when I stopped shooting to check for dew and as a result there was a gap, however I thought I would include it anyway, these are the same frames used for the star trail above, thanks very much for reading.
Martin McKenna