Ballintoy Perseid Meteor Watch, Star Trails & Late Season NLCs - August 2018
Every year I look forward to watching the Perseid shower and the 2018 shower was no exception. In fact, expectations were high because the peak coincided with a dark moonless sky in which fainter meteors could be observed hence increasing the count. Although no outbursts were predicted this time there was no reason not to watch this major shower, with a zenithal hourly rate of 80-90 meteors it is without question one of the major showers of the year with the rarity of being enjoyed on relatively mild Summer nights. With dark skies, a reliable ZHR and a promise of unexpected fireballs my friends and I had been waiting for this event with much anticipation, we simply couldn't wait to get out under the stars for a meet up.
As chance would have it Roisin and I had been staying in Co. Donegal during the early start of the week leading to the peak of the Perseids. We where staying in a stunning white cottage in the middle of nowhere surrounded by dark skies and within 200m of the Atlantic Ocean, the location was devoid of significant light pollution so I had great plans of taking advantage of this location to observe early Perseids, undertake a DSLR meteor patrol and most of all shoot a star trail around the beautiful cottage for it offered terrific foreground interest. I stayed for three nights and four days and amazingly our stay coincided with an unsettled cloudy period of weather. I got lucky during the daytime and got two drone flights in over the coastline when the sun shone for a few hours on Sunday however the clouds piled in and the wind increased ceasing all my ground and air operations. I had no wifi in this remote area so I had no idea of the forecast and could only hope that I would get some clear spells over the three nights. I stayed awake on all those nights, no sleeping, I stayed up the entire night every night until near dawn in the hope of getting even an hour of clear sky, however shockingly I saw nothing but solid cloud.
However despite the cloud the stay was most atmospheric. Due to the material the roof was made from any sound was amplified a great deal, it seemed to have unique acoustics all of its own. Every night the wind blew, then howled all night long, being in such proximity to the exposed west coast was most certainly an experience to behold, the wind sounded like a gale, on one particularly windy night it almost sounded like a hurricane outside and the hammering of heavy rain sounded like hail battering the structure, in the semi darkness it was a thrilling experience, I love these sounds of nature, I find them relaxing, they remind me of the great wind storms I experienced many years ago at my prior home. Luckily I had the presence of mind to bring with me a selection of my old astronomy books to re-read at this most peaceful time. As the wind raged I read about meteor observing, comet hunting, the zodiacal light, gegenschien and even the science of fireball sounds, thanks to having no wifi or any disturbances I read two books within two nights which was time very well spent indeed which got me in the zone for the Perseid maximum due the following weekend. On Wednesday morning, my last night in the cottage, I peaked outside at 03.30 BST, the sky was completely clear, I saw a vivid starry sky over the cottage with pre-dawn twilight and a crescent moon proudly glowing in the east, then a few minutes later the clouds were back and rain hammered our cottage once more, these were the only stars I saw during my entire time here.
The nights may have been cloudy however the days offered a wealth of beauty to explore, on our journey back home Roisin and I took turns driving, we explored the stunning landscape near Glenveagh National Park and checked the ruined church at Dunlewy where Paul Martin and I had a fantastic night shoot several years ago, when I saw the location once again I vowed that we would return again for another shoot in the near future. I fell in love with Mount Errigal, it had such a presence about it, on day two we where on the west side of it close to Donegal's most scenic airport when I spotted the famous mountain miles away in the distance, there was some sun breaking through the cloud before sunset however it wasn't light which got my attention. We observed a veil of white cloud racing along the flank which circumvented the summit, it gave the impression of smoke from an erupting volcano, the naked eye sight was remarkable, it would have made for a wonderful time lapse however we had to get going so I took this memory shot with the 400mm lens, with a little imagination I hope you can see the volcano too.
August 8th/9th
The drive back took longer than we expected despite making good progress, it was a day of sunshine and convective showers and the light and landscape on the back roads was beautiful. I sensed the clouds breaking more and by mid afternoon large clear sectors had formed and I wondered would if it stay clear tonight, if it did I was going to hit the north coast and do a much needed photo shoot, there would be no question about it. By late afternoon I was back home exhausted, however there was no time to rest, when I got back in the world of wifi I discovered that tonight (9th/10th) would be clear, in fact, the forecast said 'long clear spells expected', it looked like the universe was conspiring to make it happen, and as it turned out I wasn't the only one pondering a shoot. John Fagan was hitting the coast too and after some last minute organizing Nigel McFarland decided to make a night of it as well, this was quickly becoming an organized watch. Even though we were still five nights away from the peak we would still see Perseid meteors, however the watch offered us a good excuse to shoot our first star trail and time lapse of the new dark season.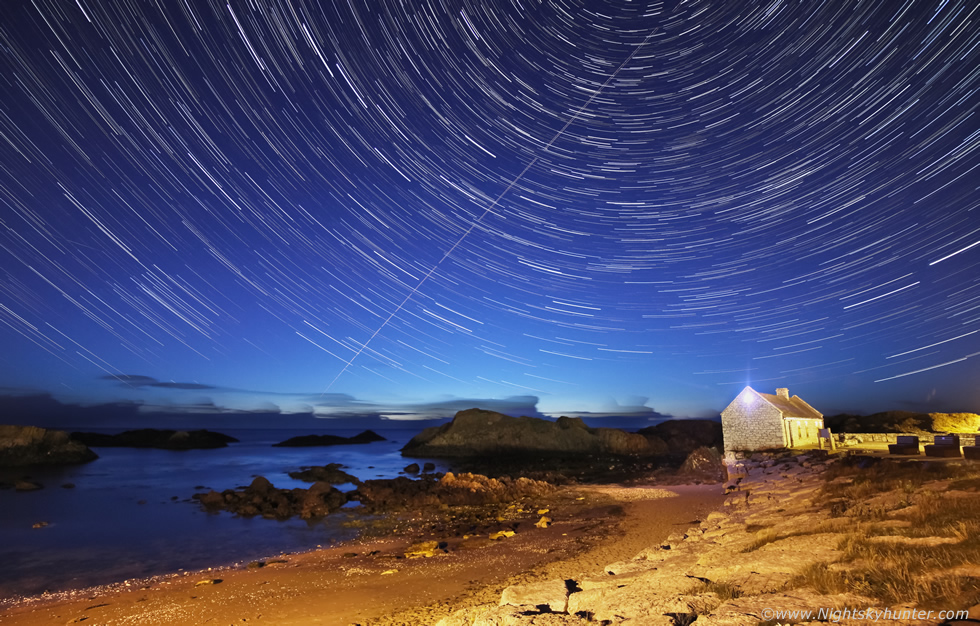 I packed the gear, charged the batteries, filled a flask and drove north at 20.00, I suddenly became very tired, a combination of the long drive from Donegal and the many sleepless nights spent waiting on the sky to clear, I grabbed a coffee and sugary snacks in Garvagh to wake myself up, I actually tried to pay for petrol however I hadn't even put the petrol in the car yet, I gave myself a mental slap and after my coffee I felt awake and sharp and continued on my journey. I arrived at Ballintoy harbour at sunset, then slept for 15 minutes before John arrived followed by Nigel then soon after photographer Jim Crawford joined us, it was turning into a great night and the sky was exceptionally clear.
We had some time to wait for darkness to settle in so we watched the sky and chatted, then Nigel surprised us all by taking out a portable BBQ, we couldn't believe our luck, we were all tired and I was feeling shivery so the thought of warm food like this was just what we needed, this was definitely turning into one of those nights. Nigel kindly cooked us burgers and sausages, in the gathering dusk we observed two amber coloured Perseids in the NW with glowing trains near Capella so we set up our tripods, I began shooting a twilight time lapse as we observed the sky while munching on our burgers, we began a meteor count from here on. This is a star trail from those patrol images facing Rourke's Cottage with the circumpolar stars, the trail from a passing plane can be seen dissecting the image.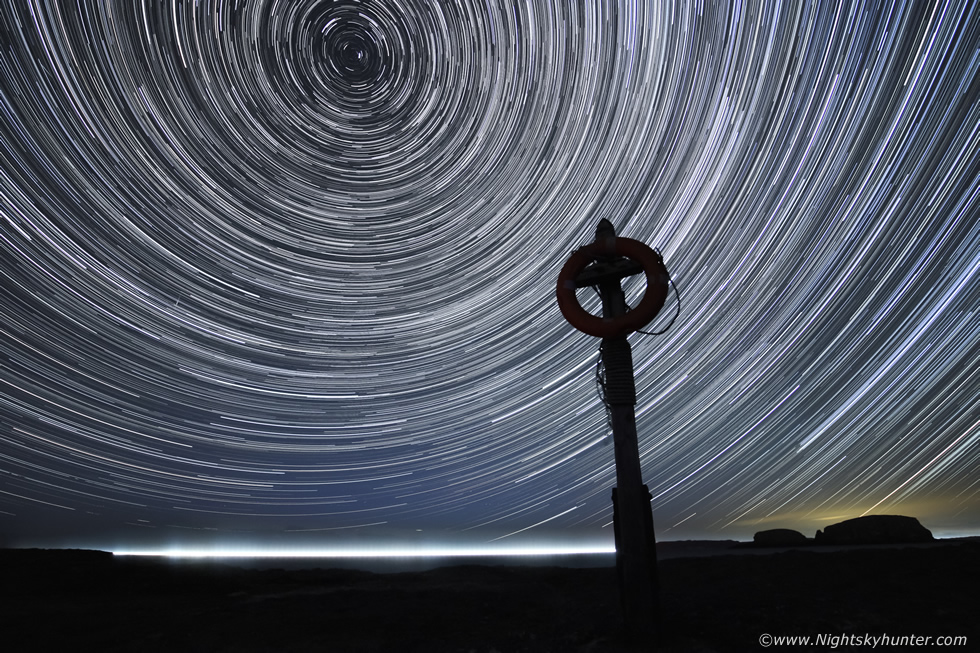 We all ventured down to the east side of the harbour and set up our three cameras on the rocks, from here we would spend the rest of the night. The sky was now completely dark with excellent clarity and not a cloud in sight. We chose this life ring as our foreground and decided to shoot a meteor patrol with the intention of using the frames for a star trail later. The cameras worked away in the darkness, mine was taking 25 second exposures with the 10mm F/2.8 Samyang at ISO1600. I wished I could have used a higher ISO however my Canon 600D crop sensor is rather restricted in that department, image noise is a major issue at ISO3200 so 1600 is the maximum I can use for best image quality.
We spent hours in the darkness watching the heavens, we kept an accurate count of what we observed, Perseids and non Perseids, not many people know that there are actually eight minor showers active in conjunction with the Perseids including background sporadics, so it's important to factor this in and be sure to only count real Perseids, the process is simple and elegant by simply back tracking any meteor to it's point of origin in the sky, if this happens to be from the Perseid radiant then you are seeing the real thing. The chat from John and Nigel was fantastic, it ranged from an involved discussion about meteors to non sky related topics, we had plenty of laughs and time seemed to go in fast. The weather was perfect, just a hint of a breeze to keep the dew off the lenses and yet not strong enough to make us feel chilled or uncomfortable. We observed a nice fireball shooting through Ursa Major at mag-6 with twin straight ion trains glowing in it's wake across the feet of the Great Bear, the trains lasted it for approximately 3 seconds, I shouted so loudly when I saw it I startled Nigel to the point where he almost fell over.
A beautiful cruise ship could be seen crossing the ocean horizon, it was clearly very far away however due its size it looked deceptively closer with multiple decks of lights glowing against the dark starry background, it made for a wonderful sight to compliment our watch. Pre-dawn was approaching, we had just observed 56 Perseids and 7 non shower members, this count surprised us all, actually it was quite impressive considering we were five days from maximum and we only had 60% of the sky covered, had we another observer facing E/SE we may have doubled this count. We were all very tired from lack of sleep and the effects of our personal lives which led up to the watch, on several occasions I almost fell backwards off the rocks as my balance kept going, I was paying more attention to the sky when I should have been looking at the ground, I'm pretty sure John said he was literally seeing double. The tide had shifted and waves began to rumble against the rocks, it was 03.15 and the N sky was beginning to glow, we were just about to call it a night when we spotted something suspicious.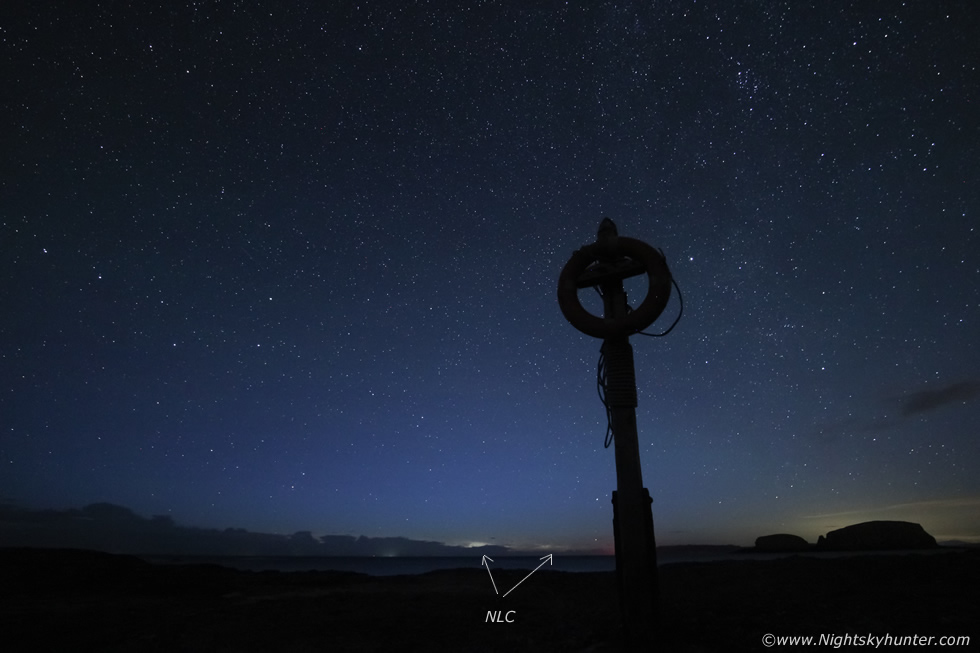 Above a distant line of dark convection was a localized glow which shouldn't have been there, as the clouds drifted the gaps between revealed the source of that glow. This was a very late season Noctilucent Cloud display, we immediately noted the importance of such a sight and began to get images before the clouds covered the show. This was the view with the 10mm lens when it had completed it's meteor patrol.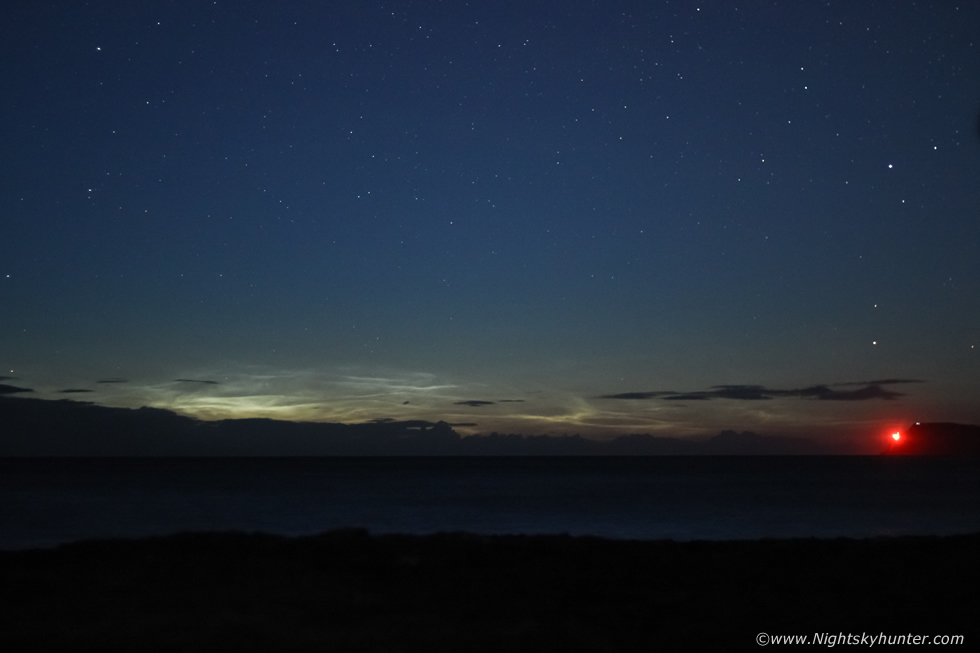 The NLCs where only two degrees above the ocean horizon but seemed to be growing rapidly in both altitude and azimuth. I switched to the 50mm lens for a closer look and began shooting several time lapse sequences. I have been observing NLC all my life and this is the latest in which I have ever observed them so for this reason they became the subject of much interest and talk among us. I estimated type 3 brightness with structure in the form of bands, knots and whirls, here's a sight you don't see every day, in fact, I have never seen this in my life. NLCs in proximity to Gemini with bright stars Castor and Pollux on the right, normally you never seen this alignment at all during prime NLC season.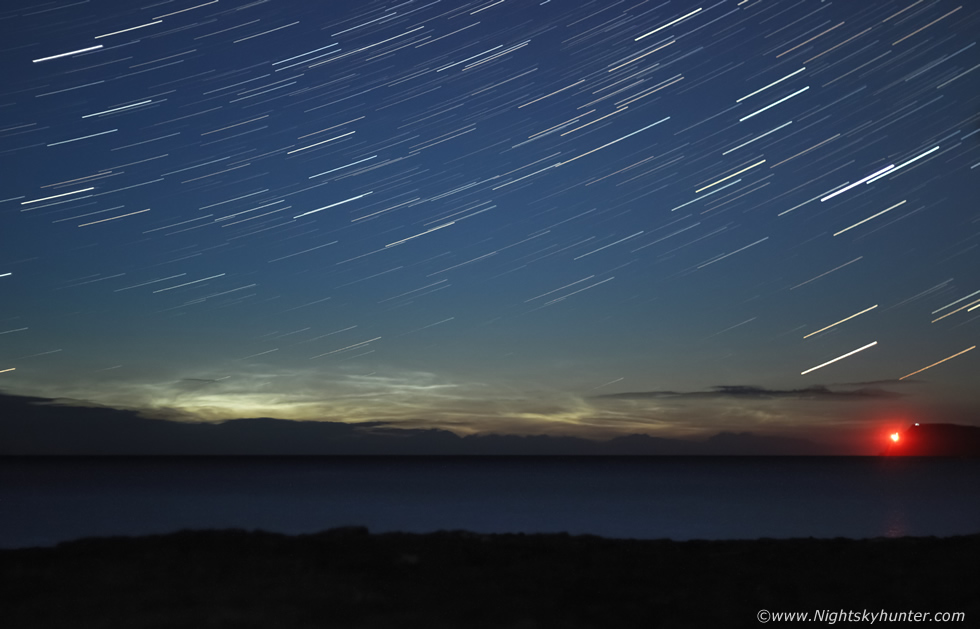 Here's another box ticked on my celestial list, NLC star trails, you just don't really get these during June and July as the twilight sky is too bright here and the NLCs are large, bright and complex. However approaching mid August the sky is darker, so much so I can make NLC trails, this is a first for me.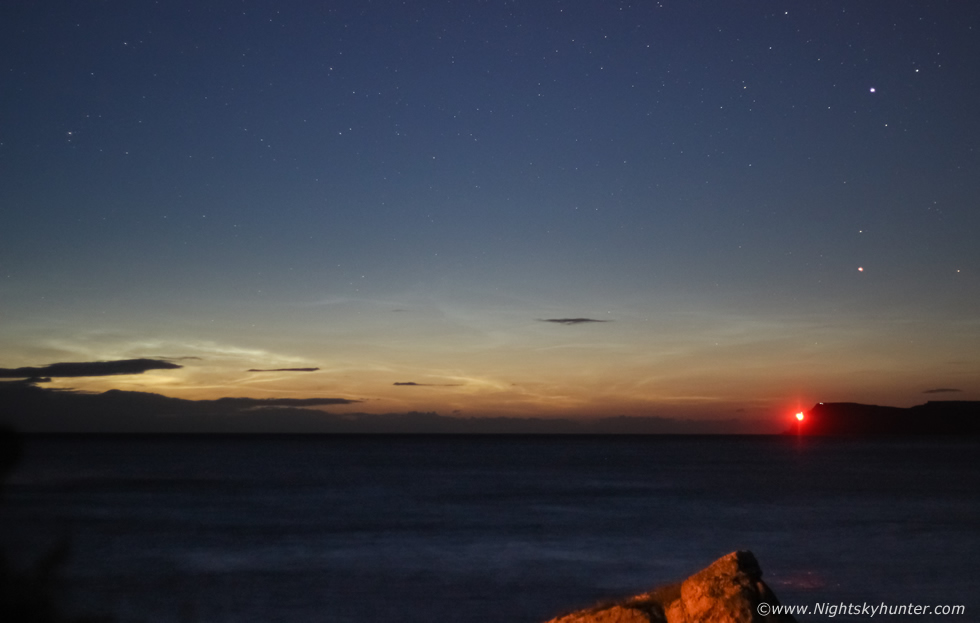 03.30 BST, NLCs higher, we where now on higher ground, our plans of going home had been put on hold for a while, the NLCs may have been low and unspectacular however they made up for this by their timing which made them much more rare so for this reason this display is actually the highlight of the season for me. This was the last exposure of the night, the red light is from a light house on Rathlin Island, just out of frame to the right a stunning red coloured slither of a crescent moon rose between Sheep Island and Rathlin, it was an astonishing sight like a red sail on a boat, it then changed to gold, the moon and NLCs in this picturesque sector of sky was the finale of the night and both of them were surprises from nature, John got an image of both in the same frame. This was our first night shoot of the season and what a night it was, I made it home for 05.00 BST, I slept happily and content.
August 10th/11th
The weather forecast looked bad over the weekend with the Perseid peak clouded out for many so we took any chance we could get before then. As luck would have it Friday night had an encouraging clear forecast and being only two days from maximum we decided to make the most if it and another watch was arranged back at Ballintoy Harbour. We all met at the car park, our observing team consisted of Conor McDonald, Paul Martin, John Fagan, Glenn Miles, Jim Crawford and myself. John Fagan treated us all to a much welcomed BBQ, to make the occasion more atmospheric we prepared the BBQ inside a cave close to the sea. Within the darkness the BBQ coals glowed while bats darted around the entrance, our view outside was to a twilight sky with Capella winking softly. We devoured burgers, sausages, even curry sausages, then finished these off with a brew and warm apple pie supplied by Jim and his Wife, we were certainly spoiled this night, once fed and warmed up we packed our gear and hiked around the west side of Ballintoy to the dramatic stacks in the ocean where Ballintoy meets White Park Bay.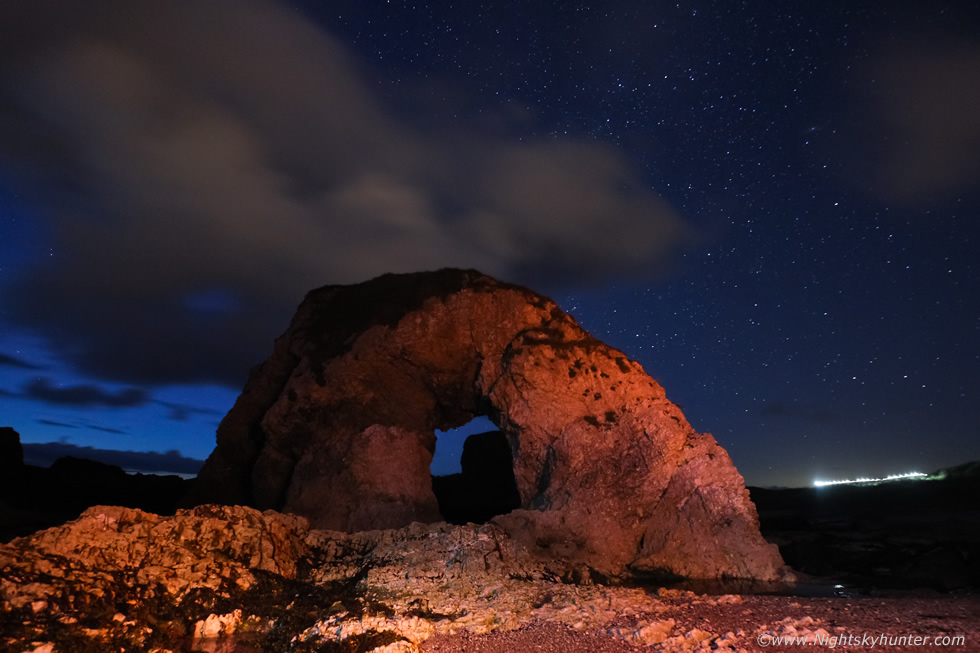 We had just arrived and had barely settled in when I decided to get several exposures of the beautiful coastline here. This is one of the 50 million year old Jurassic arches, the twilight sky was still bright however it was gradually merging into astronomical darkness with numerous stars already on view. Glenn used his red head torch to light up the rocks, I was half tempted to shoot a time lapse here however I declined because I was facing the radiant and I would have needed a light on these rocks for the entire duration of the lapse which wouldn't have been practical tonight so instead I opted for several stills for the memory.
Everyone was settling into their own choosen positions, aligning cameras, focusing, and adjusting to the darkness. Above the arch Perseus and Cassiopeia can be seen with Double Cluster between, the Perseid radiant is in close proximity to this region. If you know your sky you will easily spot spiral galaxies M31, M33 and open cluster M34.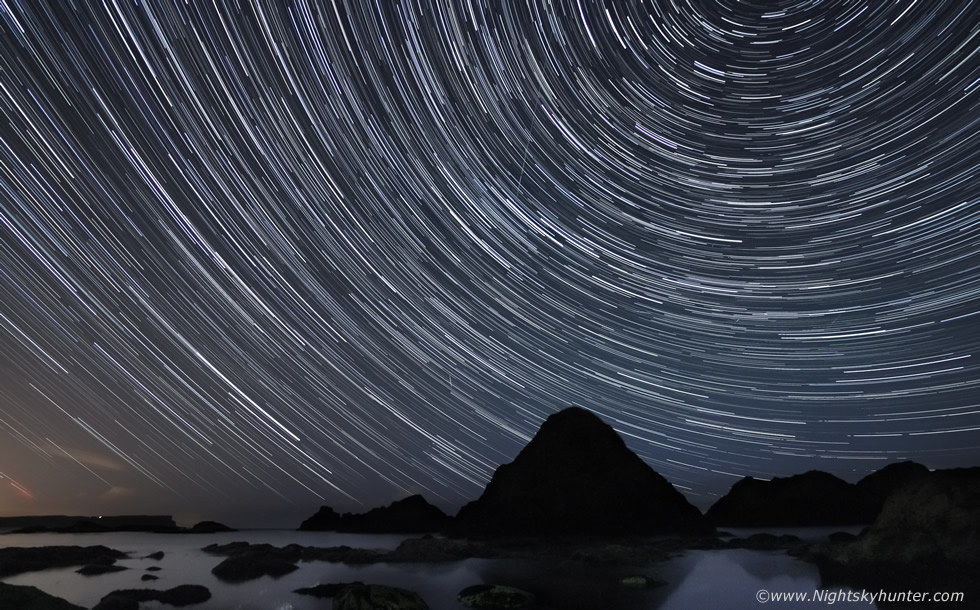 I finally picked my spot looking out to sea at this pyramid shaped stack facing N to NW some 60 degrees from the radiant, the tide was out and the ocean so calm and quiet that the stacks could be seen reflecting upon the water. We spent the rest of the night watching the skies, six figures in the darkness, all shooting the sky or patrolling or visual observing our both. I shot 25 second exposures on continuous shooting with the intention of making a time lapse and star trail while hoping to catch a bright Perseid in the act too. We all kept a count out loud and shouted when we observed a Perseid, the atmosphere was beautiful, tranquil, and the sky was majestic. With no moon and good transparency the night sky was exceptional with naked eye stars visible to mag +6.3 at the zenith. The Milky Way was glorious, we all agreed it was the finest we had seen it in a very long time with two bright streamers passing from Cygnus into Aquila with naked eye structure, the North America Nebula (NAN) could also be discerned without optical aid however it was the section of Milky Way where Aquila met Scutum which blew us all away, at a casual glance it looked like an irregular oval of cloud in the sky, except this patch of cloud never drifted away in the breeze, this cloud was actually the Milky Way dust lanes and star forming regions.
Suddenly behind us we observed three bright naked eye stars in the shape of a triangle moving S to N through the southern Milky Way into the Zodiac constellations. Conor and I had observed triangular satellite formations years before, however they are not a common sight at all and more often that not the satellites were mag +5 or even +6, so rather faint. However this formation was unlike any we had ever seen before, all three stars which formed the apex of the triangle were vivid white stars at mag +1, the sight was stunning!, then like some UFO it gradually faded then vanished as it entered the Earth's shadow. The conversation was great, we talked about all things meteor and comet related then about many things which were not related to these, I have never laughed so much in a long time, my sides were actually sore laughing. We ended up counting 135 Perseids, a exceedingly good count for two days before the peak.
Above is a star trail of the stack, two faint Perseids can be seen to the lower right, the other trails are satellites. I observed several bright Perseids in the region of sky where I was patrolling however none of them appeared on camera. Capturing meteors on camera can be a difficult task, it comes down to a combination of a good sensor and lens, hard work, long hours, and a lot of luck. Meteors need to be very bright to show up well on a DSLR sensor, even moderately bright naked eye meteors will look like faint streaks on camera, one really needs a brilliant fireball to show up well, however none were seen on this occasion. I was using a crop sensor and fast 10mm F/2.8 lens however I didn't capture many Perseids, but this is the fun of meteor showers, they are unpredictable, you might not catch any, however five minutes later you could have the fireball capture of a life time.
We stayed until pre-dawn, had another brew for the road and made it home for 05.00 BST, it was a great clear night under the stars at an old favourite location and the conversation was the icing on the cake, it's great to be in the company of like minded people. Here's a short video clip showcasing the 'bat cave', BBQ, and a time lapse of the sky using the patrol images taken. The dark nights have returned and many new photo shoots are planned for the future, we will no doubt meet up later this season for the Taurid, Orionid, Leonid and Geminid meteor showers, thanks very much for reading.
Martin McKenna