Ardboe Thunderstorms - August 18th 2010
600-800 CAPE, LIs between -2 and -3, E-moving trough and decent lapse rates so things were looking good for August 18th for heavy showers and thunderstorms across N. Ireland. It was far from a perfect set-up however due to the presence of CIN along with a lack of surface convergence and wind shear which meant that any storms which did form would not be severe in nature. Despite all this it seemed there could be potential for a good day out so I was feeling very focused for a chase. My only real concern was solar insolation so I hoped I would wake up to a clear sunny morning. During the night before I was trying to decide on where to go, I favoured the Lough Neagh basin during the early afternoon since instability was greatest in that area, then from late afternoon into evening E areas of NI would become the new target area since GFS showed the CAPE moving in that direction through the day. I decided I would look at it again in the morning when more accurate 'nowcasting' could be done.
Woke up at 08.30 and checked the sky, all was great, the sky was clear and blue with a bright Sun already getting to work on the ground so I had no more worries about solar heating, thank goodness for that. I could already see trains of high quality early convection bubbling up in the Wly flow which really got my attention because seeing crisp congestus tops that early in the day meant things could really get going in style later. I got a text from Conor McDonald at 09.00 informing of several anvils he sighted far away to the N, he predicted I could be in action later so things were looking positive. Shortly after this I made a quick breakfast, got the camera gear ready and stepped out into my back garden with a brew to study the sky. There was a stunning cell to the SW of Maghera on the other side of Slieve Gallion, it was moving slowly E over Lough Neagh, I was quite shocked by how impressive it looked for this time of the morning, the anvil was perfectly symmetrical in shape and of huge size with dark base and core. The flow was extremely slow so the cell seemed to inch forward at a Snail's pace so I had plenty of time to watch it, and the more I did the more I began to feel the urge to get on the road much earlier than I had planned. I was tempted there and then to jump in the car and head for the Lough, something put me off though, perhaps it was the realisation that the cell would be further to the E by the time I got there so I was in two minds about what to do. What I didn't do, and what I should have done, was take an image of the cell however for some reason I didn't.
I got the first of several text messages from fellow Maghera chaser Declan O'Doherty, he had been watching that same cell too from his home since early in the morning and was getting just as impressed with it as I was. As the min's ticked by the anvil became more solid so there was a possibility this was an active storm (turns out there where no sferics from it) and after a few more text messages I felt that some forward progress needed to be made, not only about the cell, but about a chase location for the day. The radar was still fairly quiet in central Ulster except for our cell of interest with the blimp-shaped anvil so it was still early days yet. I hate not doing anything when there's good convection around however at the same time I didn't want to get suckered by going after an early target and miss action elsewhere, especially if it was close to home. I needed to do some brain storming so I jumped in the car and drove to Declan's house, there was no answer and the car was gone so I had missed him, I sent another text asking for his location so we could RV but it wasn't needed, Declan arrived in his car and pulled up, he had been out the road watching that huge cell so we got chatting about that and formed a rough plan. We would stay in the local area before making any pre-mature decisions on a longer chase so decided to monitor the sky close to home.
There was no point taking two cars so Declan hopped into mine with his camera gear and laptop then we drove out to the countryside on the N side of Maghera to the W of the Coleraine Road which meant driving along lovely narrow country roads with scenic fields on either side, a pleasant place to watch the skies indeed. We pulled up at an elevated position and got out for a visual. It was stunning hot morning with intense sunshine and calm conditions and the sky looked beautiful with plenty of crisp and fairly tall convection going up everywhere, there where good towers to the N, NE, and SE, our beast of a cell from earlier in the S, and new cells moving in from the W. We chilled out for a while enjoying the view and soaking up rays while watching those updraught bases for funnel clouds and had a great chat about storms and telescopes.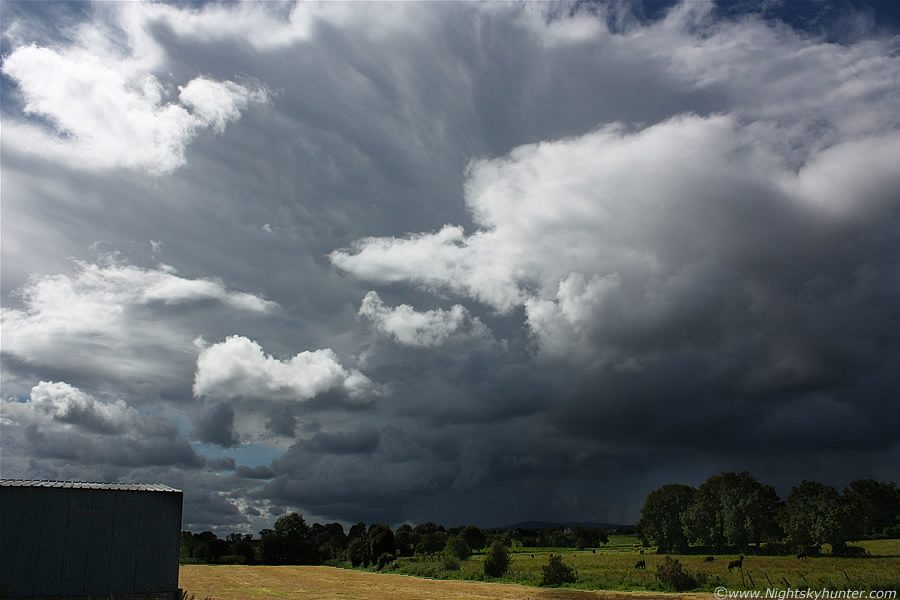 We spotted another huge cell moving in slowly from the W over the Sperrins, from studying it's movement it was apparent it would pass by us at close range to the S of Maghera so we decided to move to a more favourable location so we got back in the car and drove further W along our country road and pulled up on flatter ground which gave us a better view. The above image shows the leading edge of that cell, moving R to L with it's precip core intensifying as it soaked the ground on the N side of Slieve Gallion. It looked a nice sight with it's dark base contrasting with the sunlit fields below where Cows and Horses grazed contently. The anvil was leaning forward in the direction of travel towards the E sporting folds/wrinkles with small mammatus under the anvil canopy. Not a bad sight at all for 12.20 BST.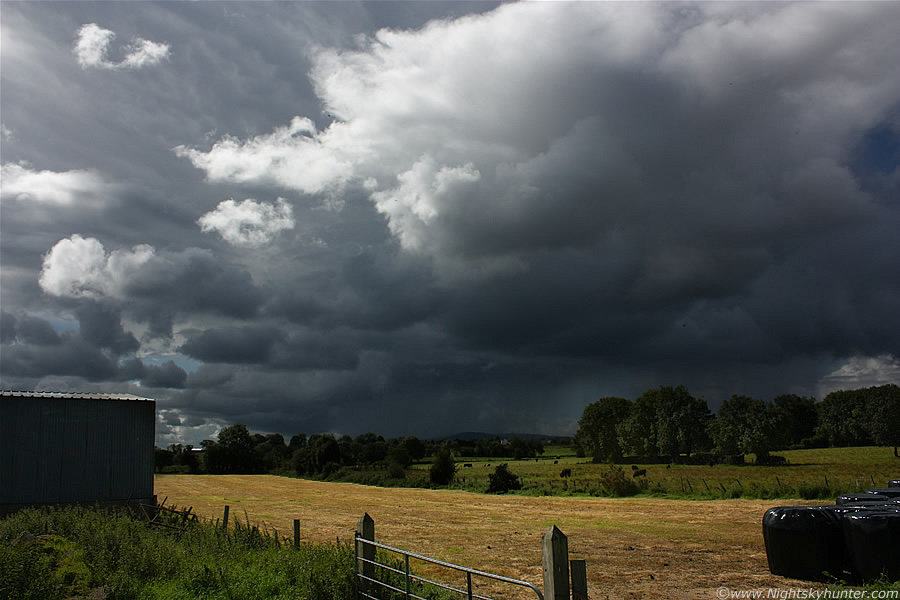 The back edge of the anvil (out of frame to the upper R) was actually very solid in form however much to our surprise it was nothing more than a photogenic subject as no sferics came from it. The trough was still out W and would move inland during the afternoon so now was the time to make a decision on what to do. From a careful period of visual observation it became obvious that the convection was significantly more vigorous in form further to our S behind Slieve Gallion so we decided that the Lough Neagh area would be the best place to be. We drove to town, got a few supplies, then went back home where I left the car behind then went back to Declan's as he volunteered to drive for this one. We hit the road for Lough Neagh, our target location was on the W shore of the Lough in Ardboe, we figured Ardboe point at the old Abbey Cross would be a perfect place to be.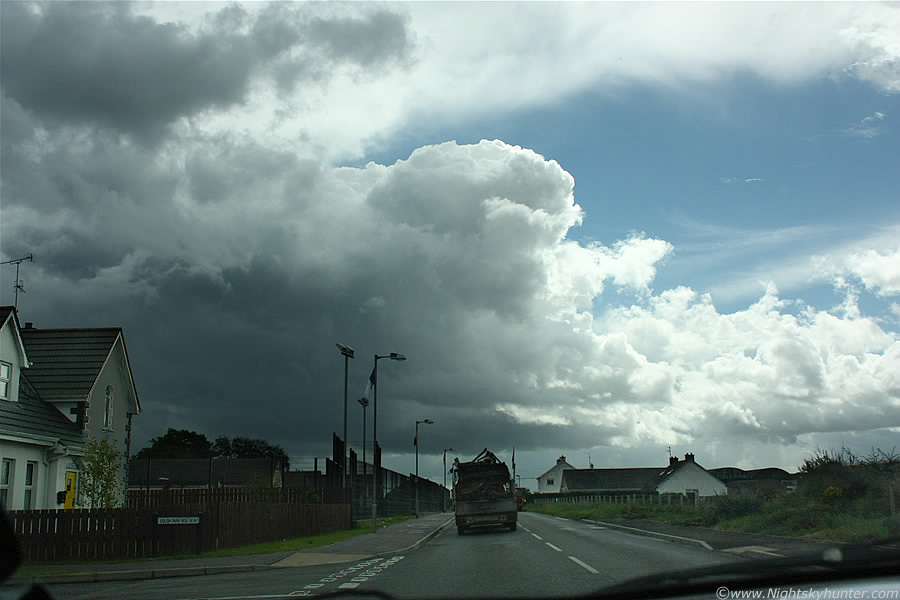 Somewhere near Ardboe as we headed S along the shore of the Lough, which could be glimpsed at times through the trees to the LHS. Crisp tower in front of us moving R to L at the rear of another cell, you can see the flimsy anvil belonging to that one at the top of the frame. To our R (W) was another huge cell moving in which looked quite impressive and which definitely seemed like our first target since we entered this area, it was moving E in our direction so we would likely encounter it at our planned destination. In the wing mirrors we could see a very dark and fairly solid looking gust front on the leading edge of that cell making a beeline for us. We stopped at the Lough shore and made our way through the old Church ground and ruins until we reached the back of the grounds which took the form of an elevated grass embankment with a stunning view across the entire Lough, it was beautiful, there was even a wooden Summer seat facing the wide expanse of water so we had some creature comforts.
The gust front we spotted from the road moved in, it didn't look as photogenic as before so we dismissed it, that was until it let out a rumble of thunder, that was a good feeling because it completely vindicated our choice of location, I suspect this was probably the first inland thunder of the day in the country so we had already succeeded. The precip core under the guster past over us so we took shelter under the large stone archway which formed part of the Church ruins, the downpour was moderate in strength and not something we wanted to be standing under in the open incase we got struck by lightning. Declan used the opportunity to take a few 300mm shots of a large Heron perched on a rock at the Lough shore while the shower did its thing. The cell then passed over the water and seemed to switch off and gave us no more trouble. At least we had got off to a good start.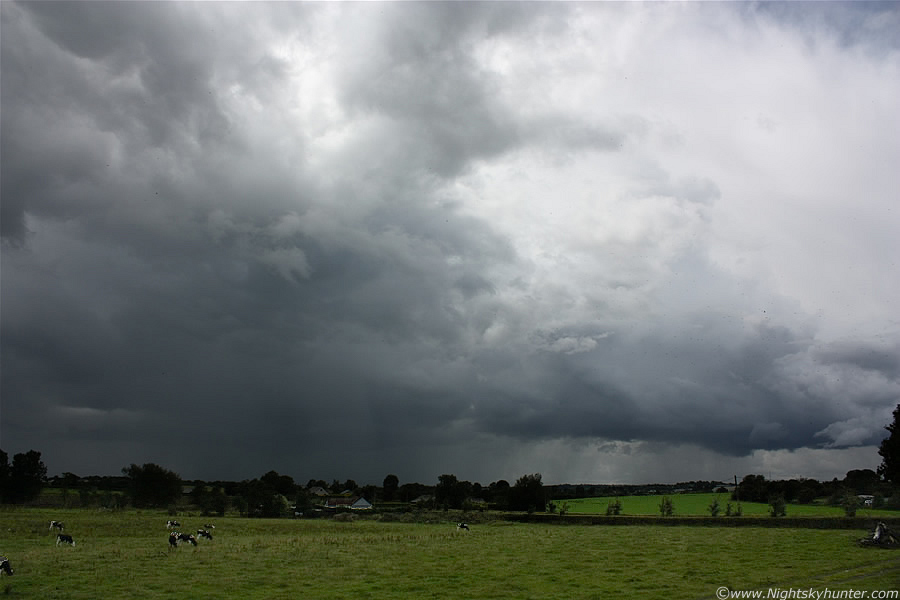 We knew the trough was slowly approaching from the W so things would only get better through the afternoon and there was no shortage of solar heating so everything was on form. A trough is another source of lift (solar heating is another) so the showers would certainly pep up when it moved in and that's when we expected more thunderstorms to break out. We spent a long time at this location watching every tower and cell while enjoying the view, there was a good atmosphere here because we where close to nature while being surrounded by peace and quiet with no one to disturb us. Just before 14.00 BST we saw another line of cells moving in from the distance, these looked considerably more potent than anything else we had seen all day with solid updraughts along the leading edge with several tall anvils behind. I took this shot from the edge of the grounds while standing between the headstones, the convection really looked the part and seemed a good candidate for another storm so we obliged it with our attention. Our view was hindered somewhat by trees so we decided to move into the field adjacent to the Church which involved jumping over a wire fence while carrying cameras and tripods.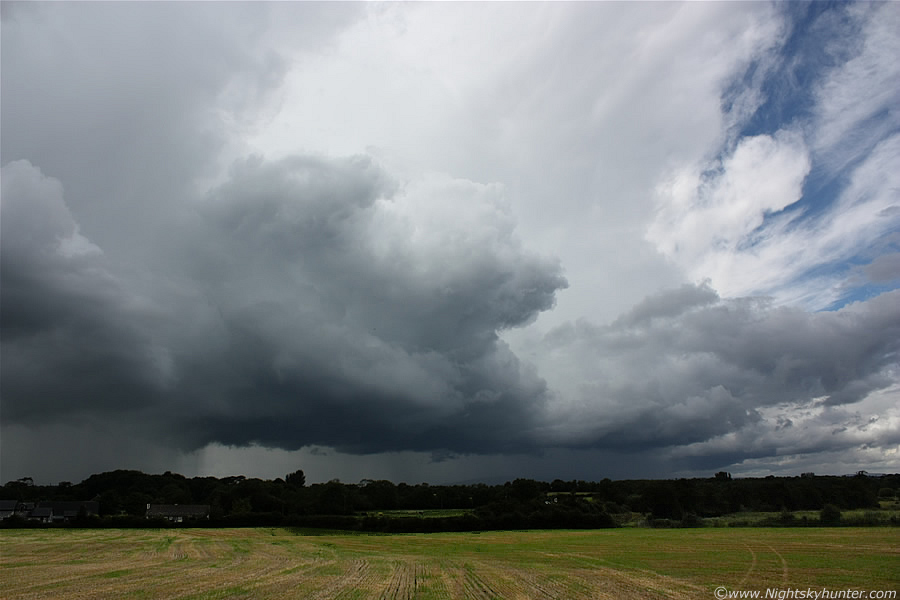 This was from our new location in that field which featured the ruins of another old building with tall wall made of rocks so we climbed up on this which gave us a great vantage point. Our developing storm now looked much more impressive, in fact it was the only decent structure we saw all day so we were glad to get something relatively photogenic to train the cameras on. The above image shows the leading edge of this line, moving L to R and towards us at the same time, there where several large anvils on show with the leading one being the most spectacular, at front was a line of solid towers at the outflow region with strong precip breaking out. The other side of the line extends far our of frame to the L with its S side already moving over the Lough behind our L shoulders.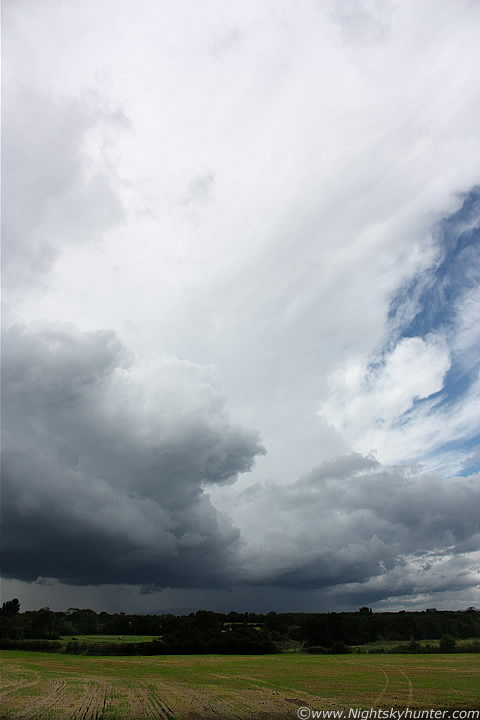 Vertical shot of the leading cell showing that tall anvil, the anvil itself extended far above the frame, through the zenith, and into the E dome of the sky behind us leaning over the Lough with mammatus on view. Declan noted the change in wind direction from a Wly to more of a SWly so the cells were now moving to the NE.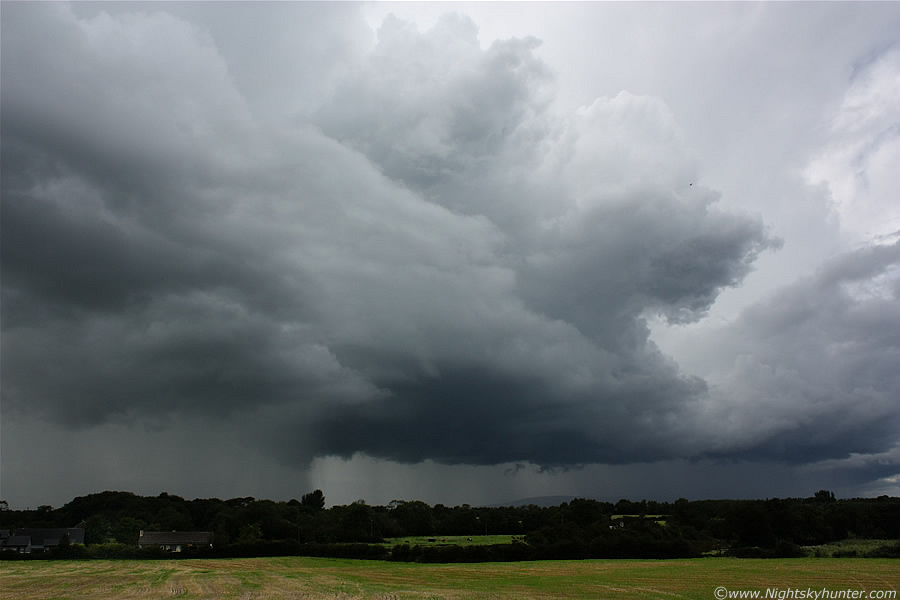 It looked quite impressive as it got closer and mocked my wide angle 18mm frame with it's size, Declan and I were busy shooting this before the precip arrived and the photo opportunity was lost. The precip core to the L became very well defined and heavy. I got a text from Conor reporting thunder from Draperstown, in all likely hood the rumble he got probably came from this line as Conor was located further W in that direction. The mountain in the distance is Slieve Gallion, we where positioned to the S and E of it - exactly where we saw the stronger convection earlier from Maghera so we had made a good move by coming here. The line passed over us with it's S side crossing the Lough, it was then that it sparked up and produced a few quality rumbles of thunder of very long duration which seemed to echo across the water, no doubt the long thunder was caused by several c-gs firing one after the other although we couldn't see the bolts. The back of the precip core looked quite a sight as it lazily crossed the water sporting the typical dark blue colour of a thundery sky, it rumbled several times again as it made land fall further to the E in the Antrim area. This was storm number two.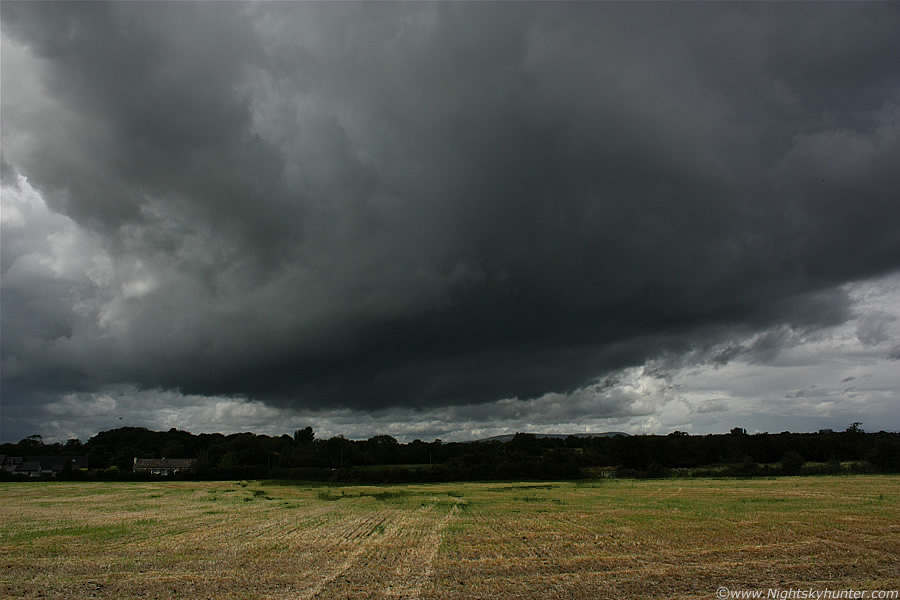 After the storm passed through new convection arrived and bubbled into life rather quickly. This dark updraught base got our attention which was quite solid and low to the ground and since it was at an inflow-based stage of it's life we reckoned there could have been a chance of a funnel before precip broke out and swamped the inflow. This is looking W as it moved slowly from L to R across these fields.
Then this lowering of scud suddenly formed below the updraught base and put on quite a show as it began to rotate while performing very rapid vertical lifting motion as it curled in an endless dance for a long time as it tried to wrap up, it was doing a stunning job of it too, so much so that both of us began shooting with the cameras as we expected a funnel to form at any moment, however that moment never came so it teased us before finally giving up the ghost.
It was obvious the trough was bringing the showers to life over a wide area at a rapid pace so we were eager to find out what else was going so Declan checked his laptop, unfortunately there was no signal in this area so we decided to drive for a bit until we got one. We found a signal further N then pulled into the car park at the Battery Harbor to study the latest on the net. Our storm over the Lough at red and white radar echoes and looked healthy, further to our SW new cells where moving NE so we decided to hang about to see if they came to anything. Then we heard loud thunder rumbling in the distance, again it was the high quality long duration rumbles which didn't want to stop, then another, and another, those where the radar echoes we saw to the SW and they sure sounded like active storms so we hit the road again and drove back S to the Cross again on the Lough shore. The visual scene in that direction was not impressive, just a mass of grey cloud and a large precip core, the actual storm (s) must have been behind it on the other side so our few was blocked by a slow moving messy shower, if we wanted to get to the storm we would have had to drive a considerable distance S, they where likely in the Dunganon area and crossing over the SW portion of the Lough so we decided not to chase this one since it was already crossing water so we just watched and enjoyed the thunder booming in the distance, that was storm number three. We could hardly complain though, we had heard 14 rumbles of thunder from three different cells so it was a success.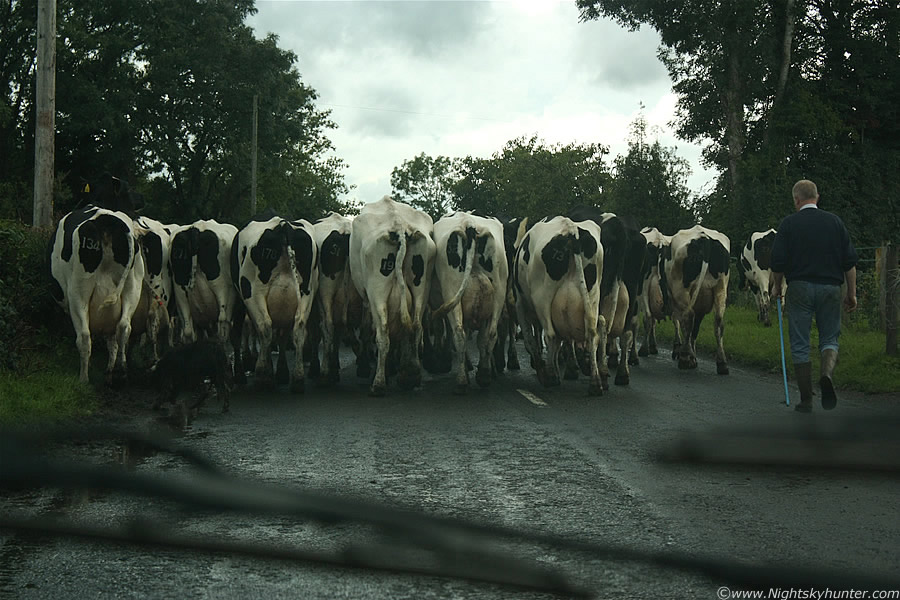 A clearance arrived and a new cell appeared, it looked the part, solid, black, large, with a well defined precip region so this became our final target of the day, instead of waiting for it to come to us we decided to give chase and intercept the cell head-on. As we drove through the country roads we saw a defined solid updraught base well separated from the precip core which was a surprise considering the lack of shear, a large lowering of dark cloud formed under the updraught and it was game on. Just as we where advancing our chase came a to halt when this herd of Cows moved across the road from a field to the R, it seemed there was no end to the amount of Cows that walked onto the road so we where struck here while or cell and lowering did whatever it was doing behind the trees to the L where our view was blocked. After what seemed like forever we got on the move again and pulled up on the side of road and watched the base, by then it looked cold and lifeless with slow moving scud hanging below, we took images anyway and once the precip hit we decided to call it a day, it was obvious the trough had already passed through and was further E so we began the drive home.
On the way back we spotted a huge line of storm cells taking up a large chunk of the N horizon, they looked like a massive white wall of convection with calvus tops and anvils, we where tempted to give chase but it soon became apparent that they where further away than we thought, as it turned out these where storms over the N coast in the Coleraine/Portrush area and we could see them all the way from S of Maghera!, looking back on this I wish I had a taken a few snaps out the window as they where rather impressive. It was a fun day with enough convective activity to make us satisfied, the only thing lacking was storm organisation and impressive structure, on the plus side we probably heard more thunder this day than we had all year, that's what the 2010 season has been like. A quick look at the charts when I got home revealed a fairly active day across central and E N. Ireland with plenty of sferics and thunderstorms and by good fortune we where positioned within or in proximity to one of those main areas. Thanks for reading.
Martin McKenna