Spectacular Antrim Coast Sunrise - May 25th 2013
The 2013 Noctilucent Cloud season had started early with displays being reported almost every night from various locations in N. Europe and Scotland however with an abundance of cloud cover in recent nights I only got to observe one faint display so I was eagerly anticipating a clear night to catch a more complex formation. If this was not enough to grab my interest there was also a CME inbound which was expected to hit on the night of May 25th/26th which could generate a good aurora display, in fact, minor storm conditions were forecast so these two events alone were enough to get my mental wheels in motion. It was a sunny warm evening with strips of cirrus cloud streaking across the sky which generated a beautiful 22 degree sun halo, however despite it's beauty this was also a warning for long duration halo displays liked to form on cirrus clouds which are most often present ahead of an approaching warm front which meant cloud and eventually rain would be moving in. The television forecast showed it to stay clear over central and E areas with frontal rain arriving the next day however it was obvious that high level cirrus cloud was not anticipated by their charts, however despite this I had already decided to go out on a photo shoot, I was thinking of hitting the Co. Antrim coast to hunt for NLCs and aurora. I got back online and noticed I had a facebook message, it was from Omagh photographer Paul Martin who was thinking the exact same thing as me and he was also thinking of the coast as well so very quickly a plan was in place and the adventure began to unfold.
Paul met me in Maghera after sunset and together we drove to the coast however as we drove it became apparent the coverage of cirrus cloud was not going to provide us with a decent clear sky at all however instead of giving up we decided to go ahead anyway because even if it did turn out to be overcast there was still so much to photograph from this amazing coastline even under cloud cover and the time could be used to explore and discover new angles and locations which could be put to use during future shoots. Paul said ''we will make our own luck'', this was a sentence I really liked, the positive energy got me buzzing and I recalled that any time Paul and I met something cool always happened so I knew in the back of my mind that we would not return home empty handed.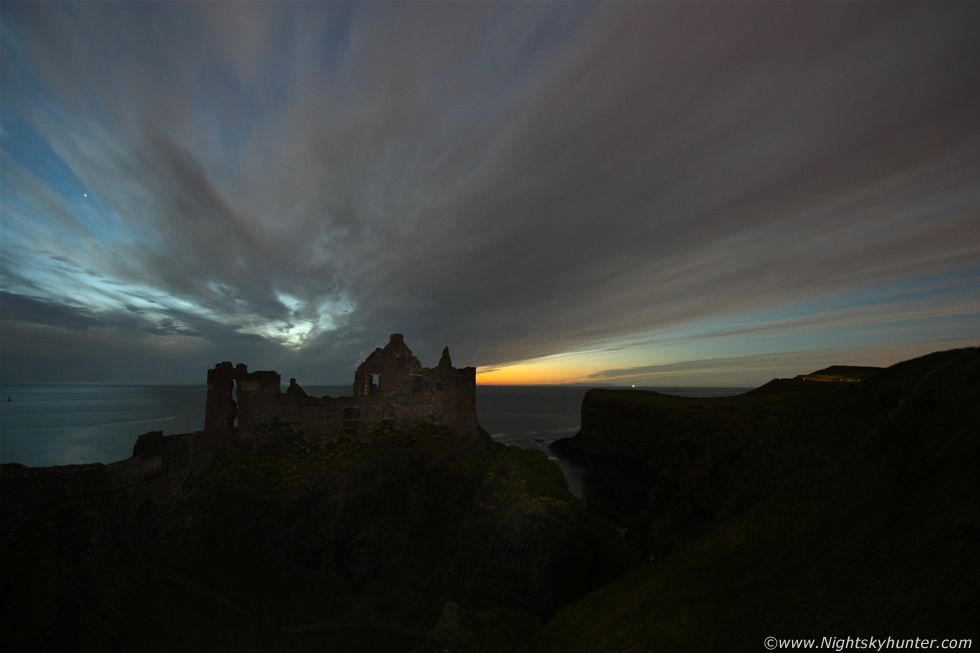 I love the NLC season, the night sky is never truly dark anymore with a strong twilight glow visible from dusk until dawn, this glow can generate truly wonderful visual treats and ample photo opportunities with the ocean reflecting those surreal midnight colours. Paul and I had a brew and snack then decided to do some shooting at the legendary Dunluce Castle, this castle along with Ballintoy Harbour are my two favourite locations along the entire Antrim coastline. The castle is ancient and full of history, being able to do photography beside this beautiful castle flush with the Atlantic Ocean is an honor and an experience which is difficult to describe unless you experience it for yourself. We checked out the various angles during dusk then when the sky 'darkened' we began shooting the scene using our wide angle lenses, this was taken with the 10-22mm at 10mm showing the castle, sea, and twilight sky. The cirrus clouds actually looked very impressive fanning skyward from a distant point above the horizon which looked really cool. It's amazing to see the yellow sunset glow on the horizon while stars were visible at the same time, Capella can be seen to the L of the cirrus. I got a text from John McConnell from Maghaberry reporting NLCs 5 degrees above the northern horizon, the clouds blocked it for us however we could see the strange enhancement to the twilight glow (white area) behind the cirrus where the NLCs were located. Paul and I took a number of 50mm F/1.8 patrol images within the clear sector to the NE and picked up possible very faint NLC streaks embedded in the haze which confirmed to us that there was something in that area too.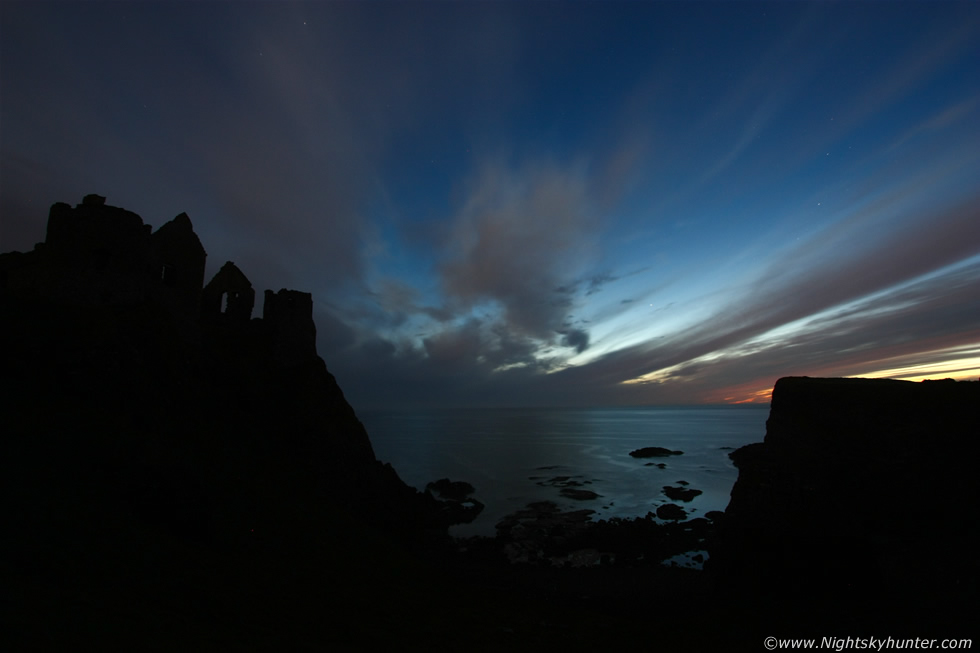 We spent much of the night shooting the castle from various angles and despite not having a clear sky we were enjoying the wonderful atmosphere, the full moon rose behind the dark form of the castle surrounded by a 22 degree halo and a moondog which added to the wonderful ambience. It was just before dawn and we where tempted to call it a night, after exploring the cave beneath the castle followed by the prospect of walking back up those stone steps we were both finished for the night, we didn't say it to each other however I knew we were both thinking it. Suddenly the cirrus cloud seemed to retreat and we could see a portion of clear sky accompanied by a few stars and we thought - should we go home or stay for one last image?, we decided to stay after all we where here to do photography so we delayed our trip home, climbed over the railing, then worked our way across the dark sloping grass adjacent to the cliffs and castle. Here's one of many exposures taken showing the beautiful pre-dawn twilight blue sky reflecting on the calm ocean with Capella and the stars of Perseus visible in the clear sector to the NE, you can see Dunluce Castle to the L. We noticed these nice colours appearing on the cirrus clouds to the NE with orange, red, and pale yellow colours on view and we both suspected there could be a beautiful sunrise, we hadn't planned on shooting this however it just sort of happened so once again we delayed our home trip and relocated at high speed to the Giant's Causeway to shoot what we hoped would be an amazing sunrise.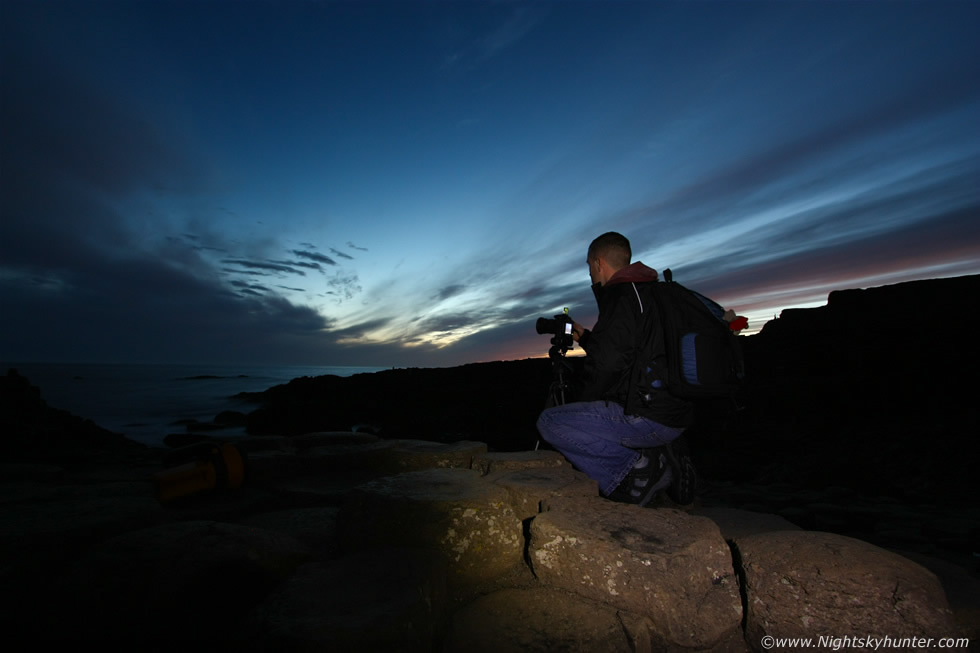 Morning twilight at the Giant's Causeway just before day break during that magic hour when the light was gentle and had the potential to put on a great show for us. We waited and waited however the colours which had looked so promising before had now subdued and it seemed we were out of luck. Here's a shot of Paul shooting the ocean from the ancient volcanic rocks waiting on sunrise. I was busy changing lenses when my 18-55mm kit lens slipped from my grasp and fell all the way down the famous rock formation, it actually bounced off many rocks until it came to rest on a rock platform far below us literally about to fall into the ocean, it was amazing it didn't go in as it was perched on a ledge and capable of rolling at any min, I climbed down to the rocks and grabbed it just in time while trying to avoid slipping on the rocks which were like black ice so I managed to rescue my kit lens, I was expecting it to have smashed to pieces however I was pleasantly surprised to see it was completely intact with nothing more than a scratch around the lens ring, the lens had landed on it's edge so the lens was saved, talk about good fortune, despite occasional auto focus issues at wide angle the lens still worked perfectly so I thanked my lucky stars for that as I didn't fancy paying another £60 to £70 for a new kit lens, after all this was my second such lens over the last year. It was getting chilly, the warm colours had waned from the sky and the blue-white glow of approaching daybreak was about to arrive so we decided to call it a night, we were both tired, a little cold, been out shooting all night, and we still had a long drive ahead of us so we returned back to the car, at least we had tried anyway.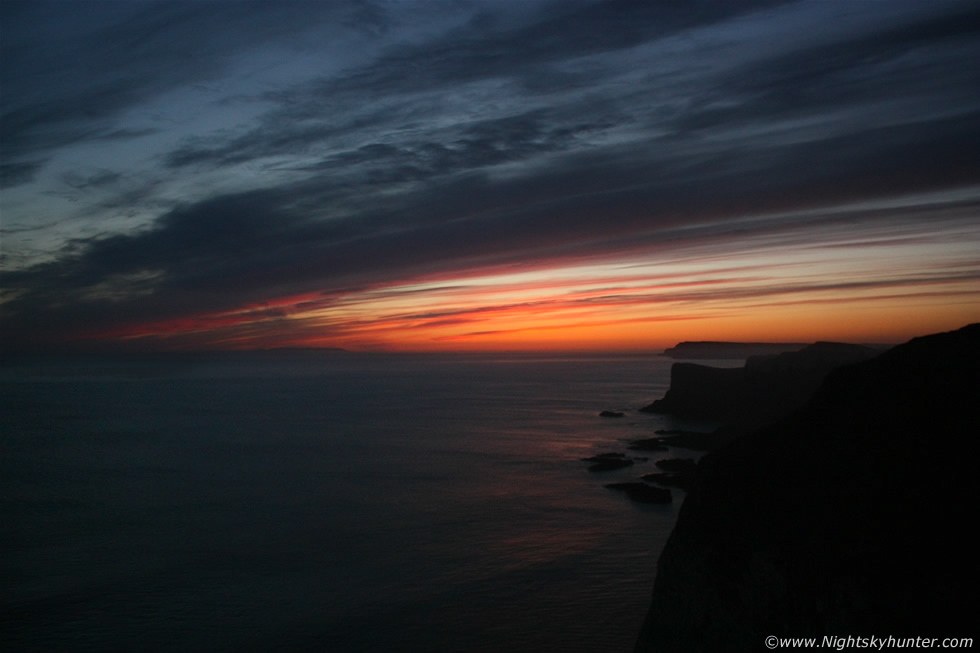 We where actually on the coastal road heading home when we both looked out the window and noticed that everything had changed, a brilliant low elevation strip of red was glowing over the ocean horizon and it was obvious the elemental tables had turned and that a great sunrise was about to happen so once again we abandoned our journey home, pulled into a car park between Dunluce Castle and Portrush, got out with the gear, climbed over a wire fence and both of us stood on the edge of a huge cliff overlooking the ocean where the view was breathtaking. This capture shows that transition from night to day perfectly, this is the world between worlds, between light and dark, magical and surreal, the temp was cool and mist could be seen over the ocean reflecting the sky glow, we just knew by looking at this sky that we were in for a treat.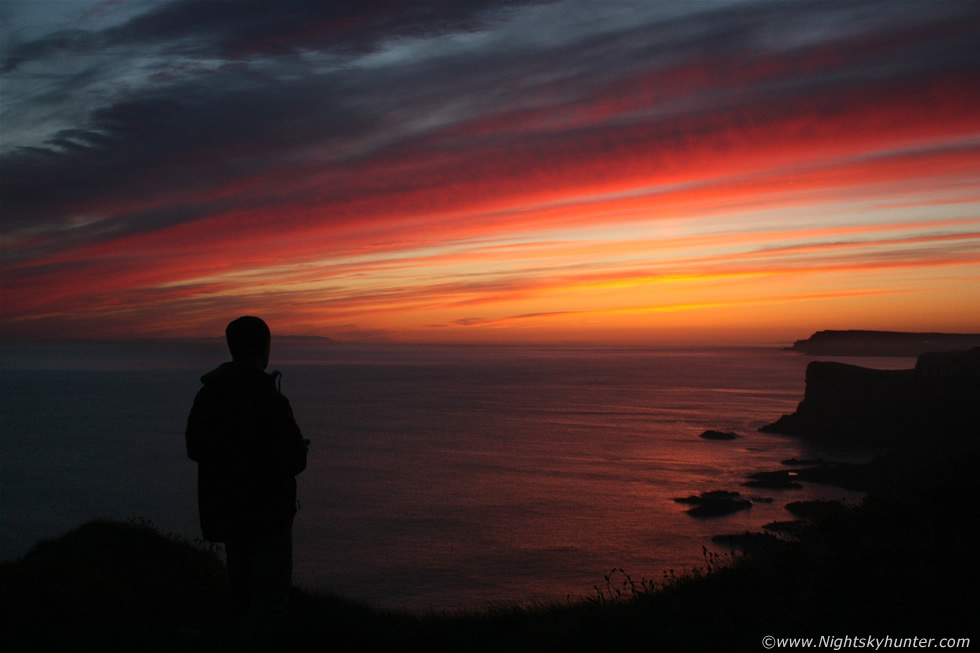 At this instant it seemed like mother nature had opened her eyes and we where there to witness that magic moment, a veil of warm light suddenly appeared in the sky then everything turned an unreal red colour which could be seen reflecting on the gentle ocean far below us. I got a quite a few captures showing Paul standing there taking in the view.
You can't appreciate by looking at these images just how close Paul was to the edge of this cliff, I mean he was right on the edge with camera shooting, the drop below was horrific to even think about however we knew we were in safe hands, this was nature showing off and I can tell you it felt like it was meant for us. After being out all night long moving from location to location hunting for photo opps, feeling tired and cold, then suddenly in the last minute when all hope was lost this remarkable sunrise unfolded before our very eyes, I have to say it felt personal as if the universe had intended it for us.
What made this sunrise even more special was that it wasn't a quick transient event, most sunrises or sunsets have a very brief photogenic moment when the light is perfect then it is gone just as quick, however this seemed to last for eternity, it seemed as if it was all happening in slow motion, the sky was getting brighter and the colours richer by the minute.
Beforehand we had been chatting away among ourselves however we both went quiet and become absorbed into our own worlds, that's how I know when I am experiencing something very special, nature takes the stage, it commands your full and undivided attention, this was happening rite now, we where both in the zone lost in our own thoughts and in our own creative mood as we documented the show, all that could be heard was the light stirring of the ocean, the occasional early morning bird and the clicking of shutters. The odd word came out from each of us at random intervals, ''wow'', ''amazing'' or an excited laugh.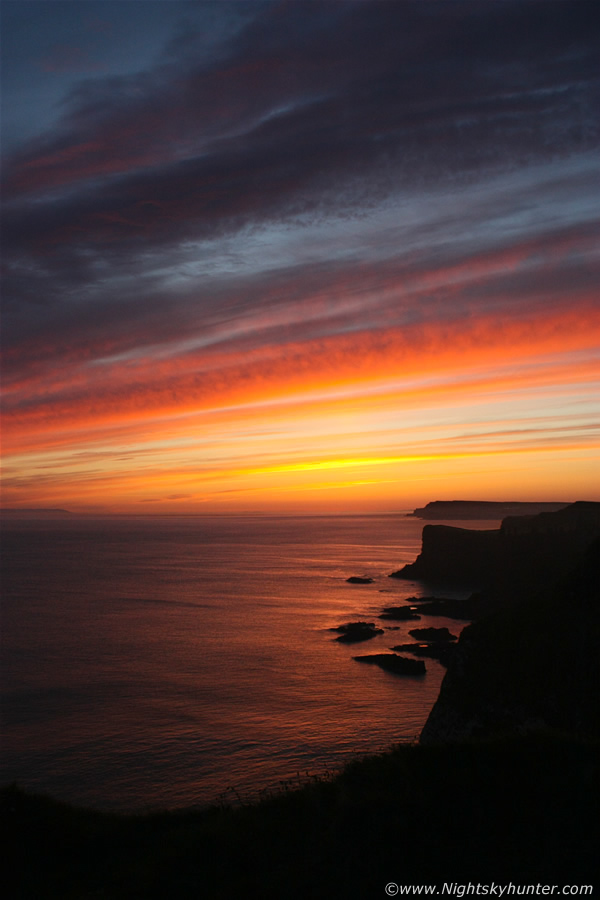 I managed to break my trance and ran back to the car to retrieve my tripod then mounted my HD video camera on top and let it record from the top of the cliff, I am grateful I did this to record this special moment for my own memories. Earlier we where located deep within that dark coastline below, half way across embedded within the shadows is Dunluce Castle where we were shooting earlier, the distant rock formation is the cliff at the Giant's Causeway where we had also been only 15 min's ago.
We could see red, pink, yellow, orange and blue colours all at once and all vivid, the mixed colours on the surface of the sea was unreal.
Amazingly the scene got better and better, we couldn't believe our luck, there was no question that this was definitely our reward after a long night. At this point there where colours all around us, I did a quick rotation and I could see great colours and beautiful cloud structures to the W, SW, S, SE and E including what we could see in front of us. That outcrop of rock on the ocean horizon in the direction where Paul is shooting is one of the Islands near the west coast of Scotland.
The show climaxed when the yellow disk of the sun rose over the ocean horizon turning the crimson clouds into an intense network of fiery orange and yellow strips, this was beautiful beyond belief, if only I could convey to you how it felt standing on this high cliff at this hour of the morning watching this spectacle evolve.
This was visual gold, without question this was the best sunrise I have ever experienced in my life and the first observed over the ocean, it will definitely take some beating that's for sure. Talk about being at the rite place at the rite time, so many events conspired this night to make us be here at this very spot, three times we were going to go home and something stopped us, distracted us, then made us watch the sky with keen attention, I am glad we listened to our instincts.
I zoomed in with my video camera and filmed a great 4 min segment showing the solar disk slowly climbing over the flat horizon with gold and yellow colours illuminating the ocean which looked fantastic, you can view it towards the end of the video below.
Hands down my personal best sunrise images to date, I was in awe of the experience and chuffed to bits with the hundreds of images I had taken not to mention the video which was still recording at this stage. Thank you mother nature for a remarkable experience once again.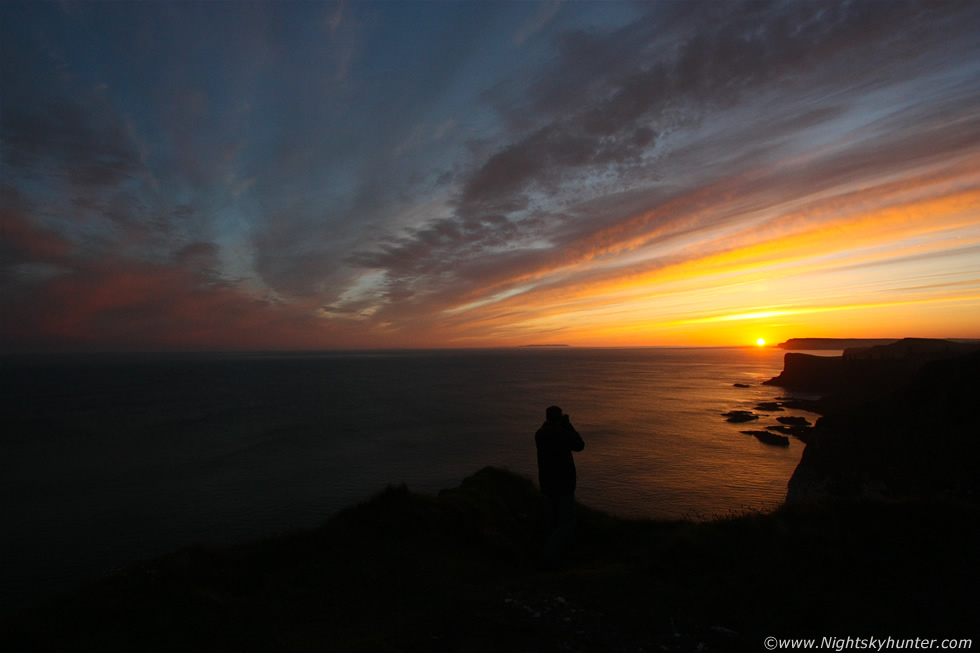 10mm ultra wide angle image of daybreak with Paul in the foreground taking images. Then the sun rose higher and the colours quickly faded and the show was over, wow what an experience, Paul and I were on a high, we went back to the car and had a coffee and snack then began the drive back inland pretty much chatting about the sunrise the entire time, I got home in broad daylight around 07.00 then sorted out my images and video which kept me busy until 08.00 then I got a brief period of sleep then I was back up again at 10.30 and back on the road once again with only 1.5 hours of sleep, I felt tired during the day however I was still buzzing and it took several days for the high to leave my body, it felt great, what a fantastic all-night photo shoot and yet another experience to add to the ever growing list. Make you sure check out Paul's report from this night to read his side of the story.
Here's the full 14 min long video clip featuring various segments of the sunrise spectacle, the footage begins before dawn at the Giant's Causeway then continues from our cliff top location outside Portrush, you can see Paul and I walking about taking images oblivious to the camera, the zoomed in 4 min section showing the solar disk rising over the ocean horizon is my favourite footage near the end. I hope you enjoyed the images and I hope that in some small way I was able to bring you to this coastal location to re-live the show with us, thanks very much for reading.
Martin McKenna